James Robert Carson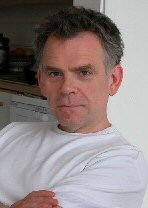 JAMES R. CARSON is an opera director who started his career in the theatre and has over the last ten years moved increasingly towards opera production.

He was born and brought up in South West Scotland before studying at Stirling University where he majored in Religous Studies, English and Sociology. This was followed by two years in San Francisco working in experimental theatre before going to Japan where he spent a year studying Noh drama with a company of Noh actors.

Returning to Great Britain he spent two years at The Drama Centre, London studying directing. He then worked for two years on the London Fringe producing most notably Two Modern Noh Plays by Yukio Mishima, George Dandin by Moliere and a Pirandello play all at The Gate, Notting Hill.

He was awarded a Scottish Arts Council Bursary and was attached to The Royal Lyceum Theatre in Edinburgh where he produced Measure for Measure, Ghosts, A Feydeau Farce and A Family Affair by Ostrovsky.

Since then he has freelanced throughout Britain producing work in theatres including Dundee Rep, Greenwich Theatre, The Citizens Theatre Glasgow, The Albany Empire, The Embassy Theatre and The Athaneum Glasgow.

He has also produced work for many of the leading Drama Schools.

His work in opera started at Glyndebourne where he has worked on numerous occasions most notably reviving Nicholas Hytner's production of La Clemenza Di Tito. He has produced operas for Scottish Opera Go Round, English Touring Opera, Opera On A Shoestring and the Aldeburgh Festival. He has also produced operas and scenes for The Royal College, The Royal Academy and the Royal Scottish Academy.

He has worked with some of the country's leading conductors including Sir Andrew Davis, Mark Elder, David Atherton, Ivor Bolton, Kenneth Montgomery, Michael Rosewell, Steuart Bedford and Philip Ellis.

Future plans include reviving his production of Xerses for Greek National Opera and Smetana's Two Widows for DNOA in Amsterdam.

Opera Productions:
2002 Le Nozze Di Figaro (Mozart) DNOA Amsterdam; Xerses (Handel) Greek National Opera.
2000 Madama Butterfly (Puccini) Opera On A Shoestring, Citizens Theatre Glasgow; Die Gartnerin Aus Liebe (Mozart) London Royal Schools, Jack Lyon Theatre.
1999 Hugh The Drover (Vaughan Williams) English Touring Opera, Cambridge Arts Theatre.
1998 Midsummer Night's Dream (Britten) Aldeburgh Festival, Jubilee Hall; L'Elisir D'Amore (Donizetti) Opera On A Shoestring, Cottier Theatre Glasgow.
1997 The Duenna (Prokofiev) Royal Scottish Academy.
1996 Cosi Fan Tutte (Mozart) Scottish Opera Go Round; The Rape Of Lucretia (Britten) Britten Festival, Snape Maltings.

Revival Director:
2002 Albert Herring Glyndebourne Touring Opera.
1999 La Clemenza Di Tito(Mozart) Glyndebourne Festival, La Clemenza Di Tito Glyndebourne Touring.
1995 La Clemenza Di Tito Glyndebourne Festival.
1991 La Clemenza Di Tito Semi-Staging Royal Albert Hall.

Associate Director:
2002 La Clemenza Di Tito (Dir. Stephen Lawless) The Royal Opera House Covent Garden.
2002 Albert Herring (Dir. Sir Peter Hall) Glyndebourne Festival.
2001 Midsummer Night's Dream (Dir. Sir Peter Hall) Glyndebourne Festival.
1993 La Clemenza Di Tito (Dir. Nicholas Hytner) Glyndebourne Touring.
1991 La Clemenza Di Tito (Dir. Nicholas Hytner) Glyndebourne Festival.

Scenes:
Excerpts from L'Elisir, Orpheo, Midsummer Night's Dream, Nozze Di Figaro, Werther, Eugene Onegin, Clemenza Di Tito and Don Giovanni,Carmen, Royal Scottish Academy.
Excerpts from Der Rosenkavalier, Die Entfurung,The Magic Flute, Il Talbarro, Nozze Di Figaro, Cosi Fan Tutte, L'Heure Espagnol and Frieschutz, Royal College Of Music.
Excerpts from La Fille du Regiment, Don Pasquale,The Rake's Progress, Pagliacci, La Cenerentola, Idomeneo and Werther, Royal College Of Music.
Excerpts from Nozzze Di Figaro, Cosi Fan Tutte, Clemenza Di Tito, British Council Workshop, Athens.

Conductors:
Conductors worked with include: Sir Andrew Davis, Ivor Bolton, Kenneth Montgomery, Mark Elder, Tim Dean, Michael Rosewell, Steuart Bedford, Steven Higgins, Jeremy Silver, Igor Kennaway, David Atherton, Graeme Jenkins and Mark Shannahan.
Interview with James Robert Carson
You have been working all around the world: Amsterdam, Athens, Warsaw, Japan, San Francisco, London, Glasgow etc. These are very different audiences. Do you do audience research before you set out on a production? Do you have to scale your thinking to different countries?

No, not consciously. When you're working in those places, you're working with people from those countries, so you already have a dynamic situation with you in the culture and you don't have to do separate audience research. If you have a good relationship with the performers, then that's your way of knowing that you're going to have a good relationship with the audience because they must know their audience more than you. If you can persuade them, you can usually persuade the audience. Once the singers begin to trust you and they can see what it is you're actually making, then they're very open-minded. Especially in opera, where people are open to other cultures, other languages, other ideas, they often want to see what you bring to it.
I like working abroad. In some ways it's freer. You're not so aware of the inner dynamics of the country, of the competition, of who's the hot director and what is the current thinking about production in that country. You are aware of it but you feel you come from the outside, you can come and you can go. In that sense it's easier, it's freer.
Whereas when you work here, you always have the attention of your colleagues, people you've known for years and you are much more aware of the reaction to your work. When abroad, you can't read the reviews (he laughs) – well, you can, but sometimes they don't come out for months or you don't get to see them. Not that you worry about them here that much, but you are aware of what people have to say about your work.

Do you combine experiences from different countries? Have you developed a universal point of view?

No, you always try to see your work from a national point of view first. If you're doing an Italian opera, you're dealing with Italian characters, Italian people and how does that make them different and what does that say about the piece. Or if you're dealing with an Italian story told by someone in Germany, you dealing with two national characteristics. You have to be aware, I think, of the national context of the piece. If you're doing a Russian play, you must understand something about Russian society. If it's a French 17th century play, you must understand 17th century France.
You're always combining an academic approach or a research approach with an individual, subjective, approach to work. In order to understand a piece, you have to understand something of the culture which produced it and the society to which it was originally intended to be performed.

When you were directing Madama Butterfly, were you using your experience from your year long stay in Japan?

Yes, both on a conscious and unconscious level. The minimalist stage language, the non-fussy staging, the idea that it should be extremely beautiful – I like all those things in the theatre. I did use my experience but at the same time I didn't want it to be about the exotic, either. I wanted it to be about understandable psychology. One thing that I did take from my year in Japan was that Japanese people are human although they have a series of very coded ways of relating to each other. Essentially, there is a kind of basic humanity that I think is international. And I was very interested to look at Butterfly as a real character rather as an oriental beauty, somebody who is not really understandable.
One of the things I like about all plays and operas is that they make people comprehensible. It is part of the duty of the director to make the characters understandable to the audience. Psychology and sociology are really, really important for me as a director. I think they are fundamental because opera deals with public human beings, trying to understand what makes them work and where their motivations come from.
I did use a lot of my experience but in the terms of trying to make us more Japanese as well as the Japanese more like us. It's a two-way dynamic, not "it's over there, it's very different".

How did it all begin? When did you decide you wanted to be an opera director? Do you have a musical background?

Not at all. I suppose it started when I went to an opera for the first time when I was 25. Previous to that I'd been interested in experimental theatre and also in religion. I was interested in theatre as a kind of a philosophical adventure not as a practical way of making a living.
I wasn't brought up in a theatrical tradition (I mean, the nearest thing we had to the theatre was the Presbyterian Church). I was interested in the theatre exploring a kind of truth, a kind of reality. I studied religion at university and that's when I first got involved in theatre at all. It was experimental. They were people like Julian Beck, The Living Theatre, and all those Americans in the seventies; they were my heroes. I loved those huge, strange and weird events. I wasn't interested in the proscenium arch, bourgeois plays. In the seventies we believed that society was going to change, everything was going to be a bright, new reality.
I was brought up in the sixties, in rural Scotland. We didn't have to worry about making a living or getting work – it was all going to be marvellous. And then there was the oil crisis, the conservative government and the world changed. But I was very lucky: I had a full grant when I went to university. Although my parents weren't well-off, life seemed so much easier than it is now for young people. All I wanted was to travel around the world and then come back and decide what I wanted to do. After university, where I got involved in experimental theatre and in traditional theatre, I went to San Francisco where I got involved in all of that and to Japan with the Noh-theatre. When I came back, I knew I wanted to do something with the theatre.
Then somebody got me a ticket for The Turn Of The Screw at ENO. I thought it was fantastic, it was everything theatre should be: totally engaging, totally in its own reality, exciting. I thought that was the kind of theatre I'd love to be able to make.
Now, I didn't really have any musical background at all so I continued working in spoken theatre and got a training as a theatre director. But somewhere at the back of my mind was always this idea that maybe one day I'd be able to get into opera.
And that's what I did eventually. I started observing Scottish Opera and then, by chance, got a job at Glyndebourne. There are a lot of musical skills that you can develop and learn.
As a director in opera, if you don't come from an operatic background, in some ways it's an advantage. Because you bring something else, a different discipline that is about performing and acting. Many opera singers are trained for the music, so they come very late to acting as a skill.

What was so exciting about opera?

The totality of it. The total formalisation of another world. The way that it's not like real life. That it's a big event. Going to the opera is like a very powerful drug. You're completely swept away in a different reality. Opera is the nearest you can get to a completely different world in three dimensions. Opera brings in so many different elements: it deals with space, music, art, psychology, character, narrative. I like the totality of it.
<![if !supportLineBreakNewLine]>
<![endif]>What are the problems you have to tackle as an opera director?

It depends on the level you are working at. If you're doing a revival in Glyndebourne, the problems are different from trying to put on something at Holland Park. Often, with a small opera company, it's the lack of resources and lack of time which makes people insecure because they are trying to do something despite the circumstances in which they have to work.
Then there are creative challenges, to put it in a positive way, like trying to make action appropriate, so what people do on stage seems right and fitting. That can take many forms: helping people to find a way of acting, trying to discover a dramatic part to the scene, telling the story even if there's not much narrative.
I suppose the main problem is keeping the audience entertained, keeping the audience focused and alive by using the resources that are available.

Do singers' acting skills cause you problems?

I don't find singers and acting a problem. I think it's a contemporary idea that singers cannot act. It depends on what you mean by acting. They can't necessarily act like Greta Garbo or Katharine Hepburn or Catherine Zeta-Jones but often it's a different type of acting that's required in opera. You cannot pretend that Sesto in La Clemenza di Tito is a realistic part; of course it's based in psychology but if you're singing "Parto, parto", you've got fourteen minutes of music and you can't begin to treat that as a Shakespearean soliloquy, two lines in a sitcom or an American movie.
There are many different types of acting. Singers put themselves down because they're attacked all the time that they can't act. It is about what I call finding appropriate action that will facilitate what they have to do.

Great actor-singers. Who would be in your ideal cast?

I'd like to work with Maria Callas on Cherubini's Medea. She was a great performer. I'd love to work with Vesselina Kasarova on Sesto and with Susan Graham who's got such a fantastic voice. I'd love to do a Handel opera with Magdalena Kozena. I really enjoy what Tom Allen does. Fischer-Diskau, even if he didn't do much opera, had such a beautiful voice.

I thought directors did not care much about the beauty of the voice…

I like great voices, though I am happy to be in the rehearsal room with anyone. What I've learned in opera is that the individual character of the voice is very, very exciting. It has an awful lot to do with the interpretation of the part. It's not just the acting, it's also the character of the voice.
Anthony Rolfe-Johnson had the most beautiful voice, but Anthony on stage wasn't the greatest actor, though he wasn't a bad actor. He was a wonderful person to work with because he was always very honest and he would always deliver the character. Whereas some singers who spend their time acting, who shall remain nameless, often try to act as a disguise for not being able to sing something.
Also, when you work with singers, you have to understand how central the voice is to who they are. In some ways singers are psychologically less neurotic than actors. Singers are not so worried about their whole emotional being. They don't need to live through a part. They have this technical thing they are much more concerned about: the voice. That makes them neurotic but that's a healthier type of neurosis. It's much clearer. The more you know about voices, the more you understand singers and what they're trying to do.
I love beautiful voices. I adore them.
This understanding must make it easier to work with conductors.
It's always a collaboration, isn't it? I'm always very pleased when the conductor takes an interest in the dramaturgy of the piece, so you can actually discuss the tempo and the intention behind the particular piece of music. It can only work if you and the conductor have a shared idea. If it's a duet that sounds beautiful but is actually full of the agony of parting, then you have a different way of approaching it, dramatically and musically. If the conductor thinks it's just beautiful, positive and should make the audience feel very happy, then it's different if you're trying to direct it to make the audience feel very sad and confused about the relationship.
Sometimes conductors think that they will have the last word by saying, 'It's not in the music'. What do they mean by that? That part of the discussion is very interesting because you have to push someone to explain. Often it can be something that they've just accepted rather than were willing to think about.
But as it is a two-way relationship, they also make me think. If the conductor has very strong views about the recitative – which nowadays is more or less left to the producer – I find out new ways about how a recitative might work.

Do you have a favourite composer?

It's usually the composer I work on at the time. You get so involved in what they're doing and how their musical language works. I am a great admirer of Puccini. Puccini as a musical dramatist is amazing. I find his works incredibly profound from the psychological point of view. Very malleable. He knew very much what he was doing.
I like Handel, but Handel's world and language are very different from ours. Puccini makes you feel that he comes from the same age, you feel that when he was writing he was looking ahead. Handel is always slightly somewhere else. Also, Puccini produces this great emotional vulnerability. Also, I adore Mozart. When I put on Le Nozze di Figaro, I think, "My God, Mozart is incredibly good". My favourite composer is too difficult to choose.

How about Verdi?

Verdi seems like two different composers to me. Hearing Falstaff I wonder if it's the same man who wrote Traviata. And then Don Carlo? It's such a variety. I've never directed a Verdi before and I'd like to do Traviata. And I'd quite like, I think, to do Falstaff. And Don Carlo. The thing about Verdi is that he is very operatic. Nineteenth century Italian Opera with a very big "O".

Have you ever been tempted to go and sing yourself?

No, I have no skills to do it. I can respond to music, I like music and I can follow music but I have no ability to sing when required or to know what I should sing, I find it terrifying. I can see it looks like great fun. When singers open up and they start singing, they are like angels. It is such a marvellous gift. It's beautiful.
In a way there's a curse with it, as well. People who can sing often think that their voice is who they are. When you sing, people love you because you sing and singers begin to think that's their identity. That's fine but what happens if there are other areas of your life and psychology that you need to develop? Singing is a double-edged sword like any great musical talent. You can get a bit lost.
In those moments when I think , "Oh, why did I choose to be a director? This is ridiculous!", it would be great to be a painter or a choreographer. Or a stock broker.

What's your favourite past time?

I like going to Greece. I like reading. I like art galleries. I like modern art. I read novels, but I have to do so much reading for work that I don't get to read for myself very much. I like history books and art books. I like the Egyptian author, Ahdaf Soueif, I have just read The Map of Love, a cross between historical fiction and romantic fiction. I also like going to the gym, I like to exercise. I have just taken up tennis. I like going to the cinema. I like visiting people. I like going out with chums.

Let me guess: you live in Soho…

No, I don't. The problem with Soho is that it's not very green. If I were to live in Central London, I would live in Bloomsbury. I quite like Bloomsbury. Soho – it's just a bit too buzzy, too noisy. I like my space. My place is like a village , only in London. I am definitely a North London person.
James Robert Carson Reviews
Madama Butterfly

"Fresh Puccini insights despite minimalist approach...In brushing aside much of the exotic Japanese fairytale dimension and updating it to the period immediately after the Second World War, his (James R. Carson) production throws a revealing spotlight on the characters you don't often see. There is tremendous realism in Carson's approach which rarely oversteps the mark and works well at every level."
(Kenneth Walton, The Scotsman, 14.04.00)

"A Majestic Madama...No doubt about it: Opera On A Shoestring has come up with a winner in James R.Carson's production of Puccini's heartbreaker, Madama Butterfly...it is absolutely beautiful to look at: the bare stage scattered with leaves, and a simple but enormously effective backlit screen...And so, it is with the direction: again minimal, with its often slightly stylised movement borrowed from Japanese theatre. Once you adjust to the pace as well as the feel of it, it suits the stage, the performance and the piece itself..."
(Michael Tumelty, Glasgow Herald, 13.04.00)

"Deeply Moving Experience...an exceptionally intelligent and affecting opera production...Carson has directed the ensemble to focus on the drama and strip away operatic excess. The piece is packed with telling detail and marvellously acted....This Madama Butterfly emerges as a deeply moving experience."
(Christopher Bowen, Scotland on Sunday, 23.04.00)

"Subtle and fierce, this Butterfly features some wonderful singing and a dramatic presentation unfettered by fussy presentation...beautifully and thoughtfully directed by James R.Carson."
(Alison Freebain, The Stage, 4.05.00)

"Stunningly Effective" - What's On June 25th

" Holland park season continues with a most enjoyable production of Puccini's great melodrama"
" …a Rome conjured up primarily with large enlarged photographs. It works remarkably well."
"Director James Robert Carson has Scarpia listen to Tosca's victory sonata on a radio ……and Carson's other felicitous touches include a revised suicide for the heroine, stunningly effective in this staging and better than the risible battlement leap of tradition." Tom Vallance
"Una delle migliori produzioni viste sui palcoscenici londinesi negli ultimi tempi" (trans: One of the best productions seen in on the London stage in recent times) - Giornale della Musica, June 25th

"…i biglietti per la nuova produzione di Tosca sono presto divenuti I piu ambiti in citta, e a ragione, perche si tratta senza dubbio di il una della migliori produzioni viste sui palcoscenici londinesi negli ultimi tempi."
"Il regista James Robert Carson trasferice l'azione nella Roma del ventennio fascista, un'idea magari non originale, ma che sicuramente funziona, e che gli permette di creare uno spettacolo in cui il drama e cesellato attraverso dettagli ricchi di eleganza." Barbara Diana
"A Vintage Year" - Sunday Observer, June 29th

"Holland Park Opera is enjoying a vintage year if the first two of its six new shows prove the benchmark for the summer."
"..an equally bold if more traditional Tosca even when updated….to a Second World War setting."
"Puccini's ever-affecting drama was all but promoted into a companion-piece to Beethoven's masterwork. [i.e.Fidelio] When it comes to fearless heroines outsmarting unscrupulous villains, each can be equally eloquent about man's inhumanity to man." Anthony Holden
"Stunning climax" - Guardian, June 27th

"The most effective scene in Opera Holland Park's Tosca is the chilling climax to the first act. ……turns the rituals of religion into a celebration of lust."
"……a production that makes the most of Holland Park's small-scale surroundings to focus on the intimate heart of the story. The affair between Dominic Natoli's Cavaradossi and Christine Bunning's Tosca is sensitively depicted…."
"The second act is the dark heart of the production, as Scarpia seduces Tosca into deceiving Cavaradossi, and it is where Earle's performance is most effective. His oleaginous charm turns Puccini's black-hearted monster into a recognisable human being, making Tosca's betrayal believable."
" This is an efficient production and the story is clearly told." Tom Service

RÉSUMÉ (ENGLISH) | RÉSUMÉ (RUSSIAN) | HOME