Holby City
27 August 2008 00:26
Hi Ksenia,
Not sure if you remember me, but I taught you voice at Webber Douglas for a couple of years. Just wanted to say I really enjoyed your performance in Holby City tonight - very sensitive and truthful.
Glad your career is going well for you, and wish you more good things to come.
Love & best wishes,
Tessa Wood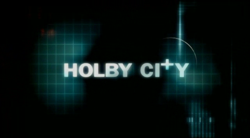 http://en.wikipedia.org/wiki/Holby_City
Holby City
From Wikipedia, the free encyclopedia
Format Medical drama
Created by Tony McHale and Mal Young
Starring Amanda Mealing, Paul Bradley, Hugh Quarshie, Hari Dhillon, Sharon D Clarke, Tom Chambers, Luke Roberts, Nadine Lewington, Duncan Pow, Rosie Marcel, Robert Powell, Patsy Kensit, Rebecca Grant, Jaye Jacobs, Rakie Ayola, Phoebe Thomas, Adrian Edmondson and Stella Gonet
Country of origin United Kingdom
No. of episodes 405 (as of 24 June 2008), 52 episodes per series (List of episodes)
Production - Producer(s) Diana Kyle, Tony McHale (Exec. Producer)
Camera setup Single-camera setup
Running time 60 minutes
Broadcast - Original channel BBC One
Original run 12 January 1999 – Present
Chronology - Related shows Casualty, HolbyBlue
Holby City, styled as HOLBY CI+Y, is a BAFTA award winning medical drama television serial transmitted by BBC One in the United Kingdom. It is a spin-off from Casualty, and is set in the same hospital as that series, with occasional crossovers of characters and plots. It follows the lives of surgeons, nurses, other medical and ancillary staff and patients at the fictional Holby City Hospital. The show has a large number of writers, including the current Executive Producer, Tony McHale. McHale wrote the first ever episode and many episodes in the early 2000s. He co-created the series with Mal Young, however it was only in 2006 that he became the executive producer. Due to his commitments overseeing the show, he tends to only write episodes for special occasions, such as Christmas, crossovers with Casualty and HolbyBlue and episodes that play a major part in a storyline.
Production
Origins and development


Holby City

began on 12 January 1999 as a spin-off from the long-running BBC medical drama Casualty and is named after the fictional Holby City Hospital in which both series are set. The show follows the lives and careers of staff and patients at the hospital and deals with a range of clinical and ethical issues. The regular characters are all staff, and patients are played by guest actors - which have included some famous names such as Eric Sykes, Phill Jupitus, Michael Jayston, Michele Dotrice, Ronni Ancona, Emma Samms, Lee Ryan, Nikki Sanderson and Johnny Briggs.
Fictional location


Holby

is set in the fictional county of Wyvern, in the south-west of England, close to the Welsh border. The fictional city would effectively replace Bristol on the UK map - telephone numbers given on the show use the Bristol area code, and similarly addresses use the Bristol postcode. While its sister show Casualty is filmed in Bristol, Holby City is filmed in Hertfordshire at the BBC's Elstree Studios.
Filming


Holby City

is shot on videotape using the single-camera setup. The show is filmed at Neptune House, at the BBC Elstree Centre in Borehamwood, Hertfordshire. This building contains the sets for the show, the production offices for a number of BBC shows, and editing facilities for EastEnders. As a result, the Holby City building can often be seen in the distance during episodes of EastEnders, although the latter is set in London. Each episode of Holby City is shot around 3 months in advance of transmission on BBC One - and whilst one episode is being shot, the cast are also shooting the next episode. This results in the completion of two episodes in two weeks. During television and magazine interviews, some cast members have revealed that a typical working day on the set of Holby City is twelve hours long - from 7.00am to 7.00pm.
When Holby City first began, the series were short and shot months in advance - the first and second series only began airing once the full nine and sixteen episodes respectively had been shot. From July 2007 onwards, the show took on the filmizing technique, giving episodes the impression of having been shot on film. Series producer Diana Kyle said of the change: "We wanted to bring Holby City into the 21st century, and we've had a very positive response. But it can take time for long-term viewers to adjust, and there are a few who've found it difficult to get used to. I'm sure they'll grow to like it as much as we do, though!"
Broadcast history


Holby City

was originally commissioned as a series to be shown as part of the BBC's winter line-up. As years have passed, Holby City has become a permanent fixture in BBC One's weekly schedule. As of the start of the fourth series (9 October 2001) the programme is broadcast all year round, with fifty-two episodes per series, on Tuesday nights at 20:00 on BBC1.
Originally, Holby City was broadcast on Thursday nights at 8.00pm, until a permanent switch to Tuesdays occurred during the third series, in 2001. On 1 May 2007, the show was moved to its original slot on Thursdays to make way for HolbyBlue, but reverted to its Tuesday slot on 3 July 2007 once the eight-part HolbyBlue spin-off had concluded. Upon Holby's return to its usual Tuesday night slot, the show was broadcast with revamped opening titles, featuring clips of various cast members interspersed with the original credits, the third variation of the title sequence since the show began. When a character departs, they are replaced by a general hospital themed image such as surgical equipment until a replacement cast member is added to the sequence.
Holby City aired as a drama series for its first three series, before becoming a serial drama in 2001. During the year-round series, the cross over from one season to the next occurs in October. The show's first series aired as seven fifty minute episodes and two sixty minute episodes - with each episode remaining sixty minutes in length from this point onwards. Its second series ran for sixteen episodes, and its third for thirty. Each subsequent series has aired for exactly fifty two episodes, one for each week of the year. Some fairly major and other more minor changes to the series format and content have occurred since the show's conception. The second series introduced for the first time Keller Ward - a General Surgical counter-part to the existing Cardiothoracic ward, Darwin. Likewise, series three saw the introduction of Otter Ward, a Pediatric unit - which in series four was replaced by a Maternity ward and an Acute Assessment Unit. The Maternity ward was phased out during the show's eighth series, with all of its staff either departing from the show or being absorbed into new roles on other wards. During the tenth series, Jayne Grayson turned AAU into a Surgical Admissions Unit.
Adaptations and other appearances
Casualty@Holby City
Reflecting Holby City's origins as a spin-off from Casualty and the closely-related premises of the two programmes, the BBC has screened occasional crossover mini-dramas entitled Casualty@Holby City and featuring a number of characters from each of the two casts. Mervyn Watson, Executive Producer of Casualty, has commented on the origins of the idea to fully cross the two sister shows over for the first time: "I think the idea came from somebody in the comedy department, who casually said to the Controller of Drama "Wouldn't it be a good idea if...." The Controller did think it was a good idea, spoke to myself and Holby's Executive Producer, got it commissioned by the Head of BBC One and the rest is history." Filming of Casualty@Holby City episodes is usually divided between Casualty's Bristol set, and Holby City's Elstree studios, although a large proportion of the Christmas 2005 crossover was also filmed on location in a road tunnel in Caernarvon, Wales. The theme tune used for crossover Casualty@Holby City episodes consists of a shortened version of both the Casualty and Holby City theme tunes, played over one another in sync, critizised by The Mirror for being "basically both theme tunes played at once." There have been four crossovers to date involving both casts:
The Christmas 2004 crossover featured a fuel tanker lorry crashing into the Accident & Emergency department of Holby City Hospital. Casualty character Jim Brodie died rescuing his colleagues from the burning hospital building. In August 2005, an Interactive episode was screened as part of the BBC's DoNation season, raising the profile of organ donation issues. Viewers voted for one of two patients to receive an organ donation during the show. The plot was designed to raise awareness of the scarcity of organs and encourage viewers to consider joining the NHS Donor Register. A third crossover was produced for Halloween 2005. This four episode special focused on issues around youth violence, featuring an ambulance hijack and an assault on character Comfort Newton by pupils at a failing secondary school. The last crossover to date aired at Christmas 2005 and saw a group of staff involved in a road collision when a tunnel collapsed en-route the hospital Christmas party. Former character Nick Jordan returned, and Paramedic Woody Joyner died saving the life of a baby.
Interviewed prior to broadcast of the Christmas 2005 crossover, Executive Producer Mervyn Watson commented on the future of Casualty@Holby City: "We can't guarantee any crossovers for next year, but the audience likes them. And as long as the Controller of BBC One wants them, then we'll be happy to oblige." In November 2007, Holby City producer Diana Kyle added: "We like to do crossovers whenever we can, but it's tricky because both Holby City and Casualty film for 52 weeks a year, so the actors on each show have to work flat-out on their own programmes. We are trying to create more opportunities where the two dramas can merge, though."
HolbyBlue
In April 2006, the BBC announced that a spin-off drama from the show, to be named HolbyBlue, was in early stages of production. The series focuses on the police service of Holby South, and aired for the duration of its first series on BBC One on Tuesday nights, with Holby City switching back to its former Thursday night slot at 20:00. Despite Holby Blue being billed as a spin-off from Holby City, the first series saw no crossovers between characters from either show. Long running Casualty character Charlie Fairhead appeared in HolbyBlue's first episode, and a full two part crossover episode with Holby City is currently being developed for the beginning of the show's second series, set to broadcast in 2008. The BBC's Controller of Continuing Drama Series, John Yorke, said of the crossover: "Loads of questions are asked in the Holby City episode that are answered in the HolbyBlue episode. That is exciting. It is something the Americans have done for years with shows like CSI and I really like it. You really believe it's a world." The crossover episodes will be co-written by Holby City creator Tony McHale, and HolbyBlue creator Tony Jordan.
The 16 November 2007 Children in Need appeal again contained a musical performance from Holby City cast members. Sharon D Clarke, backed by Nadine Lewington, Rakie Ayola and Phoebe Thomas performed a soul version of Aretha Franklin's signature song, Respect.
Cast


Holby City

features an ensemble cast of characters involved in the medical profession - for the most part composed of doctors and nurses. The only current cast member who does not play a medic is Stella Gonet as Holby City Hospital's CEO Jayne Grayson. Occasional anaesthetist roles in theatres scenes are filled by recurring supporting cast members Andrew Lewis and Alex MacQueen, as Paul Rose and Keith Greene.
Of the current cast, many of the actors who play main characters have made previous appearances in the series as patients and relatives. These include Amanda Mealing (Connie Beauchamp), Luke Roberts (Joseph Byrne), Rakie Ayola (Kyla Tyson), Rosie Marcel (Jac Naylor), Phoebe Thomas (Maria Kendall) and Hari Dhillon (Michael Spence). Further to this, a number of cast members have made similar appearances on sister show Casualty. These include again Rakie Ayola and Rosie Marcel, as well as Stella Gonet, Hugh Quarshie (Ric Griffin), Patsy Kensit (Faye Morton) and Nadine Lewington (Maddy Young). In some instances, actors have stated that it was their guest appearances which lead to their casting in more permanent roles - Luke Roberts has said of his minor appearance in Series Seven of the show: "It was only one scene really, but I think it was enough to get me called in for this part (as Joseph). I hear it got the attention of the producers. Amanda Mealing (the actress who portrays character Connie Beauchamp) put a good word in for me that day as well!" Conversely, Hari Dhillon who played minor character Dr Sunil Gupta between 2001 and 2003 before being cast as main character Michael Spence in 2007, has said of his former appearance: "I was in Holby City just after I left drama school, years ago... I couldn't even tell you when."
In October 2007, The Daily Mirror's television critic Jim Shelley noted a recent trend of Holby City producers for hiring established actors, including comedian Adrian Edmondson, former film actress Patsy Kensit, and Jesus of Nazareth star Robert Powell. Other recent cast members to have achieved notable fame outside of Holby City include The House of Eliott star Stella Gonet, and recurring guest star Jane Asher. Series producer Diana Kyle addressed this trend in November 2007, when asked: "When you cast an actor, do you actively seek out well-known names - like Jane Asher [Lady Byrne] and Patsy Kensit [Faye] - or will a role simply go to whoever's better suited?". She responded to this question: "It's lovely when we have a new member of the cast come in and bring an audience with them. But we want the best actors, and the star names we cast are always the best - which is why we go for them!"
Laura Sadler
From December 2000 to September 2003, Holby City character Staff Nurse Sandy Harper was played by English actress Laura Sadler. The actress became the centre of extensive media attention when on 15 June 2003, she fell 40 ft (12 m) from the balcony of her boyfriend's second floor flat, suffering serious head injuries. Sadler was taken off life support and died five days later, in Charing Cross Hospital. Series creator Mal Young said of her death: "Everyone at Holby City, and indeed, across the BBC, is devastated. Laura was a much-loved, talented and respected actress. She brought so much to the role with her infectious enthusiasm, dedication and 100 per cent professionalism." Lorraine Heggessey, Controller of BBC One, added: "I'm devastated that we have lost such a talented young actress. She was a sweet, modest, hard-working girl and will be much missed." Sadler's boyfriend, George Calil, who also played Sandy's on-screen lover Sean Hunt, was arrested following her fall, however was later released without charge when police deemed Sadler's death was not suspicious.
Eight further Holby City episodes featuring Sadler as Sandy had already been filmed, and were aired as scheduled posthumously. BBC scriptwriters consulted Sadler's mother, Sonja Sadler, when devising the character's exit storyline. Mal Young said: "I went there thinking we were all going to be in tears and it turned into an unofficial storyline conference. I said we would find a way of explaining Laura's absence and her mum came up with an idea we all liked." Sandy's farewell episode, "A Friend in Need", revealed that the character had won £150,000 on the lottery, and left for Australia to follow former love interest Danny Shaugnessy. After discovering various amounts of money she had left behind for her friends at Holby City Hospital, the characters gathered together in the hospital bar at the end of the episode, and raised a toast "To the one and only Sandy!"
A photo of Sandy was placed on the wall on Darwin ward, which shows the character blowing out candles during her birthday celebration. This photo still appears in episodes to the present day. Out of the current cast of characters, the only people who knew Sandy are Chrissie Williams and Ric Griffin.
Awards


In 2008, Holby City won their first BAFTA TV Award after beating EastEnders, Emmerdale and The Bill.
Wins
| | | |
| --- | --- | --- |
| Year | Ceremony | Awards |
| 2008 | | 'Best Continuing Drama' |
Nominations
Year

Ceremony

Awards

2006

'Best Continuing Drama'

2005

'Best Continuing Drama'

National Television Awards

'Most Popular Newcomer'

2004

'Best Continuing Drama'

2003

'Best New Director (fiction)'

2000

'Best Graphic Design - Titles'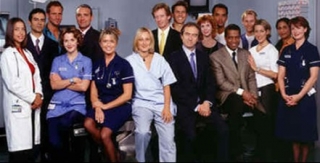 http://www.tvrage.com/Holby_City
Holby City
Holby City bounced on to our screens in 1999 as a close cousin to the established hospital drama Casualty.

It is a drama series depicting the frenetic daily lives of the doctors, nurses and patients in the hectic cardiac unit of Holby City General Hospital. With its strong cast, consistently realistic and well written storylines and fantastic direction, this is one drama that is here to stay.
"Holby City" Information

| | |
| --- | --- |
| Classification: | Scripted |
| Genre: | Drama |
| Status: | Returning Series |
| Network: | BBC One (United Kingdom) |
| Airs On: | Tuesday (08:00 pm) |
| Runtime: | 60 Minutes |
| Premiere: | January, 1999 |
"Holby City" Cast
| | | |
| --- | --- | --- |
| | played | Mark Williams (2005-present) |
| | played | Chrissie Williams (2001-present) |
| | played | Connie Beauchamp (2001-present) |
| | played | Ric Griffin (2001-present) |
| | played | Justin Fuller (2006-present) |
| | played | Faye Morton (2007-present) |
| | played | Donna Jackson (2001-present) |
| | played | Jess Griffin (2002-present) |
| | played | Lola Griffin (2003-present) |
| | played | Kyla Tyson (2003-present) |
http://www.imdb.com/title/tt0184122/
"Holby City" (1999)TV series 1999-????
Plot:
The everyday lives, professional and personal, of the doctors, nurses and patients who find themselves, for various reasons, in the wards of the frenetic cardiac unit of Holby City General Hospital. Drama series depicting the frenetic daily lives of the doctors, nurses and patients in the hectic cardiac unit of Holby City General Hospital. The unit is run by the autocratic Consultant Surgeon Anton Meyer (George Irving assisted by arrogant sidekick Registrar Nick (Michael French) who find themselves in a continuous running battle with Consultant Muriel McKendrick ('Phyllis Logan' ) over beds with the rest of the staff caught in the cross-fire. Written by Mark Smith

User Comments




Inspiring Medical drama, slightly more realistic than ER...

, 8 May 2004
Author: yeliab_cram from Leeds, England

Ah, where would we be without the joys of Holby City?? If you enjoy gory operations, pain-in-the-arse patients and the entire staff going for a drink in the bar at the end of the day and waking up in bed with each other the next morning then this may very well be for you.

Im a medical student, and surprisingly Holby City is not that far from the real world, if only Ed would put a tie on! Things may be a little OTT but the series is enjoyable, inspiring and not afraid to take on real issues of consent, racism, addiction and honesty in medical practice. It is most definately light relief from real-life hospitals and universally enjoyed by medics! A spin off of Casualty it has outgrown its predecessor and taken hospital dramas to new hights. For those of you who regularly watch ER this is similarly absorbing but there is slightly less of the completely impossible week-in week-out (ie helicopters don't fall on the consultants every other week)

Like any long running drama they do have the continual problem of killing off all the best characters and dragging story lines out for several months, but this show is definately worth a look on a cold rainy tuesday eve.

http://www.whatsontv.co.uk/primetime/holby_city/news/3176

Holby City shock at Bafta win

Monday 21st April 2008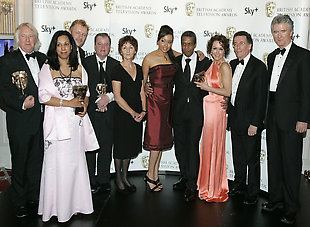 The cast of Holby City celebrate winning at the Baftas
The cast of Holby City looked visibly shocked upon hearing that the show had won the Bafta TV Award for Best Continuing Drama.
The BBC1 medical drama beat off stiff competition from EastEnders, Emmerdale and The Bill in the category.
Holby City, which regularly pulls in seven million viewers, has gone from strength to strength in the past 12 months tackling such storylines as alcoholism, drug abuse and domestic violence.
Tony McHale, executive producer of Holby City, collected the award with series producer Diana Kyle and cast members including Robert Powell, Amanda Mealing, Hugh Quarshie and Jaye Jacobs, who looked stunned when the result was announced by Dynasty actor Patrick Duffy.
On accepting the award, McHale said: "This is a terrific surprise. We've been runner-up for so long it's brilliant.
"The cast, production team and writers have all worked consistently hard and the Bafta is a great way of acknowledging their achievement."
He also paid homage to fellow nominee The Bill, and joked: "I did think of a speech for my mates at The Bill congratulating them for winning - but I don't need to use that now."
Quarshie – who plays surgeon Ric Griffin – said: "To beat the best at their own game is very satisfying."
http://www.imdb.com/title/tt1284258/
"Holby City" Hope, Faith and Charity (2008)
Director: Christopher King
Writer: Justin Young (written by)
TV Series: "Holby City" (1999)
Original Air Date: 26 August 2008 (Season 10, Episode 46)
Genre: Drama
http://www.bbc.co.uk/drama/holbycity/episodes/latest.shtml?image=2
Holby City: Hope, Faith and Charity
26 August 2008, 8pm, BBC One
| | |
| --- | --- |
| Michael brought the mysterious Reverend Steve Randal, his American friend and multi-millionaire, to Holby to meet the Tans. To the initial relief of the team, Randal proposed to pay for the twins' treatment and possible separation. | An angry Mark, meanwhile, caught Daisha attempting to swallow a packet of painkillers. He demanded to know why as he'd booked her an appointment at the specialist clinic. She told him she couldn't afford the operation; it would cost £2000. Mark promised her he'd find the money. |
| Randal met with Jayne to discuss his donation. She was furious when he produced a contract giving him the rights to interview the Tans on his TV show. Linden, meanwhile, discovered Randal's charitable foundation had been hit by scandal, making the donation almost impossible to accept. | Not knowing where else to turn, Mark asked Elliot to lend him £2000, and Elliot did so, reluctantly. Mark then rushed to meet Daisha at the clinic, but she was unable to go through with the termination. She left abruptly, in tears, with Mark. |
| It was also the day of the Director of Surgery interviews, and Connie kept her side of the deal made with Ric. She withdrew her application, as did Elliot. Jayne made Michael withdraw after showing him CCTV footage of him brawling with Louis Lopez in the carpark. | Later, when Ric - now the only candidate left - was waiting to go into his interview, Michael arrived and rushed him off to see the body of a young man. Ric, stunned, identified him as his son Leo. |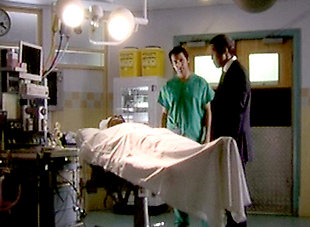 http://www.whatsontv.co.uk/primetime/holby_city/storysofar/3503
Michael has shocking news for Ric
Tuesday 26th August at 8:00pm (BBC1)

It's the day of the interview for the director of surgery position, and while Ric is confident that the job is his, he faces stiff competition from Michael. Meanwhile, Michael invites Reverend Steve Randall to meet the Tan twins, and the multi-millionaire priest soon agrees to pay for the treatment required to separate them.
Randall presents a blank cheque to Jayne and tells her that the Tans can have the best treatment - providing the procedure can be shown to investors of his church through TV publicity. Jayne objects to the Tans being exploited - and Linden soon discovers that Randall's TV show is famous for rescuing people and neglecting them afterwards.
Jayne berates Michael for bringing a man like Randall to Holby and he soon realises during his interview for the director of surgery position, that he was never in the frame for the job. Later, Ric is about to have his interview when Michael calls and takes Ric to identify a dead body - it's Ric's son Leo.
Also, as pregnant Daisha can't afford to pay for an illegal termination, Mark tries to come up with cash, but ends up having to ask Elliot. Mark waits outside the clinic for Daisha, who walks out in tears, unable to go through with the op.
http://www.thesoapshow.com/soapweek/holbycity.htm
Tuesday 26th August, 8.00pm
It's the day of the interview for the director of surgery position, in this week's edition of the medical drama. Ric is still confident that the position is his, but he faces some tough competition from Michael.
Michael, meanwhile, approaches Rev Steve Randall, a multi-millionaire who he hopes will pay for the separation of the Tan twins.
Elsewhere, Daisha's options seem to be running out as she cannot afford to pay for the illegal termination. Mark tries to find the money and ends up turning to Elliot for help.
Michael later shows Ric a body to identify – it's his son, Leo.
Ric is played by Hugh Quarshie, Michael by Hari Dhillon, Daisha by Rebecca Grant, Mark by Robert Powell and Jayne Grayson by Stella Gonet.
http://movie-tv-episode-database.com/Drama/Holby-City-17644/season-9/episode-1/Hope-Faith-and-Charity-682808
Holby City - S9E1
Hope, Faith and Charity
It's the day of the interview for the director of surgery position. Ric is still confident that the position is his, but he faces some tough competition from Michael. Michael approaches Rev Steve Randall, a millionaire who he hopes will pay for the separation of the Tan twins. Daisha's cannot afford to pay for the illegal termination and she is running out of options. Michael later shows Ric a body to identify, but some devastating news turns his world upside down.

RÉSUMÉ (ENGLISH) | RÉSUMÉ (RUSSIAN) | HOME