Jason Millward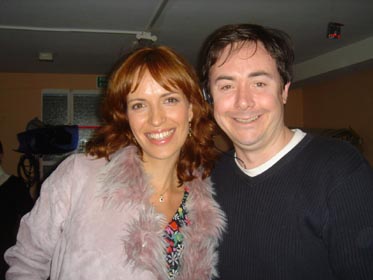 Ksenia Zaitseva and Jason Millward
http://former.imdb.com/name/nm1840900/
Jason Millward
Director - filmography
"Doctors" (3 episodes, 2005-2006)
- The Usual Suspects (2006)

TV Episode


- Mirror, Mirror (2006)

TV Episode


- Give a Dog (2005)

TV Episode

Meanwhile (2003)
Writer - filmography
Meanwhile (2003)
http://www.bbc.co.uk/london/content/articles/2006/03/30/film_jason_millward_feature.shtml
First Person: LA Diary
When filmmaker Jason Millward learned his screen debut had been accepted for an indy festival in Los Angeles, he took leave from his London hotel job, hitched up with a pal and BBC London's Jane Witherspoon and headed west. Here's what happened...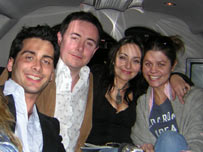 Marc, Jason and Jane - and limo guest
Fact File
It cost Jason Millward more to travel to Hollywood than it did to make his debut film, Meanwhile.
Fortunately - or unfortunately - while working as a rushes driver on a Bob Hoskins film, he was involved in an accident that led to him receiving compensation for his injuries.
£2,500 better off, Jason now had the budget for his film.
Meanwhile was shot on digital video in Derby, the Peak District and London, and tells the story of two young men who re-unite for the funeral of a mutual friend - with unexpected results.
Day One:
My mate Marc and I get to sunny LA and... it's raining. In the taxi to our hostel (which we've been referring to as a 'hotel' to people we meet, because it's a dump) I receive a text from my house-mate in London saying the festival has sent all the VIP passes and tickets to my flat there. Whoops!

So, after a couple of hasty phone calls we arrange for BBC London's TV Entertainment producer Jane Witherspoon to kindly bring them out with her. This is good of her because she's also bringing camera equipment to follow our trip - and our fortunes - for the next few days.
Day Two:
A rather lazy day. Feels good being in LA (especially as the sun keeps popping
out every now and then). Sit by the sea in Santa Monica and feel like we're on holiday.
Later we go to a free screening of a new film and see Irish actor Colm Meaney (Star Trek, The Commitments, Con Air, among others). I say hi as I've met him several times at the hotel I work at in London. Full-time filmmaking isn't an option for everyone! Colm's away this weekend so can't make the screening of my film, Meanwhile.
Day Three
Walking around, Marc thinks he sees Keanu Reeves on the street - but it isn't.

At night, we suit up and go to a hotel bar on Sunset before we're due to meet Jane at her hotel. We walk in and Keanu Reeves is sat at the bar! On my way back from the loo, I decide to say hi (as you do in this town) and mention my film - but his dinner guests have already arrived. Oh well...
Meet Jane and we go to the Chateau Marmont Hotel above where the Roxbury used to be. This was my friend's nightclub where, for several months in 1993, I worked and dreamed about what it would be like to make or be here with a film of my own. Memories interrupted by catching sight of Scarlett Johansson with an unidentifiable fella.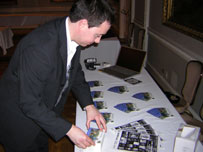 Jason prepares his Meanwhile stall
Day Four
Lunch with Marc and Jane at her hotel and, as usual in this town, the waiter is an actor and singer who seems to audition for us (including the singing) as he serves.

The opening night for the LA Independent Film festival is at the Bel Age hotel. It's going to be a long and busy night, sort of an exhibition hall-cum-event with all the filmmakers having their own little 'stall' from which to promote their films.
I'm very excited to get flyers and postcards for my film - all done by the festival. The trailer for Meanwhile plays on the monitors around the entire ballroom and we have it playing on a screen on our stall. We talk about the film... a lot.
Day Five
Do a live radio interview today from Jane's hotel room to the Beeb studio in London.

This involves her and I being on two separate phone lines. As we start, a Mexican housemaid cleans the room while giving us the strangest looks. Of course! It appears that we're having a conversation and not bothering to talk face-to-face. That's cool, even by LA standards.

In the evening, we go to my mate's club, which is apparently one of the best here. It turns into a good night and parts of it are slowly coming back to me...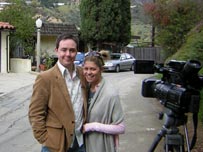 Jason and Jane in the Hollywood hills
Day Six
Day of the screening. Before we go to the cinema, Jane, Marc and I head off in a taxi to the Hollywood hills to do a TV piece for BBC London.

As we set up, Teri Hatcher from Desperate Housewives jogs past and Marc runs after her - we don't see him for several hours.

The interview seems to go well. We get to the cinema and a guy whose film is on before ours is flyering on the street, dressed as Jesus. Original.

After lunch, which I don't remember due to nerves, we go into the Meanwhile screening. It's great to hear the reaction from people and they even laugh (in the places where they're meant to)!
It's a lovely feeling to see my film on the big screen and quite addictive. Afterwards, the founder of the film festival, Stuart, has us driven back to the hotel in his limo! Fair to say, we celebrate again - and don't remember much of what happens that night.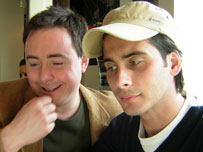 Jason and Marc consider the good news
Day Seven
Meet Jane for lunch before she has to leave. We go to a ranch-style bar with people riding a mechanical bull and the waitresses giving us free shots - have to remind ourselves this is Sunday lunch!

Jane leaves and we wave her off. Marc and I head back to the ranch bar and then it all starts to get a little foggy. One thing's for sure - we don't attempt the bull... or do we?
Postscript
I'm back in London and today's news is certainly a nice surprise. The festival has just been in touch to say that Meanwhile has been awarded the Best International Feature Award!
Wasn't expecting that because, well, I'd actually forgotten that there were awards at the end of it all. Still, a nice ending to this part of the experience.
We're now in the process of getting ready for New York and a screening there. Roll on, May...
http://www.mandy.com/1/film3.cfm?id=5203
| | |
| --- | --- |
| Title: | "Meanwhile" |
| | United Kingdom. English. 105 mins. DV. Drama (+Comedy). July 2003 (Completed). |
| | A drama with humour about two friends re-uniting for a funeral and the skeletons and ex-girlfriends who re-surface. |
| Production Co: | Lairy Shirt Films (UK - England/Wales). |
| | 'Meanwhile' is our first feature length film. It has been screened at the National Film Theatre in London. Also, in Los Angeles and New York. It won Best International Feature Film at the LA Independent Film Festival. |
| Rights Available: | All, Worldwide |
| Producer: | Lairy Shirt |
| Director: | Jason Millward |
| Writer: | Jason Millward |
| Cast: | David Coggins, Rupert Hill, Phillip Keiman, Jamie Langrish, Liz Bower, Norman Mitchell, Barry Knaggs |
| Target Audience: | 19-30 years |
| Total Budget: | US$10,000 |
| Screenings: | Premiere at National Film Theatre. FilmUK screenings at Edinburgh Festival. |
| General: | Meanwhile is the last film participation of Sir ALan Bates and is endorsed by Sir John Mills. Sir Alan had accepted a role but was unable to play it due to the cancer he had which was in it's later stages. He was very eager to take part and provided a eulogy voice over for the pivotal funeral scene. Meanwhile has been doing the rounds on video copies for people to view and has had a very enthusiastic response. It has been seen in New York, London, Northern UK, Sweden and South Africa - all viewers have connected with the universal themes of first love, loss, friendship, family and moving to a strange environment. |
| Synopsis: | Darren and Gary re-unite for the funeral of a mutual friend. It's been four years since they've seen each other but they fall quickly back into familiarity, largely assisted by the amount of drink they consume. Gary talks of his life and job in London. Darren, still living in the same town, proves to be an eager audience, finding new confidence and enthusiasm. In the lead up to the funeral, they visit old haunts and the friends who still inhabit them. Gary also makes contact with his ex-girlfriend, who is now married and living a day-to-day existence. Their meeting again after all this time re-kindles old feelings but leads him along an un-expected, troublesome path. It doesn't take long before he and the timid, easily led Darren find themselves in trouble - enough to make Darren find the idea of life in London rather enticing. And, they still have to make it to the funeral.... |

RÉSUMÉ (ENGLISH) | RÉSUMÉ (RUSSIAN) | HOME