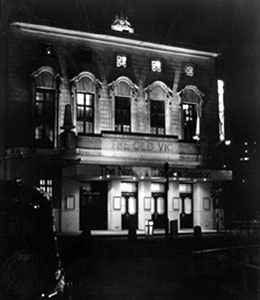 Old Vic theatre, London
Copyright Archive Photos

London theatre company, specialising in productions of Shakespeare, that eventually became the nucleus of the National Theatre.
The company's theatre building opened in 1818 as the Royal Coburg and produced mostly popular melodramas. In 1833 it was redecorated and renamed the Royal Victoria and became popularly known as the Old Vic. Under the management (1880-1912) of Emma Cons, a social reformer, the Old Vic was transformed into a temperance amusement hall known as the Royal Victoria Hall and Coffee Tavern, where musical concerts and scenes from Shakespeare and opera were performed. Lilian Baylis, Emma Cons's niece, assumed management of the theatre in 1912 and two years later presented the initial regular Shakespeare season. By 1918 the Old Vic was established as the only permanent Shakespearean theatre in London, and by 1923 all of Shakespeare's plays had been performed there. The Old Vic grew in stature during the 1920s and '30s under directors such as Andrew Leigh, Harcourt Williams, and Tyrone Guthrie.
The Old Vic theatre building was badly damaged during World War II, and when the company returned to London from wartime touring in 1944, it was housed in the New Theatre. Under the combined direction of Laurence Olivier, Ralph Richardson, and John Burrell, the Old Vic company presented memorable productions of Shakespeare's plays and other classics, including Cyrano de Bergerac, Oedipus Rex, Love for Love, and Peer Gynt. In 1946 the Old Vic School and the Young Vic, a company that performed for children, were established and housed in the Old Vic theatre. The company returned to its repaired original home in 1950, but the lack of space and adequate funds caused the school and the Young Vic to close in 1952. In 1963 the Old Vic company was dissolved, and the Old Vic theatre became the temporary home of the new National Theatre. The Young Vic was reconstituted in 1970, and by 1976 it had become an independent company.
Long known as the 'actors' theatre', The Old Vic has been the launch pad of many of the world's best-known actors. Its stage has seen some of the most remarkable theatrical performances of all time from legendary figures such as Laurence Olivier, John Gielgud, Sybil Thorndike, Edith Evans, Peggy Ashcroft, Alec Guinness, Vivien Leigh, Ralph Richardson, Michael Redgrave, Judi Dench and Maggie Smith. Kevin Spacey has also played here in the award winning production of The Iceman Cometh, followed by Peter O'Toole in his sell-out run of Jeffrey Bernard is Unwell.
Opened in 1818 as the Royal Coburg Theatre, The Old Vic is one of the oldest working theatres in London. In 1833 it was renamed the Royal Victoria Hall in honour of the then Princess Victoria. Over the years there were several changes of name, including the Royal Victoria Coffee House and Temperance Hall, but the theatre finally became known by its affectionate local name of The Old Vic. From 1914, under the managerial reign of the inspirational Lilian Baylis, The Old Vic became popularly known as the home of Shakespeare. Baylis's determination to re-establish Shakespeare as a popular playwright saw her produce the whole of Shakespeare's first folio in sequence. In 1950 The Old Vic Company, with Laurence Olivier and Ralph Richardson at its helm, was established. This led directly to the foundation of the National Theatre in 1963 with Laurence Olivier as its Artistic Director. The Old Vic was the National's home for the next thirteen years, until it departed in 1976 for its new purpose built home on the South Bank. Under the ownership of Ed Mirvish during the 1980's and 90's The Old Vic was beautifully restored and renovated and saw an astonishing 80 productions including seasons from Jonathan Miller and Peter Hall.
At the end of 1997 the Mirvishes announced their intention to sell The Old Vic, and the fate of this historic theatre lay in the balance. Rumours circulated about the prospect of a themed pub-or worse- a lap dancing club. At the eleventh hour a non-profit making charitable trust was formed to buy and save the theatre. Its future as a working theatre was secured thanks to the generosity of many donors both in the UK and the USA.
When the Trust was established it pledged to ensure the longest possible term future for The Old Vic at the highest artistic level. Since 1988 the theatre has seen such acclaimed productions as Peter Shaffer's Amadeus directed by Peter Hall, Ricky Jay and his 52 Assistants directed by David Mamet, Conor McPherson's Dublin Carol directed by Ian Rickson, Frank McGuiness's Dolly West's Kitchen, The Car Man directed by Matthew Bourne and Yasmine Reza's Life x 3 translated by Christopher Hampton and directed by Matthew Warchus. The Trust continues to seek to fill The Old Vic stage with work of the highest quality. Through its new project Old Vic New Voices it also opens up the building to emerging writers, directors, designers and actors as a protected environment in which they can develop and progress their work. In June 2002 Sir Elton John was appointed Chairman of the Board of Trustees and will lead The Old Vic into a new stage of development and growth.
TRUSTEES


Sir Elton John CBE (Chairman)
Sally Greene (Chief Executive)
Lord Attenborough
Alan Banes
Robert Bourne FCA
Rosie Boycott
Stephen Daldry
Lynn de Rothschild
Sir Richard Eyre
Robert Fox
Susan Hayden
Joyce Hytner
Kenneth Leet
Kevin Spacey

ASSOCIATE BOARD


Tina Brown
Willem Dafoe
Charles Finch
Matthew Freud
Sir Peter Hall
John Malkovich
Rt. Hon. Peter Mandelson M.P
Steve Morrison
Jane Procter
Scott Rudin
Charles Saatchi
Matthew Warchus

STAFF


Joan Moynihan (Executive Director)
Colin Ingram (Executive Producer)
Mary Rose (General Manager)
Kate Pakenham (Old Vic New Voices)
Annie Simpson (PA to Sally Greene)
Ros Povey (Production Assistant)
Simon Fliegner (Administrative Assistant)
Chris O'Mahony (Financial Controller)
Shirley Pullen (Book Keeper)
Deano McCullagh (Technical Manager)
Ned Seago (Stage Door Manager)
Steve Nisbet (Stage Door Keeper)
Kevin Spacey's

appointment as Artistic Director of

The Old Vic Theatre Company

received a huge amount of media attention, reflecting both his status as an international stage and screen actor, and that of

The Old Vic

as one of the world¹s great theatres.

Sally Greene, Chief Executive of The Old Vic Theatre Trust 2000, says of Spacey's appointment "Kevin Spacey is easily one of the most extraordinary actors of our generation. It is a wonderful testament to British theatre and The Old Vic that he has chosen to take on the direction of a new resident production company at The Old Vic. His energy and enthusiasm for The Old Vic is intoxicating!"

Kevin Spacey will bring to The Old Vic Theatre Company his talents as an actor and director and his experience as a producer of film, television and theatre.

The first season under Kevin Spacey's direction will take place in the autumn of 2004.

Kevin Spacey intends to bring the best of British and American theatrical talent onto the stage of The Old Vic Theatre as well as appearing himself. It is The Old Vic Theatre Company's intention to transfer as many productions as possible to New York following their successful London runs.

Kevin Spacey's The Old Vic Theatre Company has already received support from renowned theatre directors who intend to direct productions under its auspices.

Welcome to The Old Vic

The Old Vic is one of the oldest theatres in London and famous throughout the English speaking world. Long known as "the actors' theatre", many of the greatest performers of the last century have played on its stage, including Laurence Olivier, John Gielgud, Sybil Thorndyke, Edith Evans, Peggy Ashcroft, Alec Guiness, Vivien Leigh, Ralph Richardson, Michael Redgrave, Peter O'Toole, Judi Dench, Maggie Smith and Kevin Spacey.

"The Old Vic Theatre has probably played a more influential role in the history of drama than any other playhouse" The Daily Telegraph, July 1998
The Old Vic London repertory company and theatre. The Old Vic theatre opened in 1818 as the Coburg, and was renamed the Royal Victoria in 1833, soon familiarised to the Old Vic. In 1914 it became a Shakespearean repertory company organised by Lillian Baylis; by 1923 the entire stage works of Shakespeare had been presented. After Baylis's death in 1937, other directors such as Michel St. Denis and Michael Benthall used the space for productions and actor training. From 1963-76 it was the temporary home of the National Theatre of Great Britain (see Royal National Theatre ). Briefly closed due to funding cuts, it reopened in 1983. Again threatened by lack of funds, it was purchased and preserved by a charitable trust in 1998. In 2003 Sir Elton John became the theatre's president, a restoration drive was organized, and the formation a new Old Vic company was announced. Directed by the American actor Kevin Spacey, the group is intended showcase new theatrical talent.
Columbia Encyclopedia, Sixth Edition, Copyright (c) 2004
The Old Vic
For nearly 200 years, The Old Vic in Southwark has been renowned for great theatre. Now, following in the footsteps of Gielgud and Olivier, Kevin Spacey has taken up the role of artistic director
According to Kevin: 'It's just the biggest dream of my life to run a theatre, and to do it at this time of my life when most people would expect to just keep doing movies. I'm fortunate to have a dedicated and incredibly creative, talented staff'.
Kevin explains that the ghosts of theatre play at big part in the passion that it inspires. 'You feel something in this building. There are ghosts, very friendly ghosts, who are happy that actors come and work. You can't help that when you walk on that stage you feel that energy and that spirit around you everywhere'.
Over the years the theatre has hosted hundreds of Shakespearean productions as well as more contemporary avant garde ones, but no matter how different the plays are all the actors agree on one thing - the acoustics.
'There is something about the acoustical effect of having a horse-shoe shape of the balcony rather than it jutting out over the stalls. You literally feel that you can place the performance exactly where you want it. There's nothing between you and the audience,' said Kevin.
Actor Ben Wishaw whole-heartedly agrees: 'The relationship between the stage and the audience is amazing, particularly with a part like Hamlet which is constantly turning to the audience to address them and it's amazing to have that contact'.
And the audience appreciates the contact too.
'You feel less like a tourist, and it's full of authentic people who love theatre. It's good to be a part of that,' one regular explained.
'Old Vic Productions' Launched
[27 July] Private investors are currently being sought for a new theatre production company, Old Vic Productions, which was launched this week by the actor Kevin Spacey.
This new production company - which as the name suggests will be based around producing plays at the Old Vic Theatre - is a 're-launch' of Criterion Productions which was set up in 1994 and which has seen almost half of the 30 plays that the company has invested in make a profit - including The Weir and The Graduate.
Spacey, who won the Olivier Award for 'Best Actor' for his performance in The Iceman Cometh at the Old Vic in 1998, said: "I want to use myself as a magnet to attract great writers, actors and directors back to this theatre that has kind of been lost... I've got four films to do first but as soon as I finish them I want to get my butt back on that stage where it belongs... There's a lot of people I'd love to act alongside. I'd love to do a comedy too with Sam Mendes directing it."
Spacey also explained that in the long term Old Vic Productions would endeavour to assemble a company of actors for the Old Vic Theatre, headed by former Royal Court Theatre artistic director, Stephen Daldry.
With investment in theatre productions viewed as being high risk, the chief executive of Old Vic Productions, Sally Greene, said that that company will "invest in a range of productions - we'll be co-producing The Car Man for instance - so that our risk is spread. At the moment 'angels' put their money in one production and if it goes they lose their money." She added that "The company is separate from the trust so the building will always be safe."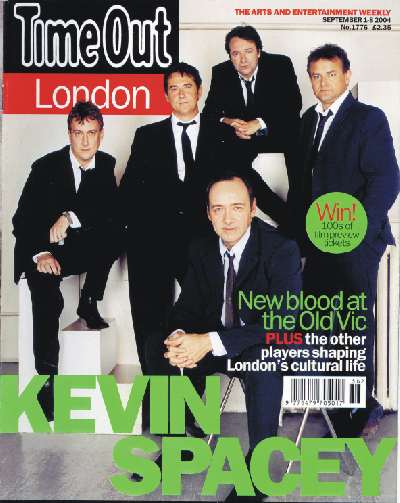 Time Out, London, September 1-8, 2004, Pages: Front, 10-12
'This is something I dreamed about doing when I was a kid'
'Is the Old Vic heading for a new golden age? With Kevin Spacey at the helm in his first season, hopes are high.
Interview Jane Edwardes, Photography Rob Greig
When Kevin Spacey appears at the

stage door of the Old Vic, he s

eems much bigger, more sporti

ng, even burlier than I expected.

For a second I don't even recognise him in his

dark glasses and silly flat cap worn backwards.

I'm the only one who's deceived. As he sets a

fast pace from the stage door to the foyer, some

one in the street yells 'Hi Kev!', but there's no

part of the actor's body that registers that he's

heard. Then it's up to the circle for a quick mar

keting meeting to okay a poster and down to the

bar for the interview. He waves at the box-office

guy as we pass, with a friendly shout of 'Keep

selling those tickets!'

All this is a clear indication that the Old Vic is back in action, and a very good thing too. The last actor to run the building was Laurence Olivier, who presided over a golden age of productions, some of which Spacey saw when his parents brought him to London as a kid. Prestigious seasons by Jonathan Miller and Peter Hall floundered in the '80s and '90s when the Mirvishes, the then owners, grew tired of losing money. It seems obvious that to run the Old Vic properly you need subsidy. But Spacey and his executive producer David Liddiment are relying, in true American fashion, on investors and sponsorship. 'It's our intention,' Spacey tells me, 'to make a profit, but it's not our first intention.'

The risk is huge, but even if his recent films have been less exciting than 'The Usual Suspects', 'LA Confidential' and 'American Beauty', Spacey has the advantage of bringing the aura of a star into the building, helping to attract an essential trio of money, talent and publicity. So far, he has announced four plays: 'Cloaca', by Dutch playwright Maria Goos; 'Aladdin' for Christmas; 'National Anthems', in which he will repeat a favourite role; and 'The Philadelphia Story', in which he will play the Gary Grant part - the Katharine Hepburn role has yet to be cast.

He sits slouched in a corner sipping on Diet Coke and working his way through half a dozen Marlboro Lights (clearly his diet hasn't improved since he and Clinton shot into McDonald's at the Labour party conference two years ago). He looks like the overgrown kid who once taught Judi Dench how to ride a scooter in Central Park. But he talks like a politician, a serious media manipulator who is entirely focused on projecting the message that he is dedicated to the positive future of the Old Vic. Ask him where he'll be in five years' time, and he says, 'Right here, planning the next season.' He even hopes that by the fourth season there will be a company of actors cross-cast in the different productions, a hugely expensive enterprise.

There's no question that Spacey loves the building, an affection fostered by the run of 'The Iceman Cometh', which transferred to the Vic from the Almeida. His dazzling performance as the deranged Hickey was enough to kill any suggestion that he was only over here to polish up his CV for greater glory in Hollywood. For 'Cloaca', he has cast himself in the role of director. 'I didn't want to be in the first play,' he says, 'because I thought that was just too' -putting on a cutie-pie voice -' "Here I am".' The Dutch play is the biggest gamble of the season, especially at a time when straight plays are regularly going belly-up in the West End. It has a title that nobody understands, unless you're an expert on Roman plumbing or anatomy (it apparently means 'sewer' or, alternatively, something to do with the rectum and genitalia); a cast - Hugh Bonneville, Ingeborga Dapkunaite, Adrian Lukis. Neil Pearson and Stephen Tompkinson - which is strong but not a huge box-office draw; and a playwright, Maria Goos, whom nobody in London has heard of. 'And it's selling incredibly well,' Spacey interrupts smoothly. 'I have to tell you that I'm a bit surprised at the advance. I find it kind of interesting that it's a title that people can't quite pronounce yet - I think it will eventually catch on.'

But what if the reviews are mediocre and they sell only 60 per cent of the seats? That will be fine,' he reassures me. 'We're already fine. The panto is selling well. "National Anthems" we expect to do well as it will be the first show I act in, and we haven't even opened the booking for "Philadelphia Story".'

As I haven't been allowed to read the script of 'Cloaca' - perhaps because they are working from a literal translation - I'm dependent on a press release, which describes the play as 'exploring how men compromise their emotional lives in the constant quest for money, power, and reputation'. He agrees that it shares some similarities with 'Art': 'Firstly ['Firstly' crops up often when Spacey is in artistic director mode], because it is set in a foreign country, because it takes place in one apartment and because it does deal in one of its central story lines with works of art.

But the comparisons end there.' Can he see himself at all in the

description of the men in the press release?

'What, in my own life? Firstly, I haven't ruined my life. I'm actually trying to avoid ruining my life by coming here and running a theatre. This for me is a whole new chapter and something I dreamed about doing when I was a kid.' He says

that he's got tired of the kind of actor's life in

which one's always on the move: 'Families that you've created move on and suddenly you have another family. One of the attractions for me is to finally have a home and base from which you can experiment and try new things.' His work, then, is his emotional life. He describes the moment five years ago when he realised that running the Old Vic was what he should do. 'I walked out of a meeting upstairs in the rehearsal room with an overall feeling that whether it was being run by an actor or not, this theatre was always at its best when it was an actors' theatre. And it suddenly dawned on me that here I was on this committee trying to find the right person to run this theatre and it was staring me in the face. It was very soon after that that I went to the board and said, "I actually think this is something I'd like to do."'

Did he, I wonder, really say that if news of his decision leaked out he wouldn't do it? 'Yep. I wanted to lead this story, not to have to follow it. What I was afraid of was that it would be all over the newspapers - cynical stories about Hollywood actors coming to save the British theatre, which is not what this is about at all.' Spacey likes secrets - he dangles the name of the director for 'Philadelphia Story' just out of my reach throughout - and he likes being surrounded by people he trusts. Theatre people have welcomed him over here. Artists love his talent, generosity and enigmatic charm - the same charm that makes the press suspicious -and understand his need for privacy. Spacey says he's robust but seems to spend too much time worrying over carping diary snippets -not helped by the matter, mentioned by absolutely everyone when I say I'm about to interview him, of the 4.30am walk with his beloved mutt when his mobile phone was stolen. People wonder what he was doing out and about at such an hour, although Spacey's response has always been, 'When a dog's gotta go, it's gotta go.' As I raise the subject, he immediately cuts me off with that sinister drawl that has become so familiar on screen: 'I'm not going to even bother to let you ask that question.' The redtops, he insists, are not a problem. 'It's just their bizarre way of welcoming me to their country.' Then, he says, with some passion: 'They are not going to drive me from these shores.'

Following 'Cloaca' comes the panto, a surprise choice given that the British taste for cross-dressing usually baffles Americans. It turns out that it baffles Spacey too, but when he asked Ian McKellen if there was anything he had always longed to play, McKellen fell on the chance to put on a dress as a dame (question: if Spacey is gay, why would he ask McKellen into his theatre when the latter is bound to preach about the pleasures of coming out?). Sean Mathias is directing 'Aladdin', which gives Spacey a break in which to go to the States to promote his new film 'Beyond the Sea' and also, coincidentally, to support the Democrats in the election. The film is based on the life story of Bobby Darin, the crooner and rocker, who died of heart failure at 37 in 1973. Spacey both directs and plays Darin. He battled for the rights for years and then, looking for financial backing, was rejected by all the American studios. Eventually, he raised the money in Britain and Germany. Spacey promises that no one will be able to tell that such a quintessential American story was shot in Berlin, except for 'my one German joke'. At 45, he seems a bit young to be a Darin fan (and perhaps a bit old to be playing the singer himself), but his enthusiasm stems from his father's incredible collection of 78s, which he was never allowed to touch: 'My dad kept them in pristine condition and I grew up listening to the same music as Bobby Darin did - big bands, Sinatra, Ella Fitzgerald and great jazz. So I got introduced to that music really young and by the time I was about 14, I just thought Darin was the coolest cat that ever walked the face of the earth.'

As well as promoting the film, Spacey will also be rehearsing for a concert tour in the US. A tribute band, then? 'I'm singing for my supper. The whole reason behind doing the movie is to introduce Darin to a generation that doesn't know him at all, and to reintroduce him to a generation for whom he's been largely forgotten because he died so young.' He's looking forward to the tour after the joy of laying down all the tracks in Abbey Road with a 48-piece orchestra: 'It's like strapping yourself to the front of a locomotive and just going "Aaaaargh!"' Briefly, the real enthusiast breaks through, and not the corporate spokesman. •

'Cloaca' previews at the Old Vic ( 0870 060 6628 / www.oldvictheatre.com ) from Sept 16.
http://www.keepmedia.com/Register.do?oliID=225

OLD VIC ON A SPACEY ODYSSEY
Thesp unveils inaugural season at London theatre
by MATT WOLF | Apr 26 '04
A starry revival of "The Philadelphia Story" and a Christmas pantomime with Ian McKellen will highlight Kevin Spacey's first season as artistic director of London's Old Vic Theatre.
The more speculative corners of the media may have wanted to know the story behind Spacey's "mugging" while walking his dog in a London park in the early ayem earlier in the week, but the two-time Oscar winner had more professional things to discuss April 22 when he sauntered on to the Old Vic stage to announce his inaugural lineup, which begins in September.
Spacey is directly involved with three of the four productions that will make up his first season at the playhouse, once home to Laurence Olivier's National Theatre and a showcase for some of Britain's most legendary stage productions. (A 1,000-seater, the Vic will have a reduced capacity of 850 or so for most of Spacey's tenure.)
Spacey will run the theatre with his producer, the 51-year-old David Liddiment.
"I basically asked myself, what am I going to do for the next 10 years of my life? Will it be movie, movie, movie with an occasional play?" Spacey told Variety after the press confab. "And I thought, I'd rather do it the other way round --- do play after play after play and squeeze a movie in."
Spacey will make his professional theatre directing debut with season opener "Cloaca," by the Dutch writer Maria Goos in her own English-lingo translation. The five-character play will kick off a five-week run Sept. 16, opening Sept. 28 (through Dec. 11). Four of the five performers are confirmed: Hugh Bonneville ("Iris"), Stephen Tompkinson (TV's "Drop the Dead Donkey"), Neil Pearson and Ingeborga Dapkunaite.
The actor, who has directed two films ("Albino Alligator" and upcoming entry "Beyond the Sea," in which he also stars), said he knew by the intermission of the read-through that he had to direct Goos' play. "Maria has her own voice," he said, adding, "It's a fantastic actor's piece, pure theater where there's nothing between the actors and the audience."
The play, whose title is the Latin word for "sewer," is the basis of a 2003 film version of the same name, already released in Holland. "It speaks to me completely," Spacey said of the text. "I'm in my 40s, and all the men in this play are in their 40s. It's very relevant to our culture, speaking now as a citizen living in London. And if the play ever went to New York, it would resonate there, as well: It's deeply moving and very, very funny."
"Cloaca" will be followed by that favourite British phenomenon, a Christmas pantomime, a theatrical form of which Spacey confessed complete ignorance. (Pantomimes are a good artistic director's bet, since they almost always strike U.K. box office gold.) But it's not every day you get McKellen starring as the Widow Twankey for director Sean Mathias in "Aladdin."
That venture runs Dec. 17-Jan. 22, freeing Spacey up to do North American press on his Bobby Darin biopic "Beyond the Sea." The $20 million film is due out in the U.S. around Thanksgiving from Lions Gate; Entertainment distributes the pic in Britain.
Spacey will appear in both remaining projects of the season. First up is an American three-hander, "National Anthems," which Spacey performed early in 1988 at the Long Wharf Theatre in New Haven, Conn. (The New Haven staging of "Anthems," directed by Arvin Brown, was originally skedded to star Al Pacino in Spacey's eventual part as Michigan fireman Ben Cook.)
Does it matter that Spacey, 45 in July, is now 16 years older than when he initially did McIntyre's play? "Not at all."
Last up is "The Philadelphia Story," with Spacey inheriting Cary Grant's screen role as C.K. Dexter Haven. Production, which is eyeing a Broadway transfer early in 2006, will --- if such claims are to be believed --- rather amazingly mark the West End premiere of Philip Barry's vintage comedy, which will be a co-venture with Duncan Weldon's Triumph Prods.
Weldon had been attempting to put together a London staging of the same play a few seasons back, with Howard Davies directing Calista Flockhart. That never happened, but Flockhart's name remains in the mix to play Tracy Lord, with Gwyneth Paltrow and Nicole Kidman among the Hollywood heavyweights also being circulated. (Spacey told Variety he was a student at Juilliard when he saw Paltrow's mother, Blythe Danner, play Tracy in Lincoln Center's early 1980s revival of the play.)
Spacey said no further casting would be confirmed until a director had been named. Davies, who helmed Spacey's award-winning spin as Hickey in "The Iceman Cometh," apparently is not on board this time around.
Further ahead, Spacey spoke of Beckett, Chekhov, and, as always, O'Neill as classic writers he would like to explore. (Long before "Iceman," Spacey was a near-definitive Jamie in a 1986 Broadway and London revival of "Long Day's Journey Into Night." That show's helmer was Jonathan Miller, the Englishman who went on to run the Old Vic for several seasons.)
"I want to consider all sorts of things," Spacey told Variety. "I feel like, to some degree, this is now our playground."
Liddiment pegged the cost of the first season at £2 million ($3.54 million) and said the productions could on average break even at less than 60% capacity in the horseshoe-shaped venue. And though Old Vic theatre owner Sally Greene said Spacey was contracted for five years, the actor sounded reluctant to put a time period on his tenure: "Sally's just making (the figure) up. I hope it's longer than that. Look, it will probably take us three to four seasons to plant our feet firmly."
He was adamant that this job takes precedence over all others, beyond post-production chores on "Beyond the Sea," which in any case are taking place in London.
At the moment, Spacey has no further films pending, having recently finished three weeks' shooting in Vancouver on Morgan Freeman starrer "Edison," which is as yet unsold to distribs.
"My commitment is real," Spacey said. "There may be some skepticism about that, but the best thing I can do is show up for work every day."


http://www.officiallondontheatre.co.uk/news/display/cm/contentId/79765
Kevin Spacey announces first Old Vic season
Kevin Spacey and David Liddiment today announced their plans for the first season of work at the Old Vic Theatre Company. The first four productions, all London premieres, will be Cloaca by Maria Goos, Aladdin by Bille Brown, National Anthems by Dennis MacIntyre and The Philadelphia Story by Philip Barry.
Speaking at a press conference at the Old Vic this morning, Spacey was in confident, jokey mood as he announced his first season as artistic director of the newly-formed Old Vic Theatre Company. It's not true, he said that "David Beckham paid £100,000 to the Old Vic if I took him off the front pages. It's not true and I will text him myself if someone will lend me their mobile phone."
Spacey himself will direct Cloaca, which is to star Hugh Bonneville, Neil Pearson, Stephen Tompkinson and Ingeborga Dapkunaite. Cloaca was a huge hit for the Dutch theatre company Het Toneel Speelt and studies four lifelong friends reunited in middle age. Although Goos' work is little known outside her native Holland, Spacey described her as "a woman writing at the peak of her game." Cloaca will run from 16 September to 11 December.
The Old Vic's Christmas production will be a classic pantomime, Aladdin with Sean Mathias directing Sir Ian McKellen as Widow Twankee. Why Aladdin? "It's the one that Ian wanted to do," explained Spacey, adding that it's long been McKellen's ambition to play a pantomime dame. "It's not often you get a Sir and a dame in the same night." Aladdin will run from 17 December to 22 January.
Kevin Spacey will star in Dennis McIntyre's National Anthems, which Spacey first performed in 1988 in New Haven, Connecticut. Set in Detroit, Michigan and played in real time, the play is a critique of suburban values and a parable about the American dream. David Grindley, whose acclaimed production of Journey's End is about to transfer to the Playhouse, will direct. National Anthems will run from 1 February to 23 April 2005.
The final production of the first season will be Philip Barry's classic Broadway comedy, never before seen in the West End, The Philadelphia Story, the film of which starred Cary Grant, James Stewart and Katharine Hepburn. Spacey will star in the role made famous by Cary Grant, although a director and the other cast members have yet to be appointed. The Philadelphia Story will run from 3 May to 23 July 2005.
The first Old Vic Theatre Company season is strong on new plays, but Spacey emphasized that he intended to produce Shakespearean and other classics in future years. "Classics will also take their place. In due course I intend to tackle Shakespeare and some of the great roles that have made this theatre's reputation such a remarkable one." Spacey is committed to starring in at least two productions per season, emphasizing his commitment to the project. "I'm not going to be giving up my film career," he said, but he will be concentrating his attentions on the Old Vic and his own production company in Los Angeles. However, he will live in London – "this isn't going to be a company I'm going to be commuting to to run."
Producer David Liddiment announced that for each performance, 100 seats will be priced at £12 for under 25s and these will include some of the best seats in the house. The only exception to this will be for Aladdin, where the whole house will be given over to cheap seats for the local community for two performances. Tickets for each production will cost from £10-£40, except Aladdin which will cost from £10-£35.
Public booking opens on 15 May, or you can receive priority booking by becoming a Friend of the Old Vic by calling 0870 060 6635.

Nowt2Do.Com Theatre Preview
Name: The Old Vic
Venue: Waterloo Road, London, SE1 8NB
Dates: Autumn 2004 onwards
How to book: Call 0870 060 6635 or visit www.oldvictheatre.com

Kevin Spacey and David Liddiment announce the first season of The Old Vic Theatre Company
Company to include Hugh Bonneville, Neil Pearson, Ian McKellen, Stephen Tompkinson, Kevin Spacey
Kevin Spacey, artistic director, and David Liddiment, producer, announced today, Thursday 22 April, the first season of plays to be presented by the newly-formed Old Vic Theatre Company.
The season will open in September 2004 and run until July 2005 and will comprise four productions, two of them British premieres. Kevin Spacey will lead the company, directing the first play and appearing in two later productions.
The Old Vic Theatre Company will play throughout the year at The Old Vic where their programme of work will be financed in three ways: through ticket sales, investors in the productions, and sponsorship. Ticket prices will be in line with those of the commercial theatre, but with the aim of building a young audience there will be 100 seats at £12 set aside at each performance for young people aged 25 and under.
The exception to this is the panto, when the Old Vic will be presenting two performances at substantially reduced prices for the local community.
Cloaca by Maria Goos
16 September – 11 December.
Opening the season will be the British premiere of Cloaca by the acclaimed Dutch writer Maria Goos whose work has never before been seen in the UK. Kevin Spacey directs a cast which will include Hugh Bonneville, Ingeborga Dapkunaite, Neil Pearson and Stephen Tompkinson. The designer is Rob Jones. Four lifelong friends are reunited in middle age; their lives finely balanced between hope and disillusion. Maria Goos' play is a darkly funny examination of friendship and aspirations, exploring how men compromise their emotional lives in the constant quest for money, power, and reputation.
Cloaca was written in 2002 for the theatre company Het Toneel Speelt and was the hit of that season in the Netherlands, as was her play Family the previous year. Both plays were adapted into successful feature films.
Tickets: £10, £15, £20, £25, £32.50, £40
Aladdin by Bille Brown
17 December 2004 – 22 January 2005
The Old Vic celebrates Christmas and honours its vaudeville past with a classic family panto. Ian McKellen plays Widow Twankey in Australian writer Bille Brown's new version of Aladdin, directed by Sean Mathias.
Tickets: £10, £15, £20, £25, £32.50, £35
Children's discounts on selected matinees
National Anthems by Dennis McIntyre
1 February – 23 April 2005
The Old Vic production of Dennis McIntyre's National Anthems marks the British premiere of a play which was first seen in the USA in 1988. Set in Detroit, Michigan, and played in real time, the play takes us to the heart of 80's suburban America, and is at once a searing critique of suburban values and a hard-hitting parable about the American dream. Kevin Spacey takes one of the three roles in this powerful and intimate drama, and David Grindley directs.
Tickets: £10, £15, £20, £25, £32.50, £40
The Philadelphia Story by Philip Barry
3 May – 23 July 2005
Philip Barry's sparkling and witty Broadway comedy, never before seen in the West End became one of the great movies of Hollywood's golden age and inspired the Cole Porter musical High Society. Kevin Spacey will play C. K. Dexter Haven in this production which is co-produced with Triumph Entertainment. Additional casting and the director will be announced at a later date.
Commenting on the season, Kevin Spacey said, 'I am delighted to announce our first season today with four productions that I hope will be both challenging for us as a company and entertaining for our audiences. We are particularly pleased to have as our opening production a new play from a different culture by an unknown writer, Maria Goos. This underlines just how important new work is to The Old Vic Theatre Company.
At the same time, mindful of the historic traditions of this theatre, classics will also take their place. In due course I intend to tackle Shakespeare and some of the great roles that have made this theatres reputation such a remarkable one.
And as reputations go, to have Sir Ian McKellen, one of the great actors of all time, return to The Old Vic stage in a specially written new panto is a great coup. I personally look forward to this production, as the panto is an entirely new form for me because the tradition does not exist in America.
But my passion for American writer Dennis McIntyre led me to hang on to the rights of National Anthems for many years in the hope that I would find the right time and the right place to perform it. To have David Grindley as my director thrills me because of the remarkable attention to detail his work represents and because he is such an emerging major talent in this country.
And finally, to present the London premiere of the classic play, The Philadelphia Story will be a fantastic and fun way to finish off our first season. We can only hope that as we look toward our plans for seasons two, three, four and beyond, that we will continue to be blessed with the range of work that this first season offers us.'


Kevin Spacey announces Old Vic's commitment to Waterloo
22 April 2004
London SE1 website team

"We wish to play our part in this community in Waterloo" said Kevin Spacey when announcing his first Old Vic season.
"We are here for the long term" added the new American artistic director who stressed that he was not commuting to and from New York. "I live here now".
He also announced details of a pantomime next December when the Old Vic will be presenting two performances of Aladdin at substantially reduced prices for Waterloo residents. Sir Ian McKellen will play Widow Twankey.
Kevin Spacey took to the stage to announce four productions starting in September with the British premiиre of Cloaca by Maria Goos. The cast will include Neil Pearson and Stephen Tomkinson.
| | |
| --- | --- |
| Kevin Spacey and David Liddiment | Sally Greene, chief executive of the Old Vic |
The rights to Dennis McIntyre's National Anthems have been held by Kevin Spacey since 1989 and he will make his debut as one of the three characters in January.
The fourth production, starting in May, will be The Philadelphia Story by Philip Barry. Although the Broadway comedy became a film this will be the first time it has been staged in London.
"I am walking towards something that is tremendously satisfying" declared Kevin Spacey who confessed that he had never seen a pantomime. "It's worth the risk".
Alongside the Artistic Director was producer David Liddiment who announced reduced price seats offer for young people at all performances.
The press conference was opened by the head of the theatre's trust Sally Greene who described herself as "Kevin Spacey's landlady".

'The Old Vic building itself seemed to speak to me'
(Filed: 26/04/2004)
A recent small-hours walk landed Kevin Spacey in the headlines – but another late-night jaunt a few years ago resulted in his becoming artistic director of the troubled Old Vic. The Oscar-winning star tells Charles Spencer about the allure of Waterloo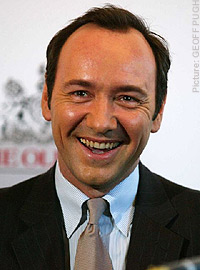 Meeting Kevin Spacey at the Old Vic, a few days before the infamous mugging that never was, I found myself irresistibly reminded of Victor Kiam. You remember old Victor, who so regularly appeared on TV commercials announcing that he loved the Remington shaver so much that he bought the company.
Well Spacey, the double Oscar-winning Hollywood actor, loved the Old Vic so much that he became its artistic director.
When I first read last year that Spacey was to become the theatre's boss, I assumed it was all a bit of a stunt. Kev would be the front man, supplying the glamour and luring Hollywood stars to Blighty, but surely the nuts and bolts of running this glorious but often troubled theatre would fall to other, less celebrated hands?
Spacey, after all, has taken Hollywood by storm in the past decade, in movies that include The Usual Suspects, for which he won a Best Supporting Actor Oscar, LA Confidential, Glengarry Glen Ross, Seven and Sam Mendes's triumphant American Beauty, which won Spacey the Best Actor Academy Award.
Later this year sees the release of his biopic about the singer Bobby Darin, Beyond the Sea, in the planning for more than a decade, in which Spacey not only stars, but also served as producer and director.
How could anyone want to turn their back on the glamour and money of the movies to run a troubled theatre in south London which not so long ago was threatened with conversion into a lap-dancing club?
After spending an hour and a half in Spacey's company, however, I emerged from the Old Vic convinced that he is a man who means business, is in it for the long haul, and could be just the chap to restore the theatre to its former glories. It's the first time so high-profile an actor has doubled as a theatre's director since Olivier ran the National Theatre company at the same address in the '60s and early '70s.
"I understand why people might feel sceptical," says Spacey. "I've sensed over the past year since my appointment was announced that people look at me with narrowed eyes as if to say, 'Are you really doing this?', and the only way I'll be able to prove that I'm serious is just by turning up to work every day."
Spacey, 44, has great charm, a lively sense of humour and great gifts as a mimic (I was treated to an excellent John Gielgud). He is notoriously cagey about his private life, which came into the spotlight again this week when he told the police that he had been mugged in a south London park at 4.30am, only to withdraw the allegation a few hours later, confessing that he had actually tripped over his dog while giving pursuit to a youth who had conned him out of his mobile phone. The drop-dead cool Spacey suddenly seemed slightly ridiculous.
But in person there is a slightly scary confidence and authority about him that suggests that he will make a natural leader. To those who try to delve into his private life – he has denied persistent speculation that he is gay – Spacey once replied:
"It's not that I want to create some mystique by maintaining a silence about my personal life. It's just that the less you know about me, the easier it is to convince you that I'm that character on the screen."
Spacey has been so big in the movies over the past nine years that it's easy to forget that he is at heart a theatre actor, with an impressive CV that includes Shakespeare, Chekhov, and a great deal of new writing.
It is not, however, a fact that will be forgotten by anyone who saw his sensational performance as Hickey in Eugene O'Neill's dark four-and-a-half hour masterpiece, The Iceman Cometh, at the Almeida Theatre in 1998.
This was an indisputably great performance, in an indisputably great production by Howard Davies. It was also the show that led Spacey back to the Old Vic, which he had first attended as a child with his anglophile parents.
The Iceman Cometh was so successful that it clearly had to move to a larger theatre, but Spacey, who was producing the transfer himself, wasn't happy with any of the West End houses he saw.
"So I asked if the Old Vic was available. Everybody's first response was yeah, well it's over on the South Bank. Audiences can't find it, you don't want to go there. And I said, well, they find Wembley, they fill Wembley. Can we go look?" So he did.
"There was nothing playing here at the time and I walked on to the stage, looked out at the house and I knew instantly that was where we should come."
The Old Vic run of The Iceman Cometh proved a huge success, and Sally Greene, who set up the Old Vic Trust in 1998 to safeguard the theatre's future when it was up for sale amid fears that it could become a themed pub or a lap-dancing club, was quickly on his case. He coughed up a six-figure sum for the fighting fund and joined the board.
Before long he was also on a committee with the brief of deciding who should run the theatre once its future had been secured and it became a producing theatre again, rather than merely a receiving house. And not long after that, Spacey made an astonishing 2am journey to the theatre that was beginning to obsess him. As he describes that fateful night, his voice becomes mesmeric, as if recalling a spiritual experience.
After an evening at the theatre to discuss its future, Spacey returned to his hotel, only to find that his mind was racing and he couldn't sleep. So he hailed a cab, and got it to take him to the South Bank.
"He dropped me off and I walked to the river and looked up at the National Theatre and I thought about what that theatre means, and the work that's been done there and why Olivier made the choice to move there at the time he did. Then I walked four blocks down to the Emma Cons garden, opposite the front of the Old Vic, and I sat there and looked up at the building and it just hit me.
"I thought, what are you doing, you're sitting on this committee, you're talking to all these people, you're holding all these discussions trying to find the right person to run the place, and the answer is staring you in the face. The building itself seemed to be speaking to me, saying, this is what you are meant to do.
"You also have to put it in the context of what was happening in my life at that time. American Beauty had just opened and I had a feeling that nothing was going to measure up to that for a while. And now I'm staring at this theatre and I'm thinking, 'Right, what am I going to do with the next 10 years of my life? Movie after movie after movie, occasionally trying to squeeze in the odd play?
"And I thought, no, I'd rather do it the other way round. I'd rather do play after play after play after play and occasionally squeeze in the odd movie." The decision, he says with a click of his fingers, "was made just like that".
Having decided what he wanted to do, he offered his services to the Old Vic Trust, which snapped up his offer. But in order to meet his film commitments and to make sure he completed the Darin film, he said he couldn't start until autumn 2004.
"I drew a line in the sand. I said if this leaks, then I won't come. And that will tell us whether we can keep secrets or not. What I didn't want is for all this to be perceived as some Hollywood actor coming in on his white horse to save British theatre."
So Spacey has had plenty of time to think about his plans for the Old Vic. As his producer, he signed up David Liddiment, until recently director of programmes of the ITV network and a man with a strong track record in working with writers, and this week the pair of them announced their plans for their first year.
It is a varied, and indeed brave, season, kicking of with a new play, Cloaca, by the unknown Dutch writer Maria Goos. It concerns a crisis in the lives of four fortysomething men, and Spacey, who will direct it himself, insists that it is a corker, funny and touching and with a strong cast including Hugh Bonneville, Stephen Tompkinson and Neil Pearson. The play sounds as if it has distinct similarities with Yasmina Reza's Art. If it enjoys similar commercial success, the new regime at the Old Vic will be off to a flying start.
The theatre will celebrate Christmas with a traditional panto, with Sir Ian McKellen, no less, climbing into frocks to play Widow Twankey, a nice nod to the theatre's vaudevillian past. Then Spacey himself will star in the British première of National Anthems by the American dramatist Dennis McIntyre, playing a fireman who infiltrates himself into the housewarming party of a pair of Detroit yuppies, a funny, intense, real-time drama, says Spacey, that lays bare the American dream.
The final play of the season will be Philip Barry's great romantic comedy The Philadelphia Story, best remembered for the film version starring Cary Grant, Katharine Hepburn and James Stewart, with Spacey in the Cary Grant role, and I suspect other big stars on board too.
Spacey insists that he hasn't forgotten that the Old Vic is most strongly associated with Shakespeare, and says the Bard will have a major role to play in his second season. By the third season he hopes an ensemble company will have begun to establish itself, allowing cross-casting across the plays and perhaps a return to rep. He will also ensure that at every performance, 100 tickets will be available to younger audience members for just £12.
It's a high-risk strategy. Each of the productions, apart from the panto, is scheduled to run for 12 weeks. The shows will need to be good to ensure full houses for so long, and the Old Vic has no public subsidy to cushion it against failure.
But the South Bank has become hugely fashionable in recent years, with attractions such as the Globe, Tate Modern, and the London Eye, and Spacey's enthusiasm and confidence is infectious. After so many years in which the Old Vic seems to have muddled from one crisis to another, theatre-lovers will be wishing Spacey all the luck in the world in restoring it to the glory days of old.
A history of the Old Vic
1818 The Old Vic, originally known as the Royal Coburg, opens. It is derided by critics as the home of vulgar melodrama but plays to packed houses.
1833 The theatre is renamed the Royal Victoria (after Princess Victoria, the future Queen) and becomes affectionately known as the Old Vic, though by 1850 it has declined into a "notoriously rough house".
1880 Emma Cons takes over, renaming it the Royal Victoria Hall and Coffee Tavern, and presenting "purified entertainment with no intoxicating drinks".
1898 Cons employs her niece, Lilian Baylis, as her assistant.
1912 Baylis succeeds her aunt as manager, later opening Sadler's Wells for opera and ballet performances.
Under Baylis, the Old Vic becomes renowned for its Shakespeare productions. Sybil Thorndike, John Gielgud, Laurence Olivier, Ralph Richardson, Donald Wolfit, Peggy Ashcroft, Edith Evans, Vivien Leigh and Flora Robson are among the leading actors closely associated with the theatre.
1937 Baylis dies but her great tradition continues after closure during the Second World War, and subsequent repairs for bomb damage.
1963 The Old Vic becomes the first home of the National Theatre under Laurence Olivier.
1974 Peter Hall takes over.
1976 The NT abandons the Old Vic for its present, purpose-built site.
1977 Prospect Theatre Company moves in.
1980 Under Prospect's aegis, Peter O'Toole gives his much derided performance as Macbeth.
1981 The company goes into liquidation following the loss of its Arts Council grant.
1982 Canadian entrepreneur "Honest Ed" Mirvish buys the theatre, handsomely restores it, and runs it with his son David.
There is distinguished work under Jonathan Miller and Peter Hall, but the Mirvishes lose an estimated £30 million over the years.
1987 The Mirvishes put the theatre up for sale.
2000 The Old Vic Trust acquires the theatre for £3.5 million.
2003 Kevin Spacey is announced as the theatre's new artistic director. His first season starts in September this year.
© Copyright of Telegraph Group Limited 2004.

Spacey leaves space for a Hepburn
Charlotte Higgins, arts correspondent
Friday April 23, 2004
The Guardian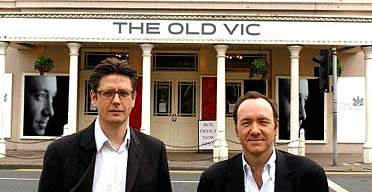 Front of house: David Liddiment and Kevin Spacey outside the Old Vic. Photo: PA
Kevin Spacey, the most glamorous (and at the moment the most personally intriguing) artistic director in the British theatre, announced his inaugural season at the Old Vic yesterday, ending weeks of energetic speculation.
He will star in two of the four works and direct one.
The first, opening in the autumn, was big in the Netherlands. Cloaca (sewer in Latin), by the Dutch playwright Maria Goos, recounts the middle-age reunion of a group of student friends. Spacey will direct and Hugh Bonneville, Neil Pearson and Stephen Tompkinson will star.
The Christmas show is a new version of Aladdin with Sir Ian McKellen as Widow Twankey. "I've never seen a panto - they've been telling me all about it and it sounds fantastic," Spacey said.
A project perhaps closer to his heart is National Anthems by Dennis McIntyre, a critique of suburban American values. He acted in the premiere in Connecticut in 1988, hung on to the rights, and has wanted ever since to reprise the role. "Whenever I reread it I would think, 'Gosh, darn, this is a good play,'" he said.
The season will end with Philip Barry's The Philadelphia Story, with Spacey as the reformed wastrel CK Dexter Haven.
No decision has been made on who will be Tracy Lord - the role that Katharine Hepburn made her own when she starred in the 1940 film.
Speculation is rife it will be a Hollywood "screen goddess", but Spacey said no decision would be made until a director was in place: "We have had no discussions with any actors. It could be a wonderful role for a total unknown."
He has been expected to draft in starry names, since the theatre will be under considerable commercial pressure: the first season will receive no public funding, and the £2m initial outlay has been raised privately.
But said he was not interested in "stunt casting", though he admitted: "Getting bums on seats is a duty."
It is indeed. Since the National Theatre left the Old Vic in 1976, subsequent companies have found financial stability hard to achieve, despite valiant efforts by directors and actors including Peter Hall, Jonathan Miller and Timothy West.

London Theatre Guide
Kevin Spacey Interview, July 2004
Kevin Spacey, artistic director of the Old Vic, talks to Jonathan Croall about the theatre's past, present and future.

Think of Kevin Spacey and you think of Hollywood and the movies, of his scintillating performances in The Usual Suspects, LA Confidential, Glengarry Glen Ross and American Beauty. So it takes a while to adjust to the idea of this internationally admired screen actor running one of London's oldest and most prestigious theatres.
Yet his appointment as artistic director of the Old Vic should come as no surprise, for theatre has been an abiding passion of his since his childhood. 'It's not a question of my walking away from films, but walking towards something that has been part and parcel of my existence since I was eight,' he says of his move from Hollywood to the Waterloo Road.
Spacey, now forty-four, has already played once at the Old Vic, electrifying audiences in 1998 with his mesmeric performance as Hickey in Eugene O'Neill's masterpiece The Iceman Cometh, directed by Howard Davies. But his association with the famous theatre goes even further back, to the early 1970s, when his anglophile parents took him to see a performance by the National Theatre company, then temporarily housed at the Old Vic and led by Laurence Olivier.
Talking three months before the start of his first season in his new job, Spacey makes clear the depth of his feelings for the building and its history. 'I have a great affection for the Old Vic because such remarkable theatrical things have been done there,' he says. 'But speaking as a performer, I also think it's simply the best theatre I've ever played in. The reason for this is its design. There's no balcony over the stalls, the auditorium has a wonderful horse-shoe curve, and you can push the stage out an extra ten feet. You can feel your performance going over the footlights, and then looping back again, whereas in many other theatres you're just throwing it out into a black void.'
His appointment as artistic director happened very suddenly. After producing as well as acting in The Iceman Cometh, and transferring it from the Almeida to the Old Vic, he became involved with the board, came up with a six-figure donation to help the fighting fund - there were fears the theatre might become a themed pub or even a lap-dance club - then joined the committee which had been set up to discuss the theatre's future and who should run it. One night, after an evening's discussion about the theatre's status, he was sitting in the small square opposite the theatre. 'I suddenly realised the answer was staring me in the face,' he remembers. 'The building itself seemed to be speaking to me.' His offer to take over as artistic director was accepted with alacrity by the Old Vic Trust. 'It was an unexpected opportunity, but those are the ones you should take.'
For the moment he and his producer David Liddiment have avoided the temptation to go down the Old Vic' s traditional road signposted Shakespeare and the classics. 'We'll get to them eventually, but I wanted our first season to be different and unexpected, with a strong element of new writing,' Spacey says. In the planning discussions that have gone on since his appointment two years ago, he's made it clear he wants to stage American as well as English work, but also new plays by European writers outside the UK.
The first play of his debut season provides a striking example of this intention.
Maria Goos is an award-winning writer for theatre and television in Holland, but unknown outside her own country. Her play Cloaca, a powerful study of male friendship, reunites four friends in middle age, their lives finely balanced between hope and disillusion. 'As soon as we had a reading I realised it was a great actors' piece,' Spacey says. 'It's funny, moving and accessible, and although it's set in Amsterdam, it will resonate with audiences everywhere. Of course it's a risk to begin with a work by a writer unknown in Britain, but I believe it's a risk worth taking.' He's so impressed by the play he plans to direct it himself, though seemingly with a light touch. 'My approach will be to get out of its way,' he says. 'It's good on it's own, so all I can do is fuck it up.'
The season's second production could hardly provide more of a contrast. Ian McKellen has not appeared at the Old Vic since 1965, when he played Claudio in Much Ado about Nothing. 'Ian is one of the great actors of all time,' Spacey declares, 'so we're thrilled that we've persuaded him to return to the Old Vic after nearly forty years. It turned out that the one thing he wanted to do was play the dame, Widow Twankey, in Aladdin. Who were we to argue with him? After all it's unusual to get a sir and a dame in the same night.'
The Old Vic staged Aladdin in 1843, although the current version by the Australian writer Bille Brown is a new one. Spacey adds with relish: 'The pantomime tradition doesn't exist in America, and I liked the idea of getting involved with something of which I have no experience. The early talk I've been listening to suggests it's going to be knee-slappingly funny. Sean Mathias, who will direct, has worked often with Ian, and they're a great team.'
Spacey will be on stage himself for the second and third productions of the season. In 1988 he appeared in America in a play by Dennis McIntyre, National Anthems, and liked it so much he bought the rights. 'I'm awfully glad I held on to them all this time, so that we can stage it now,' he says. 'It's a remarkably beautiful and intense play done in real time, and a very biting and funny examination of American values.'
The season will end with The Philadelphia Story, Philip Barry's classic romantic comedy, famously filmed by George Cukor, with Katherine Hepburn, James Stewart and Cary Grant in the starring roles. The search is still on for an actress to play Tracy Lord, the Hepburn role - 'which is what it's all about,' Spacey suggests. He won't be hiring the actor until he's appointed the director, though in the meantime he has cast himself as C K Dexter Haven, the Cary Grant role. 'The Philadelphia Story has several marvellous parts in it,' he says. 'It provides a fantastic opportunity for a big cast, so it will have a real company feel to it, but casting, won't begin until the director is set.'
The casting for the opening play of the season is certainly hugely impressive: the cast of Cloaca will include Hugh Bonneville, Neil Pearson and Stephen Tompkinson. 'I'm thrilled that we've been able to involve an array of wonderful artists.' Spacey says. 'All these actors have done impressive and often surprising work in film and television, as well as theatre. We also have Ingeborga Dapkunaite, a marvellous Lithuanian actress who's doing a lot of fine theatre and film work.'
With new work high on the agenda, the Old Vic team are looking for their next playwrights in some unexpected places. 'We're trying to reverse the usual trend whereby people start out writing for the theatre and then move into television. So right now we're talking to people like Paul Abbott. And boy, do they have plays in them!' One recent platform for new work was the theatre's 24-Hour Play project, based on an American model, during which six new ten-minute plays were written, cast, rehearsed and played in the space of one day and night by a group of writers, actors and directors. 'It was inspiring,' Spacey recalls. 'In words three out of the six plays are now being developed into full plays.'

As for Shakespeare, he's committed to doing at least one play in his second season, and other revivals are likely to be slotted into the programme before too long. And if anyone has doubts about his long-term commitment to the job, they're likely to be dispelled by the news that he's already starting to give a shape to his fourth and fifth seasons, and by his obvious determination to achieve two long-term goals: to establish a permanent Old Vic company, and to stage the plays in repertory.
'It would be thrilling a little further down the line to create an ensemble company,' he observes, 'but it would be presumptuous to think we could get there instantly. By the third or fourth year we should have learnt enough to know which actors and directors would be best suited to such a company. It would also be fantastic if we could eventually do the plays in repertory. When I was growing up I would have loved to have seen, for example, actors like Laurence Olivier and Peter O'Toole switching parts, or to have experienced two Shakespeare plays in a day, done by the same company.'
Like everyone in today's theatre, he's keenly aware of the need to attract young people to the shows, especially those who rarely or never go to the theatre. As a first step his regime will be offering 100 of the best seats in the stalls and the dress circle at the attractive price of just £12 for young people under 25. 'The theatre faces a lot of competition with this age-group - from films, videos, games, DVD,' Spacey points out. 'If you can get kids coming early enough, you have some hope of making theatre part of their lives: you're planting a seed, even if you're not necessarily going to water it.' The next step, which will take a while to organise, will be the setting up of an educational programme with local schools.
While he has no intention of giving up his film career, but there's absolutely no doubt that Spacey's first love is now also his current one. 'My primary focus is going to be theatre,' he says. 'It's the most satisfying place to be as an actor.' So how long does he expect to remain in charge at the Old Vic? 'Until they ask me to leave,' comes the instant reply. 'It's great to have the building buzzing again, and we're going to keep it warm for a long time to come.'
Old Vic
Waterloo Rd,
London SE1 8NB,
tel: 020 7928 7616

www.contactmusic.com
SPACEY SEEKING PUBLIC MONEY FOR OLD VIC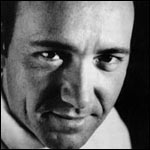 Actor KEVIN SPACEY is seeking public money for his OLD VIC theatre in London - because his last play CLOACA failed to generate enough cash to cover the building's renovation costs.
THE USUAL SUSPECTS actor, who is the venue's artistic director, needs to raise funds to repair the bomb-damaged roof hit during the Second World War.
The Old Vic's chief executive SALLY GREENE told Members of Parliament on the Culture Select Committee yesterday (8 FEB 05) they borrowed money to save the theatre when it was about to become a lap-dancing club in 1988 - but revenue from their current show NATIONAL ANTHEMS is scarcely enough to make the repayments.
09/02/2005 14:07
http://news.radioonev5.com/
Kevin Spacey - Right man for theatre
Hollywood actor Kevin Spacey's role as artistic director of London's Old Vic theatre has been defended by the venue's owner after a string of criticism. Sally Greene believes it is merely a British trait to "knock everything" following bad reviews for his productions Cloaca and National Anthems and has been amazed by the way the Oscar-winner has transformed the theatre. Greene says: "Spirits are very good. It's so British to knock everything. I know Kevin's the right man. He's brightened the place up by his presence. We're turning the Old Vic into a producing theatre, a company, not a receiving house. That's my aim. "What artistic director doesn't get stick? He works bl**dy hard. He can see the place from his flat (apartment) and tootles around on his scooter. He's here in the day, finding out what's going on, sharing his ideas. Then at night he's back on stage. "And even if some people didn't like National Anthems, he got rave reviews." As for their alleged fall-out where Spacey reportedly swore at Greene, she comments: "Kevin would never speak to me like that. No one would." News Submitted by Radio One's News Scout Sally Massalkhy.


Spacey plans Richard II for Old Vic
16 February 2005
London SE1 website team

Kevin Spacey's second season at the Old Vic will open with a production of Shakespeare's Richard II directed by Trevor Nunn - with Spacey himself in the title role.
The news comes as Dennis McIntyre's National Anthems opens to mixed reviews - prompting a rash of negative headlines asking whether Kevin Spacey has lost the plot.
The Independent's Paul Taylor asked had gone wrong "with this weird regime'' at the Waterloo theatre, while the Evening Standard's Nicholas de Jongh voiced his "serious doubts about whether Kevin Spacey is the right man to run the Old Vic''.
The production, expected to open in September, fulfils Spacey's promise that he would tackle classical productions in his second season and beyond.
Cloaca by Maria Goos and Christmas panto Aladdin kicked off the first season, but critical reaction has been lukewarm at best.
It has also been reported that the Old Vic's chief executive Sally Greene told MPs on the Culture Select Committee earlier this month that the Old Vic Theatre Trust had borrowed money to save the theatre when it was about to become a lap-dancing club in 1998 - but revenue from the current show is scarcely enough to make the repayments.
· Richard II was part of Shakespeare's Globe's 2003 season.
Kevin Spacey's Second Season at the Old Vic to Begin with Richard II
by Broadway.com Staff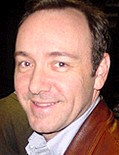 Kevin Spacey's second season as artistic director of the Old Vic will begin with a production of Richard II, starring Spacey in the title role. Trevor Nunn will direct the play, which will likely begin performances in September.
Spacey's first season as head of the Old Vic began in September with Maria Goos' Cloaca, which Spacey directed. It continued with Aladdin over the holiday season and, currently, the Old Vic is presenting Dennis McIntyre's National Anthems with Spacey, Mary Stuart Masterson and Steven Weber. While the productions have all sold well, Spacey has come under fire from the London press. Both Cloaca and National Anthems received mostly negative reviews, with many of the critics questioning whether Spacey should remain with the Old Vic.

Russian Text:
"ОЛД ВИК" (Old Vic Theatre), английский драматический театр. Открыт в Лондоне в 1818 под названием "Кобург тиэтр", после посещения принцессой Викторией в 1833 получил название "Олд Вик". На сцене театра выступали Дж. Гилгуд, Л. Оливье, Т. Ричардсон...
Великий театрал Элтон Джон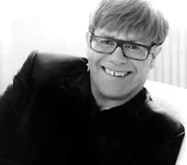 В последнее время сэр Элтон Джон просто нарасхват. Многие знаменитости считают своим долгом пригласить этого экстравагантного музыканта поучаствовать в каком-нибудь знаменательном мероприятии. Предложения сыпятся на Элтона как из рога изобилия - на днях, например, стало известно, что популярная актриса Лиз Харли (Liz Hurley) предложила певцу стать крестником ее новорожденного сына.
В то же время, когда Элтон готовился к церемонии, ему поступило предложение возглавить трастовый фонд при британском театре Old Vic, деятельность которого направлена на сохранение и поддержку исторических мест Вэст Энда. Что ж, оба предложения почетны, и Элтон не смог отказаться ни от одного, ни от другого (правда, одно другому и не мешает - прим. ред.)
По словам музыканта, его восхищение театральной жизнью нельзя описать словами. "Я сделаю все для того, чтобы вывести это заведение на принципиально новый уровень развития и роста. Мне очень приятно, что я стал новым председателем Old Vic Theatre Trust. Должен признать, что за свою историю Old Vic повидал большое количество великих актеров и трупп и на сегодняшний день он является одним из самых важных британских театров."
12.04.2002 09:54, Оксана Курибко, По материалам Ananova
Мик Джаггер стал совладельцем Лондонского театра

Мик Джаггер решил поддержать один из Британских театров, вложив часть своего состояния в театральную компанию Old Vic.
Легендарный лидер The Rolling Stones присоединился к актеру-оскароносцу Кевину Спэйси в поддержке легендарного Old Vic в Лондоне.
Спэйси, который появился в Old Vic на производстве спектакля 'Iceman Cometh ', состоит в совете директоров театра, а теперь Джаггер, вложив деньги, стал главным акционером компании.
Салли Грин, совладелец театра, говорит, что инвестиция Джаггера - это не только деньги: " Он мог бы и не вкладывать столько денег, но он - культурный человек ".
АудиоФорум , 24.10.2000
17 февраля 2003
Элтон Джон назначил Кевина Спейси директором Старого Викторианского театра Вест-Энда
Искусный актёр Кевин Спейси, чья последняя работа в драме Алана Паркера "Жизнь Дэвида Гейла" в ближайшее время выйдет на экраны Северной Америки, и уже была показана на Берлинале, дал согласие возглавить лондонский театр

Old Vic

(Старый Викторианский). Предложение ему сделал Элтон Джон, являющийся председателем трастового фонда при театре, цель которого

— сохранение исторических памятников Вест-Энда. В число акционеров

Old Vic

с недавнего времени входит и другой музыкант Мик Джаггер. Безусловно, Кевин Спейси станет мощным двигателем деятельности нового старого театра. "Я чрезмерно рад назначению, но оно никоим образом не будет препятствовать моим обязательствам как киноактёра", заявил Спейси на благотворительном вечере, где он спел вместе с Элтоном Джоном. Также Спейси сказал репортёрам: "Даже самое дикое воображение не могло допустить, что я стану директором

Old Vic

. Но вот моя мечта осуществилась". Кто не знает, в своё время на сцене Старого Викторианского театра играл сам Лоуренс Оливье. А в прессе, тем временем, появились спекуляции на тему того, что Спейси начал уговаривать своих голливудских приятелей выйти на сцену

Old Vic

.

Здесь нельзя не упомянуть, что Вест-Энд котируется у американских кинозвёзд, в основном молодых, как площадка для демонстрации серьёзной актёрской игры, уход из мира прожжённых стереотипов и внимания бульварных таблоидов. Например, в спектакле Кеннета Лоннергана "Это наша юность", который идёт на Вест-Энде с постоянно обновляющимся актёрским составом, уже засветились Мэтт Дэймон, Джейк Гилленхаал, Хэйден Кристенсен и Кейси Аффлек, а собираются их сменить друзья Леонардо ДиКаприо и Тоби Магуайр.

INTER.KIN


Спейси принял предложение
Элтона Джона.
Хорошо, что пост директора театра,
а не руки и сердца!..
25.01.2003
Элтон Джон споет с Кевином Спейси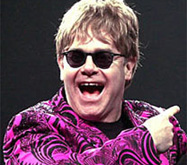 Стало известно, что знаменитый голливудский актер Кевин Спейси (Kevin Spacey), обладатель Оскара за роль в фильме «Красота по-американски», споет на одной сцене с легендарным британским певцом Элтоном Джоном (Elton John). Сообщается, что Спейси и Джон исполнят дуэтом несколько песен маэстро.
Выступление состоится 5-го февраля в рамках благотворительного концерта, все средства от которого пойдут на восстановление лондонского театра Old Vic. Кстати, сэр Элтон является председателем фонда Old Vic Theatre Trust, целью которого является сохранить театр от разрушения, а Кевин входит в совет директоров этого фонда.
Помимо них, в концерте также примут участие Ms. Dynamite, вокалистка группы Texas Шарлин Спитери (Sharleen Spiteri), Шинед О'Коннор (Sinead O'Connor), Лулу (Lulu) и Элвис Костелло (Elvis Costello). Все они исполнят свои любимые песни из репертуара сэра Элтона, сообщает music.com.ua.
И все бы хорошо, да только попасть на это уникальное шоу смогут позволить себе далеко не все - минимальная цена билета составляет ровно одну тысячу фунтов стерлингов. Искусство, конечно, бесценно, но не до такой же степени!

RÉSUMÉ (ENGLISH) | RÉSUMÉ (RUSSIAN) | HOME