Hugh Bonneville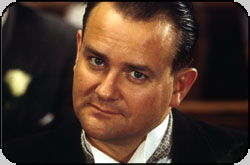 Birth name:
Hugh Richard Bonneville Williams
Date of birth (location)
10 November 1963
London, England, UK
Sometimes Credited As:
Richard Bonneville
Spouse
Lulu Evans (4 November 1998 - present) 1 child
Trivia
Described "Iris" co-star Kate Winslet as "a force of nature."
His wife is an artist.
Trained at the Webber Douglas Academy of Dramatic Arts in London, whose alumni include Terence Stamp, Julia Ormond, Rupert Friend, Angela Lansbury, Matthew Goode, Sue Johnston, Minnie Driver and Julian Fellowes.
Hugh's a regular face in period and historic drama, with credits ranging from Daniel Deronda to Tipping The Velvet. In 2003, he won acclaim for his portrayal of poet Philip Larkin in Love Again.
Hugh started his on-screen acting career in the early 1990s with roles in Kenneth Brannagh's film version of Frankenstein and TV dramas The Memoirs Of Sherlock Holmes, Cadfael (with Sir Derek Jacobi) and Between The Lines.
In 1997, a role in Bond film Tomorrow Never Dies heralded a future in the movies. Subsequent movie credits include Iris opposite Kate Winslet (whom he described as 'a force of nature') and Jim Broadbent, Notting Hill with Hugh Grant and Julia Roberts, High Heels and Low Lives with Minnie Driver and Mansfield Park with Frances O'Connor.
Hugh also starred with Frances O'Connor in the passionate and tragic Madame Bovary.
Hugh's also an accomplished stage actor, notably appearing in Habeas Corpus at the Donmar Warehouse, directed by Sam Mendes (American Beauty).
As well as Daniel Deronda and Tipping The Velvet, Hugh's other television credits include Take a Girl Like You, The Cazalets (with Tipping the Velvet co-star Anna Chancellor), Doctor Zhivago, and The Gathering Storm, opposite Vanessa Redgrave and Albert Finney.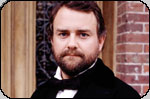 Actor - filmography
Himself - filmography
Wren: The Man Who Built Britain (2004) (TV) .... Christopher Wren
Notable TV Guest Appearances

Bonneville talks Spacey and sewers
By Neil Smith
BBC News Online
British actor Hugh Bonneville talks to BBC News Online about his role in Cloaca, the first play in Kevin Spacey's inaugural season at London's Old Vic theatre.
"Literally, it's Latin for sewer," explains actor Hugh Bonneville. "And in biology it refers to the back end of various animals."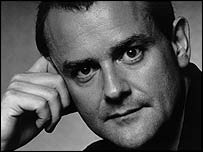 Bonneville's films include Stage Beauty and Notting Hill
He's talking about Cloaca, the curious title of the first production in Hollywood actor Kevin Spacey's first season as artistic director of London's historic Old Vic theatre. If you are wondering how to pronounce it, it's "klo-ack-ar". In the context of the play, however, it means something else entirely. "It really refers to the slurry and effluent of life," says the 40-year-old star of Iris and TV's Love Again. "It's a catchphrase that the characters have used all their lives without really knowing what it means."
'Best director'
Spacey is best known for his screen roles and will act in two plays at the Old Vic next year. However, he chose to direct Cloaca rather than take one of the four male roles himself. Bonneville describes Spacey as "probably the best director I've ever worked with". "I'm not being gushy," he continues. "His understanding of how an actor's brain works is exciting. "Very few directors get inside an actor's head the way he does." And Bonneville has nothing but admiration for Spacey's plans for the historic South London venue. "He's passionate about the play, the building, about acting - about theatre full stop."
Ambition
In Cloaca, Bonneville plays a self-serving politician who is not afraid to sell a friend down the river if it means career advancement. But while Peter Mandelson and Tony Blair's names are mentioned in the show's glossy programme, the actor says he did not base his performance on anyone in particular. "I'm not doing an impression, but I recognise in the character's ruthless ambition certain politicians of our great nation," he admits. "A lot of politicians are more keen on promotion and access to power than actual ideology. "I don't believe you get to the top of politics without trampling on people." Written by Dutch playwright Maria Goos - a name as unfamiliar to British audiences as the curious title of her play - Cloaca tells of four college friends who are reunited in their 40s. They range from a homosexual bureaucrat (Stephen Tompkinson) to a drug-abusing lawyer (Adrian Lukis) and a philandering theatre director (Neil Pearson). The catalyst in the piece is one character's misappropriation of public artworks he has sold to finance his lavish lifestyle.
Bonneville (second left) with the rest of the Cloaca cast
Unknown
Theatregoers will see similarities between Cloaca and the long-running West End hit Art, which also dealt with male relationships placed under strain. Coincidentally, Art was also written by a relatively unknown female writer hailing from Europe - Yasmina Reza. Bonneville, however, is quick to deny any connection between the two. "It's a fairly lazy comparison to be honest," he says dismissively. "Yes, there are similarities, but the themes are darker and richer and more painful than in Art. "It's a very different beast that takes you in a different direction." The production has already made headlines thanks to Spacey's comments last week attacking audiences who allow their mobile phones to ring at the theatre. Bonneville believes too much has been made of his director's remarks, but he still agrees wholeheartedly with his sentiments. "We're used to sitting in our living rooms shouting at the telly, so sometimes when we go out to a public event we forget basic decent courtesy. "I'm all for the audience being as vocal as they like, but I think a few basic ground rules aren't draconian."
'Passion'
The actor's role in Cloaca follows a series of well-received performances on film and television, often playing real-life figures. In the last few years he's played architect Christopher Wren, poet Philip Larkin and academic John Bayley, the widower of novelist Iris Murdoch. Most recently he was cast in the film Stage Beauty as diarist Samuel Pepys, a literary figure for whom he says he's "always had a passion". "I would hate to do a stitch-up job on a living person, but when you have scripts of the quality of Iris and Love Again I don't think you're doing a disservice to anyone involved," he says. However, he does acknowledge that if he does not exercise caution, he may be in danger of becoming typecast. "Having played Larkin and John Bayley, I'd better stop playing bald, stammering academics!" Future projects include playing a psychiatrist in a film of Patrick McGrath's novel Asylum and a 19th Century anthropologist on the trail of pygmies in the French-South African co-production Man to Man. In the meantime, however, Bonneville says he is excited to be part of the latest chapter in the Old Vic theatre's prestigious history. "It's a real honour to be part of a new journey," he says. "Quite honestly, it's the best time I've ever had with my clothes on!"
| | | |
| --- | --- | --- |
| | | |
| Bonneville's co-stars include Peak Practice star Adrian Lukis | Spacey became artistic director of the Old Vic in February 2003 | Bonneville played Philip Larkin in the 2003 BBC drama Love Again |
Cloaca runs at the Old Vic until 11 December.
Story from BBC NEWS:
http://news.bbc.co.uk/go/pr/fr/-/2/hi/entertainment/3687796.stm
Published: 2004/09/28 10:46:11 GMT
© BBC MMV

Bbc.co.uk
Movies, Interviews
Iris
Interviewed by Denise Hanrahan
How did you get the role of Iris's husband, John Bayley, in "Iris"?
The director, Richard Eyre, was having trouble finding an actor who resembled a young John Bayley or Jim Broadbent. I was working with his wife on a TV series at the time and she thought I had potential. I didn't see any resemblance whatsoever but I went along to audition. It was in front of Richard, Judi, and Kate, which was one of the hardest things I've ever done, but they gave me the job.

Were you familiar with Iris Murdoch before you took on the role?
I'd read the serialisation of John Bayley's memoirs in the newspapers and found them profoundly moving. Then when I read the script I thought it was remarkably close to the spirit of John's books, and I knew Richard would make a very faithful adaptation.
Did you base your character on John Bayley or a young Jim Broadbent?
It was a bit of both. I listened to a radio piece John did to get a handle on his voice. Then Jim and I had the grand total of 15 minutes together in Richard Eyre's kitchen to work on the character. Apart from that we had no contact with each other at all. Any resemblance that exists is down to good directing from Richard. We did share a dressing room for two months a few years ago so I do know what the inside of Jim's calves look like!
Where you pleased with the outcome of the film?
Very much so because I know how passionate Richard was about the story and the script. It's very close to him as both he and Jim lost their mothers to Alzheimer's. It's an intelligent film that doesn't spoon feed you, and you have to think what it's about. I'm very proud to have been part of it.
Are there any other real life characters you'd like to portray?
Well, I was once congratulated in Oxford St for my brilliant portrayal of Mr Darcy, so apparently I look like Colin Firth when I had curly hair. I reckon I could play him in a biopic.

RETURN | RÉSUMÉ (ENGLISH) | RÉSUMÉ (RUSSIAN) | HOME