Cloaca
| | |
| --- | --- |
| Kevin Spacey's first season as Artistic Director at London's Old Vic Theatre opens this autumn with Cloaca, the smash hit play from highly acclaimed Dutch writer, Maria Goos. | (Filed: 24/06/2004) |
Cloaca is a dark and funny play that is a powerful study of male friendship. It explores how men compromise their emotions while seeking money, power and reputation and tells the story of four lifelong friends who are reunited in middle age, their lives finely balanced between hope and disillusion. An impressive cast, well known in film and television as well as in the theatre, includes Hugh Bonneville, who played the young John Bayley in the movie Iris with Dame Judi Dench; the Lithuanian actress Ingeborga Dapkunaite; Neil Pearson and Stephen Tompkinson, who last appeared together in the Channel 4 sitcom Drop the Dead Donkey.
| | |
| --- | --- |
| Stephen Tompkinson and Neil Pearson | Hugh Bonneville and Ingeborga Dapkunaite |
Cast features Adrian Lukis, Neil Pearson, Stephen Tompkinson, Hugh Bonneville, Ingeborga Dapkunaite, Ksenia Zaitseva, Anthony Austin, Ian Soundy.

http://www.albemarle-london.com/cloaca.html
Play by Maria Goos. Directed by Kevin Spacey.
Trapped in a dreary civil-service job for the last twenty-two years, Pieter finds solace in his treasured collection of paintings. Then one night an unexpected phone call threatens him with its loss. As his world turns upside down, he pins his hopes on three lifelong friends to come to his help.
There's Jan, the permanently ambitious politician, waiting for the call to ministerial office as his marriage goes into freefall. There's Tom, the one-time lawyer, his career damaged by a roller-coaster journey through drugs, self-harm and mental breakdown. And there's Maarten, an avant-garde theatre director whose plays don't have quite the same flavour as they used to in his youth.
Four friends from their student days, reunited in middle age, their lives finely balanced between hope and disillusion. Dutch writer Maria Goos' acclaimed play Cloaca is a dark and powerful take on the joys and woes of male friendship. It is also a seriously funny piece of theatre, examining how men ruin their emotional lives in the constant quest for money, power and reputation.
Superseats A limited number of superseats are available for performances of Cloaca priced at £107.00 each. The price includes a glass of champagne and a free programme.
Born in 1956, Maria Goos worked as a director after leaving theatre school in 1982, and also ran her own theatre company, De Kompaan, for four years. Graduating to writing, she achieved success in the 1990s with two award-winning television drama series: Called to the Bar, about young lawyers working in a small, independent law firm, and Old Money, which dealt with the struggles of a banking family to survive in changing times. Her play Family was the hit of the 2000/2001 theatre season in the Netherlands, and went on to win awards when she adapted it for television. Other recent theatre work includes Not Now, Please (2001) and Now, Please (2003).
Cloaca was written in 2002 for the theatre company Het Toneel Speelt, and made into a television film the following year. Both versions were directed by the writer's long-time collaborator, Willem van de Sande Bakhuyzen.


Cloaca at the Old Vic
27 September 2004
Leigh Hatts

Waiting for curtain up in the relaunched Old Vic for Kevin Spacey's first production one has time not only to observe the extended stage built out into the auditorium but also the Cloaca set.
It appears to be a loft conversion in SE1 but when the play opens one is less sure. Movement outside the high windows suggests snow. The would-be cabinet minister sits reading the Lidl leaflet. Then there is the occasional mention of euros.
However, there are comments about a demonstrator in a batman costume and party conferences. Cloaca, written in Dutch by Amsterdam-based Maria Goos, this Euro-play has also been translated into French, Spanish and German. Whichever capital we are in this comedy about male friends growing old will make men look at their own lives.
Stephen Tompkinson plays Pieter who is host in his flat and has the difficult task of holding attention during the slow opening. Hugh Boneville is the convincing Euro politician, Adrian Lukis is the friend who has ceased to rise to the top and Neil Pearson eventually appears with much energy. The surprise is the female Ingeborga Dapkunaite.
Maybe it is set in London. As the play climaxed at the end of the 20 year friendship a timely pause in the dialogue allowed the audience to catch the tolling of Big Ben. If the flexible translation can maintain this tight timing this play might be a welcome return to success for the Old Vic.
· Cloaca is at the Old Vic Theatre until Saturday 11 December.
· 0870 060 6628 or book online with Ticketmaster

Cloaca

- from Thursday 16 September
Box Office: 0870 060 6628

'I am delighted to announce our first season today with four productions that I hope will be both challenging for us as a company and entertaining for our audiences. We are particularly pleased to have as our opening production a new play from a different culture by an unknown writer, Maria Goos. This underlines just how important new work is to The Old Vic Theatre Company.' - Kevin Spacey

Performances:
Thu 16 Sep: 7:30pm
Fri 17 Sep: 7:30pm
Sat 18 Sep: 2:30pm, 7:30pm
Mon 20 Sep: 7:30pm
Tue 21 Sep: 7:30pm
Wed 22 Sep: 2:30pm, 7:30pm
Thu 23 Sep: 7:30pm
Fri 24 Sep: 7:30pm
Sat 25 Sep: 2:30pm, 7:30pm
Mon 27 Sep: 7:30pm
Wed 29 Sep: 7:30pm
Thu 30 Sep: 2:30pm, 7:30pm
Fri 1 Oct: 7:30pm etc.


Kevin Spacey directs

Cloaca

16 September - 11 December. Press Night 28 September

Opening the new season of work by Kevin Spacey's Old Vic Theatre Company will be the British premiere of Cloaca by the acclaimed Dutch writer Maria Goos whose work has never before been seen in the UK.

Kevin Spacey directs a cast which will include Hugh Bonneville, Ingeborga Dapkunaite, Neil Pearson and Stephen Tompkinson. The designer is Rob Jones.

Four lifelong friends are reunited in middle age; their lives finely balanced between hope and disillusion. Maria Goos' play is a darkly funny examination of friendship and aspirations, exploring how men compromise their emotional lives in the constant quest for money, power, and reputation.

Cloaca was written in 2002 for the theatre company Het Toneel Speelt and was the hit of that season in the Netherlands, as was her play Family the previous year. Both plays were adapted into successful feature films.

Tickets: £10, £15, £20, £25, £32.50, £40
It's an honour to welcome you to our first season at The Old Vic, one of the great theatres of the world.

I was first brought here as a boy by my theatre-going parents and it's had a hold on my imagination ever since. When I appeared in London in The Iceman Cometh at the Almeida in 1998 and I got to produce the show in the West End, I knew as soon as I stood on the stage that this was the theatre for me. The Old Vic had worked its magic again.

I am often asked what will the new Old Vic Theatre Company be? What will define it and make it distinctive from other companies? The honest answer is that I don't yet know. A company doesn't just spring into existence fully formed. It evolves. The work you do begins to define it, the people you choose to work with certainly define it and, of course, the taste and instincts of the artistic director play a large part.

What we do know at this historic moment of launching our first season is that we intend to put on great shows that you will want to see; we want to invest in emerging talent through our Old Vic New Voices programme; we want to invest in young audiences through making available 100 seats a night at £12 a ticket for 25 year olds and under, and we want to play a full part in the Waterloo community.

This is a tall order without a penny of subsidy. So all of us at The Old Vic feel indebted to Morgan Stanley, for having the generosity and the imagination to support us in our first season. And I personally am also grateful to Sally Greene, the chief executive of The Old Vic Theatre Trust and an investor in The Old Vic Theatre Company; Sir Elton John, the Chairman of the Trust; David Liddiment, my producer; the unbelievably small staff at The Old Vic who have worked so hard to make this season a success; and those other professionals not on the staff who have been generous with their time, their talent and their skills so that we might flourish.

Finally, I want to give a particular thank you to members of The Old Vic Club and the Friends of The Old Vic who are our most frequent ticket buyers and who have generously supported us through their membership. This financial support is truly vital to us in helping us to achieve what we have set out to do. May I urge you to read about membership on page 63 and support us if you can.

And thank you all most sincerely for joining us tonight on the first step of what I hope will be an incredible journey. Have a great evening and come back to see us again soon.

Kevin Spacey, Artistic Director
CLOACA
IN REHEARSAL
Kevin Spacey and the cast talk to Jonathan Croall. Photography by Jim King
She has observed the male psyche at close quarters, and encapsulated it brilliantly in dramatic form.
I don't think a man could have written it so perceptively.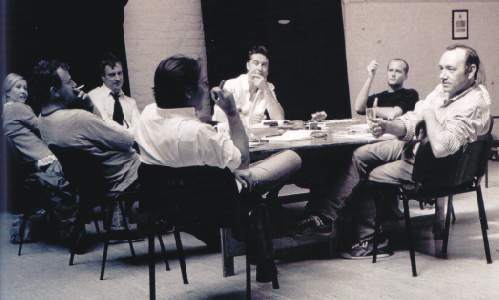 Hugh Bonneville is not the only member of the Cloaca company to feel that Maria Goos has skewered the male sex with deadly accuracy in her bleakly comic play. As they explore their individual characters during rehearsals, his four fellow-actors - Neil Pearson, Stephen Tompkinson, Adrian Lukis and Ingeborga Dapkunaite - talk of the Dutch writer's ability to pin down the ambitions, delusions, betrayals and disappointments of her middle-aged male characters, all of whom experience emotional crises during the action. Yet they are also quick to point out the objectivity, compassion and generosity with which she has drawn her characters.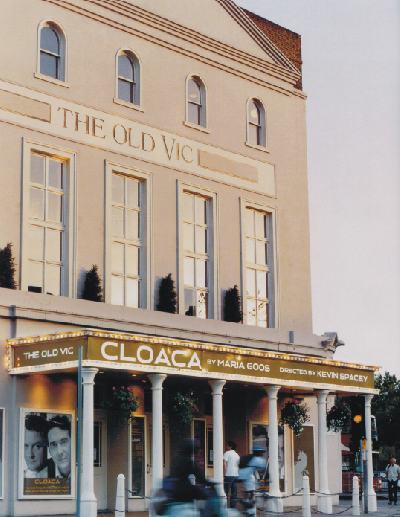 STEPHEN TOMPKINSON plays Pieter, a neat, fastidious and gay civil servant, in whose flat the action takes place. 'He can provide something in his space that the others can't get from their own lives. He's the referee between everyone else's squabbles, the comfort buffer zone. He provides a sounding board for them, a kind of agony aunt, someone to confess to and chill out with before they get on with their own lives. He's very good at observing, but he likes to do it from a distance. He's worked out a way of living that he's happy with. He's a loner, but a very disciplined one. I think he's a sympathetic and very sensitive character.'
NEIL PEARSON has the role of Maarten, an avant-garde theatre director.
'If you take Maarten at his own estimation he's at the cutting edge of theatre. So it comes as a shock to him to hear what his friends now think of his work. What old friends can do is take the gloves off, tell it like it is, make you confront aspects of yourself that you may be reluctant to admit to yourself. In the past Maarten has been the fun liaison officer, but now he's running out of ideas professionally and privately. He hates his failure with women, and this shows itself in his very unpleasant misogyny.'
ADRIAN LUKIS plays Tom, a coke-snorting, manic-depressive lawyer.
'It's a very interesting part, because although Tom is vulnerable, he's not passive or meek, he's quite prepared to tell the others that they're all losers. He's survived his earlier crisis, but he's on lithium, he's obviously unstable, and I think he's quite fragile - he doesn't know what's real any more. He used to be fun, the kind of guy who would suggest flying to Paris on an impulse, but the cocaine tipped him over the edge and now he's lost it all.'
HUGH BONNEVILLE plays Jan a politician, possibly the most unpleasant character in the play. 'Jan is ruthlessly ambitious, and his eye for the main chance has badly affected his marriage. He's a career politician rather than an ideological one, and convinced of his own worth - it's his friends who suggest he's not as great as he thinks he is. I see shades of Mandelson and Blair and New Labour: with him it's all about presentation and personality, not policy. Yet like all of the characters he's complicated: the most wonderful moment of his life is the birth of his daughter.'
INGEBORGA DAPKUNAITE plays the mysterious woman who dramatically enters the lives of the reunited friends. 'The play has so many themes: even in my character's story there is attachment, betrayal, love and survival. Maria's view of men is very humorous, and you certainly recognise the types and their behaviour - which makes it very enjoyable. It's based on her own experience, a compilation of people she knows, so perhaps that's why they seem so real.'
KEVIN SPACEY has relished the nuances and the variety to be found in the behaviour of the four friends. 'It's interesting to me the way in which we get how each feels about the other, sometimes in the form of an attack, sometimes in the form of humour, sometimes it's something that's just thrown away, but we do get a sense that they've all known each other for a long time, there's this fantastic undercurrent of knowledge. I'm very moved by the entanglements of the relationships: it's a web, but it's an accessible one, it doesn't feel murky.'
In working on the text the actors have also been pondering on what has kept the friends together for more than 20 years. 'For each of them, the other three represent the best chance they have of being understood, or being accepted, and of their responsibilities to other people outside their circle,' Neil Pearson suggests. 'It's also their shared history, which is one of fun and optimism about the future, and supporting each other in the bad times and enjoying the good ones.' Stephen Tompkinson feels that Pieter has remained at the heart of the group 'because he reminds the others of what they were when they were students. He's the only one who's remained on his own - though his digs have got better.'
The actors have also been enjoying the flexibility of their characters. As Adrian Lukis observes: 'If you write psychologically true dialogue, the parts can be played in many different ways. Hamlet can be played by a million different actors, and in a similar way Maria has created recognisable types, but she's not nailed them down so much that only a certain actor can play each role.'
Hugh Bonneville is in no doubt that many in the audience will find themselves looking in a mirror reflecting their own lives. 'It's a very funny play, but it will be the laughter of painful recognition. I think there will be a few squirming blokes in the audience, with their wives or girlfriends prodding them and saying: "That's you!"'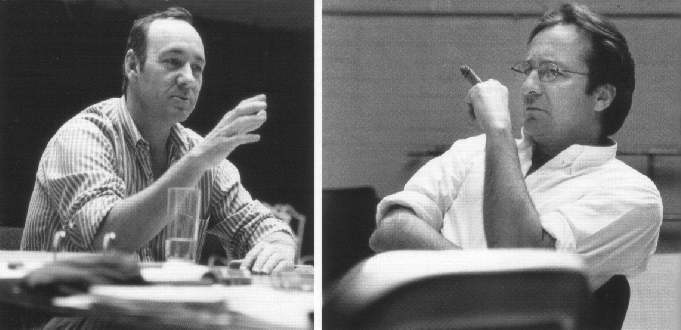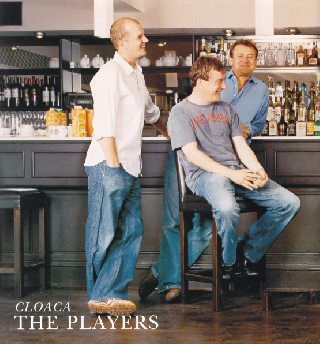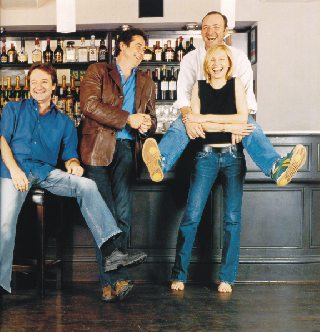 HUGH BONNEVILLE Jan (Joep - the Dutch version)


Seasons at Regent's Park Open Air Theatre, Colchester

Mercury and Leicester Haymarket. Other theatre credits

include Us and Them (Hampstead), The Handyman (Chichester), Habeas Corpus (Donmar), My Night With Reg (Criterion/Playhouse) and Beautiful Thing (Bush Theatre,

tour and Donmar), which he later co-produced at the Duke

of York's; Amphibians, Hamlet, The Alchemist, Two Gentlemen of Verona, The Virtuoso and 'Tis Pity She's a Whore (RSC); School

For Wives, Yerma, Entertaining Strangers, Juno and the Paycock,

The School for Scandal

and the title role in The Devil's Disciple (National). Television includes Hear the Silence, Larkin: Love

Again, The Commander, Daniel Deronda, Dr Zhivago, Tipping

the Velvet, The Gathering Storm, Impact, Armadillo, The Cazalets,

Take a Girl Like You, Madame Bovary, Murder Most Horrid, The Scold's Bridle, Mosley

and Get Well Soon. Films include Frankenstein, Notting Hill, Mansfield Park, Blow Dry, The

Emperor's New Clothes, Iris

(Best Young Talent Award, Berlin

Film Festival; BAFTA Best Supporting Actor nomination),

Conspiracy of Silence, Stage Beauty, Asylum, Underclassman,

Piccadilly Jim

and Man to Man.

INGEBORGA DAPKUNAITE Woman (Helena - the Dutch version)
Ingeborga is an award-winning actress from Lithuania. Her stage credits in Lithuania include Antigone, The Seagull (Best Lithuanian Actress award); and, elsewhere, Libra (Chicago), A Slip of the Tongue (Chicago and London), After Darwin (Hampstead), The Moonshine (Hampstead and Plymouth), The Vagina Monologues (London and Manchester). Recent television work includes appearances in Prime Suspect, The Lost Prince and Bodies. Her many films include Burnt by the Sun, which won the Grand Jury prize at Cannes and an Oscar for Best Foreign Film, Katia Ismailova (Best Russian Actress, Russian Film Academy Award), The War, Mission Impossible, 25 Degrees in Winter and Kiss of Life.

ADRIAN LUKIS Tom
Theatre work includes Dinner (Wyndhams), Dead Funny and The Front Page (Chichester), The Relapse and Sleep With Me (National Theatre), As You Like It, All's Well That Ends Well, Misha's Party and School of Night (RSC), the title role in Macbeth (Salisbury) and Arms and the Man (Manchester). For television, his credits include Midsomer Murders, Absolute Power, Foyle's War, Down to Earth, Inspector Maigret, Judge John Deed, Spooks, Too Good to be True, Peak Practice, Prime Suspect IV, Pride and Prejudice (Mr Wickham), The Hunt, Back Home, Sherlock Holmes, Campion, Chandler and Co., Strauss Dynasty, Caribbean Mystery, After the War and Dutch Girls; and for film, young Americans, Me Without You, Young Blade, The Trench, Doc Martin and the forthcoming Seven Seconds.

NEIL PEARSON Maarten
Neil's recent theatre work includes Closer and Benefactors in the West End, and The Real Thing and Taking Sides on tour. His television credits include Trevor's World of Sport, The Booze Cruise, Armadillo, The Whistleblower, Heaven on Earth, Between the Lines (BAFTA nomination: Best Actor), and Drop the Dead Donkey. Film credits include Privates on Parade, The Secret Rapture, Fever Pitch, Trance, Bridget Jones'Dairy and <;et Jones'Diary: The Edge of Reason.

STEPHEN TOMPKINSON Pieter
Stephen has recently appeared in the West End in Rattle of a Simple Man, Arsenic and Old Lace and Art, and on tour in Moliere's Tartuffe. Other stage work includes No One Sees the Video (Royal Court), Across the Ferry (Bush), Who's Afraid of Virginia Woolf and Absent Friends (Woolsey, Ipswich), Women Laughing and Loves Labours Lost (Royal Exchange Manchester). Television credits include In Deep, Grafters, Ted and Alice, All Quiet on the Preston Front, The Manageress, Tales of Sherwood Forest, Minder, Ballykissangel and Drop the

Dead Donkey (Best Actor at the British Comedy Awards). He has also been seen in The Deep Blue Sea, A Nightingale Sang, In Denial of Murder and Murder at the Vicarage. His films include Tabloid TV, Treacle and the multi-award winning Brassed Off. He trained at The Central School of Speech and Drama, where he won the Carleton Hobbs award for excellence in radio. He joined the BBC Radio Drama Company in 1987 and has appeared in well over 100 broadcasts.

ANTHONY AUSTIN Understudy
Anthony has appeared in rep in Exeter, York and Coventry and in several national tours. His classical work includes Titus Andronicus, Measure for Measure, The Taming of the Shrew, York Mystery Plays, The Changeling and A Midsummer Night's Dream. Contemporary work includes Andorra, The Fire Raisers, Victory, Blood Wedding, Bouncers, This Cookie May Contain Nuts, Closer and a tour of Dinner. On television he has appeared in The Bill and Crimewatch.


IAN SOUNDY Understudy
Theatre includes: See You Next Tuesday (Albery), Dead Funny (Savoy Theatre), Three Musketeers (Bristol Old Vic), Romeo & Juliet (Nottingham Playhouse). Television includes: Red Dwarf, 'Allo 'Allo, Eastenders, Brushstrokes, Soldier Soldier and London's Burning.


KSENIA ZAITSEVA Understudy
After graduating from Webber Douglas Academy in 2004, Ksenia appeared in the films Under the Sky of Verona and Don't Leave Me, Love...

MARIA GOOS Writer
Dutch author Maria Goos was born in 1956. She began her career as a director in 1982, and later took up writing. From the nineties onwards, she created the television drama series Called to the Bar, Old Money and Lieve Mensen. The first two series won several television awards. For theatre she wrote the hits Family (translated into English in 2002) and Cloaca (both adapted for film by her, and honoured with major film prizes); A Table for Four (translated into English in 2004); and Smoeder. Her first feature film script, Leef!, will be shot soon. She was awarded a royal decoration in 2000 and the prestigious Lira Script Award in 2001.

KEVIN SPACEY Director
Kevin Spacey is an award-winning actor, director and producer. Theatre work includes The Iceman Cometh (Almeida, The Old Vic and Broadway) for which he won the Evening Standard and Olivier Awards for Best Actor and was nominated for a Tony, Long Day's Journey Into Night (Broadway and West End), The Seagull (Kennedy Center), National Anthems (Long Wharf), Barbarians (SoHo Rep), Play land (Manhattan Theatre Club) and Lost in Yonkers for which he won a Tony Award for Best Supporting Actor. Films include The Usual Suspects (for which he won an Academy Award for Best Supporting Actor), American Beauty (Golden Globe, Screen Actors' Guild, plus American and British Academy Awards for Best Actor), Swimming With Sharks, Se7en, LA Confidential, Glengarry Glen Ross, Midnight in the Garden of Good and Evil, The Negotiator, Hurlyburly, Looking For Richard, The Big Kahuna, K-Pax, The Shipping News and The Life of David Gale. Spacey's Trigger Street Productions has produced The Iceman Cometh, The Big Kahuna, and recently the off-Broadway production of Cobb. Trigger Street's feature, The United States of Leland recently opened in the US presented by Paramount Classics. Spacey's 10-year dream project, Beyond the Sea, a film that he produced, directed and stars in as the legendary 1950s singer Bobby Darin, will be released at the end of 2004.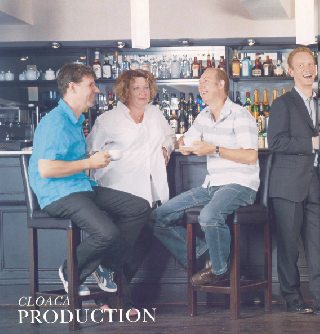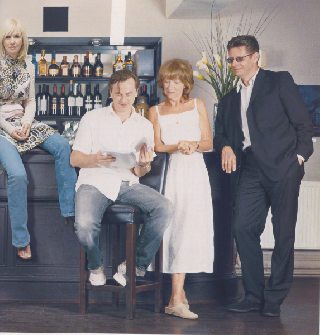 DOMINIC FRASER Production Manager
As Technical Director at the Donmar Warehouse Theatre, from its re-opening under Sam Mendes in 1992 until June 2004, Dominic oversaw the technical development of the theatre arid production managed over 80 productions, including tours arid transfers of work on both sides of the Atlantic. He has also been production manager for numerous shows in the West End and across the UK.

SALLY GREENE Chief Executive, The Old Vic Theatre Trust
Theatre impresario Sally Greene is the owner of The Old Vic, the Criterion Theatre and Ronnie Scott's. She is well known for her achievements in rescuing and restoring some of Britain's greatest theatres including the two mentioned above and the Richmond Theatre. In 1999 she launched one of the West End's most formidable production companies, Old Vic-Productions plc, which to date has 700 investors and has produced over 40 plays in the West End and on Broadway. She appointed Kevin Spacey as Artistic Director of The Old Vic Theatre Company in 2000 and they intend to bring the best, of American and British talent onto the stage over the next, five years. Sally is about to begin work on her fourth theatre, an entirely new build, which will be on the site of the old Collins Music Hall in Islington. She is also currently co-producing Bitty Elliot - The Musical with Working Title Pictures and a creative team including Sir Elton John and Stephen Daldry.

MARK HENDERSON Lighting Designs
Mark has worked with the UK's most prestigious opera and ballet companies, including ENO, The Royal Opera, WNO, Opera North, Glyndebourne Festival Opera, Scottish Opera, the LCDT, Rambert Dance Company, The Royal Ballet and for most of the UK's leading theatres including the RSC, National Theatre (where he is an Associate Director), The Old Vic (where he was Head of Lighting for the 1997 Peter Hall Season) and The Almeida (where he also acts as Lighting Consultant). Recent West End productions include Chitty Chitty Bang Bang, Grease, Democracy, Our House, Endgame and Tonight's the Night. Mark has also lit a number of productions on Broadway and touring productions for Rowan Atkinson, Ruby Wax, French and Saunders, Steve Coogan, Victoria Wood, Bottom, Eddie Izzard and The League of Gentlemen. Work for film and television includes The Tall Guy and Rowan Atkinson Live in Boston. He has also worked on architectural projects including the Royal Court re-development and Madam Tussauds in London, Las Vegas and New York. His lighting designs have won many awards including four Olivier Awards for Best Lighting (plus four further nominations) and two Tony Award nominations.

COLIN INGRAM Executive Producer
Educated in Law and Chartered Accountancy, Colin started his theatre career at Cameron Mackintosh Ltd as Production Administrator where he managed Les Miserables (West End & UK Tour), Phantom of the Opera (Edinburgh, UK Tour), Oklahoma! (West End) and Witches of Eastwick (West End). He also managed the Les Miserables 10th Anniversary Concert at the Royal Albert Hall, Cardiff Castle, Hyndland Park and as part of the closing ceremony for Euro '96 at Wembley Stadium. He then headed up Walt Disney Theatrical UK Ltd., where he managed Lion King (West End) arid Beauty and the Beast (UK Tour). He is also now Executive Producer of Old Vic Productions plc and currently working on the forthcoming musical Billy Elliot, which opens April 2005 in the West End.

ROBERT JONES Designer
Robert trained at The Central School of Art. and Design. Designs include The Mercy Seat (Almeida), Lobby Hero (Donmar), Dancing at Lughnasa (Dublin), Look Back in Anger, Noises Off (Broadway), Playboy of the Western World (National), Othello, Pent cost, Eastward Ho, Romeo and Juliet, Merchant of Venice, Winter's Tale, Henry VII, The Herbal Bed and Jubilee (RSC). Numerous West End credits include Benefactors (Albery), Dance of Death (Lyric arid Australia) and Ragtime (Piccadilly). Opera productions include ENO, Glyndebourne, Paris, Gothenburg and Berlin. He has been nominated for numerous awards, including Olivier Awards in 1999 and 2000 for the RSG's Henry VII and The Winter's Tale.

DAVID LIDDIMENT Producer
David started his career at Granada TV, where he became executive producer of Coronation Street and nurtured a new generation of TV dramatists including Paul Abbott, Kay Mellor and Russell T. Davi.es. In 1997 he was appointed Director of Programmes at ITV, where he brought to the screen those two modern television phenomena: Who Wants to be a Millionaire? and Pop Idol. In addition he presided over a rich period of drama including The Russian Bride, Bloody Sunday, Cold Feel, The Second Coming, Fat Friends, At Home with the Braithwaites and Foyle's War. He was a governor of the West Yorkshire Playhouse (1993-2003) where he directed the world premiere of Kay Mellor's A Passionate Woman. He is Creative Director of independent producer All3Media and is a regular columnist for The Guardian.

LYNETTE MAURO Costume Supervisor
Lynette's extensive theatre work includes Cyrano de Bergerac, Mourning Becomes Electro, His Girl Friday, Ivanov, The Duchess of Malfiand The Oresteia (National Theatre); Little Eyolf, The Seagull and A Winter's Tale (RSC); Company, Habeas Corpus, Proof (Donmar); and The Iceman Cometh, Who's Afraid of Virginia Woolf? and Ivanov (Almeida). In the West End she has worked on Benefactors, The Graduate and Vassa; and in New York Fiddler on the Roof, Nine, The Seagull and The Invention of Love.

JOYCE NETTLES Casting Director
Joyce was Head of Casting with the Royal Shakespeare Company for 10 years under the Artistic Directorship of Trevor Nunn. She cast most, of Jonathan Kent's productions whilst he was Artistic Director of the Almeida Theatre, and has worked with Peter Hall, Peter Brook and the German director, Peter Stein. Her numerous television credits include five series of Midsomer Murders, Foyle's War, Kavanagh QC, Inspector Morse, the award-winning Goodnight Mr Tom and several films for HBO including RKO 281, for which she won an Emmy Award. Her extensive film credits include Zeffirelli's Hamlet and several films with Lars von Trier, including Breaking the Waves.

FERGUS O'HARE Sound Designer
Recent work in the UK includes Twelfth Night (Albery Theatre), Shimmer (Traverse), Pirandello's Henry IV (Donmar), The Quare Fellow, Candida, Singer (Oxford Stage Company), Hamlet (Old Vic), Skellig (Young Vic). Work in New York, Los Angeles and Sydney includes The Shape of Things, A Day in the Death of Joe Egg, Dance of Death, Noises Off, Electro and An Enemy of the People.

JEREMY WHELEHAN Assistant Director
Jeremy studied at University College Dublin before starting a career in the film industry. He worked in the camera department on John Boorman's The Tailor of Panama, Alfonso Arau's remake of Orson Welles' The Magnificent Ambersons, Reign of Fire and Ella Enchanted. During this time he also worked closely with Nomad Productions (Dublin) on numerous commercials and music videos. He started at Trigger Street Productions, as assistant to company founder Kevin Spacey in 2002. Recently he has worked as Associate Producer on Beyond the Sea, directed by and starring Spacey.

MISS IMMODESTY BLAIZE Striptease trainer
One of the stars of the recent burlesque revival, Immodesty Blaize, real name Kelly Fletcher, advised Kevin Spacey on a striptease for his Old Vic production of Cloaca.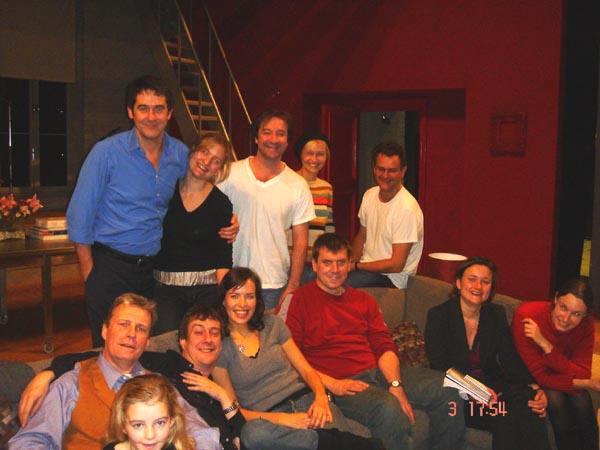 The Guardian Wednesday September 29 2004, Page 26
Reviews
Last night's show
Theatre
Cloaca
Old Vic, London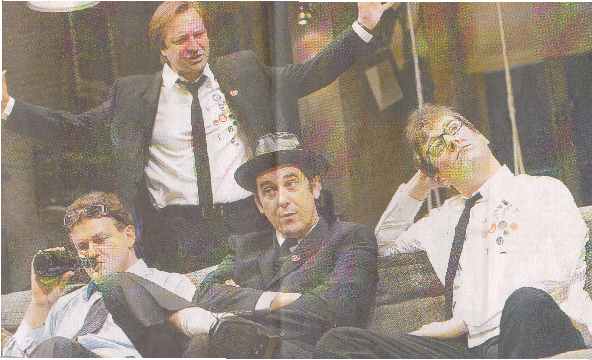 New theatrical regimes often begin shakily: one thinks of Olivier at Chichester, Hall at Stratford, Eyre at the National. So there is no need to panic yet. But I can't help wishing Kevin Spacey had kicked off his Old Vic tenure with something: more bracing than Maria Goos' blackish, brackish comedy about four middle-aged Dutchmen behaving rather badly.
The action takes place in a stylish Amsterdam apartment loft owned by Pieter: a gay civil servant who has shrewdly, but legitimately, chosen to stash away eight neglected paintings from his department's art depository.
The problem is that the selected artist has now acquired huge market value and the city wants the paintings back. So Pieter calls to his aid a group of old college friends all, like him, in their early 40s: Jan is an opportunist politician, Tom a manic-depressive lawyer and Maarten a pretentious avant-garde theatre director.
Superficially, Goos' play sounds a little like Yasmina Reza's Art. But Reza started with a vivid theatrical image — a pure white canvas — that provided a moral and aesthetic test for a group of supposed friends.
In Cloaca, however, we never get to see the disputed paintings.
Reza also used the on-stage canvas as a metaphor for a Molière-like comedy about the eternal contest between truth and hypocrisy: in contrast, Goos limits herself to exposing the adolescent confusion of middle-aged men.
My real problem, however, was that I could never believe in the past friendship of Goos' quarrelsome quartet. What on earth, apart from an apparent liking for Blues Brothers comedy, did they ever have in common? And, in the present, Maarten dismisses Pieter as a "dippy pooftah" while the crudely bumptious Jan says of Tom and Pieter respectively: "You went nuts and you're still a loner."
It may be Goos' point that men coarsen with age but there seems nothing to bind this foursome together except the demands of the dramatic situation.
What Goos has written, in fact, is a sitcom with attitude; and, as in sitcom, she desperately tries to keep the plot afloat by giving the men contradictory qualities.
Pieter, the supposedly sensitive aesthete, reveals a commercial streak by selling off four of the paintings to furnish his lavish lifestyle. Jan, the shitty politician, is given a "touch-feely" moment when he talks of the agonising labour of the wife whom he has peremptorily abandoned. And Maarten, having treated a hired prostitute with brutal contempt and made off with Jan's teenage daughter, is finally seen to have a residual decency. But these contradictions stem less from exploration of character than a need to keep the plot boiling.
Judged -purely as sitcom, the play has spasmodically lively moments. Hugh Bonneville as the angry Jan starts with some amusing tirades against married life and his ramshackle household where the cat is "the idiot with epilepsy".
Neil Pearson is also recognisable as the avant-garde director who uses Greek myth as a chance to disrobe his actresses and who pompously claims: "I've never fallen into the trap of success."
Adrian Lukis, meanwhile, endows the coke-snorting Tom with a fine, dishevelled frenzy and Stephen Tompkinson lends Pieter a wan, self-regarding solitude.
But, although Spacey himself directs capably enough, the play never really pins down the disillusion of middle-age nor the joshing camaraderie under which men hide their real feelings. Still, there is always Aladdin to look forward to.
Michael Billington Until December 11. Box Office: 0870 060 6628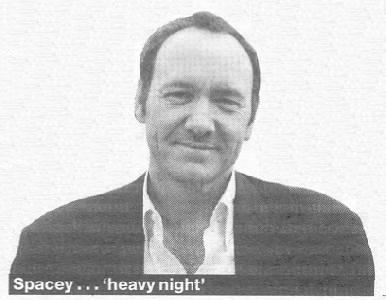 The Guardian Thursday September 30 2004, ArtsBriefing, Page 16
Spacey 'sanguine' after mauling
"A stinker" - Daily Telegraph; "underwhelming" - the Independent; "brackish" - Michael Billington: Kevin Spacey was yesterday soaking up the critics' verdicts on his British directorial debut, Cloaca, which is also the first play of his reign as artistic director of the Old Vic.
David Liddiment, the play's producer, said the critical reaction had been "disappointing", but that he and Spacey were "quite sanguine". He said that he didn't think the choice of play - by little-known Dutch playwright Maria Goos - was misguided, saying "we hadn't expected everyone to like it... but we stand by [the production] and are very proud to be launching a new play from a new country." He insisted that Cloaca had been received well by preview audiences and that bookings were "fantastic". He ruled out inviting critics back to see the play after Tuesday's press night: "They've expressed their opinion, and one respects that. There's nothing to be gained from railing against the critics because they don't share your view."
Billington in this paper wished that Spacey had "kicked off his Old Vic tenure with something more bracing". Paul Taylor in the Independent noted that it was "punchily acted" but that otherwise it was "a curiously underwhelming affair". Charles Spencer in the Daily Telegraph was even less impressed: "I've had more fun lying in gutters than sitting through this."
Also in the opening night audience was Willem van de Sande Bakhuyzen, whose original production of the play opened to excellent reviews in 2002 in Amsterdam. Bakhuyzen said that Spacey's interpretation of the play was "more realistic", and that "when the core of your audience [for press night] is 150 journalists and 100 bankers, you're in for a heavy night."
Mike Higgins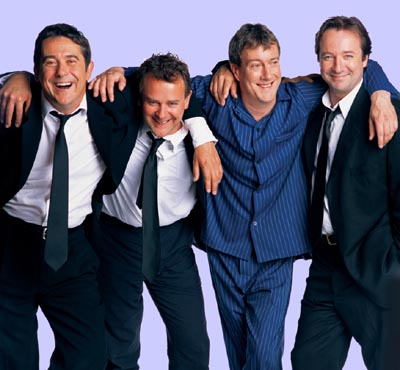 theatreVOICE
Opinion, debate, argument, reviews; word of mouth about theatre in London and beyond
Cloaca
opened: 28.09.2004 closed: 11.12.2004
Old Vic - 0870 060 6635
Summary:

Visit theARCHIVE to hear a discussion.

Kevin Spacey kicks off his tenure as artistic director of the Old Vic by directing the British premiere of Dutch playwright Maria Goos' dark comedy about four male friends in crisis. A very shaky start to Kevin Spacey's tenure as artistic director of the Old Vic, if the reviews are to be believed. Opening for business with a new play by an unknown Dutch writer - Maria Goos - bearing the Roman word for sewer as its title has given the critics no end of opportunity to turn their noses up in mild disgust.

Cloaca is set in a chic Amsterdam apartment where Pieter (Stephen Tompkinson), a gay local government official, is in crisis - he's been allowed to take a painting a year from the city's art depository; now that it's transpired they're worth something, his employers want them back, but he's already sold four of them. On hand to offer feeble male help are his fortysomething mates from university days: Jan (Hugh Bonneville) an egotistical politician, Tom (Adrian Lukis) an unhinged lawyer and Maarten (Neil Pearson) a pretentious theatre director.

Spacey himself directs, but he's fighting a losing battle with the script, commentators argue. The Daily Telegraph's Charles Spencer was incandescent: 'On a stage made famous by great productions of Shakespeare comes this trite, manipulative and sentimental black comedy that makes Yasmina Reza's slight but enjoyable Art look like a profound masterpiece.' He continued: 'I've had more fun lying in gutters than sitting through this comedy. The jokes aren't up to much, and even the sight of the middle-aged chaps performing a silly ska dance routine from their youth and an attractive prostitute (Ingeborga Dapkunaite) doing a strip routine aren't enough to compensate for scenes in which the chaps reveal their many inadequacies with toe-curling candour..' He concluded: 'Cloaca, I'm afraid, is a stinker, slick, superficial and as unappealing as its title.'

In the Guardian, Michael Billington awarded two stars: 'My real problem was that I could never believe in the past friendship of Goos' quarrelsome quartet. What on earth, apart from an apparent liking for Blues Brothers comedy, did they ever have in common? It may be Goos' point that men coarsen with age but there seems nothing to bind this foursome together except the demands of the dramatic situation. What Goos has written, in fact, is a sitcom with attitude; and, as in sitcom, she desperately tries to keep the plot afloat by giving the men contradictory qualities.'

In the Independent, Paul Taylor shrugged his shoulders: 'In launching the first production of his debut season as artistic director of the Old Vic, Kevin Spacey can't be accused of relying on a dead cert, even if the play was the Netherlands' biggest theatrical hit for 30 years. What emerges is a curiously underwhelming affair - a kind of portrait by numbers of the male mid-life crisis, with the occasional flash of piquant female perception.. and the intermittent telling detail about the emotional limitations and betrayals in male friendships.'

In the Times, Benedict Nightingale hummed and sighed: 'It's brave of Kevin Spacey to begin his reign as the Old Vic's artistic supremo with his own production of a play called Cloaca, which is a Latin word meaning canal for waste liquids, drain or even sewer. You can imagine the glee with which our crueller critics would seize on the title if Maria Goos's play were, well, mere detritus. As it is, its worst fault is that, though nominally a comedy of darkish shade, it's a bit earnest, a mite didactic and less funny than a classy cast had led one to hope.'

Alastair Macaulay in the Financial Times thought it so poor that it 'casts a sudden cloud of dreadful doubt over Spacey's whole regime.. You get Cloaca's point in the first 15 minutes: men are emotional cripples, lousy at listening and worse at emotion. And I was soon bored with the creakiness with which Goos reiterates it. She keeps reverting to lifestyle satire - her four male characters, all in their early 40s and all friends since they were about 20, deliver set-piece comedy-turn speeches about bicycle pumps, cats, impotence; it feels like early Ayckbourn, only without the craft.'

In the Mail on Sunday Georgina Brown thought it all too implausible: 'Men, in my humble experience, talk about anything but their penises or their marriages when left alone together. They stick to cricket or safe yarns spun decades ago... Even the most superficial TV sitcom digs deeper,' she added, damningly.

In the Sunday Express, Mark Shenton handed out two stars: 'There are occasional shafts of humour and insight that pierce the play's gloomy heart and Spacey's own production is acted with real conviction but there's ultimately no dramatic pay-off to the stress we're asked vicariously to absorb.'

In the Sunday Times, Victoria Segal acknowledged that 'the mere frisson that surrounds this season is bankably precious. Yet Cloaca, despite its dankly disturbing title, is an unsatisfying experience, splashing about in stagnant shallows when there are deeper, darker tunnels to be explored.'

Kate Bassett in the Sunday Independent applauded the bravery of the choice, but little else: 'ULtimately, this piece lacks originality and, if Pieter's buddies are a disappointment, so is Goos. Her only female character is a skimpy bit part - a hooker who gets her own back with a one-line gag - while the men's set monologues are unbelievably artificial and tautologous to the point of constipation.'

In the Sunday Telegraph, Catherine Shoard added another damning review: 'Written by the Dutch author Maria Goos, a writer unknown in this country - deservedly, as it turns out - Cloaca is mid-life drivel of the wateriest sort. Like Yasmina Reza's Art, it's about male friendship and fortysomething disillusion and takes as its starting point a dispute over a painting. But unlike Art, it's maudlin, muddled and dull.'
Author: Maria Goos
Director: Kevin Spacey
Set Designer: Rob Jones
Lighting Designer: Mark Henderson
Cast Details: Stephen Tompkinson (Pieter); Hugh Bonneville (Jan); Adrian Lukis (Tom); Neil Pearson (Maarten); Ingeborga Dapkunaite (Woman).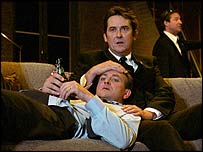 First night - 29.09.04
The first play in Kevin Spacey's inaugural season at the Old Vic is a bold but curious choice, says Mark Shenton...
The title comes from the Dutch word for a waste pipe that carries away sewage
Cloaca (Old Vic)
Film actor-turned-stage director Kevin Spacey and former ITV programme chief-turned-theatre producer David Liddiment – both of whom have just taken over the running of Waterloo's Old Vic – may be looking forward to opening a new chapter in the history of this beautiful theatre.
" Cloaca positively meanders around, with occasional shafts of humour and insight that pierce through the gloomy darkness of the story..."
But their opening production proves to be a bold but ultimately curious choice.
Cloaca is the British premiere of a Dutch play that revolves around a group of 40-something friends looking back in disillusionment at the compromises and failures their lives have variously become.
They have a litany of woes between them, stretching from a failed marriage (the politician, played by Hugh Bonneville) and a failing erection (Neil Pearson's playwright) to mental breakdown (Adrian Lukis' lawyer) and a precarious financial position ( Stephen Tompkinson's local government official).
uncertain focus
Cloaca – the word is Dutch for a waste pipe that carries away sewage – is a play of dramatic effluence which seeps from the hearts of these four men.

Kevin Spacey's production tries to reign in the play's uncertain focus
Like Yasmina Reza's Art, it's another continental take on the ties that bind and come between male friendships, written also by a woman (in this case Maria Goos).
But it's not nearly as cool, smart and fast as Art proved to be.
In fact it positively meanders around, with occasional shafts of humour and insight that pierce through the gloomy darkness of the story.
Spacey's own production tries to reign in the uncertain focus, and his cast harness considerable energy in its service.
But they are slowly defeated by a play that may have been a big hit in Holland, but is as bleak as the situation each character finds themselves in.
Agree or disagree with our review? Add your comments below...
Ian Bowden
A thoughtful cand challenging piece of theatre that portrays a difficult situation well whilst at the same time remaining a piece of theatre. The performances by all concerned were superb and created a mesmeric show for all in attendance. I hope the show tours at some point.
Emma, Essex
I thought it was a wonderfully touching play that reminds you just how fickle life is & how uncertain even the most certain things in life are. Adrian Lukis also gave possibly the best performance I have seen all year. Well done!
Roxy - London
I saw the play yesterday with the understudies playing the characters of Jan and Tom. I loved the play. I enjoyed the dialogue and thought the acting was brill - congratulations to the understudies - they were fab, as was Stephen Tompkinson and Neil Pearson.
Bert van Wier - Nederland
Cloaca – the word is Dutch for a waste pipe that carries away sewage –. Sorry to inform you but the word "Cloaca" is NOT a Dutch word. Waste pipe is called "Afvoer pijp"
Gill Travers
I am going to see this play again. I've seen the Dutch film of the play where the pace is slower. This cannot happen in Spacey's play where all the action is in one room. Your review has the focus as uncertain, but this is the blurry present the characters find themselves in. For me the drama pivots around what binds us to life/living; what binds us to old friends. These are big themes to struggle with, and if you empathise with the four men and where life has taken them, you won't be surprised at the denouement. The play adds a fresh vibrancy to the standard themes played out on the stage of the Old Vic. You should see this, as it's the start of something new.
Wendy
I saw this play and loved it!! The cast is suberb and it has a definate Spacey touch so if you don't like that you won't like this, but I did !! Don't rely on what the critics say, they're not always right.
Gail in Albany, NY, USA
FYI: "cloaca" may be the Dutch word for a sewer pipe - but for the rest of us its roots are Greek and refers to the common cavity into which the intestinal, urinative and generative canals discharge in birds, reptiles, amphibians, many fish and monotrmate animals. Either way: it's all sh**!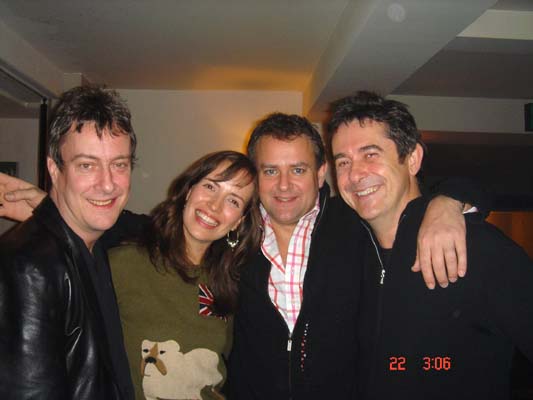 www.drivingmrspacey.com
Review: Cloaca
By Neil Smith
BBC News Online
Hollywood actor Kevin Spacey has begun his tenure as artistic director of London's Old Vic theatre with a black comedy by a Dutch playwright who is virtually unknown outside her home country.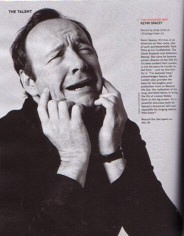 There is a scene in Cloaca in which avant garde theatre director Maarten (Neil Pearson) asks: "What's this play actually about?"
He is talking rhetorically about one of his own productions, but the question will no doubt be raised by audiences who attend the first, curiously titled play of Kevin Spacey's reign at the Old Vic.
Well, it's about male friendship, and the fissures and fractures that build up in those friendships over time.
It's also about their relationships with the women in their lives and their failure to understand what makes them tick.
The title means sewer in Latin, so you could also say it is about the effluent and detritus of modern life.
But if you are asking this writer what Cloaca is about, he'd say it's about two-and-a-half hours of the most tedious drivel ever flushed up on a London stage.
Bureaucrat
The setting is a swish Amsterdam loft apartment owned by gay civil servant Pieter (Stephen Tompkinson).
You wonder how this humble bureaucrat can afford such a swanky residence, and author Maria Goos soon provides the answer.
It turns out that Pieter has helped himself to eight neglected paintings from his department's vaults - artwork that has since quadrupled in value.
Unfortunately his employers want the pieces back - which is a problem, as Pieter has flogged four of them to the highest bidder.
Assembling three friends from college, Pieter explains his predicament. Alas, they all have troubles of their own.
Ambitious politician Jan (Hugh Bonneville) has one eye on a cabinet position and the other on his failing marriage, while Tom (Adrian Lukis) is a disbarred lawyer fresh out of rehab.
Maarten, meanwhile, has romantic hassles stemming from an illicit fling with Jan's teenage daughter.
They are a sorry bunch all told, prone to maudlin self-pity, depression and ugly misogyny.
The latter comes to the fore in their treatment of a Russian prostitute (Ingeborga Dapkunaite) hired to strip for Jan on his birthday.
But their behaviour might be tolerable had Goos used it to mine fresh insight into the male psyche and the crushing disappointments of middle-age.
Aberration
Alas, the real disappointment will be felt by those audience members who attend Cloaca expecting a theatrical event.
And while Spacey's direction inspires impressive performances from Bonneville and Pearson, you can't help feeling something fundamental has been lost in translation.
Time will tell if Cloaca is the shape of things to come at the Old Vic or merely an embarrassing aberration.
What cannot be denied is Spacey's much-vaunted regime at this historic south London venue has got off to the shakiest of starts.
Cloaca runs at the Old Vic until 11 December.
BBC News
Critics lukewarm on Spacey play
Theatre critics appeared less than impressed by Hollywood star Kevin Spacey's debut as artistic director of London's Old Vic Theatre.
He opened his tenure on Tuesday with Cloaca by Dutch playwright Maria Goos.
Cloaca - the Latin word for sewer - centres on the relationship between four male friends hitting middle-age.
Daily Telegraph critic Charles Spencer described the play as "a stinker", adding it was "slick, superficial and as unappealing as its title".
He added: "I've had more fun lying in gutters than sitting through this comedy."
The play, starring Stephen Tompkinson, Neil Pearson and Hugh Bonneville, is set in a stylish Amsterdam loft apartment owned by Pieter, a local government official who has legitimately stashed away eight paintings by an obscure artist.
But when the artist's work begins to creep up in value, his bosses decide they want them back, including the ones Pieter has sold.
His three friends rally around to try and sort out the mess Pieter has found himself in.
But some critics were harsh in their reviews of Spacey first outing at the Old Vic.
'Lively moments'
Michael Billington, in The Guardian, said Goos' play was a "blackish, brackish comedy about four middle-aged Dutchmen behaving rather badly".
And while he reserved some praise for Spacey's "capable" directing, he described the play as being like a "sitcom" with "spasmodically lively moments".
"My real problem... was that I could never believe in the past friendship of Goos' quarrelsome quartet," he wrote.
"There seems nothing to bind this foursome together except the demands of the dramatic situation".
The Independent's critic, Paul Taylor, described Cloaca as a "curiously underwhelming affair" .
But he added that the production was "punchily acted and nicely modulated".
As celebrities and theatre critics gathered for Tuesday's opening night, Spacey told the BBC he "could not have hoped for a better launch".
He added: "I think it is going to be a play people recognise themselves in no matter what country they come from because it is about friendship. We all have friends."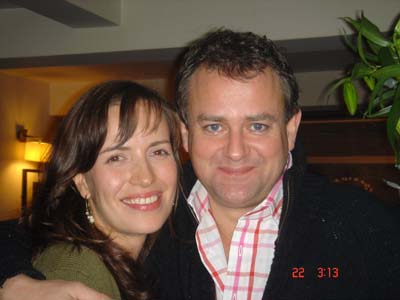 www.portal.telegraph.co.uk
Spacey's down in the gutter with this stinker
(Filed: 29/09/2004)


Charles Spencer reviews Cloaca at the Old Vic
This was one of the most eagerly awaited nights of the theatrical year, the start of Kevin Spacey's much-heralded regime as the glamorous new boss of the Old Vic.
Eyebrows were raised when he announced that the first play would be by a Dutchwoman, Maria Goos, who is entirely unknown in this country, and raised some more when he revealed that he would be directing the show rather than starring in it.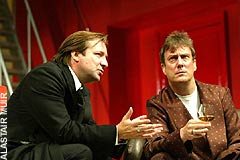 Uninspired comic drama: Cloaca
But by the end of the evening my eyebrows had risen so high that they had crawled over the top of my head and ended up, cowering with dismay, at the back of my neck. On a stage made famous by great productions of Shakespeare comes this trite, manipulative and sentimental black comedy that makes Yasmina Reza's slight but enjoyable Art look like a profound masterpiece.
The similarities are uncomfortably close and none of them are to Goos's advantage. Like Art, the play concerns the strains in the relationships of male friends hitting middle age. Like Art, art is at the centre of the plot.
But whereas Reza's play was neat, elegant, touching and true, Cloaca seems strained, muddled and often jaw-droppingly improbable. It begins like a pilot for a slick American sitcom, before lapsing into maudlin passages of self-revelation and misery. Rueful laughter through a mist of tears is clearly the effect being aimed at, but the laughs are infrequent and the tears don't come at all, for none of the egocentric characters touch the heart.
The action is set in the smart Amsterdam loft conversion of Pieter (Stephen Tompkinson), a gay local government official who has been given permission to take a painting each year on his birthday from the city's art depository. Everyone assumed that it was filled with nothing but junk, but Pieter discovered eight paintings by an obscure artist who has gone on to posthumous fame, and whose canvases now fetch a not so small fortune. There is only one problem. His employers now want them back – and Pieter has sold four of them.
The fortysomething friends of his student days rally round and what an unpersuasive collection of comic stock-types they prove. There's Jan (Hugh Bonneville), a vain politician on the brink of being made a cabinet minister who has recently left his wife and is entirely obsessed with himself. There's Tom (Adrian Lukis), a lawyer out from the nuthouse after spell of cocaine psychosis, but still wired as hell. And finally there's Maarten (Neil Pearson), a pretentious and unscrupulously randy theatre director.
Goos evidently doesn't think much of the male of the species. Her characters are either conceited or cowardly or both, and she describes the play's title (Cloaca means sewer) as "a metaphor for all the shit that's going through the play. The play is like a gutter".
Well I've had more fun lying in gutters than sitting through this comedy. The jokes aren't up to much, and even the sight of the middle-aged chaps performing a silly ska dance routine from their youth and an attractive prostitute (Ingeborga Dapkunaite) doing a strip routine aren't enough to compensate for scenes in which the chaps reveal their many inadequacies with toe-curling candour.
Some of the acting is sharp, but it never cuts deep. Tompkinson is intermittently touching as poor Pieter, Bonneville gives a fine display of preening vanity as the politician, but Adrian Lukis is absurdly over the top as the dotty dope fiend while Neil Pearson seems to be on autopilot as the ghastly theatre director.
Cloaca, I'm afraid, is a stinker, slick, superficial and as unappealing as its title.
· Tickets: 0870 060 6628

www.pimagazine.uclu.org
pi arts
Cloaca
By MATTHEW RIPLEY
*****
The Old Vic Theatre, The Cut SE1
Until 11 December 2004
Tickets £12 for the under-25s
Tel: 0870 0606628
The Millennium Bridge . Bendy buses. The Dome. There's been quite a few less than great ideas put into practice in London over the last few years but, thankfully, this isn't one of them. From the evidence of this first play at the Old Vic under Kevin Spacey's reign as Artistic Director, things are looking decidedly trendier for the sometime-struggling SE1 institution.
'Cloaca', as it is inexplicably named, deals with the reunion of four 40-something college friends, each of whom are in various stages of a mid-life crisis. As a play, it's a rather airy 'examination' of companionship and aspirations, but as a spectacle, its pure brilliance. Perhaps not surprisingly given Mr Spacey's involvement, its feel is cinematic: from the bass-boosted 80s music to the palatial bachelor pad set with its subtly atmospheric lights, the performance is a delight on the eyes and ears. The cast, all recognisable faces from stage and screen, are superb: immensely watchable, they draw out every ounce of comedy, whilst playing the more serious scenes with the required gravity. Its fun, fast paced and fabulously entertaining - an experience more akin to watching your favourite sitcom than going to the theatre. Yet, you may ask, why not stay in and do just that - even better, why not watch a film instead? Imagine your favourite sitcom/film/TV show again - now imagine seeing it live. Imagine feeling the electricity run through the cast and to the audience as hysterical laughter takes hold, imagine being close enough to see every expression on every actors face, imagine sitting in The Old Vic being part of something historical.
This really should be the start of a new life for The Old Vic. Once more the place to be seen, there has been a visible injection of some of Spacey's collected coolness into this historic part of Waterloo. For just £12 this one of the most aesthetic, invigorating and enjoyable two hours I've spent at the theatre in a very, very long time.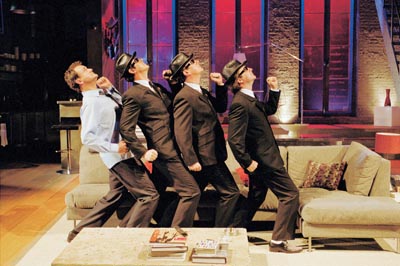 www.mmegi.bw
Vol.21 No.150
Monday 4 October 2004
Arts/Culture Review
No Awards For New Director Spacey
LONDON: Oscar-winning film actor Kevin Spacey received some hostile reviews as he launched his first season at the helm of London's famous Old Vic theater with "Cloaca," a play about four men in the throes of a mid-life crisis.
"A stinker," said one reviewer. "Trite, manipulative," said another. A third went even further, calling the production "the most tedious drivel ever flushed up on a London stage."
"Cloaca," which Spacey directs, was considered an eccentric choice for the Old Vic's new artistic director, since the Dutch author, Maria Goos, is unknown in Britain.
Some critics admitted being offended by the title, which is Latin for sewer; Goos has described the work as "a metaphor for all the (rubbish) that's going through the play. The play is like a gutter."
"By the end of the evening my eyebrows had risen so high that they had crawled over the top of my head and ended up, cowering with dismay, at the back of my neck," wrote Charles Spencer in the Daily Telegraph under the headline, "Spacey's down in the gutter with this stinker."
"On a stage made famous by great productions of Shakespeare comes this trite, manipulative and sentimental black comedy... I've had more fun lying in gutters than sitting through this comedy," he wrote.
The action takes place in the Amsterdam loft home of Pieter, played by Stephen Tompkinson, a gay local government officer who has permission to take a painting on each of his birthdays from the city's art depository.
One of the painters has become fashionable, causing his works to soar in value, and the council decides it wants the pictures back. But Pieter has sold some of them.
He seeks help from his friends, arrogant politician Jan (Hugh Bonneville), neurotic lawyer Tom (Adrian Lukis) and pretentious theater director Maarten (Neil Pearson).
Times critic Benedict Nightingale said the play was short on both originality and tension.
"Does one care very much if Stephen Tompkinson's prim, gentle Pieter is forced to return the now-valuable paintings?" he asks. "Not a lot."
Guardian critic Michael Billington found himself unable to believe that the four men were old college friends.
"Although Spacey himself directs capably enough, the play never really pins down the disillusion of middle-age, nor the joshing camaraderie under which men hide their real feelings," he wrote.
Neil Smith of BBC News Online called the play "about two-and-a-half hours of the most tedious drivel ever flushed up on a London stage."
"Spacey's much-vaunted regime at this historic south London venue has got off to the shakiest of starts," he said. (AP)

www.sundayherald.com
Friendship down the drain
London Theatre: Cloaca - The Old Vic, London until December 11


by Torcuil Crichton
GIVEN the great weight of expectation on Kevin Spacey as he opens his first season as artistic director of the Old Vic, it seems strange that he should have chosen the theme of male friendship as his curtain-raiser.
In Britain, the national conversation on male middle-aged angst is somewhat exhausted, even if half of men are still locked up from themselves while the other half can't stop telling us all about it.
Cloaca, by the Dutch writer Maria Goos, was a theatrical sensation in Holland, where it has since been made into a film. But in London's theatre world it's been met with a shoulder-shrugging 'so what?' and a vituperative critical response. Part of the trouble is that the play hasn't found the silver bullet that penetrates the male psyche. The audience, however, lap it up.
As well as the glitter of Spacey's involvement, there's a terrific cast, including Stephen Tompkinson and Neil Pearson. Throw the book of Revelation at these actors and they would find a laugh in it. For them, this kind of ramped up sit-com, even with its dark fringe, is a walk around the circus ring.
Set in an Amsterdam loft apartment, the action revolves around four reunited friends exploring the shallows and depths of male relationships. Tompkinson plays gay Pieter, who has endured 20 years in a dead-end arts admin job for the pleasure of being able to rescue unrecognised masterpieces from the city's art archive. So far he has eight paintings, four of which he has sold at tremendous profit, all of which the city council now want returned. His dilemma is the spur for the narrative action.
His friend, the loathsome politician Jan (Hugh Bonneville), has left his wife to take refuge in Pieter's flat. An easily recognised political cut-out, he allows his ego to do his talking.
Then there's Tom (Adrian Lukis), the manic depressive lawyer with a cocaine problem. And Pearson is too believable as Maarteen, the pretentious theatre director who possesses enough self-loathing and misogyny to make off with his best friend's daughter and a prostitute brought in for an evening's entertainment – typical, really. Ingeborga Dapkunaite is the birthday surprise, the only female part.
Cloaca is a word meaning waste pipe to the sewer but the play doesn't quite flush out the detritus at either end of the male swimming pool just as the characters don't realise their lives are up shit creek.
The brooding malice, the childish jealousies and intense unspoken rivalries are missing. The material is not repulsive or nuanced enough, allowing the audience an easy laugh at the bundle of angst and self-loathing that is modern manhood.
Sometimes, the writing gets there. At one point Jan asks Pieter what Cloaca, the group's communal salutation from student days, actually means. "It doesn't mean anything at all," replies Pieter, referencing their hollowed out, 20-year relationship.
If you're in the same groove as the characters the reflections of this play work. If not, you can see it for the laughs and the Spacey stardust.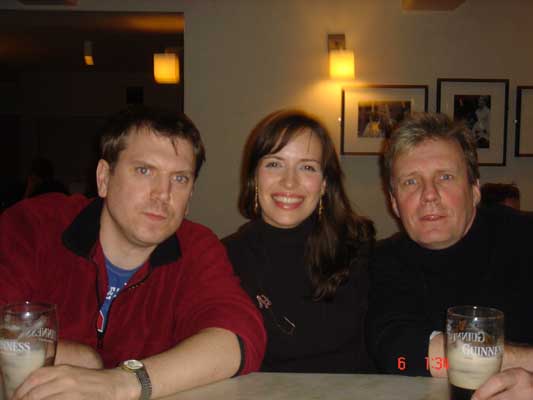 10 October 2004

www.onlinereviewlondon.com
Cloaca
The Old Vic
16 September - 11 December 2004
In its native Netherlands this play was greeted with critical plaudits for its insights into the middle-aged male condition, and its representation of the collapse of a circle of friendship reaching a sell-by date that none of the four parties to it believed it possessed. It is a comedy that ends in tragedy - the tragedy being the suicide of the most interesting and vulnerable member of the group - and it is intended as an exploration of the difficult balance that subsists between private loyalty and individual self-interest when it is most sharply thrown into relief by the exigencies of public morality.
Alas, the machinery of the play is just a little too cumbersome, and the reach of the playwright just a little too over-extended, for these worthy aspirations to be met. With a cast like this it would be hard not to generate a good evening of theatre; there is a superabundance of talent here, and by sheer force of acting the four male principals manage to make their cardboard cut-out characters seem a little more than paper - at least while they are actually there on stage. But as the audience walks from the theatre and thinks back, so the characters subside into two dimensions, and the story liquefies into sentimentality.
There are, however, moments that are far better than the play as a whole, and these I think must be what captured the attention of audiences in its native tongue, and no doubt struck Kevin Spacey as he thought about what to stage as his London directorial debut. The choice he had to make was by no means an insignificant one, but the fact that it has not been an unqualified success should not be a problem: there are indications in 'Cloaca' of a determination to fashion theatre that is imaginative, brave and novel without being posturing and innovative merely for effect. There will be no straining after paradoxes in Spacey's cultured view of the theatrical space and its possibilities, one senses: and that must be a good thing. The Old Vic has seen spectacular genius at work on its boards - the last time was when Jonathan Miller was artistic director in the 1980s, for an all-too-short period of brilliance - but instead of that being a paralysing thought, it should be a potentiating one: Spacey has the ability, as his handling of this ambiguously crafted play indicates, to make something special happen in the purlieus of Waterloo.
But this was not quite it yet. 'Addo dum minuo' says the Latin tag - I add by taking away - and Maria Goos might shorten this play to good effect, tightening the psychological development, not indulging herself in side stories too far, unless they bear strictly upon (rather than contradicting, as happens here) the meaning of the main narrative.
Not an iota of these reservations should attach to members of the cast, who were splendid, nor the design, which was excellent, nor the strip-tease of Miss Dapkunaite, which was convincingly done and therefore enjoyable. In one way it is perhaps a good thing that Kevin Spacey did not begin with a huge and unqualified success, because the inevitable consequence would have been that anything which did not meet the same standard would have generated headlines saying 'Spacey falls off' and the like. Now he has a chance to build; and London's audiences - far more appreciative and generous than its press - will be happy to see him succeed.
AC Grayling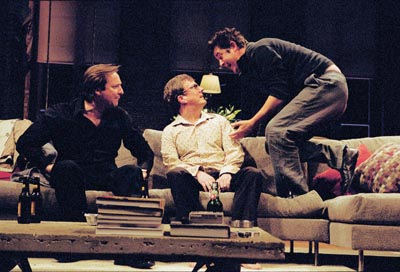 www.tobyyoung.co.uk
Cloaca, Kevin Spacey's debut as the artistic director of the Old Vic, must rank as one of the biggest disappointments of the year. It isn't bad, exactly, but I was expecting so much more from the man who electrified British theatergoers with his star turn in The Iceman Cometh six years ago. I sat there in the audience thinking, "He put his career in Hollywood on hold for this?"
A new play by a Dutch author called Maria Goos, Cloaca is essentially a knock-off of Art, the long-running hit about three middle-aged male friends who argue about the value of a blank canvas. Cloaca features four middle-aged men, rather than three, and the target of its satire is avant garde theatre rather than abstract expressionism, but, like Art, it's a comedy that imagines it has something serious to say about male friendship.
As I say, Cloaca isn't terrible. The characters are quite well-drawn, it has a handful of funny lines, most of them delivered by Hugh Bonneville who plays an unscrupulous left-wing politician, and it has a great cameo from a Lithuanian actress called Ingeborga Dapkunaite. But it's not, by any measure, an important new work. It's a soufflé, an aperitif. It goes down easily enough, but it's instantly forgettable. It's not the great theatrical event that I was expecting from Kevin Spacey. It's almost as if Gordon Ramsey, having become disillusioned with being a three-star Michelin chef, announced that he was taking a one-year sabbatical and, after several months in one of the best culinary laboratories in Europe, unveiled his exciting new concoction: chicken tikka masala.
The only explanation I can think of is that Spacey has decided to take his responsibility as the Old Vic's savior seriously and, rather than ferret out a great new play, has done his level best to produce a hit. It may well become one, too, and go on to enjoy a successful West End run, helping to subsidize any number of more ambitious productions at the Old Vic. But it seems odd that Spacey has made such a song and dance about escaping the money-grubbing atmosphere of Hollywood in favour of the London theatre if his principal aim as the Old Vic's artistic director is to place it on a firmer commercial footing.
Saturday 2nd October 2004
www.musicomh.com
Cloaca
@ The Old Vic, London, 16 September - 11 December 2004
The first production of Kevin Spacey's stint as artistic director at the Old Vic is a cryptically titled tale of male friendship by the Dutch playwright Maria Goos. Cloaca is Latin for sewer but this fact is never mentioned in the play. Actually the meaning of the term is left purposefully ambiguous; Goos uses it as the matey greeting call of her main characters, four old friends, pals since university, now middle-aged.
Stephen Tompkinson (Brassed Off, Drop the Dead Donkey) plays Pieter a gay civil servant living a quiet, solitary life in Amsterdam. One of the greatest pleasures in his life is the collection of unwanted paintings that he's rescued over the years from the city's art depositary. Faced with prospect of having to return them he is understandably distraught and it is during this crisis that his former friends are drawn back into his life.
Jan (Hugh Bonneville) is an ambitious politician with a marriage on the rocks, a man who is both endearingly pompous and deeply self-involved. On hearing of Pieter's art-related predicament he is quick to call in another of their friends, Tom (Adrian Lukis) a lawyer with a rather hazy hold on reality, to handle the case. The quartet is completed by Maarten, a wonderfully sleazy Neil Pearson playing an arrogant theatre director with a considerable collection of sexual issues. The casting is impeccable. The actors have a wonderful rapport and there's a real sense of shared memory between them, of good times spent in each others' company, of nostalgia and also of regret. Lukis has the showiest role, bristling with nervous energy, and Bonneville is equally convincing, managing to make the ruthless Jan momentarily sympathetic, supplying a real sense of the man he used to be, the man he could almost have been. It's Tompkinson who holds everything together though, excellent as the deceptively solid and stable Pieter. And for her brief but pivotal interjection into this play's very male world, Ingeborge Dapkunite steals the play's most entertaining scene.
In the shorter second act things turn distinctly darker, betrayals are revealed and friendships fray. Kevin Spacey's direction is as assured as you would expect and he draws a surprising amount of humour from this blackly comic material but from the interval onwards events spiral rapidly down to an abrupt and bleak conclusion. After the easy banter and emotional revelations that preceded, this final stretch seems rather forced, rushed even, as if there was uncertainty over how to bring the story to a close.
Throughout Cloaca Maria Goos makes some undeniably astute observations about men and masculinity, even if you are often left wondering if she hasn't been too harsh in her judgements. Ultimately all these years of friendship count for little in her world, these characters can only disappoint one another, they seem destined to let each other down.
Her play, here receiving its British premiere, was an unusual, though not overtly challenging choice, by Kevin Spacey for his Old Vic debut, however though this production is by no means perfect, the American Beauty star will have to go some way during the remainder of his London residency to better it.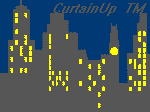 CurtainUpTM
The Internet Theater Magazine of Reviews, Features, Annotated Listings
www.curtainup.com
A CurtainUp

London Review
Cloaca
by Lizzie Loveridge

A good marriage depends on your ability to bring home the right brand of breakfast cereal
--- Jan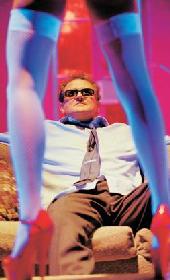 Hugh Bonneville as Jan
(Photo: Ivan Kyncl)
Cloaca is a play which was very popular in the Netherlands. Though translated into French, Spanish and German it remained undiscovered in the English speaking world until Kevin Spacey chose it to open his new management at the Old Vic.

Like Art, Cloaca is about men in middle life discussing what they have made of their lives and is very, very funny. It parallels many people's lives. After a full of hope for the future opening, the centre brings some doubts and it ends badly.

The four men who come together to compare notes on their exaggerated mid-life crisis. have known each other for a long time: Pieter (Stephen Tomkinson), a gay government servant, has some awkward questions to answer. Some years ago he "rescued" the paintings of a now "discovered" and expensive artist from a government repository. . . Jan (Hugh Bonneville), a successful politician hoping to be promoted to the Cabinet is a philanderer with a failing marriage and teenage children. . . Tom (Adrian Lukis) is a solicitor with mental health problems and a cocaine habit. . . Maarten (Neil Pearson), a theatre director who has the mid-life angst of finding himself impotent.

The situation takes place in Piet's warehouse conversion apartment which, judging by the shape of the gable at the top of the building, is probably in Amsterdam. The title comes from the Latin word for a sewer or a gutter which the quartet used as their ritual childhood greeting to each other, but it has a deeper significance than all except Tom realize.

Hugh Bonneville as Jan is the real star of the piece. His complaining about his wife and family gives him some of the funniest lines in the play. He displays the perfect blend of childlike petulance and self-centred unreasonableness and his delivery is impeccable as he sprawls on the sofa. Adrian Lukis as the hapless Tom does a professional job and his speech to Jan pointing out where Jan has failed his wife and family hits the spot and is maybe the point at which the play should have ended. I was not convinced by Piet's lacklustre character and didn't really care enough about Maarten to be interested in anything about him. His main function in the play seems to be to make Jan face up to his conduct with his girlfriends as these particular chicks come home to roost.

On Jan's birthday, a stripper is hired and the group perform one of the numbers from The Blues Brothers repertoire. This is wonderfully executed and I enjoyed watching these grown men parade in black suits, dark glasses and white socks with all the dance moves in place full of amateurish enjoyment. The stripper makes a long speech entirely in Russian so that we can only guess at the meaning. The set is fine though it looked very like the New York loft in The Mercy Seat the London production of which was also designed by Robert Jones.

I wish I could have left after just three-quarters of the play rather than being subjected to its unsatisfactory and mawkish ending. I turned to my companion after the interval and asked how Maria Goos was going to end this? Her choice proves to be deeply flawed and leaves every theatregoer on a low note even though Spacey may have already made some cuts so that the play is currently running twenty minutes less than originally billed.

Kevin Spacey has no public subsidy for the theatre company at The Old Vic. He has to stage commercial plays which can draw large audiences into the depths of Waterloo. Sir Peter Hall tried a few years ago with his fine repertory company at the Old Vic but lost his backers before his company could break even. Running the Old Vic will be a steep learning curve but I hope to see the combination of Spacey directing and Bonneville acting again soon.
Cloaca
Written by Maria Goos
Directed by Kevin Spacey
Starring: Hugh Bonneville
With: Adrian Lukis, Neil Pearson, Stephen Tomkinson, Ingeborga Dapkunaite
Designer: Robert Jones
Lighting Designer: Mark Henderson
Sound: Fergus O'Hare
Running time: Two hours 15 minutes with one interval
Box Office: 0870 060 6628
Booking to 11th December 2004
Reviewed by Lizzie Loveridge based on 5th October 2004 performance at the Old Vic Waterloo Road London SE1 (Rail/Tube: Waterloo)
www.thestage.co.uk
The Stage Online
Cloaca
According to the Daily Telegraph's arts editor, Sarah Crompton, most new theatre regimes get off to a disappointing start, and the examples she gives more or less prove the point. Certainly Kevin Spacey's choice of Cloaca to kick off his tenure at the Old Vic is a severe disappointment, despite the fact that the cast comprises four of Britain's very best fortyish actors - Stephen Tompkinson, Hugh Bonneville, Neil Pearson and Adrian Lukis.
One can see that the Dutch author, Maria Goos, has an interesting point to make - that the trouble affecting males in their middle years is more than likely to be about power and their ability to carry out their jobs than it is about their emotions.
Thus, although the marriage of Jan (Bonneville) is on the rocks, his worries are whether he is likely to become his country's foreign secretary. Tompkinson's Pieter - in whose loft conversion the play takes place - may be gay but he is scared that the four paintings he believed he was given for nothing by his city council employers may have to be given back because the artist has become eminently collectable. Work stress may be responsible for the drug-ridden state into which Lukis as Tom has fallen. And Maarten (Pearson) seems less worried about the success of his latest play production than the fact that he has become impotent.
But somehow we do not care much about any of them, because this is the equivalent of a buddy movie - quite a few laughs but not much feeling about any of the characters, expect perhaps for the call girl (Ingeborga Dapkunaite), gifted to Jan as a birthday offering by the other three. Her outburst in Russian - or it might be her native Lithuanian - is something to behold.
Production information
By: Maria Goos
Management: Old Vic Theatre Company and David Liddiment
Cast: Hugh Bonneville, Adrian Lukis, Neil Pearson, Stephen Tompkinson, Ingeborga Dapukunaite
Director: Kevin Spacey
Design: Robert Jones
Sound: Fergus O'Hare
Lighting: Mark Henderson

www.cix.co.uk
PROMPT CORNER 20/2004: CLOACA
September / October, 2004
If the cover of this issue hadn't gone to Primo (of which more later), it would have been Cloaca. A friend even supplied the punning caption to be used: "Yes, but is it Art?" It's simply impossible to avoid making the association with Yasmina Reza's breakthrough play when watching the opening production of Kevin Spacey's tenure at the helm of The Old Vic. Blokes, friendships, paintings, money – all the points are there for a close mapping. All except the quality.
Maria Goos hasn't written a bad play, just a poor one. I can't recall greater unanimity of critics since I took over the editorship here. Even Murderous Instincts had its halfway-defenders (though not enough to stop it closing more than an issue's duration before we reprint its reviews), but really, everyone – with the exception of the more vigorously damning Charles Spencer – has remarked on Cloaca's general deficiency, and wondered why Spacey chose it to kick off his directorial stint. I have come across one intriguing suggestion (I wish I could remember where, in order to give due credit: possibly David Lister's arts column in the Independent) about the play's selection, namely that the prime mover in this instance wasn't Spacey but his producer, David Liddiment. Prior to the Old Vic job, Liddiment's career has been exclusively in television, peaking as director of programmes for the ITV network 1997-2002.
Shiny middlebrow
The more one thinks about Cloaca in that light, the more persuasive the theory becomes. It has the kind of shiny middlebrow feel that would appeal to an ITV exec looking for a one-off drama that wouldn't be too alienating to the channel's audience. The thing is that The Old Vic's audience demographic is not the same as ITV's… and, to judge from accounts of post-press night performances, the Spacey Old Vic's demographic for Cloaca is different again. Nice idea to get Condé Nast involved as publisher of The Old Vic Magazine – a kind of up-market up-yours to the Really Useful group's Theatregoer – but as Baz Bamigboye pointed out in the Daily Mail, people bridle at paying three quid for a programme, never mind a fiver, no matter how much "added value" is in there. Or maybe the target audience is precisely that kind of person… which, to me at least, would suggest not a great deal of market research. Multiply the number of seats in The Old Vic by the number of performances in the play's run… are there over 100,000 such people to be tempted to come and see this show? If not, then make sure you don't lose too much of your existing audience in pursuit of the new.
Of course, part of the reason for the Liddiment theory's attractiveness is that we don't want to lay the blame at Spacey's door. Much as the British media enjoys knocking people down, what we want even more is for his commitment and belief to pay off, that we may see The Old Vic once again become a consistently viable venue with a strong individual identity. We've had enough of its years of hit-and-miss floundering under successive managements and artistic regimes, hopeful though some of them initially looked. And so, for once, we refrain from rushing to judgement on the basis of one play (how very different from the case, earlier this year, of Sam Mendes' Scamp production company and Fuddy Meers), and even try not to draw too much attention to the minimal, anodyne directorial feel Spacey also gave to the production. Please, we whisper into our pillows like lovestruck teenagers, after so many heartbreaks let this man be The One. Time will tell.

www.britishtheatreguide.info
Cloaca
By Maria Goos
Old Vic
Review by Philip Fisher (2004)
The long-awaited arrival of Kevin Spacey as Artistic Director at the Old Vic ensured that the opening night audience was greeted by cameramen galore, mercifully kept back by crush barriers.
His selection for an opening play is brave in the extreme. A British premiere of an unknown Dutch playwright is hardly Hamlet or Sir David Hare. Cloaca is a light comedy that eventually takes on more depth in a worthwhile second half.
Up to the interval it shows a reunion of four overgrown college kids, twenty years on. They are simultaneously suffering mid-life crises and the light comedy before the interval derives from their travails and predicaments.
They are in the gigantic modern art installation of a flat belonging to Stephen Tompkinson's Pieter. Designer Robert Jones packs this with avant-garde pieces including a wild selection of sculptures stretching from classical through globular to red neon.
Pieter is a gay council worker who has made his money and his life by acquiring and occasionally selling council-owned artworks. In particular, he majors in van Goppel, a greengrocer-like man whose paintings sell for millions.
Now the council wants them back but help is at hand in the form of proto-cabinet minister, Jan, and the constantly shouting Adrian Lukis' Tom, just released from "two months in the madhouse".
The selfish Jan (what else could a politician be?), played by Hugh Bonneville, has just walked out on his wife and four children after an incident with a meat fork can provide ruthless blackmail.
Tom is happy to offer Pieter his legal training. It could hardly have been of more value if he wasn't disbarred as a result of a twenty-year coke habit.
As if this sad lot wasn't bad enough, they are inexplicably joined by Neil Pearson's convincingly slimy Maarten, an experimental playwright who is currently sleeping with Jan's not yet 18-year-old daughter.
Suddenly after the interval the play takes off. There is a superb sub-Madness dance routine, complete with dark glasses and pork pie hats, that brings the house down. This is followed by the arrival of Ingeborga Dapkunaite's spunky stripper who first hilariously harangues birthday boy Jan and then delightfully downsizes odious Maarten.
This is a signal for more a serious turn in proceedings as Jan gets an unwanted political post, Pieter despairs and the other two suddenly grow up.
Cloaca is not the greatest start to what everyone must hope will be a successful venture, drawing the community into The Old Vic and attracting younger, film-fed audiences to theatre. It has some great moments and the big sitcom names in the cast should prove attractive and ensure that sales hold up.
This review originally appeared on Theatreworld in a slightly different version
"Cloaca" plays at the Old Vic until 11th December

www.tht.org.uk
Cloaca at the Old Vic Directed by Kevin Spacey, Cloaca is a darkly funny examination of friendship and aspirations, by the acclaimed Dutch writer Maria Goos. Thanks to the Old Vic and THT supporters Neil Pearson and Stephen Tompkinson, there were door collections at the matinee (2.30pm) and evening (7.30pm) performances on World AIDS Day. These collections raised a phenomenal £800 for THT.
www.ablitt.net
Friday, November 05, 2004
"Cloaca" at the Old Vic
Went to see a play called Cloaca last night directed by Kevin Spacey at the Old Vic. It's been ages since I've seen anything at the theatre so it was a nice change, thanks to Kyla whose idea it was. The play was good although I thought the ending was a bit odd. It's about four guys, college friends who meet up later in life. Two of the guys used to be in "Drop the Dead Donkey". They managed to fit in a strip-tease scene as well (obviously there was a woman for this) which was a bit of a surprise.

Has Kevin Spacey lost the plot at the Old Vic?
By Alan Strachan
10 February 2005
Kevin Spacey must be ruefully contemplating the wisdom of his choice to turn his back on Hollywood and Broadway to lead one of London's most treasured historic theatres into a new era.
As he opened the papers yesterday, the Old Vic's artistic director was not only confronted with several bad reviews for the theatre's latest play, National Anthems, but a question about his suitability for the position he took up amid much fanfare 12 months ago.
Paul Taylor, in this newspaper, ended his review by questioning what had gone wrong "with this weird regime'' at the theatre, while the Evening Standard's Nicholas de Jongh aired "serious doubts about whether Kevin Spacey is the right man to run the Old Vic''.
Others sprang to his defence, but pointed out that the initial glamour of his appointment could be wearing off.
Terri Paddock, the editorial director of whatsonstage.com, said: "The lustre has gone. Spacey has gone as far as he can on his name alone, and he has had a rocky start. There are lots of people murmuring about this in the industry and some, such as the critics, ... are voicing stronger misgivings."
Ms Paddock said some felt the problems could be attributed to poor programming decisions, with the first play Spacey put on, Cloaca, being by a little-known playwright. She added: "He [Spacey] took a lot of risks with programming for the first season. Now he and his team at the Old Vic have to prove themselves. He is a good figurehead, but he needs a good team around him. He could still turn it around with his programming choices in his second season."
Michael Billington, writing in The Guardian, said: "I would simply beg him ... to bombard us in future with masterpieces. There is a wealth of work in which one would love to see him: Shakespeare, Ibsen, O'Neill, Mamet, the great American comedies."
Although the appointment of Spacey was generally regarded within the theatre world as a coup for the Old Vic and its chief executive, Sally Greene, things did not go smoothly for the team from the off.
Even Spacey's off-stage life, not least the mysterious affair of his dog in the night-time of a London park, seemed jinxed, and his long-planned movie of Bobby Darin's life, Beyond the Sea, bombed both critically and at the box office.
He also raised a few hackles after airing his disapproval at theatregoers who "misbehaved". He told BBC Radio 4's Front Row programme last September: "If people don't know how to behave, they shouldn't come.
"You have to respect the fact there is some degree of behaviour that we expect in the theatre, and we're going to demand it at the Old Vic."
He was speaking a week before the opening production of his first season of four plays, which he chose to direct personally. Cloaca, by the unknown Dutch television writer Maria Goos, was panned virtually across the board.
The Daily Telegraph critic Charles Spencer called the play "a stinker", adding it was "slick, superficial and as unappealing as its title".
With Sir Ian McKellen in ebullient form as a dame, and with heroic repair work on a leaky script from comic stalwarts such as Maureen Lipman and Roger Allam, the pantomime of Aladdin just about survived a signally uneven production, leaden choreography and dismal slapstick.
Inevitably, much was riding on the first play to feature Spacey himself, National Anthems, by the American writer Dennis McIntyre, which opened on Tuesday. Yet despite the bad reviews, the plays have performed well at the box office. Cloaca's advance ticket sales, touching £500,000, saved it from financial problems and McIntyre's play mayfollow suit. Aladdin's star-wattage made it a near sell-out success at the box office, and the advance for the final production of the season, Philip Barry's high comedy, The Philadelphia Story, starring Spacey as C K Dexter Haven, is strong (a reported £400,000 in the first week of booking alone). But even with this season likely to end up financially in the black, the impression of a beleaguered operation remains.
The theatre, which now employs a branding consultant, has also been accused of trying to move upmarket.

www.buzzle.com
The Ken and Kevin Show
Mark Lawson: Spacey is getting the treatment the press once dished out to Branagh. No piece of criticism is entirely objective.
By Guardian Newspapers, 2/11/2005
No piece of criticism is entirely objective. Reactions to romantic comedies are inseparable (at least subconsciously) from reviewers' experience of love and sex, while critics of The Passion of the Christ struggle to avoid the influence of their own religious history.

So my own response to Dennis McIntyre's play National Anthems - Kevin Spacey's acting debut at the Old Vic, in London, in his third production as artistic director - may be fatally weighted by the realisation that I was in Detroit, the play's location, on the very day that it is quite specifically set: October 8 1988.

It's possible that my critical judgment was thrown by this unlikely coincidence of being factually in town (covering a presidential election) at the exact moment that a dramatist shows a fictional yuppie couple being humiliated by a man who claims to be their neighbour. But, even so, I have never been so surprised by the write-ups.

Michael Billington's three-star review in this paper was about the best it got. Elsewhere, stinker criticism widened into editorials - "What is going on at Spacey's Old Vic?" asked the Times, echoed by the Telegraph's "I find myself worrying about Kevin Spacey", while the Standard followed a critical attack ("An evening without interest") with a two-page article suggesting that Spacey's London theatrical sabbatical was in crisis.

It would be a dull theatre-goer who always agreed with the newspapers - the national reviewers all gave The Producers at least two and a half more stars than my own score out of five - but this time the treatment of Spacey has been so savage that, to adapt the comments of the Times and Telegraph, I find myself worrying about why they're going on about Kevin Spacey's Old Vic.

The first critical complaint is choice of play. National Anthems is the second UK premiere in the first season, after the Dutch comedy Cloaca (which was also rubbished). But, with so many drab revivals in the West End - someone has just dusted off David Mamet's only dud play, A Life in the Theatre - Spacey should at least be congratulated on a more inventive repertoire.

And National Anthems is a genuine discovery: a savage, twisty comedy that combines in new alignments the two great themes of American drama: the fantasist and dreamer (The Iceman Cometh, Death of a Salesman), and the unexpected arrival (The Man Who Came to Dinner, A Delicate Balance).

Reviewers found it over-convenient that the intruder turns out to be a fireman, but there are very strong clues in the script (in the style of Albee and O'Neill) that he conveniently adopts the heroic identity of a firefighter whose biography he steals from a newspaper.

Objectors have suggested that the play is now dated, but the date of the action is pointed: George HW Bush is about to be elected to continue Ronald Reagan's work, in the greatest moment for Republicans until the second victory of the second Bush. On the day of the premiere, the current Bush announced plans for a budget deficit that revived the methodology of Reaganomics.

As I say, they may be right, and I might be wrong. But what worries me is that Spacey is being marked by higher standards than other performers.

Something similar happened in the 90s to Kenneth Branagh, a big talent who was despised for some years in Britain: facing accusations of arrogance and ambition for commuting between Hollywood movies and the London stage, and for seeking a career as an actor-manager in the tradition allowed in Britain only to Olivier (Spacey is even daring to make his attempt on Olivier's old stage).

A sense that Spacey needs knocking down may be encouraged by his difficult relationship with the British press. Declining to discuss his private relationships, he managed to survive a curious mugging incident during a late-night dog walk, but the experience has left him even more self-protective in his media dealings.

The actor's decision to keep his private life entirely private may have given him a problem with some sections of the press, for which the only rough precedent is Michael Portillo in the time before his public clarification: suffering hostility from both those who believed him to be gay and resented it, plus those who resented him for failing to pin a badge to his lapel.

I hope it's the case that all Spacey's enemies in the press simply doubt the quality of the play in which he portrays an interloper with an ambiguous life story, but I worry that, at some level, he is now seen as such a character in British culture. Personally, I'd happily see National Anthems again. If, that is, a ticket is available: because the public has shown rather more eagerness towards the piece than most pundits.

© Guardian Newspapers Limited
www.femalefirst.co.uk
Stage News: Kevin Spacey Right For The Old Vic
February 19, 2005, 10:07:15
SPACEY IS 'RIGHT MAN' FOR THEATRE
Hollywood actor KEVIN SPACEY's role as artistic director of London's Old Vic theatre has been defended by the venue's owner after a string of criticism.
SALLY GREENE believes it is merely a British trait to "knock everything" following bad reviews for his productions CLOACA and NATIONAL ANTHEMS and has been amazed by the way the OSCAR winner has transformed the theatre.
Greene says, "Spirits are very good. It's so British to knock everything. I know Kevin's the right man. He's brightened the place up by his presence.
"We're turning the Old Vic into a producing theatre, a company, not a receiving house. That's my aim.
"What artistic director doesn't get stick? He works bl**dy hard. He can see the place from his flat (apartment) and tootles around on his scooter. He's here in the day, finding out what's going on, sharing his ideas. Then at night he's back on stage.
"And even if some people didn't like National Anthems, he got rave reviews."
As for their alleged fall-out where Spacey reportedly swore at Greene, she comments, "Kevin would never speak to me like that. No one would."

RÉSUMÉ (ENGLISH) | RÉSUMÉ (RUSSIAN) | HOME