CLOACA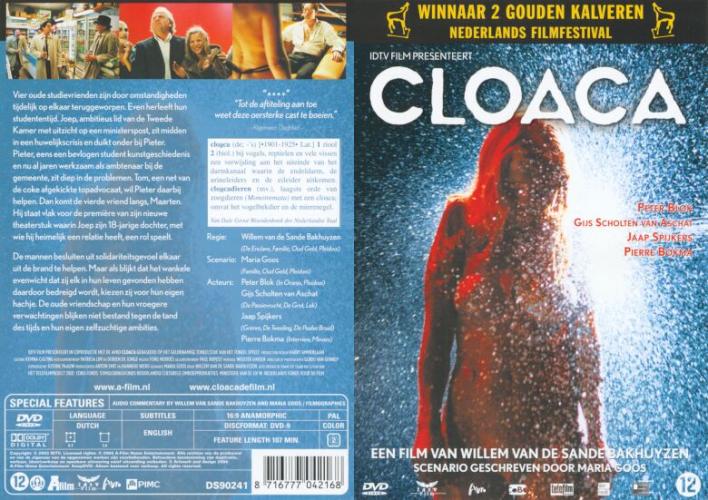 Widely praised film version of the play by scriptwriter Maria Goos is about the vicissitudes of four student friends. It won two Golden Calves.
Widely praised film version of the play by scriptwriter Maria Goos. Four student friends brought back together by circumstances. Their old friendship is put to the test, individual problems and weaknesses inevitably come to light. Cloaca won the Special Jury Prize and the Audience Award at the Nederlands Filmfestival.
The Netherlands, 2003
| | |
| --- | --- |
| director: | Willem van de Sande Bakhuyzen |
| production: | IdtV Film B.V., Hanneke Niens, Anton Smit |
| sales: | IdtV Film B.V. |
| Dutch distribution: | A-Film Distribution |
| print: | IdtV Film B.V. |
| scenario: | Maria Goos |
| cast: | PierreBokma, Gijs Scholten van Aschat, Peter Blok, Jaap Spijkers |
| camera: | Guido van Gennep |
| editor: | Wouter Jansen |
| production design: | Harry Ammerlaan |
| sound: | Kees de Groot |
| music: | Fons Merkies |
| running time: | 108' |
Cast
| | | |
| --- | --- | --- |
| Tom | | |
| Pieter | | |
| Joep | | |
| Maarten | | |
| Conny | | |
| Laura | | |
| Helena | | |
| Brest | | Eric Schneider |
| Vermeulen | | Genio de Groot |
| Lichtontwerper | | Marcel Hensema |
| Acteurs toneelstuk | | Jeroen Spitzenberger, Benjamin de Wit |
| Slagwerker | | Marnix Stassen |
| Collega | | Dianne Krijnen |
| Drugsbrommerkoerier | | Iwan Walhain |
| Bram | | Matthijs van de Sande Bakhuyzen |
| Teddy | | Roeltje van de Sande Bakhuyzen |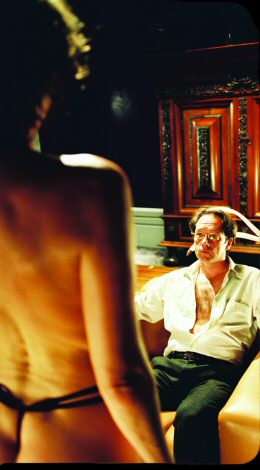 Four sworn friends are forced to choose between friendship and their own skins. A black comedy, based on the play Cloaca (same author, same director and same cast), that was the Award winning theatre box-office hit in the Netherlands of this season, breaking all visitors' records.
When four old college friends - Joep, Tom, Pieter and Maarten, now in their forties - are reunited it seems as if their student days were only yesterday. Joep, a very ambitious member of parliament on the verge of landing a ministerial post, is suffering marital difficulties and is staying at Pieter's flat. Pieter, once a promising art student has a dreary job as a council official. Each year he takes a work of art from the municipal art depot as a birthday present. The municipality now wants them back. Tom, a successful lawyer with an addiction to coke, wants to help him to certify his rights to the paintings, but Tom's career is as good as over. Maarten is preparing a new play with a principal part for Joep's 18-year-old daughter, with whom he is having an affair. The four men renew their old bond and pledge to help one another solve their problems. But when it comes to the crunch, each decides that he will look after number one instead.
English title: Cloaca
Original title: Cloaca
Genre: black comedy
Director: Willem van de Sande Bakhuyzen
Producer: Hanneke Niens and Anton Smit for IdtV Film BV
Script: Maria Goos
Camera: Guido van Gennep
Running time: 107 min.
Format: 35mm, colour
Release: October 2003
Language versions: Dutch (English subtitles)
Cast
Peter Blok (Scratches in the Table, The Dress)
Pierre Bokma (Polonaise, The Three Best Things in Life)
Gijs Scholten van Aschat (A Father's Affair, The Cave, The Discovery of Heaven)
Jaap Spijkers (Zus & Zo, The Polish Bride, With Great Joy)
Willem van de Sande Bakhuyzen:
Family (2002), Awards: Golden Calf for Best Drama Netherlands Film Festival 2001, Award of the Dutch Film Critics for Best Feature Film 2001, Lost (1998), and several televison series: Bij ons in de Jordaan (1998), Oud Geld (1996-1997)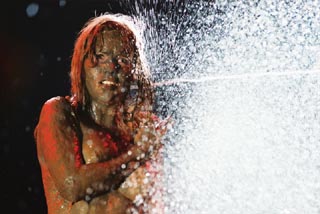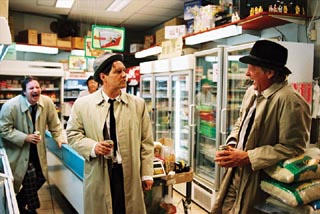 http://www.gay-news.com/article04.php?sid=583
Self-interest and ambition destructive forces in Cloaca
Willem van de Sande Bakhuyzen is the name of the director of Cloaca, the movie after the script by Maria Goos. The theatre version of the same name was such a success that a film version was bound to follow. During the recent Dutch Film Days in Utrecht the movie proved to be a favourite with the audience. In her subtle and well-wrought script, Goos tries to root up what's behind the friendship of the four male protagonists.
Pieter (Pierre Bokma), a gay clerk, is forced to return the artworks he once stole from the municipal archives. Joep (Gijs Scholten van Aschat), an ambitious politician heading for a ministerial position, goes into hiding with Pieter in his attempt to cover up his marital problems for the outside world. Tom (Peter Blok), a top lawyer trying to dry out, is suffering from bouts of hysteria. Maarten (Jaap Spijkers), a theatre director, is hopelessly in love with Joep's daughter.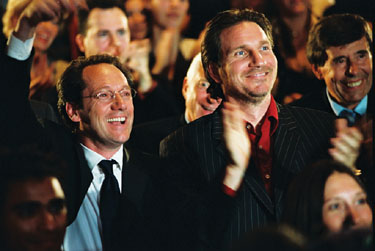 What once was a matter of course for four exuberant young students is now, as they're turning forty, seen in a different light. Though trying to stick to former solidarity, none of them are capable of putting their self-interest aside. Their present ambition destroys what once was sincere. A sad subject brought to the screen with refreshingly dry humour.

RETURN | RÉSUMÉ (ENGLISH) | RÉSUMÉ (RUSSIAN) | HOME