ADRIAN LUKIS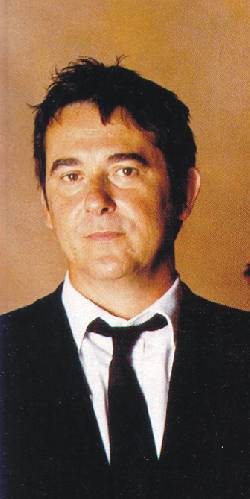 Theatre includes: Dead Funny, Front Page (Chichester Festival Theatre); The Relapse, Sleep With Me (National Theatre); Macbeth (Salsibury Playhouse); Helping Harry (Jermyn Street Theatre); Beach Wedding (Nuffield Theatre); Gone to L.A. (Hampstead Theatre); Tolstoy (Aldwych Theatre and on tour); Arms and the Man (Royal Exchange, Manchester and on tour); A Midsummer Night's Dream (Theatre Royal Haymarket); The Beaux Stratagem (Basingstoke); Charley's Aunt (Harrogate); Lessons and Lovers, Trumpets and Raspberries, Something Wicked This Way Comes ( York Theatre Royal); Dragon Tales (Liverpool Everyman); For the RSC: The Park, Macbeth (and on tour), As You Like It, School of Night, All's Well That Ends Well and Misha's Party.
Television includes: Absolute Power; Foyles War; Too Good To be True; Down to Earth; Back Home; Doc Martin; The Hunt; Peak Practice; Chandler & Co; Prime Suspect; Pride and Prejudice; Young Americans; Sherlock Holmes; After the War; Campion; One Day; The Bretts; Dutch Girls; The Strauss Dynasty; Maigret.
Film includes: Me Without You; Young Blades; The Trench; Pride and Prejudice.
www.bbk.ac.uk
The Lamb and Owl, Birkbeck College Students' Magazine, Issue 13, October 2004
by Rachael Poulloin
Adrian Lukis has appeared in many theatre productions such as The Relapse at the National Theatre and As You Like It with the Royal Shakespeare Company. His television credits include Midsomer Murders, Spooks, Peak Practice and a personal favourite of mine, Pride and Prejudice!
I met up with him at the Old Vic Theatre to chat, over a cuppa, about his new play and found him to be as charming as I had expected. Cloaca is a powerful and darkly comic piece meditating on male friendship directed by newly appointed Artistic Director Kevin Spacey
How would you describe the play and your character?
I've had people tell me that this is the most astonishing and touching play they've ever seen. One man told me he could now understand why people go and see live theatre. The play deals with serious issues: four men reaching middle-age and it's an age where the aspirations of youth have either been fulfilled or not. Its' also an age where it could be too late to change.
These four men meet after not seeing each other for years and I suppose come together in various forms of dismay which turn into despair. They do let each other down and are willing to be friends only if it doesn't get in the way of their own lives. It is an incredibly funny play and a lot of the laughter is of recognition.
I play Tom, a manic-depressive, cocaine addicted lawyer, who has been disbarred. He wakes up one morning walking around Barcelona in his underpants with no memory of how he got there and has basically had a complete breakdown.
I read in the Old Vic magazine that "Cloaca" means sewer and that in light of this playwright Maria Goos said: "Cloaca is a metaphor for all the shit that's going through the play. The play is like a gutter." Is this a fair description?
Yes. The play had a successful run in Holland where it was perceived as very dark and bleak but I think the English like to sniff out humour and there is definitely more laughter in our production.
What attracted you to the role?
Kevin Spacey! There are lots of reasons to love this role, it is the sort of part actors want to play, but basically I was asked and was not going to turn down working with Kevin and these actors.
And did you enjoy working with Kevin Spacey?
He is a highly intelligent man and a superb actor. His instincts are fantastic as to where to place the actors on the stage and how to highlight all the dark and light moments. We all felt in very capable hands which gave us a lot of confidence. I trust his judgement.
Why do you think this play might appeal to Birkbeck students?
Its a play full of truth and it has very modern feel to it. The Old Vic itself the building, has a lot of energy and Kevin Spacey has taken a real risk in putting on a play by an unknown Dutch playwright. I don't think students will be bored by this play; it's far better than sitting at home studying - come to the theatre!
Do you have a favourite playwright?
I would have to say Shakespeare. Once you start working on his play you realise they are so far ahead of anything else.
Do you prefer working in theatre or on TV and films?
On the whole I prefer theatre as the scripts are generally more interesting.
What are you currently reading in bed?
I've recently finished Niall Ferguson's "Empire" and "The Colour" by Rose Tremain which was excellent. Lately I've been reading my script in bed as my character is very manic so the part is difficult to learn.
Besides London which city would you most like to live in?
Sydney.
Do you have any favourite parts of London that you could recommend to Birkbeck students who are new to the city?
Borough is perfect if you want a slice of old London - go when the market's on . Hampstead Heath and I've recently discovered Marylebone High Street which is great.
"Cloaca" is currently playing at the Old Vic until 11th December 2004.
Every night 100 of the best seats in the house are set aside for people aged under 25 at £12 each.
Box Office: 0870 060 6628

RETURN | RÉSUMÉ (ENGLISH) | RÉSUMÉ (RUSSIAN) | HOME