Neil Pearson
Background
Born 27th April 1959
Educated at Woolverstone Boarding School and Central School of Speech and Drama
Television
Armadillo
A Lump in My Throat (2001): John Diamond
Trance (2001): Brendan
The Whistle-Blower (2001): Dominic Tracey
Working Out
The Magician's House (2000): Jack Green
The Mystery of Men (1999): Julian. Our tailor was indeed right in her forebodings after reading the Radio Times plot summary of "Drama about four men who take out a life insurance policy together... with a little help from the women in their lives, fate throws a riotous chain of mishaps their way." She foretold that 'fate throwing riotous mishaps' is the televisual equivalent of that radio description 'wacky and madcap'. Even with the wonderful Warren Clarke it was truly awful.
Bostock's Cup: (1999) Gerry Tudor
Drop The Dead Donkey (1990): Dave Charnley.

Read about experience as audience members in

Neil in Ruffled Hair Incident!

.
Between the Lines (1992): Tony Clark (

Steven Mackintosh

is a guest star in the episode entitled 'Nothing Personal')
Heaven and Earth (1998): Richard Bennet - as scary ad man who finds God and then goes mad
See You Friday (1997): Greg. Unfortunately this was an appalling sitcom which didn't last past the 1st series
Crossing the Floor (1996): Tom Peel
Rhodes (1996): Dr Leander Starr Jameson
Latin for a Dark Room (1995): William
The Secret Rapture (1993): Patrick Steadman
Work Experience (1989): this won an Oscar (TM) for Best Short Film (Live Action)
The Bell-Run (1987): Joe Glover
Up Line (1987): Nik Targett (Alongside

Hugh Laurie

)
TV Films/Short series
Shades as unknown (first TV appearance), Transmission date:11/05/82 on BBC1, Producer: Neil Zeiger; Director: Bill Hayes; Writer Stephen Loew; Principle Cast: Neil Pearson, rest unknown
Oi! for England as Napper
Home Video as John
Intimate Contact as Morrie. A 3 part drama series about a middle-class family dealing with AIDS originally broadcast in 1987. Shown on Carlton Select TV (Cable) on Saturdays 10pm-11pm, broadcast 26th July, 2nd Aug and 9th Aug 1997. Neil plays a young AIDS suffer called Morrie. His role increases as time goes on. He looks so young and scrawny!
Submariners as Cock Roach. Transmission date:01/11/83 on BBC TV, Producer: Innes Lloyd; Director: Antonia Bird; Writer Tom McClenaghan; Principle Cast: Neil Pearson, Andrew McCulloch, Donald McKillop, David Beames, George Sweeney
The Bell Run (1987) as Joe Glover
Les Girls as The Adman
Eskimos Do It as Jack Binge
TV Sitcoms
This is David Lander as Simon Forbes in "Reduced to Tears ", broadcast 6th Dec 1988
That's Love (1987, 1990) as Gary
Chelmsford 123 (1988, 1990) as Mungo
Roles: Film
Bridget Jones's Diary (2001): Richard Finch
Fever Pitch (1997): Paul's father - you know, it's not everyone who can pull off wearing a white poloneck and beige slacks, but Neil managed it!
Latin for a Dark Room (1995): William
The Secret Rapture (1993): Patrick
Work Experience (1989) (short)
Privates on Parade (1982): Pianist
Roles: Theatre
The Real Thing: very disappointing Tom Stoppard play. Neil's the best thing in it, but it's hard to care about any of the characters and their various adulterous affairs.
Regions
Henry IV Part I (Leicester)
Not Quite Jerusalem (Liverpool)
Trafford Tanzi (Tour to the Lyric Hammersmith)
Summer and Smoke (Leicester)
Therese Raquin (Chichester)
Emily Needs Attention (Leatherhead, Bath, Bradford, Norwich)
London:
Spend, Spend, Spend (Half Moon)
Birds of Passage (Hampstead)
Loot (Ambassadors & Lyric)
The Doctor of Honour (Cheek by Jowl, Donmar Warehouse)
Mind Millie for Me (Haymarket, toured as Emily Needs Attention)
Closer as Larry, (Lyric Shaftesbury) - the run has now finished
Radio
Play: Stolen Kisses (1995) Broadcast 22nd July 1995, BBC Radio 4, Saturday Night Theatre, (Neil Pearson).
Play: Way Up Stream (1997) Broadcast June 1997, rebroadcast June 13th and 14th 1998, BBC World Service
Reading: J.R.R. Tolkien's Roverandom 10th to 14thAugust 1998, BBC Radio 4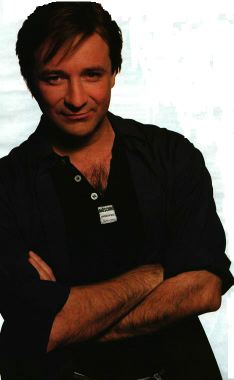 http://www.cs.man.ac.uk/~carole/npearson/background.html
Neil Pearson's Background
Maintained by Carole Goble. Corrections or information to carole@cs.man.ac.uk.
Neil was born on 27th April 1959 in Battersea, South London, the eldest of 3 children (a sister and a brother). His father left home when he was 5 years old and he didn't see him again until he was 18, so he was raised by his Mum, Maureen, a secretary. Fired up by Jennings books set in English public schools, he developed a determination to attend a boarding school - he attended Woolverstone boarding school from 11 years onwards, possible because of a scholarship scheme for bright lads from disadvantaged backgrounds run by the ILEA. He made a short piece on this for the BBC series "One Foot In The Past". Here he developed his love of acting (starring in A Man for All Seasons and The Tempest) and he has never wanted to do anything else. He went straight on to train at the Central School of Speech and Drama in London, got his first professional engagement in Manchester in 1980 and has hardly been out of work since. He doesn't like Manchester much :-( but loves Liverpool. Weird. After his big break in Drop The Dead Donkey, he really made his mark in the highly acclaimed and award winning Between The Lines. He seems to have cornered the market in hunky bad boys who get their kit off a lot.
Neil is single and lives alone in South London. He is cagey about his personal life, but he had affair with co-star Siobhan Redmond (from BTL) and he lived for 5 years with the actress Frances Barber, breaking up in 1992. He recently had a relationship with his DTDD co-star Susannah Doyle (Joy) but that finished late 1996. Neil attended the premiere of Fever Pitch on 26th March 97 with a rather nice young dusky lady in a velvety blue cocktail frock.
He has strong political views, is a member of the Labour Party and is as much at a loss about their policies as the rest of us. A Spurs fan he claims that his main interest outside acting is travelling and that acting is merely a means to finance this. He is reported as an independent, disciplined and determined person. He is wonderfully kind and charming to his fans anyway, (he bought me a drink on my birthday) and is a thoroughly decent bloke, not a luvvie all! And those blue eyes!!!!
The Neil Pearson Fan Page

RETURN | RÉSUMÉ (ENGLISH) | RÉSUMÉ (RUSSIAN) | HOME