Kevin Spacey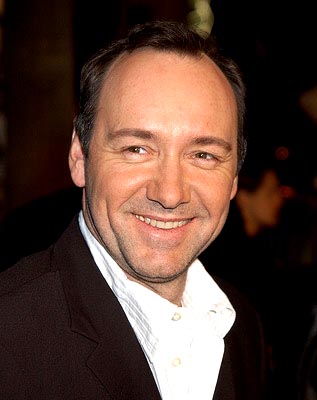 Birth name
Kevin Spacey Fowler
As enigmatic as he is talented, Kevin Spacey has always kept the details of his private life closely guarded. As he explained in a 1998 interview with the London Evening Standard, "It's not that I want to create some bullshit mystique by maintaining a silence about my personal life, it is just that the less you know about me, the easier it is to convince you that I am that character on screen. It allows an audience to come into a movie theatre and believe I am that person."

There are, however, certain biographical facts to be had--for starters, Kevin Spacey Fowler was the youngest of three children born to Thomas and Kathleen Fowler in South Orange, New Jersey. His mother was a personal secretary, his father a technical writer whose irregular job prospects led the family all over the country. They eventually settled in southern California, where young Kevin developed into quite a little hellion--after he set his sister's tree house on fire, he was shipped off to the Northridge Military Academy, only to be thrown out a few months later for pinging a classmate on the head with a tire. Spacey then found his way to Chatsworth High School in the San Fernando Valley, where he managed to channel his dramatic tendencies into a successful amateur acting career. In his senior year, he played Captain von Trapp opposite classmate Mare Winningham's Maria in _The Sound of Music_ (the pair later graduated as co-valedictorians). Spacey claims that his interest in acting--and his nearly encyclopaedic accumulation of film knowledge--began at an early age, when he would sneak downstairs to watch the late late show on TV. Later, in high school, he and his friends cut class to catch revival films at the NuArt Theatre. The adolescent Spacey worked up celebrity impersonations (Jimmy Stewart and Johnny Carson were two of his favourites) to try out on the amateur comedy club circuit.

He briefly attended Los Angeles Valley College, then left (on the advice of another Chatsworth classmate, Val Kilmer) to join the drama program at Juilliard. After two years of training he was anxious to work, so he quit Juilliard sans diploma and signed up with the New York Shakespeare Festival. His first professional stage appearance was as a messenger in the 1981 production of 'Henry VI'.

Festival head Joseph Papp ushered the young actor out into the "real world" of theatre, and the next year Spacey made his Broadway debut in Henrik Ibsen's 'Ghosts'. He quickly proved himself as an energetic and versatile performer (at one point, he rotated through all the parts in David Rabe's 'Hurlyburly'). In 1986 he had the chance to work with his idol and future mentor, Jack Lemmon, on a production of Eugene O'Neill's 'Long Day's Journey Into Night'. While his interest soon turned to film, Spacey would remain active in the theatre community--in 1991, he won a Tony Award for his turn as Uncle Louie in Neil Simon's Broadway hit 'Lost in Yonkers', and in 1999 he returned to the boards for a revival of O'Neill's 'The Iceman Cometh'.

Spacey's film career began modestly, with a small part as a subway thief in Heartburn (1986). Deemed more of a "character actor" than a leading man, he stayed on the periphery in his next few films, but attracted attention for his turn as beady-eyed villain Mel Profitt on the TV series "Wiseguy" (1987). Profitt was the first in a long line of dark, manipulative characters that would eventually make Kevin Spacey a household name: he went on to play a sinister office manager in Glengarry Glen Ross (1992), a sadistic Hollywood exec in Swimming with Sharks (1994), and, most famously, creepy, smooth-talking eyewitness Verbal Kint in Usual Suspects, The (1995).

The "Suspects" role earned Spacey an Oscar for Best Supporting Actor and catapulted him into the limelight. That same year, he turned in another complex, eerie performance in David Fincher's thriller Se7en (1995) (Spacey refused billing on the film, fearing that it might compromise the ending if audiences were waiting for him to appear). By now, the scripts were pouring in. After appearing in Al Pacino's Looking for Richard (1996), Spacey made his own directorial debut with Albino Alligator (1996), a low-key but well received hostage drama. He then jumped back into acting, winning critical accolades for his turns as flashy detective Jack Vincennes in L.A. Confidential (1997) and genteel, closeted murder suspect Jim Williams in Midnight in the Garden of Good and Evil (1997). In October 1999, just four days after the dark suburban satire American Beauty (1999) opened in US theatres, Spacey received a star on the Hollywood Walk of Fame. Little did organizers know that his role in _Beauty_ would turn out to be his biggest success yet--as Lester Burnham, a middle-aged corporate cog on the brink of psychological meltdown, he tapped into a funny, savage character that captured audiences' imaginations and earned him a Best Actor Oscar.

No longer relegated to offbeat supporting parts, Spacey seems poised to redefine himself as a Hollywood headliner. He says he's finished exploring the dark side--but, given his attraction to complex characters, that mischievous twinkle will never be too far from his eyes.
Spacey can now be seen in the much-anticipated film K-PAX, which features Spacey as a man who claims he's from the planet Prot and is therefore deemed delusional by his doctor and those on earth. He will also be seen in The Shipping News and The Life of David Gale.

Trivia
Auditioned for The Gong Show in 1978 and was rejected.
Also attended Chatsworth High School with Val Kilmer.
His mother was his date for the Oscars the night he won.
Was Co-Valedictorian of his high school class at Chatsworth HS (1977).
Was paid 225 pounds per week for appearing in the play "The Iceman Cometh" at the Almeida Theatre in London (1998).
Ranked #56 in Empire (UK) magazine's "The Top 100 Movie Stars of All Time" list. [October 1997]
Went to Chatsworth High School in Los Angeles with Mare Winningham. During their senior year, Kevin played von Trapp and Mare played Maria in a school production of The Sound of Music. Upon hearing of their Oscar nominations in 1996, Winningham sent a telegram to Spacey saying: "Captain von Trapp - congratulations on your nomination - Maria."
The use of the name Spacey, while rumoured as a combination of Spencer Tracey's names, is actually his mother's maiden name.
Voted greatest actor of the decade by Empire Magazine. [May 1999]
Kevin burnt his sister's tree house down when they were children. This caused his parents to opt for military school, which Kevin promptly left for Chatsworth.
On Saturday Night Live, Spacey pretended to audition for Star Wars as Christopher Walken, Walter Matthau, and Jack Lemmon.
Was the first choice to play the role of Lester Burnham in American Beauty (1999).
Spacey appears twice in Total Film's (UK) '10 Greatest Villians of All Time' poll. His John Doe (from Se7en) came in at number 10, while his character in The Usual Suspects was voted fifth. [February 2001]
Listed as one of Entertainment Weekly's 25 Best Actors [1998]
On People's (USA) 'Best-Dressed' list. [September 2000]
Studied drama at Juilliard School for 2 years.
Was expelled from Northridge Military Academy (in California) for throwing a tire at a classmate.
Won a Tony Award in 1991 for "Lost in Yonkers."
His Labrador dog's name is Legacy. [2001]
Was the first Academy Award winner to be on the Daily Show.
During his appearance on BBC TV's "Parkinson" in March 2002, he did impressions of Jack Lemmon, Bill Clinton, Judi Dench, Katharine Hepburn, Al Pacino, Ian McKellen, Peter O'Toole and James Stewart.
Supporter of London's Old Vic Theatre, co-hosting fund-raiser for it in NYC, April 2002.
Owns a Mini-Cooper.
Dedicated the Oscar that he won for Best Actor in American Beauty to Jack Lemmon.
Kevin Spacey's production company, TriggerStreet, is named after an actual street in the San Fernando Valley where Spacey grew up and dreamed of building a theatre and making movies. The late cowboy star Roy Rogers once owned a ranch on the land and named the street for his horse Trigger.
Named as Artistic Director of the Old Vic Theatre in London, England, UK.
Attended the UK Labour Party Conference with former US President Bill Clinton. [2 October 2002]
Has an older brother, Randall, and an older sister, Julie Ann. Has a nephew and a niece.
His father was a technical writer.
He was awarded the Laurence Olivier Theatre Award in 1999 (1998 season) for Best Actor for his performance in The Iceman Cometh.
Often played a hidden/surprise character at the end of movie (for example Se7en, Life of David Gale, Usual Suspect, K-Pax, etc)
When they were both performing on Broadway in 1998, he would often meet Dame Judi Dench during intermission or between shows.
He was awarded the 1998 London Critics Circle Theatre Award (Drama) for Best Actor for his performance in The Iceman Cometh at the Almeida and at the Old Vic Theatres.
He was awarded the 1998 London Evening Standard Theatre Award for Best Actor for his performance in The Iceman Cometh.
17 April 2004, London - suffered a head injury after tripping over his dog while pursuing a young man who stole his cell phone. Initially, he reported that the injury was the result of a mugging, but later admitted the truth and stated that he was embarrassed by the situation.
His Oscar winning performance as Verbal Kint from his film "The Usual Suspects" was ranked #48 on the American Film Institute's Villains list in their compilation of the 100 years of The Greatest Screen Heroes and Villains.
Has said that working with Jack Lemmon on a stage production of "A Long Day's Journey into Night" changed his life. Previously possessive of a reckless ambition, he said he was amazed at how Lemmon was both a great actor and generous to a fault as both a co-star and a human being, teaching him that being a good person and a good actor were not mutually exclusive. He still considers Lemmon his role model.

Personal quotes
(on winning the Best Actor Oscar for his performance in American Beauty): "This has definitely been the highlight of my day."
On American Beauty (1999): "I read the screenplay and nearly fell out of bed. I thought I better meet him quick before someone else read it."
Discussing occasional misconceptions by women that he is gay: For them it's a challenge. They want to be the one to turn me around. I let them.
"My idea of credibility is primarily self-imposed and it all relates to the thing that I've been interested in as an actor and a director, which is what are you *willing* to live with as a human being? And there's things I'm just not willing to live with--and I won't. And if it means that I stop and find something else in life that interests me or challenges me, so be it."
"The less you know about me, the easier it is to convince you that I am that character on screen. It allows an audience to come into a movie theatre and believe I am that person."
"Success is like death. The more successful you become, the higher the houses in the hills get and the higher the fences get."
"If I'm sick of me, I can only imagine how other people feel."

Actor - filmography
Edison (2005) (post-production)
Beyond the Sea (2004) .... Bobby Darin
Life of David Gale, The (2003) .... David Gale
... aka Leben des David Gale, Das (2003) (Germany)
United States of Leland, The (2003) .... Albert T. Fitzgerald
Tower of Babble, The (2002) .... Narrator
Shipping News, The (2001) .... Quoyle
... aka Noeuds et dénouements (2001) (Canada: French title)
K-PAX (2001) .... Prot/Robert Porter
"Rotten TV" (2000)

TV Series

.... Self
Pay It Forward (2000) .... Eugene Simonet
Ordinary Decent Criminal (2000) .... Michael Lynch
... aka Ganz gewöhnlicher Dieb, Ein (2000) (Germany)
It's Tough to Be a Bug (1999) (voice) .... Hopper
Big Kahuna, The (1999) .... Larry Mann
American Beauty (1999) .... Lester Burnham
Bug's Life, A (1998) (voice) .... Hopper
Hurlyburly (1998) .... Mickey
Negotiator, The (1998) .... Lt. Chris Sabian
... aka Verhandlungssache (1999) (Germany)
Midnight in the Garden of Good and Evil (1997) .... James 'Jim' Williams
L.A. Confidential (1997) .... Jack Vincennes
Time to Kill, A (1996) .... D.A. Rufus Buckley
Se7en (1995) .... John Doe
Usual Suspects, The (1995) .... Roger 'Verbal' Kint
... aka Üblichen Verdächtigen, Die (1996) (Germany)
Outbreak (1995) .... Maj. Casey Schuler
Swimming with Sharks (1994) .... Buddy Ackerman
... aka Boss, The (1994/II)
... aka Buddy Factor, The (1994)
Doomsday Gun (1994) (TV) .... Jim Price
Ref, The (1994) .... Lloyd Chasseur
... aka Hostile Hostages (1994)
Iron Will (1994) .... Harry Kingsley
Consenting Adults (1992) .... Eddy Otis
Glengarry Glen Ross (1992) .... John Williamson
Darrow (1991) (TV) .... Clarence Darrow
When You Remember Me (1990) (TV) .... Wade
Henry & June (1990) .... Richard Osborn
Show of Force, A (1990) .... Frank Curtin
Fall from Grace (1990) (TV) .... Jim Bakker
Dad (1989) .... Mario
See No Evil, Hear No Evil (1989) .... Kirgo
"Wiseguy" (1987) TV Series .... Mel Profitt (1988)
Working Girl (1988) .... Bob Speck
Rocket Gibraltar (1988) .... Dwayne Hanson
Murder of Mary Phagan, The (1988) (TV) .... Wes Brent
Long Day's Journey Into Night (1987) (TV) .... James 'Jamie' Tyrone, Jr.
Heartburn (1986) .... Subway Thief
Producer - filmography
Elling (2004) (

in production

) (executive producer)
Beyond the Sea (2004) (producer)
Triggerstreet.com (2004) (producer)
United States of Leland, The (2003) (producer)
Uncle Frank (2002) (executive producer)
Interstate 84 (2000) (executive producer)
Big Kahuna, The (1999) (producer)
Swimming with Sharks (1994) (co-producer)
... aka Boss, The (1994/II)
... aka Buddy Factor, The (1994)
Director - filmography
Beyond the Sea (2004)
Albino Alligator (1996)
... aka Albino Alligator (1996) (France)
Miscellaneous Crew - filmography
Warner Bros. 75th Anniversary: No Guts, No Glory (1998) (TV) (special thanks)

Himself - filmography
In Search of Ted Demme (2004) (

announced

) .... Himself
Declaration of Independence (2003) (V) .... Himself
75th Annual Academy Awards, The (2003) (TV) (uncredited) .... Himself - recalling his awards (pre-recorded)
America Rebuilds: A Year at Ground Zero (2002) (TV) .... Narrator
Austin Powers in Goldmember (2002) .... Himself
... aka Austin Powers: Goldmember (2002) (USA)
Keyser Söze: Lie or Legend? (2002) (V) .... Himself
Round Up: Deposing 'The Usual Suspects' (2002) (V) .... Himself
74th Annual Academy Awards, The (2002) (TV) .... Himself - Presenter
Inside the Playboy Mansion (2002) (TV) .... Himself
Judi Dench: A BAFTA Tribute (2002) (TV) .... Himself
Come Together: A Night for John Lennon's Words and Music (2001) (TV) .... Himself/Host
73rd Annual Academy Awards, The (2001) (TV) .... Himself - Presenter: Best Actress
Shackleton's Antarctic Adventure (2001) (voice) .... Narrator
Film-Fest DVD: Issue 3 - Toronto (2000) (V) .... Himself
President Clinton: Final Days (2000) .... Himself
David Blaine: Frozen in Time (2000) (TV) .... Himself (special appearance)
American Beauty: Look Closer... (2000) (V) .... Himself
AFI's 100 Years, 100 Laughs: America's Funniest Movies (2000) (TV) .... Himself
2000 Blockbuster Entertainment Awards (2000) (TV) (uncredited) .... Presenter
72nd Annual Academy Awards, The (2000) (TV) .... Himself - Best Actor Winner/Presenter: Best Adapted Screenplay
AFI's 100 Years... 100 Stars (1999) (TV) .... Himself
Forever Hollywood (1999) (TV) .... Himself
Saturday Night Live: 25th Anniversary (1999) (TV) .... Himself
Kennedy Center Honors: A Celebration of the Performing Arts, The (1999) (TV) .... Himself
Hitchcock: Shadow of a Genius (1999) (TV) .... Narrator
... aka Dial H Hitchcock: The Genius Behind the Showman (1999) (TV)
... aka Dial H for Hitchcock (1999) (TV) (Canada: English title)
53rd Annual Tony Awards, The (1999) (TV) .... Himself
Steve McQueen: The King of Cool (1998) (TV) (voice) .... Himself/Narrator
69th Annual Academy Awards, The (1997) (TV) .... Himself - Presenter: Best Supporting Actress
Looking for Richard (1996) .... Buckingham/Himself
American Film Institute Salute to Clint Eastwood, The (1996) (TV) .... Himself
68th Annual Academy Awards, The (1996) (TV) .... Himself - Best Supporting Actor Winner
American Film Institute Salute to Jack Lemmon, The (1988) (TV) .... Himself
Archive Footage
Comedy Central Roast of Denis Leary (2003) (TV) .... Lloyd Chasseur
Warner Bros. 75th Anniversary: No Guts, No Glory (1998) (TV) .... Himself
Notable TV Guest Appearances
"Late Show with David Letterman" (1993)

playing

"Himself" 21 February 2003
"Tonight Show with Jay Leno, The" (1992)

playing

"Himself" 13 February 2003
"Listen Up! Charles Barkley with Ernie Johnson" (2002)

playing

"Himself"

(episode # 1.1)

31 October 2002
"Parkinson" (1971)

playing

"Himself" 9 March 2002
"Tonight Show with Jay Leno, The" (1992)

playing

"Himself" 2 January 2002
"Tonight Show with Jay Leno, The" (1992)

playing

"Himself" 19 October 2001
"Larry King Live" (1985)

playing

"Himself" 28 June 2001
"Inside the Actors Studio" (1994)

playing

"Himself" 2 July 2000
"Late Night with Conan O'Brien" (1993)

playing

"Himself" 2 October 1999
"Howard Stern Radio Show, The" (1998)

playing

"Himself" 20 March 1999
"Saturday Night Live" (1975)

playing

"Host"

(episode # 22.10)

11 January 1997
"L.A. Law" (1986)

playing

"Giles Keenan"

in episode:

"Guess Who's Coming to Murder"

(episode # 6.9)

9 January 1992
"Unsub" (1989)

in episode:

"Clean Slate"

(episode # 1.3)

17 February 1989
"Crime Story" (1986)

playing

"Senator Rourke"

in episode:

"The Senator, the Movie Star, and the Mob"

(episode # 2.1)

22 September 1987
"Equalizer, The" (1985)

playing

"Detective Sgt. Cole"

in episode:

"Solo"

(episode # 2.17)

18 February 1987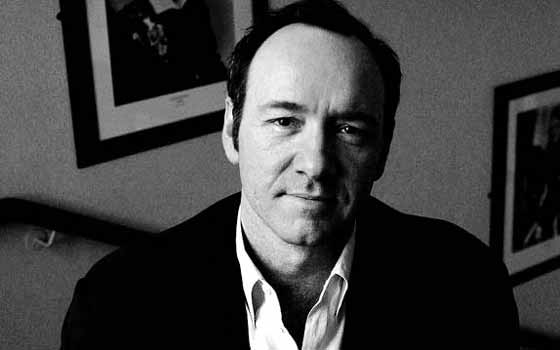 London Theatre Guide

Kevin Spacey Interview, July 2004
Kevin Spacey, artistic director of the Old Vic, talks to Jonathan Croall about the theatre's past, present and future.
Think of Kevin Spacey and you think of Hollywood and the movies, of his scintillating performances in The Usual Suspects, LA Confidential, Glengarry Glen Ross and American Beauty. So it takes a while to adjust to the idea of this internationally admired screen actor running one of London's oldest and most prestigious theatres.

Yet his appointment as artistic director of the Old Vic should come as no surprise, for theatre has been an abiding passion of his since his childhood. 'It's not a question of my walking away from films, but walking towards something that has been part and parcel of my existence since I was eight,' he says of his move from Hollywood to the Waterloo Road.

Spacey, now forty-four, has already played once at the Old Vic, electrifying audiences in 1998 with his mesmeric performance as Hickey in Eugene O'Neill's masterpiece The Iceman Cometh, directed by Howard Davies. But his association with the famous theatre goes even further back, to the early 1970s, when his anglophile parents took him to see a performance by the National Theatre company, then temporarily housed at the Old Vic and led by Laurence Olivier.

Talking three months before the start of his first season in his new job, Spacey makes clear the depth of his feelings for the building and its history. 'I have a great affection for the Old Vic because such remarkable theatrical things have been done there,' he says. 'But speaking as a performer, I also think it's simply the best theatre I've ever played in. The reason for this is its design. There's no balcony over the stalls, the auditorium has a wonderful horse-shoe curve, and you can push the stage out an extra ten feet. You can feel your performance going over the footlights, and then looping back again, whereas in many other theatres you're just throwing it out into a black void.'

His appointment as artistic director happened very suddenly. After producing as well as acting in The Iceman Cometh, and transferring it from the Almeida to the Old Vic, he became involved with the board, came up with a six-figure donation to help the fighting fund - there were fears the theatre might become a themed pub or even a lap-dance club - then joined the committee which had been set up to discuss the theatre's future and who should run it. One night, after an evening's discussion about the theatre's status, he was sitting in the small square opposite the theatre. 'I suddenly realised the answer was staring me in the face,' he remembers. 'The building itself seemed to be speaking to me.' His offer to take over as artistic director was accepted with alacrity by the Old Vic Trust. 'It was an unexpected opportunity, but those are the ones you should take.'

For the moment he and his producer David Liddiment have avoided the temptation to go down the Old Vic' s traditional road signposted Shakespeare and the classics. 'We'll get to them eventually, but I wanted our first season to be different and unexpected, with a strong element of new writing,' Spacey says. In the planning discussions that have gone on since his appointment two years ago, he's made it clear he wants to stage American as well as English work, but also new plays by European writers outside the UK.

The first play of his debut season provides a striking example of this intention. Maria Goos is an award-winning writer for theatre and television in Holland, but unknown outside her own country. Her play Cloaca, a powerful study of male friendship, reunites four friends in middle age, their lives finely balanced between hope and disillusion. 'As soon as we had a reading I realised it was a great actors' piece,' Spacey says. 'It's funny, moving and accessible, and although it's set in Amsterdam, it will resonate with audiences everywhere. Of course it's a risk to begin with a work by a writer unknown in Britain, but I believe it's a risk worth taking.' He's so impressed by the play he plans to direct it himself, though seemingly with a light touch. 'My approach will be to get out of its way,' he says. 'It's good on it's own, so all I can do is fuck it up.'

The season's second production could hardly provide more of a contrast. Ian McKellen has not appeared at the Old Vic since 1965, when he played Claudio in Much Ado about Nothing. 'Ian is one of the great actors of all time,' Spacey declares, 'so we're thrilled that we've persuaded him to return to the Old Vic after nearly forty years. It turned out that the one thing he wanted to do was play the dame, Widow Twankey, in Aladdin. Who were we to argue with him? After all it's unusual to get a sir and a dame in the same night.'

The Old Vic staged Aladdin in 1843, although the current version by the Australian writer Bille Brown is a new one. Spacey adds with relish: 'The pantomime tradition doesn't exist in America, and I liked the idea of getting involved with something of which I have no experience. The early talk I've been listening to suggests it's going to be knee-slappingly funny. Sean Mathias, who will direct, has worked often with Ian, and they're a great team.'

Spacey will be on stage himself for the second and third productions of the season. In 1988 he appeared in America in a play by Dennis McIntyre, National Anthems, and liked it so much he bought the rights. 'I'm awfully glad I held on to them all this time, so that we can stage it now,' he says. 'It's a remarkably beautiful and intense play done in real time, and a very biting and funny examination of American values.'

The season will end with The Philadelphia Story, Philip Barry's classic romantic comedy, famously filmed by George Cukor, with Katherine Hepburn, James Stewart and Cary Grant in the starring roles. The search is still on for an actress to play Tracy Lord, the Hepburn role - 'which is what it's all about,' Spacey suggests. He won't be hiring the actor until he's appointed the director, though in the meantime he has cast himself as C K Dexter Haven, the Cary Grant role. 'The Philadelphia Story has several marvellous parts in it,' he says. 'It provides a fantastic opportunity for a big cast, so it will have a real company feel to it, but casting, won't begin until the director is set.'

The casting for the opening play of the season is certainly hugely impressive: the cast of Cloaca will include Hugh Bonneville, Neil Pearson and Stephen Tompkinson. 'I'm thrilled that we've been able to involve an array of wonderful artists.' Spacey says. 'All these actors have done impressive and often surprising work in film and television, as well as theatre. We also have Ingeborga Dapkunaite, a marvellous Lithuanian actress who's doing a lot of fine theatre and film work.'

With new work high on the agenda, the Old Vic team are looking for their next playwrights in some unexpected places. 'We're trying to reverse the usual trend whereby people start out writing for the theatre and then move into television. So right now we're talking to people like Paul Abbott. And boy, do they have plays in them!' One recent platform for new work was the theatre's 24-Hour Play project, based on an American model, during which six new ten-minute plays were written, cast, rehearsed and played in the space of one day and night by a group of writers, actors and directors. 'It was inspiring,' Spacey recalls. 'In words three out of the six plays are now being developed into full plays.'

As for Shakespeare, he's committed to doing at least one play in his second season, and other revivals are likely to be slotted into the programme before too long. And if anyone has doubts about his long-term commitment to the job, they're likely to be dispelled by the news that he's already starting to give a shape to his fourth and fifth seasons, and by his obvious determination to achieve two long-term goals: to establish a permanent Old Vic company, and to stage the plays in repertory.

'It would be thrilling a little further down the line to create an ensemble company,' he observes, 'but it would be presumptuous to think we could get there instantly. By the third or fourth year we should have learnt enough to know which actors and directors would be best suited to such a company. It would also be fantastic if we could eventually do the plays in repertory. When I was growing up I would have loved to have seen, for example, actors like Laurence Olivier and Peter O'Toole switching parts, or to have experienced two Shakespeare plays in a day, done by the same company.'

Like everyone in today's theatre, he's keenly aware of the need to attract young people to the shows, especially those who rarely or never go to the theatre. As a first step his regime will be offering 100 of the best seats in the stalls and the dress circle at the attractive price of just £12 for young people under 25. 'The theatre faces a lot of competition with this age-group - from films, videos, games, DVD,' Spacey points out. 'If you can get kids coming early enough, you have some hope of making theatre part of their lives: you're planting a seed, even if you're not necessarily going to water it.' The next step, which will take a while to organise, will be the setting up of an educational programme with local schools.

While he has no intention of giving up his film career, but there's absolutely no doubt that Spacey's first love is now also his current one. 'My primary focus is going to be theatre,' he says. 'It's the most satisfying place to be as an actor.' So how long does he expect to remain in charge at the Old Vic? 'Until they ask me to leave,' comes the instant reply. 'It's great to have the building buzzing again, and we're going to keep it warm for a long time to come.'

KEVIN SPACEY BIOGRAPHY
Born: 26 July 1959
Where: South Orange, New Jersey, USA
Awards: Won 2 Oscars and 1 BAFTA, 3 Golden Globe nominations
Height: 5' 11"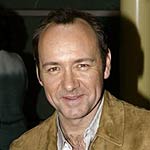 There are many actors who claim their art is more important to them than fame or fortune. It's a mantra born out of guilt and a recognition of art-unfriendly self-obsession. But very few back it up with action, no matter how rich and famous they become. Yet, once he'd achieved a modicum of professional security, Kevin Spacey actually demanded that his name be taken off the credits of a sure-fire blockbuster. And NOT because he thought the movie so poor it would damage his career. No, before the release of Seven, Spacey made that request because he believed a credit would have the audience waiting for his arrival onscreen, it would detract from the shock of the story. It was hugely unusual behaviour, particularly as Spacey had earlier been a paragon of terrifying ambition. Then again - now a double Oscar winner - Kevin Spacey is a very unusual talent.
He was born Kevin Fowler on the 26th of July, 1959, in South Orange, New Jersey, not far from Newark airport. He was the youngest of three children. His father, Thomas, was a technical procedure writer, his mother, Kathleen, a personal secretary. Thomas's work being irregular, the family moved all over the States and Kevin, a bright child forced to prove himself over and over again, grew close to uncontrollable. Eventually, having settled in Southern California, his behaviour became too much. After burning down his sister's tree-house, he was packed off to Northridge Military Academy. It changed nothing in this smart but unruly child. Kevin won a Leadership Award, but was then expelled when, at a boxing match, he flung a tire at a schoolmate's head.
In an odd twist on the norm, being thrown out of the military proved to be the making of him. Enrolling at Chatsworth High School in the San Fernando Valley, he was encouraged by a Guidance Counsellor to channel his hitherto misspent energies into acting - Chatsworth being something of a breeding ground for Hollywood stars. Kevin already had a deep knowledge of cinematic history from constantly sneaking downstairs in the night to watch old movies on TV (and he remembers ALL of them). Thus he'd received his education at the feet of masters like Bogart, Henry Fonda and Spencer Tracy. It's often been said he created the name Spacey by squeezing Spencer into Tracy - in fact, it's from his mother's side of the family. This education continued throughout his school years as, along with his mates, he'd play truant to attend revival screenings at the NuArt cinema. A natural mimic, Spacey quickly perfected impressions of the likes of James Stewart and Johnny Carson. Indeed, as a precocious teen he'd attend comedy clubs to watch the likes of Robin Williams and Jay Leno, then perform himself on amateur nights (he also played bowling alleys).
By his senior year at High School, Kevin was a leading man. He starred in Unhealthy To Be Unpleasant and in The Sound Of Music. Here he was Captain Von Trapp with Mare Winningham as his Maria. The pair would graduate as co-valedictorians in 1977, and would remain friends. When Spacey was Oscar-nominated for The Usual Suspects, she sent him a telegram saying "Captain Von Trapp - congratulations on your nomination - Maria". Amazingly, she'd been nominated herself that same year, for Georgia.
After graduation, Kevin briefly attended Los Angeles Valley College (he also applied to be on The Gong Show, but was rejected). He left on the advice of another schoolmate at Chatsworth, Val Kilmer, who had moved on two years before to the Juilliard college, and highly recommended the drama programme. Spacey signed up and spent two "intense and competitive" years there - he loved it and still works with some of the teachers. But Spacey wanted to work and left to join the New York Shakespeare Festival, making his professional debut, naturally, as a spear-carrier in Henry VI, in 1981.
Spacey was already ready to move on, a fact recognised by the Festival's director, Joseph Papp, who sacked him, deliberately forcing him out into the "real world" of theatre. Now began a tough apprenticeship. He debuted on Broadway in 1982, as Liv Ullmann's son in Ibsen's Ghosts, doing Uncle Vanya that same year. Then came a stint in The Mousetrap, then As You Like It, Moliere's The Misanthrope and, come 1984, David Rabe's Hurlyburly where, energetic and fabulously adaptable, Spacey rotated through each of the male parts (he'd later appear in the screen version too). Next came The Seagull and a period, in 1986, performing Sleuth in a New Jersey dinner theatre. Spacey recalls these times as peculiarly hard. He spent his free time, he says, avoiding his landlady and gathering cans in a shopping trolley. Convinced of his own excellence and horribly frustrated by his lack of progress, he says he could not sleep for obsessing over his career.
Spacey must have been a real pain, for himself and others. In his hilarious book With Nails, Richard E. Grant recalled the shooting of Henry And June (released in 1990 and concerning Henry Miller's sexual escapades in Paris), describing Spacey as being "on a rant because he didn't get any close-ups", adding, on Spacey's desperation to rise to prominence, "His will-it-be-me? kvetch receives scant support from me".
Various events helped to calm Kevin. For one, he began to visit the public library, devouring the biographies of successful actors and coming to realise that others had had to wait too. Jack Nicholson and Dustin Hoffman, for instance, were both in their thirties when they made Easy Rider and The Graduate, respectively. Also, his career enjoyed a gradual upward shift. First, in 1986, came a stage production of Eugene O'Neill's A Long Day's Journey Into Night, where he starred alongside one of his heroes, Jack Lemmon, moving from Broadway to London's Haymarket. This led to the role of the sinister villain Mel Profitt in the well-received mob series Wiseguy.
But still it wasn't moving fast enough. Onstage he performed in As It Is In Heaven and Right Behind The Flag, there were a couple of TV movies, and small parts in Working Girl and the Gene Wilder/Richard Pryor vehicle See No Evil, Hear No Evil. He'd actually debuted onscreen in 1986, as a "subway thief" in Heartburn, coincidentally starring Nicholson and directed by The Graduate's Mike Nichols. In 1989, this fiercely intelligent and well-educated actor's fear of failure must have peaked when he appeared in the short-lived TV series Unsub, starring David Soul as the head of a Behavioural Science Unit. This would certainly explain his tormented outbursts on the set of Henry And June.
Yet help was at hand, first in the shape of Jack Lemmon. While filming 1989's Dad, a cross-generational weepie starring Lemmon, Ted Danson and Ethan Hawke, Spacey enjoyed a revelation he believes changed his self-obsessive attitudes for good. He recalls passing the trailer of Eddie Murphy, then filming Harlem Nights on a neighbouring set. It was huge, surrounded by staff and a fleet of Rolls Royce golf-carts. "The man", Spacey told Arena magazine "had his own little city". Then, next to Murphy City, he noticed another, far smaller trailer, belonging to Jack Lemmon. "This is one of the greatest actors alive, and he's sitting in there by himself, with the door wide open, doing the New York Times crossword. And I thought to myself in that instant, Which life do you want, man? Which way do you want to go?" And, when Lemmon looked up and sweetly smiled, Spacey's mind was made up. He would aim to be a great actor, not simply a big star.
Some leads did now come his way. He played naughty evangelist Jim Bakker in Fall From Grace, Bernadette Peters being his Tammi. Then he made an excellent Clarence Darrow in Darrow, about the most famous lawyer in US history (it was he who, in the late 1800s, defended a teacher's right to teach evolution). Spacey later claimed this was his favourite role, as Darrow was the character closest to himself - though this may well have been more of that notorious Spacey humour.
But, despite these leads, he now began to benefit from the lesson taught him by Lemmon and his own destructive frustration. He decided that he didn't actually NEED to be the LEAD. What he needed was to be a central character, someone all the other characters would bounce off. And, near-instantly, up popped the perfect part. In David Mamet's Glengarry Glen Ross, Kevin played the boss of a real estate agency, goading his workers (including, once again, Jack Lemmon) on to ever-greater extremes. It wasn't the biggest role, but it was central and thoroughly eye-catching, Spacey shining as a smart-mouthed, manipulative swine.
And it was this intelligence, accompanied by massive arrogance, that Spacey brought to his next series of roles, roles which finally made him a household name. In Hostile Hostages, he and screen wife Judy Davis were kidnapped by Denis Leary, only to send him mad with their eternal, waspish bickering. Then came the fabulous Swimming With Sharks where, as studio executive Buddy Ackerman, he subjected an underling to such vicious humiliation he eventually went berserk. Then, after Outbreak, came Seven, where, as the super-murderer John Doe, a freaked-out cross between Ed Gein and John The Baptist, Spacey's burning intellect allowed him to convince us that he was indeed capable of such dreadful crimes. The way he smirked at Brad Pitt, knowing full well what was in the box, was itself a filmic masterclass.
Any actor would've considered the year they played John Doe to be a success. But Spacey had plenty more to come in 1995. In The Usual Suspects, he was again not the lead, but again absolutely central. As Roger "Verbal" Kint, it was he who told the police all about the formation of Gabriel Byrne's gang, the blackmail, the murder, the final dockside confrontation and, of course, the legendary master of disaster Keyser Soze. Or at least, he told them HIS version. Once more, Spacey was unbelievably good - sneaky, suspicious, arrogant, vulnerable and cruel - utterly perfect. And quite rightly he was awarded the Best Supporting Actor Oscar, for which he was more than prepared. "As a kid," he told Premiere magazine "we used to come out of the curtains in the kitchen to accept the Cheerios box, or whatever it was".
Now Spacey was big news and the press came after him, all the more keenly because he clearly didn't wish to reveal details of his private life. "It's not that I want to create some bullshit mystique by maintaining a silence about my personal life," he told the Evening Standard, "It's just that the less you know about me, the easier it is to convince you that I am that character onscreen". Rumours began that he was gay, indeed Esquire magazine at one point appeared to "out" him. Spacey, for a long time, kept silent, explaining that his sexuality was no one's business, and what difference did it make anyway? Eventually he said that he was glad women thought he was gay. "For them it's a challenge," he said. "They want to be the one to turn me around. I let them".
Workwise, he went on his merry way. In 1996, he made his directorial debut with Albino Alligator. Here a gang including Matt Dillon and Gary Sinise hole up in a New Orleans bar (Faye Dunaway is the hard-bitten bar-maid) after bungling badly. Spacey enjoyed it immensely, particularly the opportunity to work with first-time writer Christian Forte. He remembers well his time in theatre and the pain of not being given a chance. In fact, at the beginning of 2002, he announced that he was taking a break from acting in order to encourage new talent, to "send the elevator back down".
After Albino Alligator came a rush of big-budget movies. He was the DA, busting vengeful father Samuel L. Jackson in A Time To Kill. Then he was the celebrity-hungry cop Sgt Jack Vincennes, prowling 1950s Los Angeles alongside Russell Crowe in the critically lauded LA Confidential. After this he dominated Clint Eastwood's Midnight In The Garden Of Good And Evil, once more set in the South. Here he was wealthy art dealer and bon vivant Jim Williams, a semi-closeted homosexual and, possibly, the brutal murderer of Jude Law. He also sang That Old Black Magic on the film's soundtrack. Then he teamed up with Samuel Jackson again, this time playing a hostage negociator brought in to talk down Jackson, a negociator himself but framed and forced to take hostages of his own.
And it kept improving. He made a superb Hopper, the evil dictator in A Bug's Life, and then moved on to his greatest success yet. In American Beauty, he made an iconic figure of Lester Burnham, a middle-aged man who, finding himself unhappy in his job and utterly distanced from his family, jacks it all in, blackmails his boss, buys himself a flash motor and tries to recapture the Lester he used to be. His joyful roar of "I RULE!" was a genuinely classic screen moment. Four days before the film opened, he received a star on the Hollywood Walk Of Fame. The Oscar was a mere formality.
The hits kept coming. In Pay It Forward he was a disillusioned teacher drawn towards a more hopeful life (and an affair with Helen Hunt) by Haley Joel Osment's wide-eyed altruism. Then there was the surprise hit K-PAX where he played a mental patient who claims to be from another planet. Psychiatrist Jeff Bridges must decide whether he's a wacko or really is green on the inside. Then came Lasse Hallstrom's adaptation of E. Annie Proulx's bestseller The Shipping News, with Spacey taking his young son back to his ancestral home in Newfoundland and receiving wisdom, comfort and pain from Judi Dench, Julianne Moore and Cate Blanchett respectively. On set, he drank copious amounts of the local moonshine with Dench while teaching her to play pool and, once both Moore and Blanchett had fallen pregnant, claimed it was because they'd both taken a ride on his bike.
fter this was The United States Of Leland, where a 15-year-old autistic boy who kills "out of sadness" is sent to a juvenile facility where they try to understand his problem. And then came The Life Of David Gale, directed by Alan Parker, where Spacey played an activist against capital punishment who winds up on Death Row after being charged with rape and murder. Kate Winslet co-starred as a journalist who, while writing his life-story, begins to wonder whether he's actually guilty. And there's only three days till they hit the switch!
While his film career was entering the stratosphere, Spacey kept one foot on the stage. He'd won a Tony in 1991 for his performances as Uncle Louie in Neil Simon's Lost In Yonkers and, in 1998, returned to Eugene O'Neill when he performed The Iceman Cometh at London's Almeida (for a paltry £225 a week). He also sang in public - according to him the most nerve-wracking experience of his life - when he performed Mind Games at a John Lennon tribute that became a benefit for the victims of the September 11th attacks.
It was after The Life Of David Gale that he took time off to help the less fortunate in the industry. He'd already done his bit, having donated $100,000 to the Screen Actors' Guild strike fund, and paid $150,000 for the Oscar George Stoll won for Anchors Aweigh in 1945, which he duly returned to its original owner. And, in December 2001, he saved a young boy from drowning in the pool of the Beverly Hills Hilton. Come to think of it, he's turned into quite a sickeningly good bloke.
Two quotes help to explain this complex and brilliant man. First, discussing the root of acting and directing, he said "What are you willing to live with as a human being? And there's things I'm just not willing to live with - and I won't. And if it means that I stop and find something else in life that interests me or challenges me, so be it". Better still, having suffered all those years of tortured self-obsession, he's now able to say "I used to see my mug in dailies and groan. Now I see it and think 'Hey, you look like an aging Chinese character actress - and they STILL HIRE YOU'."
Truly, the man is a star.
Domonic Wills

Theatre
September 05, 2004
Kevin Spacey
He has left Hollywood behind to try to stage a revival of the Old Vic's fortunes. Kevin Spacey tells Matt Wolf about his most important role to date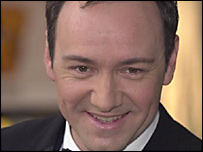 Kevin Spacey can remember the exact night he decided to become the artistic director of the Old Vic. It was in November 1999, and American Beauty — for which the actor would go on to win a second Academy Award — had premiered the day before at the London Film Festival. The following evening, there was Spacey, chairing an industry powwow, in a rehearsal room above the Old Vic, about the future of the venerable theatre, on whose board he sat. "What is the Old Vic?" says the actor, recalling the meeting's topics of conversation nearly five years later. "Why is it held in such affection? Why has it gone into the period it's gone into?" Which is to say, into decline. Later that same evening, Spacey, back in his hotel, found himself unable to sleep. Heading downstairs at 2.30am to go for a walk, he instead hailed a cab in the rain and asked the driver to take him to the National.
"I walked to the South Bank and just sat and looked at that building, and was thinking about Laurence Olivier and about what he did when he started a national theatre," he says. "Then I walked down the four or five blocks to this theatre and sat in the cement park across the street. I looked up at the Vic, and I thought, 'What are you doing? You're on this committee making all these lists when, in your heart of hearts, what you have wanted to do since you were 13 years old is run a theatre.'" And at that moment, the die was cast, even if, smiles Spacey, "we kept it a secret for four years".
That secret, of course, has been out for some 18 months, but that doesn't make Spacey's career choice any less remarkable. Recently turned 45, and still presumably in his cinematic prime, the actor has made the conscious choice to relegate a highly enviable film career to the back burner in favour of running one of London's theatrical jewels, albeit one that has been slightly tarnished in recent years.
"This is a perfect time in my life to do this," says Spacey, chatting over a beer early one evening in the Old Vic's rehearsal room, having put the cast of Cloaca, the opening play in the theatre's new season, through their paces for the day. "After so many years of making movies, and the nomadic life that you lead when you make a film, going from city to city, state to state, I liked the idea of being in a place for a long time. Of committing myself to a particular adventure."
And an adventure this will certainly be, not least because Spacey's commitment to the Vic is a real one. In other circumstances, one could imagine a high-profile film actor lending his (or her) face to a comparable project, as long as that star wasn't kept away too long from the big Hollywood bucks. Not Spacey, who, in any case, is hardly a typical Hollywood celeb. (For one thing, his American base is Manhattan, not LA.) "The fact of the matter is, I've spent 20 years in New York," he explains. "So it seemed like a fine time for a new gig, a new experience and a new culture."
Nor is Britain's theatre milieu really all that new to Spacey. It was in 1986, well before he transferred the Almeida Theatre production of The Iceman Cometh to the Vic in 1998, that a then unknown New York stage actor called Kevin Spacey appeared alongside Jack Lemmon in a sellout summer revival, at the Theatre Royal Haymarket, of Eugene O'Neill's Long Day's Journey into Night. The director of that production was London's own Jonathan Miller, whose CV also includes a stint as artistic director of, yes, the Old Vic.
"There's no question that while I was doing that play, I loved living here; I loved the people," says Spacey. "There was just something incredible about being an American actor and working on the London stage." And it wasn't lost on him that a production that had previously earned so-so reviews and scarcely better business on Broadway had become a West End smash. "They didn't like it on Broadway. It wasn't a failure, but they attacked us critically," he says. In London, by contrast, the critics cheered — and a love affair between Spacey and the British stage was born.
Still, it's one thing to feel a sentimental attachment to an environment and a culture, and quite another to sign on the dotted line. Unless, that is, you are discovering that even two Oscars don't necessarily ensure smooth sailing among Hollywood's increasingly rocky shoals. "Even attaching myself to a project doesn't mean it will get on," says Spacey, who had been working steadily on and off Broadway when, in 1995, The Usual Suspects catapulted him into the cinematic front rank of American character actors and gave him his first Academy Award. By the time he played the iconically sardonic Lester Burnham in American Beauty, Spacey had become a star.
Since then, by Spacey's own reckoning, finding screen work of similar value has been hard. "I knew, after American Beauty, that it was probably going to be a long time before I found a movie that measured up," he says. "That film was one of those rare things."
Indeed, he remembers sitting with some friends and colleagues soon after the film hit big and deliberately dampening their enthusiasm. "I said to them, 'Guys, I know it looks like a gravy train right now; you all think the scripts are going to be flying in. (But) I actually believe that for a while, no matter what I choose to do, it's just not going to measure up.'" As, indeed, Pay It Forward, K-Pax, The Shipping News and The Life of David Gale, each in different ways, did not. "I've made the choices that I wanted to make and worked with people I wanted to work with, and some of the things worked out and some did not," he says.
What got lost somewhere en route was the buzz that can die away in Hollywood as fast as it flares up. "As you know," Spacey tells me, "there are a lot of actors who have won Academy Awards, but that didn't mean they were getting offered either big salaries or big studio films. The point is, there's other stuff that goes to other actors way before it comes to you, and that's just true."
Small wonder, then, that Spacey prefers to think outside the studio box. "Let's say you've got a great script," he says. "There is this process in the film world where, if it's at a studio, there will be 37 notes from 150 people, and they don't like the rewrite. So they hire another writer for a lot of money. Suddenly the project that looked so exciting at the beginning has gone." Would he care to name any examples? "Let me put it to you this way," he says, leaning con- spiratorially towards my tape recorder, "very often, you shoot a good movie; you shoot a better movie than they cut."
Spacey has spared himself such indignities on his latest film, opening in November: Beyond the Sea, an independently financed $27m biography of the American nightclub singer and entertainer Bobby Darin, has long been a cherished project. (The film has its world premiere on Saturday at the Toronto International Film Festival.) Spacey is the film's star, director and, to a large extent, writer. "Nobody in America wanted to make this film; probably every major studio turned it down," he says. But what about his two Oscars? "That doesn't matter when the last four films you've made haven't made money. What matters is, is he hot?" You could argue, therefore, for the feeling of salvation offered by the theatre — a world where Spacey has rarely not been hot. Hence his face front and centre on the Old Vic bumf, even when, in some cases, his name is not. Referring to the Vic as "our playground", Spacey sounds every bit the actor busily rediscovering a sense of play, both as a performer (he will appear in the third and fourth productions of the opening season) and as the director of Cloaca, a drama by the Dutch writer Maria Goos, with a company including Hugh Bonneville, Stephen Tompkinson and Neil Pearson. It will be Spacey's stage directorial debut.
"I didn't want to start with what people perhaps thought we'd start with," says Spacey, explaining his choice of script. "Or do the classics or do Shakespeare, because I thought people were going to expect that. Let's do the unexpected."
To that end, his inaugural season of four shows consists of "essentially three new plays", one of which is the panto favourite Aladdin, starring Ian McKellen in a new version by the Australian writer Bille Brown. The three-character play National Anthems, by the late American dramatist Dennis McIntyre, follows in February, with Spacey reprising a part he previously played in 1988 at the Long Wharf Theatre in New Haven, Connecticut. (At the time, Spacey came into the production as a replacement for Al Pacino, who was running over on the movie Sea of Love.) Closing the season is Philip Barry's peerless comedy The Philadelphia Story, directed by the Broadway veteran Jerry Zaks and starring Spacey in Cary Grant's film role. Katharine Hepburn's defining part as the socialite Tracy Lord has yet to be cast, with Spacey conceding that there are "9 or 10 women who are well known and have the kind of glamour you'd want in that role, although maybe, who knows, there's somebody we don't know who could do it; somebody on their way". (Translation: Nicole Kidman or Helen Hunt don't necessarily have the job sewn up.) Season number two is likely to kick off with Spacey tackling Shakespeare; Beckett, Chekhov and more O'Neill also figure on his artistic directorship wish list.
What about his life Stateside, not least in an election year? "I go back more often than people would think, but I'm basically here," says Spacey, a one-time Clintonite who says he will vote for Kerry, but won't campaign for him directly. "This is an exceedingly important election," he adds.
But party politics, one feels, don't galvanise Spacey as much as the chance to kick-start a new career, unencumbered by anything but his own enthusiasms. "For me, it's nice, after spending half my life in America, to be starting a new life here," he says. And with the late-summer daylight drawing in, Spacey can be seen whizzing up Waterloo Road on his scooter, looking for all the world unimaginably free.
Cloaca previews from September 16 at the Old Vic, SE1, and opens on September 28

BEYOND THE SEA
by TODD MCCARTHY | Sep 20 '04
(U.K.-GERMANY)
A Lions Gate Films release (in U.S.) of a Lions Gate Films presentation of an Archer Street/QI Quality Intl./Trigger Street production in association with Visionview, Studio Babelsberg Motion Pictures, Endgame Entertainment, Element X and Medienboard Berlin-Brandenburg. (International sales: Element X, London.) Produced by Andy Paterson, Kevin Spacey, Jan Fantl, Arthur E. Friedman. Executive producers, Michael Burns, Peter Block, Jason Constantine, Jim Reeve, Steve Robbins, Thierry Potok, Damon Horowitz, Henning Molfenter, Joanne Horowitz, Doug Hansen. Co-producers for Trigger Street, Dana Brunetti, Mark Tracey, Philip Barry.
Directed by Kevin Spacey. No writing credit. Camera (color, widescreen), Eduardo Serra; editor, Trevor Waite; music producer, Phil Ramone; musical director, John Wilson; production designer, Andrew Laws; costume designer, Ruth Myers; sound, Nick Foley; makeup and hair designer, Peter King; choreographer, Rob Ashford; line producer, Guy Tannahill; associate producers, Anna Campeau, Christian Frohn, Jeremy Whelehan; casting, Joanna Colbert; casting (Europe), Mary Selway, Fiona Weir, Risa Kes. Reviewed at Toronto Film Festival (Gala), Sept. 10, 2004. Running time: 114 MIN. (without end credits)
Bobby Darin ..... Kevin Spacey
Sandra Dee ..... Kate Bosworth
Steve Blauner ..... John Goodman
Charlie Maffia ..... Bob Hoskins
Polly ..... Brenda Blethyn
Mary ..... Greta Scacchi
Nina Cassotto Maffia ..... Caroline Aaron
Dick Behrke ..... Peter Cincotti
Little Bobby ..... William Ullrich
With: Michael Byrne, Matt Rippy, Gary Whelan.
Beyond the Sea" boasts many of the same qualities as its subject, Bobby Darin --- it's raffish, flashy, energetic, entertaining and not very deep. A long-gestating project for Kevin Spacey, the actor's second outing as a feature director stands as a superior companion piece to the recent "De-Lovely," in that it relates a fragmented version of a 20th-century musical life from the ostensible point of view of the subject himself. Like the Cole Porter biopic, this one also will face a tough time finding an audience beyond ardent fans of the type of music featured therein, barring a miraculous resurgence in Darin's popularity between now and the Thanksgiving release date.
A predisposition to the material and the '50s-'60s time frame, as well as to old-style musicals in general, may not be a requirement for enjoying "Beyond the Sea," but it will undoubtedly help; those who feel superior or ungenerous to the form and its conventions will find plenty to pick on.
But whatever else might be said, Spacey is a pretty amazing Bobby Darin. However many years older he is than he should be for the part, he's got all the moves down cold, he's incredibly vibrant and his voice is astonishingly like Darin's --- to the point it's difficult to believe it's not Darin himself.
Spacey also has anticipated nearly every possible objection one could lodge against the film with built-in ripostes to his age (this is the older Darin replaying his life), hairpieces (Darin himself wore them, just like Sinatra, Bogie and John Wayne) and questionable versions of events ("It's Bobby-world! Anything can happen!").
At the outset, Darin begins a Cocoanut Grove performance to celebrate his 10th year in showbiz, only to interrupt the show to reveal that he's on a film set, the audience consists of extras and a little-boy version of Bobby (William Ullrich) is peering out from behind the curtains. Insisting what he's going to reveal is the truth, with a snap of his fingers Darin transports the action back to the Bronx of his youth, where Bobby Cassotto lived with his doting former-singer mother, Polly (Brenda Blethyn), sister Nina (Caroline Aaron) and brother-in-law Charlie (Bob Hoskins).
Rheumatic fever is supposed to kill him by the time he's 15, but he slips through fate's noose and begins singing with the confident ambition of becoming the next Sinatra and playing the Copacabana. Arrogant, persuasive and not to be denied, Bobby is supported by a retinue including Charlie, friend and manager Steve Blauner (John Goodman) and musical director Dick Behrke (Peter Cincotti). He has a few flops before becoming a teen sensation with "Splish Splash," then switches gears to standards such as his trademark "Mack the Knife."
A song that breaks out into a large city-streets dance number recalls Jacques Demy musicals with its nostalgic exhilaration, and it isn't long before Bobby goes to Italy to appear with Rock Hudson and Sandra Dee in "Come September." Bobby's courtship of the pert, blond actress (Kate Bosworth) is clever and relentless; despite the objections of Dee's mother, Mary (Greta Scacchi), Sandra accepts his marriage proposal. When Mary learns of their engagement, she explodes with fury and screams, "You might have concentrated more on Rock Hudson!"
For a while, it's all good for this golden couple --- movie stardom for Sandra, a mix of films, hit albums and touring for Bobby, culminating in an Oscar nomination for him for "Captain Newman, M.D." and their baby boy.
The pressures of hectic showbiz lives have been dramatized extensively before, and "Beyond the Sea" can't entirely escape the standard stuff about how little husband and wife see each other and so on. Bobby does have an unrestrained freak-out upon losing the Oscar, and when the slide comes, it comes fast; by the mid-'60s, Sandra's washed up and Bobby sees that his music and career are "suddenly irrelevant."
For a moment, "Beyond the Sea" literally crosses paths with "De-Lovely," as Bobby, like Cole Porter, pauses the action and says he doesn't want to see what comes next. With good reason. Structurally, final act is lumpy, as a decade's worth of lowlights are awkwardly stitched together: Having so confidently created his persona, stunning information about his true family history throws Darin into a huge identity crisis. To the pointed accompaniment of a great Rolling Stones song, Bobby tosses out the toupees, becomes a hippie, supports Bobby Kennedy and disappears to the beach for a while.
Attempting a comeback in his mid-30s, he's jeered when he plays an acoustic antiwar song at the Copa, has a heart operation, returns home and begins to prepare for his departure from the earthly scene. But not before recognizing what he was put here for and reaching a reckoning with his little-boy self, who shadows Bobby throughout his life.
Just as Bobby knew he was born to perform, Spacey's perf is reason enough for the film to exist and is the source of much of its pleasure. The song deliveries in public performance are particularly exciting, their arrangements, staging and cutting all adding to the effect.
Supporting thesps thread through the action with vigor. Bosworth is a plausible Dee, although the character is rather shortchanged in that it's impossible to tell if there's anything interesting inside or if she actually believed she was a more serious actress than was popularly thought. Hoskins, Blethyn and Aaron provide big-sized emotions and color, and Ullrich has the chutzpah and timing to make him credible as the pre-teen version of the man he's meant to become.
Shot mostly at the Babelsberg Studios outside Berlin, lenser Eduardo Serra, production designer Andrew Laws, costume designer Ruth Myers and many other hands conjure up a respectable feel for time and place without benefiting from real California locations and quality of light.
Print shown in Toronto featured no end credits crawl, and writing credit was announced as being under arbitration, with no names listed onscreen.
Copyright 2000-2004, Reed Business Information, a division of Reed Elsevier Inc.

Actor looks and sounds the part of Bobby Darin
by Susan Wloszczyna | Sept 17 '04
TORONTO -- This cat can wail.
Those who have caught festival screenings of Kevin Spacey's Beyond the Sea , a splish-splashy musical fantasia based on the life of pop crooner Bobby Darin, are singing the praises of the vocal prowess of the two-time Oscar winner.
"I didn't want to be tied to an imitation," says Spacey, snappily attired in a Sea suit, a smoke-blue silk number. "It had to come from me. Our goal was that those who know Bobby would go, 'Is that Bobby or is that Kevin?' "
The actor is even taking his act on the road. He plans to perform a showcase of Darin hits backed by a 19-piece band in 12 cities, including Las Vegas starting in late November. Fest-goers got a preview when Spacey joined Jamie Foxx, who headlines the Ray Charles biopic Ray , on a raucous rendition of Splish Splash at a late-night party this week.
But the film itself, which opens Nov. 24, may be a harder sell. Despite Chicago 's high note at the box office, movie musicals are still iffy affairs. At least Spacey, who not only stars but also directed, produced and co-wrote the script, has the guts to confront the question on everyone's mind head-on: Can a 45-year-old pretend to be someone who died at age 37?
Early onscreen, Darin explains that he is shooting a movie of his own life when someone gripes, "He's too old to play this part." You can feel audiences relax. "I decided to deal with it directly," he says. "Identify the elephant in the room and get on with it."
The account of how sickly little Bobby Cassotto from the Bronx overcame a faulty ticker with the power of music has struggled to become reality for 12 years, four of them with Spacey taking charge.
"There is this strange argument that I never quite understood. 'It's a terrific story, and the music is great, but who has ever heard of Bobby Darin?' Well, who ever heard of Forrest Gump or Rocky?"
He has directed before, 1996's Albino Alligator , but has never worn so many hats. "I got through it because of the people involved," he says of the crew and cast that includes John Goodman and Bob Hoskins. "They took my dream and made it theirs."
It's clear that Spacey, who has had a string of film disappointments after he won the Academy Award for 1999's American Beauty , relates to Darin, who met derision when he tried to change his finger-snapping style in the hippie-era '60s. "People wanted Bobby Darin the way they wanted him. They didn't want him to do different things," which included an Oscar-nominated role in 1963's Captain Newman, M.D . "I've experienced some of that. We live in a time of 'this person is hot, this person is out, this person is in, the person is not,' and I don't give a toss about all that. It's meaningless, temporal and cynical."
That might be one reason he has taken refuge in London as the artistic director of the Old Vic Theater. During his tenure, he plans on taking only a few movie assignments, such his recent work on the crime drama Edison.
"I always knew after American Beauty it would be a while before anything would measure up. I said, 'I'm not going to stop working.' But while I was doing those movies, this is where my heart's been," he says of Beyond the Sea . "Those were jobs. This is my love."
© Copyright 2004 USA TODAY, a division of Gannett Co. Inc.
Telegraph Magazine, 13 November 2004
Lost in Spacey

Kevin Spacey has always been notoriously hard to pin down, both in his work and
his private life, But there are two passions that he is more than happy to
discuss: the Old Vic theatre and the 1960s singer Bobby Darin, the unlikely subject
of his latest film. By Jessica Berens. Photograph by Lorenzo Agius
'Does the British public actually think that
I disrespect audiences who pay good
hard-earned money to come to the theatre?'
Here we are, major luvvie and me, staring at each other in an office lined with champagne bottles and ostrich feathers and pictures of Mick Jagger when he looked like a girl. It's not his office, I hasten to add. before I give the mistaken impression that Kevin Spacey is at all camp, it is the office of Sally Greene, the chief executive of the Old Vic Theatre Trust.
I arrived expecting to have fun with a man reputed to be both clever and funny, to have a laugh and learn something. I hoped to broaden the conversation beyond the confines of the hallowed opus, but I do not care if Spacey is gay or not. I don't care about anything really, except the truth of the moment. I don't have any questions; I work in the way that he has said he prefers writers to work, to have a conversation where the tape-recorder is forgotten. But, today, he can't allow this. Today he is tired. He is seeing the headlines and projecting the outcome and it must be exhausting to be so caged in.
'Everything I say has been misinterpreted,' Spacey says. 'I will give you a recent example. Three weeks ago I did an interview with Radio 4. The chap was very friendly. The conversation broadened out to some of the disruptions in the theatre and to mobile phones. The next morning there were headlines that said I had attacked theatre-goers. For weeks now they have been writing stories about the draconian sensibility that we have at the Old Vic, how outrageous, arrogant and snotty our attitude is, when we share exactly the same policy as any other theatre in the land - that of a polite inoffensive pre-show announcement about mobile phones. Now why is that? Is it because I said it? I realise that a great amount of copy is written because people need to write something but the point is that the impression that gets out there is that I stood on the roof of the theatre and gave a speech. Does the British public out there actually think that I disrespect audiences who pay good hard-earned money to come to the theatre and enjoy a performance?'
The past month has not been easy for the new artistic director of the Old Vic. The reviews of Cloaca have been relentless in their universal disapproval. Everyone has been on his case, writing this and that, and the tabloids have been delighted to report that 'Kevin Spraycey' painted his head to hide a bald spot. 'It's not a spray,' he says. 'At every single premiere or television appearance that I have done in the last six years I have always put a little make-up on the back of my head for the simple purpose of not letting the television lights see the beach-front property. My hair has been going since I was in my twenties. If I wanted to fool anybody about it I would have a weave or a wig, but I take the Sean Connery school of thought which is you wear one in movies but you don't wear one in real life. Look, the fact of the matter is that they were running stories about how I was going bald, and how embarrassing that was. Now they are running stories about how I am trying to hide going bald. You can't win. Actually it is better to start shutting up... Which I am going to start doing...'
I am on the sofa. Spacey is higher, stretched along two chairs, chain-smoking Marlboro Lights. His apparel is low-key, a palette of caramel and blue; the eyes are cold and brown; the voice is a monotone American accent whose timbre does not alter to register emotion. Irritation arrives in the form of cool comment, as does opinion, so it takes more time for the listener to perceive the difference, than, for instance, if the voice resonated to reflect the content of its delivery.
Spacey decided to move to London and help run the Old Vic when, having donated funds to prevent it from becoming a strip club, he realised he wanted to become much more involved with the life of a theatre for which he feels real affection. He had recently finished American Beauty; he knew that a peak had been achieved that would be difficult to top. Spacey started off as a stage actor, and running a theatre was something he had always wanted to do.
Cloaca, which he directed, is the first in the season of plays that he has chosen for the Old Vic. It is about middle-aged men suffering various forms of mid-life crisis and presenting various degrees of disloyalty, loyalty, infidelity, mutual understanding and suicidal ideation.
'Trite, manipulative and sentimental,' was one critic's opinion. I ask Spacey if men are really like those characters drawn by the Dutch writer Maria Goos. I don't know the answer to this myself, though I suspect that yes, they are, that there is some truth in presenting the white, middle-aged, middle-class man as an impotent self-centred egomaniac trying to come to terms with his sense of disappointment. It is not my job to defend this,' he snaps. 'It is my job to provide an entertaining play that audiences will enjoy.' He claims that while the play did receive 'a drubbing', the morale of the production did not suffer and he remains optimistic about the audience reaction to it.
Cloaca is the first part of a considered strategy from which he does not intend to deviate. 'Our objective in this first season was to do what we thought would be popular work that was fresh and inviting to a wider audience. We chose not to begin with a classic play because that would be what people would expect us to do; I'm more interested in the future of the theatre than its history.' I suspect that Cloaca has suffered from the counter-effect of very high expectations. Spacey is right when he says that the audience likes Cloaca. There was a lot of clapping and laughing on the night I attended; and, as we all streamed out towards Lower Marsh, the night rang with enthusiastic praise.
The two hours drag slowly on. We talk of the culture of celebrity and he says it will go on until it stops making money. I wonder how he would like to be perceived and he says he does not want to be perceived. 'I am my work.' I ask if he knows what makes a good profile and he says, 'I haven't read a good profile in a long time.' He says he doesn't like it when people take pictures of him with their mobile phones; dislikes sneakiness in general, actually. 'I shut down when I smell a directive from the editor.'
There is little laughter; when it does arrive it is as a low snigger (him) or an inappropriate out­burst due to nervous hysteria (me). We skitter here and there and to his dog, Mini, a terrier mix that he adopted from Battersea Dogs Home as a puppy. She is not here today, unfortunately.
Is a dog a child substitute?
'I don't think so.'
Do you want children?
'Yes.'
Why?
'That's my business.'
Do you think you would be a good father?
'I don't know if anyone knows that.'
What is a good parent, do you think?
'I've seen examples of great parenting. You see that the children are both respectful and also free.'
Do you like children?
'Yes. They are so untainted by the things that taint adults.'
What are adults tainted by?
'Cynicism.'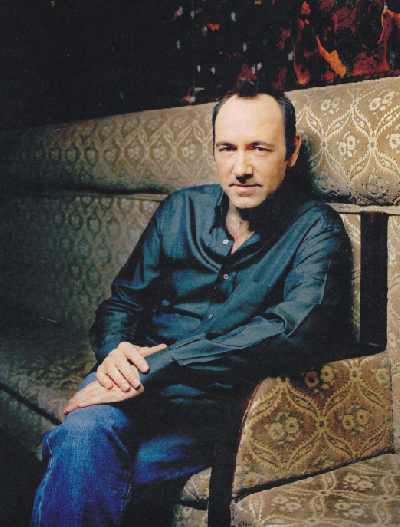 For someone who shows little enthusiasm for the interview process, Spacey has done a lot of them. A wad of profiles describe a dedicated workaholic for whom invisibility provides protection, but who has ironically chosen the exact profession that corrodes the carapace because it demands exposure, not only in the making of the project, but in the social dynamics that are required to sell that project. His trajectory has been well traced from his youth in California to New York's theatreland, then to television (a cop series called Wiseguy) to the breakthrough Glengarry Glen Ross in 1992. The Usual Suspects promoted him to the big time. He won an Oscar for the role of 'Verbal' Kint and went on to do memorable work in LA Confidential and Hurly-burly. He has purposely tried to remain unfathomable as a person and as an actor and, to an extent he has succeeded, turning himself into a chimera with no absolute truths. People's opin­ions have turned him into an automaton that is the creation of everyone but himself. 'The fact of the matter is that, so far, they haven't gotten close. If they got close then maybe I would be upset. But I keep reading the same stuff because it is all they have got.'
His job at the Old Vic (and his support for local community projects), his work in Africa with Aids clinics, his democratic politics - all these reflect integrity. Warmth, though, rarely appears in interviews and, when it emerges in roles, it is often subsumed by sentimentality. As Eugene in Pay It Forward, for instance, he was a scarred teacher in a mawkish tale described in one accurate review as a 'godsploitation atrocity'. It is no coincidence that his most successful character was Lester Burnham in American Beauty, a part that allowed him to combine his signature urbane delivery with a sexy susceptibility that gave truth and dimension to a great performance and allowed him to reveal vulnerability within the safety of a character.
Not today though. What does he like to do in London, I wonder. Are there any restaurants or shops he enjoys?
'I eat and I shop.'
Where do you go?
'Why would I tell you?'
Because I am trying to get an impression of how your life is here.
'I live here.'
It's not a sinister question.
'If I tell you where I like to go...'
Everyone will turn up?
'Yes. And that's what I don't want. Journalists have done that consistently in my life where they actually tell people where I live.'
I am trying to get an impression of what delights you about the environment rather than specifically encouraging the dangerous fan. Do you like English food? Which would make you very unusual...
'Look, I don't live in a world of cliche.'
Have you seen Puppetry of the Penis
'No.'
Have you been up the London Eye?
'Absolutely.'
He has liked England since his parents brought him here as a child, but he has not been out of the city much. Cloaca demands his presence every night as he likes to go to the play and write notes for the actors. He will have more free time, he thinks, when he appears in the theatre's production of Dennis Mclntyre's National Anthems next year. Recently there has been a lot of work, not only at the Old Vic but also in Hollywood, where he has been finishing his new film Beyond the Sea, a musical about the life of Bobby Darin, which he directed and in which he stars. Bobby Darin is a strange body to exhume. A lounge singer of the early 1960s, he is known for songs such as Splish Splash and Dream Lover. His legend, to date, is recorded in the form of esoteric websites and as a peculiar tribute on a 1995 edition of Stars In Their Eyes. Kitsch is a word that springs extremely easily to mind, but Spacey loves him and, looking at the later pictures of Darin, looks very like him. I show him a picture to prove this. 'Well,' he says, scrutinising the Bobby portrait carefully. 'In the film I actually wear a nose, as he had a quite a honker, particularly from the side, which I don't. They did a remarkable job because I don't think it is noticeable, you're not staring at the nose.'
Beyond the Sea sees him singing and dancing, if you can imagine such a thing. There were many days when I would shoot all day long and then go to dance rehearsal,' he says. There are a lot of MGM-style numbers and his legs whirl all over the place in ways that are almost miraculous. It's a long way from the psycho who chopped Gwyneth Paltrow's head off in Seven, an act for which we must all be grateful.
This year he goes on the road as Bobby Darin and will tour America with a band singing the old songs. It is a bizarre career choice and he risks attracting hilarity, but, if there is one thing that is true about this cold person, it is his determination to do what he wants. He grew up singing along to Darin and he has wanted to play him since he started as a stage actor in his twenties. Why? 'I think because he made decisions to reinvent himself. He wasn't the Bobby Darin that people wanted him to be and the fact that he died so young has denied him a rightful place. He has in some ways been forgotten. It would be great if the spotlight was to come on him.'
What was it about him as a man that you connected with, as a character?
'Obviously there are things about him that bear no relation to me but in the past five years there are aspects of his life that I have started to feel - the conflict that all artists face, which is that between professional expectation and personal freedom. Bobby chose personal freedom to the detriment of his career. I have experienced a number of years of people not wanting me to try the things I want to try. At the end of the day I think you do have to follow your heart. It is all part of a journey, but it has to be your journey.'
His mother, Kathleen Fowler (née Spacey, the surname the actor adopted in high school after the death of his maternal grandfather), also loved Bobby Darin and had always been keen on the idea of her son playing him. Fowler, who worked as a personal secretary, was always supportive to her son, encouraging him to attend Juilliard Drama School in New York after he was expelled from a military academy for fighting. 'My mother thought I should do what made me happy and not be terribly worried about career moves, and I think that's pretty good advice.'
She died of a brain tumour last year and Beyond the Sea is dedicated to her. The family received counselling to help cope with her illness and the prospect of her death, but nothing could have prepared Spacey for the 'devastating blow'. 'I always admired my mother,' he says. 'But I don't think I fully appreciated the nature of her character until I saw how she dealt with her illness and how she taught us how to come to grips with it. She had a great sense of humour and she was funny right to the last week of her life.'
His father, Geoff Fowler, wrote aviation manuals but was often unemployed, and the family moved around, causing some instability. Kevin, the youngest of three, has described his father as a frustrated writer; his brother, Randall Fowler, however, has described him as a violent sexual predator. Speaking to a Sunday newspaper this year, Randall said that their father (who died in 1992) was a neo-Nazi sadist who had consistently beaten him and then raped him (Randall) when he was reaching adolescence. 'He was a sick man,' Randall said.
'I have no comment,' says Spacey.
There is a gloomy silence as the rain spits on the window framing the dusk descending on Waterloo. The shadow of the father hangs heavily in the air as I think about how the youngest person of this family kept himself safe and about the defence mechanisms that the psyche creates in order to survive. Invisibility is useful in scenarios where protection is of paramount importance.
OK, I say, we won't go there.
'Well, you might, but I won't.'
'Beyond the Sea' opens on November 26.
'Cloaca' is at the Old Vic until December 11
(0870-060 6628; www.oldvictheatre.com)
The Big Issue,
November 22-28, No.618
The Show Must Go On
Master actor, theatre director and in his latest film, 1950s crooner Bobby Darin: Kevin Spacey is all of these and none of them.
By Phil Hoad
With the media so dominant these days, it's easy to feed off someone's public image and, lazily, assume that's who they really are. And what if their public image has a big white space at its heart? Kevin Spacey, leaning on a wood-laminate table in an Old Vic meeting room, is a blank when I ask him if he enjoys his air of mystique. "I have nothing... I have very little to do with that." But what about the fact he rarely talks about his private life? (Acidly) "You know, you're going to go down a road I'm not going to want to go down, so you should just really move on. I'm really starting to sense you've got... there's a bit of an attitude. If you were to get off your high horse, then maybe we can start again and have an honest conversation."
At this point, heart going like a kick drum, I dismount, unstrap my saddle, shoot the horse and start over. Plenty of actors dislike talking about their private lives, usually citing the notion - as Spacey does-that doing so destroys an audience's ability to suspend disbelief. But he started out in a situation where enigma was his stock-in trade, which only stoked speculation about the man himself later. After all, he first rose to prominence in a couple of roles that were pure ambiguity and evasiveness. As Keyser Soze in The Usual Suspects, acting didn't seem so much deliberate strategy as an existential statement, and this unknowable presence was used to maximum effect in Se7en, where he appeared uncredited halfway through as the serial killer and blew Brad Pitt's mind.
Mystique is one thing on screen, but a more complicated and sensitive matter in real life, evidently. I overstepped the boundaries Spacey feels he must draw around himself (he turns my Dictaphone off himself at the end of the interview). Whatever: people have their reasons.
What is equally obvious is how in command and comfortable he is talking about his work, as director and star of Beyond The Sea, his biopic of king of croon Bobby Darin, and his ongoing commitment as artistic director of the Old Vic. We start the interview having a fag in the backyard near the theatre; he is currently taking stock of his new kingdom. His job, he says, sitting cross-legged on a concrete outcrop, is a 10-year plan to make the theatre "a 21st-century producing house", expanding the administrative and rehearsal space that will allow it to originate more plays off its own back. The theatre itself is mostly in "great shape", says Spacey, if in need of some TLC here and there. "It does occasionally drip on the audience in the very upper circle, because it was bombed in 1941 and never really fixed." He talks about the building with fondness, almost like an adopted child.
Surprisingly tall and wearing scuffed jeans, a blue training top and green-and-yellow trainers, Spacey seems like a laidback taskmaster. He isn't too fazed at the "drubbing" Cloaca, his inaugural play at his new home, was handed by the critics, referring any doubters to the box-office receipts. He says that marshalling actors and "helping" them achieve their potential is his greatest strength and, with his own expertise and proven love of theatre, the new Old Vic seems a good bet for a success.
It's difficult to be as positive about his film-directing career after watching Beyond The Sea, a serviceable but pedestrian tramp through Bobby Darin's life. Spacey is customarily excellent, behind a prosthetic nose, as Darin and Kate Bosworth is a revelation as his wife/1950s movie fluff Sandra Dee. And while the song-and-dance sequences are infectious, the film doesn't gain dramatic momentum or have any real sense of visual verve that would truly make it swing. The accompanying eight-date tour Spacey is doing to promote the film in the States, crooning his way through Darin's oeuvre, sounds like a much better deal.
It's a shame because Beyond The Sea is a long-cherished project for Spacey - introduced to Darin by his parents, he grew up with the singer. And he's at home at the head of the troupe or with a mic in his hand, as musicals were virtually all he performed while he was at school. When I ask him about his favourite ones, he intones a list in soft, reverential tones: the Fred & Ginger turns, An America In Paris, All That Jazz. And he also wanted the movie to pay homage to another bygone tradition: the all-round entertainer. "We've lost that experience of getting dressed up and going to a nightclub and watching someone sing their guts out for two hours. These guys, they danced, they performed, they did impressions, they played multiple instruments. They gave of themselves in a way that you just don't see that often any more."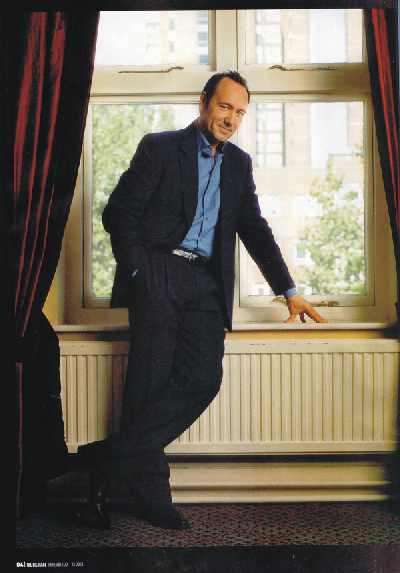 Beyond The Sea also seems to have tapped into an even deeper well of nostalgia for Spacey, though. Darin, whose health was shattered by rheumatic fever as a child, was driven to self-affirmation by his mother; he exuded a kind of defiant vitality when performing. Spacey admits he identified immediately. "There's a lot about his life and what his aspirations were that I absolutely understood. And admired." His mother, Kathleen Fowler, died in March 2003 and he's unusually earnest and candid about the obvious personal link. "I have to say I probably threw myself into this movie as a way of dealing with her passing [in a subterranean tone]. Because I thought if I don't get this movie done now, I'll never get this movie done. So I dived right into it."
You suspect his mother was the huge cohesive force in Spacey's life (he took 'Spacey', her maiden name, as his own in high school). He has spoken about his own upbringing being awkward - a childhood on the road spent following work for his father, Thomas, who was a technical brochure writer. The two had a fractious relationship, judging by past accounts: his father was authoritarian and wouldn't allow a TV in the house, among other things; Spacey, until he discovered theatre at 15 or so, was an angry and explosive teenager. He was expelled from the military academy his father sent him to for throwing a tyre at another pupil's head.
Acting funnelled his energies, at any rate, and he seems to have motored single-mindedly along this route ever since. He dropped out of drama college, Juillard, did stand-up for a short time and became an established presence on the New York stage. In the late 1980s and early 1990s, Hollywood took longer to crack; it seemed like producers took time to look behind that ostensibly crumpled, anonymous face and realise what lay beneath. "People I knew were making it at the time. You quickly assess where you are and think, 'Well, okay, my ship isn't going to come in as fast.' But then again, I don't think I would have been able to take on the roles I was ultimately able to take on in film or in theatre, if I had not had 10 years of experience behind me. I don't think I was good enough."
It's true that Spacey, in his best performances, can channel emotion on screen with extraordinary, almost unparalleled ability. He says that he would nominate Ed Norton and Sean Penn to occupy the much-vaunted hotseat of Finest Actor Of Our Generation™, but he is certainly up there and possesses a strength that Penn - who radiates feeling like a blowtorch stuck on full power - often bypasses. Spacey is a more manipulative actor, flicking emotion on and off like a lightswitch for maximum dramatic effect.
And this control is what comes across in person: as friendly as he can be, he jolts quickly into powerful spurts of irritation or razor's-edge sarcasm, as if it's always waiting beneath the surface. This mirrors Spacey's modus operandi in his breakthrough roles - sudden moments of drama, a singular personality emerging from beneath an undistinguished exterior. But in American Beauty, he reversed this: out of pitiable, wanking-in-the-shower, victim of life's circumstances, Lester Burnham, he fashioned the most memorable on-screen incarnation of the Everyman in recent years. And his less successful films since - K-PAX, The Shipping News et al - have played more to these ordinary qualities.
Perhaps this is why we're gripped by Spacey; he's one of the few actors capable of making the transition between the everyday and the opaque and, in terms of public perception at least, seems to do it in his own life. He's both Darin-crooning, Parkinson-charming, theatre-impresario man of the people and the markedly unique individual beneath.
Maybe if the real Kevin Spacey exists somewhere, it's on paper. A few years after his father died in 1992, he discovered he had written a novel, of the Great American persuasion, and kept it secret in a drawer for years. Spacey says he writes obsessively, all the time, in his journal, and perhaps a need to connect to his father is why. He enjoyed the contributions he made to the Beyond The Sea script, but doubts that he has "discipline and dedication" to write full-time, bring a project of his to fruition. Maybe the doubts mean more: a reluctance to expose more than what we see on stage and on screen. Whatever: a man has his reasons. And, that said, there's little more to say. "You can't really worry too much about the things that are outside of your life. You just worry about the things inside. That's what I focus on."
Beyond The Sea is released on November 26.
Evening Standard (Lite Standard), Wednesday, 9 February 2005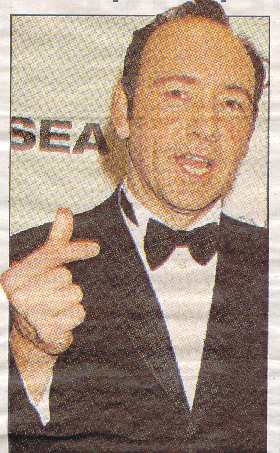 Kevin's lost the plot
Critics queue up to savage Hollywood star's new play
by Richard Edwards
KEVIN SPACEY'S reign as artistic director at the Old Vic came into question today after scathing reviews of his latest production.
Critics universally rounded on Dennis Mclntyre's National Anthems, a satire set in Eighties Detroit — and questioned Spacey's ability to judge the British public.
It comes after the Hollywood actor's debut at the venue last year, a Dutch play about the male menopause called Cloaca, was also savaged. Now questions are being raised as to whether 45-year-old Spacey, a double Oscar winner, is suitable for the job.
In tonight's Evening Standard, critic Nicholas de Jongh writes: "I begin to have serious doubts about whether Kevin Spacey is the right man to run the Old Vic.
"He launched his regime as artistic director last autumn by presenting a dud Dutch drama about miserable, middle-aged men discharging emotional waste about the stage.
"He caps that dire experience with an even more boring, almost interest-free event."
Spacey was hailed as the saviour of the Old Vic when he was appointed artistic director in February 2003. He had dazzled the audience there five years previously with his performance in The Iceman Cometh, which won him the Evening Standard's Best Actor award.
He was hired to bring Hollywood glamour to SE1 but some critics said of Cloaca that it was too reflective of his famously solitary mid-life status.
In April last year his reputation was tarnished after he told police he was beaten up and robbed while walking his dog in a park at 4.30am — then mysteriously withdrew the allegation. He claimed a robber hit him over the head and stole his mobile phone in the Geraldine Mary Harmsworth Park close to the Old Vic.
The star also courted controversy after attacking theatre audiences for behaving badly by not switching off mobile phones and eating noisily "You have to respect the fact there is some degree of behaviour we expect in the theatre and we're going to demand it at the Old Vic," he said.
National Anthems was supposed to be Spacey's triumphant return to the stage — finally emerging from behind the scenes and lead the Old Vic from the front.
What the reviewers said
"Cloaca flopped on to the stage with all the allure of a faintly rancid dead fish ... National Anthems proves another dud. I hate putting the boot into the Old Vic for the second time, for Spacey's project is a noble one. But let's see him in Shakespeare and bona fide American classics, not mediocre fare like this."
- Telegraph (Charles Spencer)

"What's happening at Kevin Spacey's Old Vic? Has Spacey got his finger on the pulse — or at least on a pulse that matters to us in England?"
- Times (Benedict Nightingale)

"Mclntyre's play offers a glibly mechanical metaphor for American life. I would simply beg [Spacey] to bombard us in future with masterpieces."
- Guardian (Michael BiUmgton)

"The piece is more effective as a stick and sometimes wincingly contrived showcase for Spacey's acting talents than as the savage satire on late-Eighties materialism in America that it's cracked up to be."
- Independent (Paul Taylor)

http://observer.guardian.co.uk
Back on boards
His debut as artistic director at the Old Vic was panned. Now Kevin Spacey is turning to what he does best - acting
Matt Wolf
Sunday February 6, 2005
The Observer
It was F. Scott Fitzgerald who remarked that 'there are no second acts in American lives', which makes one wonder what the novelist would make of the actor Kevin Spacey's tenancy at the Old Vic. The two-time Oscar-winner's artistic directorship of the Vic constitutes the second act for a classically trained New York theatre performer who, somewhat against the odds, became a movie star.
With the opening at the Vic this week of the Dennis McIntyre play National Anthems, Spacey moves on to act three, relaunching a venture that was widely seen to have faltered at the starting gate last autumn. Spacey is taking centre-stage in the American three-hander, whereas the poorly received Cloaca, which he directed, relegated him to the wings. National Anthems marks a chance for Spacey to remind us that long before he joined the managerial ranks of Nicholas Hytner and Michael Boyd, he was, and remains, an actor. And one who, as we know from his lifelong enthusiasm for Bobby Darin, doesn't let the projects he cares about slip away lightly.
Spacey's dream since adolescence was to bring to a broad public the story of Darin, and it was the misfortune of the actor-turned-director (and, as it happens, screenwriter) to open his Darin biopic, Beyond the Sea, in the same season as screen accounts of the lives of Ray Charles, JM Barrie, and Howard Hughes, next to which Spacey's saturnine Darin, much like Kevin Kline's Cole Porter in De-Lovely, couldn't help but seem a cinematic also-ran; the film has been entirely bypassed in this year's Oscar sweepstakes. But sight unseen, it's hard to imagine anyone bypassing Spacey's turn in McIntyre's 1988 play, at least not if history is any guide.
It will have been 16 years and two months to the day between the Old Vic premiere of this play and the New York Times's rave of Spacey's 'remarkable' performance in its previous incarnation at the Long Wharf Theatre in New Haven, Connecticut. Playing a neighbour who mysteriously crashes the house-warming party of a yuppie couple in suburban Detroit, Spacey masterminds, wrote the Times all those years ago, a 'wilful invasion [that] is carefully articulated' - as this actor's best performances usually are.
At that time, pre- The Usual Suspects, Spacey wasn't really a name, his celluloid career limited to a turn as a TV villain on a series called Wiseguy and a small role in the Mike Nichols movie, Working Girl. Indeed, as a last-minute replacement in the American premiere of National Anthems for Al Pacino, who was over-running in Toronto on the film Sea of Love, Spacey was regarded by one admiring Connecticut journalist as the so-called 'other guy' in a production which also featured Tom Berenger, who at the time was riding high from the success of Platoon.
Well, what a difference a decade-plus makes. Where is Berenger now? Meanwhile Spacey has dropped anchor in London, his career a singular roller-coaster all its own (The Big Kahuna, anyone?) that nonetheless has its own identifiable kick.
Spacey isn't doing any press for National Anthems, and why should he? The actor said most of what he had to say about his first Old Vic season last autumn, even then landing himself in hot water for pronouncements he must have assumed would be benign. (We'll pass lightly over the episode with the dog.) Arguing on radio for decently behaved audiences who would exert some control over their mobile phones, Spacey unleashed a bizarre media maelstrom: who was this American, the sentiments seemed to go, who was telling the British how to behave? But if the rest for Spacey is silence, the team surrounding him on National Anthems are happy to step into the breach.
'It feels as if his tenure at the Vic is well-earned,' says Mary Stuart Masterson, the remarkable American theatre and film actress who knew Spacey somewhat from simply knocking around Greenwich Village in lower Manhattan in years gone by. 'He's a workhorse, and who better to invest your theatre's future with? It's not image,' says Masterson of Spacey's allegiance to the Vic. 'It's actually about the work. Whether you like it or not, Kevin's going to work his butt off; this isn't a side job for him.'
Indeed, one could argue in retrospect that Cloaca represented a failure of overcommitment: an attempt by Spacey to signal his Old Vic presence from the outset by working for the first time as a theatre director, having decided that he didn't want to star in the season-opener lest the theatre be thought to resemble his own personal playground.
'We were damned if we did and damned if we didn't,' says the Vic's producer, David Liddiment, who, with Spacey, heads the eight-person team keeping the theatre's new regime on course. If Spacey had started things off by playing Richard III, which was and remains an option, a cry would have gone up: l'etat c'est lui. But by directing an indifferent play indifferently, Spacey (and Cloaca) sent out an altogether different vibe - that the judgment necessary to define a course of theatrical action was simply absent.
Or is that fair? Perhaps commentators in this era of the snap judgment were too quick to assess an entire tenure on the basis of one show, in which case Richard Eyre's now-celebrated nine years at the helm of the National would have taken on an altogether different hue. (It's generally agreed that Eyre took a full season or more to hit a stride from which he then scarcely strayed.)
The National's current chief, Hytner, is in the probably anomalous position of being an artistic director who hit the ground running, since when he's barely paused for breath. 'There are ups and downs, and we were very, very lucky to begin with an up,' Hytner told me. What then, does he make of the Vic? 'A hell of a lot of brilliant theatrical regimes have started with a down,' continues Hytner, who never saw Cloaca, 'so I don't think there's any cause to worry.'
Liddiment, in turns, speaks to Cloaca's dispiriting reviews while pointing to its decent houses, especially for any new play across 12 weeks in a 1,000-seater that doesn't have Judi Dench and/or Maggie Smith (preferably both) in the cast. '46,000 people saw Cloaca,' says Liddiment. (The attendance amounts to just less than 50 per cent of capacity for the run.) 'We broke even on that play. Given the poor critical reception, we were pretty pleased. For a new play by a foreign writer' - Dutch dramatist Maria Goos - 'that you would expect to see in a smaller house, I'm pleased it held.' It helps, of course, that Cloaca was followed by as close as there is to a foolproof commercial bet: a Christmas pantomime.
So what if, says one West End producer, Aladdin 'was essentially a panto for a National Theatre audience that had never seen one and liked a joke about Trevor Nunn? Anyone who knows anything about the pantomime didn't like it.' On the other hand, Sean Mathias's production, however ropey at its third performance, which was when the critics went, did boast the unassailable joy of seeing Sir Ian McKellen in a knockout parade of frocks. Who knew that a generation's defining Romeo and Macbeth and Iago, not to mention Gandalf, had such great legs? The show opened to a hefty advance of £1.2 million and played to 95 per cent-plus attendance throughout the run.
'I think we tapped into something with the panto,' says Liddiment, sounding like a proud father: though with a chorus of 10 and orchestra of eight, Aladdin also cost considerably more than Cloaca, with its one set and cast of five. The remainder of the season, of course, has the added benefit of Spacey actually up on stage throughout, first in National Anthems as the volatile centre of an apparently explosive play and then shifting gears to step into Cary Grant's screen shoes as CK Dexter Haven in The Philadelphia Story.
In true actor-manager style, Spacey will start rehearsing that production while National Anthems is still on.
The plan is for a 12-week season of the Philip Barry comedy that could be extended to 18 weeks if business warrants; as yet unresolved are Spacey's extant commitments to director Bryan Singer's forthcoming Superman film (Spacey is playing - who else? - Lex Luthor) which may or may not necessitate a few weeks away from London toward the end of The Philadelphia Story run. But the actor's presence in a putative movie blockbuster can only be good in the long term for Old Vic business: the more widely Spacey is seen, the more of a magnet he is at his new home.
As it stands, Philadelphia Story took £500,000 in its first week of bookings, and that was without any additional casting. If the star part of Tracy Lord does indeed go to Oscar nominee Laura Linney or Will and Grace star Debra Messing (scheduling conflicts have been an issue for both prospects), there is every expectation that the production's advance will exceed £2 million by opening night: among the best for a non-musical in West End history.
Looking ahead, there's talk of new plays by Arnold Wesker and Paul Abbott as well as the prospect of O'Neill, Chekhov, and Shakespeare, with Spacey fully committed to two shows per season. For now, though, all eyes are on National Anthems and whether Spacey's avowed passion for this particular play pans out more happily than his devotion to crooner Darin. (The New York Times's Caryn James was among those who wondered whether Spacey's seeming obsession with Darin hadn't preempted the objectivity required to write and direct Beyond the Sea, not just act in it.) 'Kevin's here to act, and that's strictly what he's doing,' says Anthems co-star Steven Weber. 'He isn't wearing his title of artistic director on his sleeve at all; he's actually very low-key.'
The play's director, fresh from his extraordinary reappraisal of Journey's End, is Englishman David Grindley, who says his American employer has played entirely fair. 'Obviously, for me the first couple of days were a bit tentative, where you think, "Are you going to be the director or the butler?" And Kevin allowed me to be the director.'
If anything, perhaps Cloaca has cleared the way for more realistic expectations: that not every Old Vic venture from the iconic Lester Burnham of American Beauty will necessarily be a British beaut. Says Liddiment: 'We'll have shows the critics like and shows they don't like; there's no point in moaning about it.' Kevin Spacey, I'm sure, will surprise us still.
· National Anthems opens Tuesday at the Old Vic. Matt Wolf is London theatre critic of Variety and the International Herald Tribune
From New Jersey to the Old Vic: Spacey's progress
1959 Born in New Jersey
1981 Joins the New York Shakespeare festival and makes his professional debut as a messenger in Henry VI.
1986 First film role in Heartburn.
1991 Won a Tony Award for playing Uncle Louie in the hit, Lost in Yonkers.
1995 Won best supporting actor Oscar for his role as Verbal Kint in The Usual Suspects.
1996 Made his directorial debut with Albino Alligator.
1997 Starred in Oscar-winning LA Confidential.
1998 Won London Critics Circle and London Evening Standard best actor awards and Laurence Olivier Theatre award for The Iceman Cometh.
1999 Won best actor Oscar for American Beauty. Voted greatest actor of decade by Empire magazine.
2002 Goes to Labour Party conference with Bill Clinton.
2003 Becomes artistic director of Old Vic.
2004 Directs Cloaca, his first production at the Old Vic. Stars and directs Beyond the Sea, a biopic about Bobby Darin.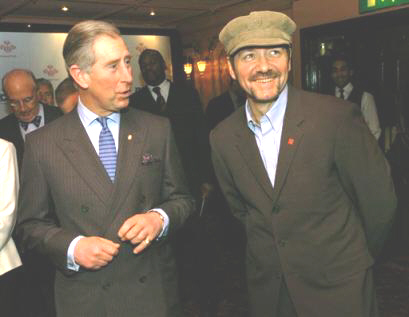 Morning Star Online
Spacey's vehicle
(Thursday 17 February 2005)
National Anthems
Old Vic, London SE1
MIKE PARKER hoped that Kevin Spacey's first stage outing at the Old Vic would amount to more than an ego trip.
For his first appearance onstage at the Old Vic, Kevin Spacey has chosen a play in which he first appeared in 1988 - a grandstanding role that allows him to display a pretty fair range of his undoubtedly outstanding talents.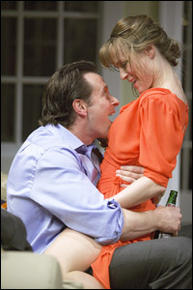 Well, fair enough. It's the actor-manager's privilege to cherry-pick the parts.
And Spacey is surely giving the public what they have wanted since he took over at Waterloo - which is a large slice of himself.
But, as with Cloaca - though I think that it was better than some critics suggested - one has to wonder just why this play was chosen above all other possibilities.
The late playwright Dennis McIntyre has his champions - Kevin Spacey among them, presumably - and some may be persuaded by the argument that the difficulty he had in getting his plays produced during his lifetime was due to lack of courage or adventure on the part of producers.
Yet National Anthems, with its gatecrashing protagonist Ben Cook, was effectively McIntyre's first play, originally a one-actor called The Partycrasher.
Over the years, it was continually rewritten and restructured.
This version was first staged the year before his death at the age of 47, with Spacey and Tom Berenger starring, but never reached New York.
I can't help feeling that it would have been a work in progress as long as he had lived.
The story of how Cook came about suggests that something in this character certainly appealed to and ultimately obsessed McIntyre, but, though he is generally well written and convincingly played by Spacey, who shows exquisite timing, he doesn't quite qualify for the pantheon of great tragicomic characters.
The fault is in the play as a whole, which strives, as suggested by its title, to express something profound about the nature of US society and the American dream, but provides only an amusing, occasionally insightful vignette of the class war.
Cook is a fireman, living in a wealthy Detroit suburb since before the wealthy moved in, who appears on the doorstep of pretentious newcomers Arthur and Leslie Reed (Steven Weber and Mary Stuart Masterson), the former a corporate lawyer, the latter a music and art teacher at a private school.
Not wanting to alienate someone who knows all their new neighbours, the couple humour the loud, loquacious, slightly seedy interloper as he, probably unconciously, undermines their pretensions and digs at the cracks in their relationship.
But, as the drinking goes on and Cook is persuaded to reveal something of himself - including an act of heroism that has ironically cost him his job and dreams of sporting glory sadly destroyed - tensions build to a confrontation that, inevitably, only the rich and powerful can ultimately win.
It's never less than entertaining and often, in the first half particularly, quite funny.
All three performers are excellent and the expensive, elaborate set beautifully frames the action.
But the gridiron football theme, which is supposed to embody the social conflict between Cook and Arthur in the second half, just isn't the explosive political metaphor that was intended, suggesting instead a macho rivalry that belittles Cook as much as it does Arthur.
So, ultimately, National Anthems is simply a vehicle for some thespian showmanship.
Which is fine, in its way, but we were expecting more from Spacey's Old Vic stewardship.
Plays until April 23. Box office: 0870 060 6628
MIKE PARKER
http://knobby.blogdrive.com/
Wherever He Laid His Hat Was...

"National Anthems" opening night. Interesting choice of hat...
Nonetheless, a good picture, I think.
(...but never mind me, I'm known for having a *thing* about weird facial hair...)



What do you prefer? Handlebar moustache OR cleanshaven?
Or is the question: Hat or no hat? ;o)
Posted by Susana @ 02/22/2005 10:28 AM PST
Without the hat, without the beard (and do I know what you mean about having a thing for facial hair, LOL, normal, 3 days and weird ;) )
Posted by Sandra @ 02/17/2005 10:37 AM PST
Thanks for sharing these photos.
Posted by Len @ 02/16/2005 11:17 PM PST
He wore that hat at Berlinale on the red carpet and at the press conference.
Posted by Knobby @ 02/14/2005 10:31 PM PST
Bollocks... Typical. He performs outside the US and I'm not around cos I'm (soon) IN the bloody US. *add annoyed expression and loud swearing* All I can hope for now is a musical version of "Beyond The Sea" for The Old Vic stage.
Posted by Name @ 02/14/2005 09:55 PM PST
Kevin performed some songs at the Berlinale.I have read that a couple of actresses joined him on stage..I suppose it was in a small club or something. Have seen a couple of trailers on telly today about the movie and I have to say ..tho I am not a big fan of swing I liked the songs..oh...he looks better without that beard ;)

www.realitytvworld.com
Kevin Spacey to play 'Richard II' in British production
UPI News Service, 02/14/2005
Hollywood actor Kevin Spacey will mount his first British production of Shakespeare next fall in the title role in "Richard II."
Daily Variety said the production will kick off Spacey's second season as artistic director of the Old Vic Theater. Variety characterized Spacey's first season in the post as "fairly rocky" -- with critics questioning the two-time Oscar winner's choice of material.
"Cloaca" and "National Anthems," two new works that opened Feb. 8, drew harsh reviews.
When Spacey took over the Vic, he told Variety he planned to surprise audiences.
"I didn't want to start with perhaps what people thought we would start with, or do the classics or do Shakespeare," he said, "because I thought people are going to expect that; let's do the unexpected."
British critics were unimpressed. In his review of "National Anthem," the Daily Telegraph's Charles Spencer called on Spacey to go back to the classics.
"Let's see him in Shakespeare and the American classics," wrote Spencer, "not mediocre fare like this."
"National Anthems" has more than $1.88 million in advance ticket sales, the highest advance sales for any nonmusical currently playing in London.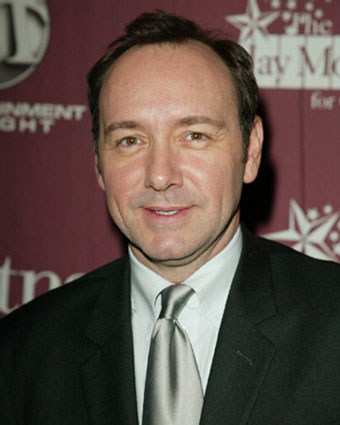 Since childhood the theatre has been Kevin Spacey's primary allegiance with roles ranging from high school to Broadway. He trained at the Juilliard School of Drama and made his New York stage debut in Joseph Papp's Central Park production of HENRY IV, PART I.
His breakthrough came when director Jonathan Miller cast Spacey as the ne'er-do-well son of the late Jack Lemmon in the 1986 Broadway production of Eugene O'Neil's LONG DAYS JOURNEY INTO NIGHT, which also played the Haymarket Theatre in London. Other favorite roles include Treplov in THE SEAGULL (Kennedy Center); Ben in NATIONAL ANTHEMS (Long Wharf); Paul in Barrie Keefe's BARBARIANS (SoHo Rep); Athol Fugard's PLAYLAND (Manhattan Theatre Club); and Uncle Louie in Neil Simon's LOST IN YONKERS, for which he won the Tony Award for Best Supporting Actor.
His close association with Mr. Lemmon continued as they shared the screen on three other projects; George Steven's Jr's THE MURDER OF MARY PHAGAN for NBC, Gary David Goldberg's DAD for Paramount and David Mamet's screen adaptation of GLENGARY GLEN ROSS, co-starring Al Pacino, Ed Harris and Alec Baldwin.
Nine years ago cinema audiences discovered Spacey in three distinct performances as Buddy Akerman in George Huang's SWIMMING WITH SHARKS, Verbal Kint in Bryan Singer's THE USUAL SUSPECTS and John Doe in David Fincher's SE7EN. He has continued to build an impressive body of work with such films as LA CONFIDENTIAL, MIDNIGHT IN THE GARDEN OF GOOD AND EVIL, THE NEGOTIATOR, HURLYBURLY, LOOKING FOR RICHARD, THE BIG KAHUNA, K-PAX, THE SHIPPING NEWS, THE LIFE OF DAVID GALE and AMERICAN BEAUTY. Many of these performances have won him nominations and awards including two Academy Awards for Best Supporting Actor for SUSPECTS and Best Actor for AMERICAN BEAUTY as well as the Screen Actors Guild and British Academy Award for Best Actor.
In 1998 he returned to the stage following a five year absence in Eugene O'Neill's classic THE ICEMAN COMETH. The production originated at London's Almedia Theatre and later transferred to the Old Vic Theatre and onto Broadway (with Spacey as producer), where it played a sold-out acclaimed run. For his performance as Hickey he was nominated for the Tony Award (the play received 5 nominations) and won the Evening Standard Award and the Laurence Olivier Award as Best Actor.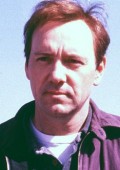 His work on television has included 7 episodes of WISEGUY and the film DARROW for PBS.
He made his directorial debut with the Miramax film ALBINO ALLIGATOR starring Matt Dillon, Gary Sinise, Faye Dunaway and Viggo Mortensen.
Spacey formed Trigger Street Productions in 1997, which produced ICEMAN and KAHUNA and the off-Broadway production of Lee Blessing's COBB at the Lucille Lortel Theatre. Trigger Street's feature THE UNITED STATES OF LELAND, starring Don Cheadle and Ryan Gosling for first time writer/director Matthew Hoge premiered in competition at the 2003 Sundance Film Festival and was released by Paramount Classics. Trigger Street will next produce the film of Ben Mezrich's amazing tale of six MIT students who learned the art of card counting and took Vegas for millions in BRINGING DOWN THE HOUSE for MGM, under the direction of Brett Ratner. Trigger Street is also producing the feature MINI'S FIRST TIME for first time writer/director Nick Guthe, starring Alec Baldwin, Nicky Reed, Carrie Ann Moss and Luke Wilson.
In November 2002, Spacey and business partner Dana Brunetti launched TRIGGERSTREET.COM, the web-based filmmaker and screenwriter' community; an interactive site for the purpose of discovering and showcasing new and unique talent. Budweiser sponsors the site with Real Networks and in just two years the site has achieved over 150,000 active members with the top ten finalists in the short film competition having been given major screenings of their films at the Tribeca, Toronto and Sundance Film Festivals.
As an actor Spacey most recently played opposite Morgan Freeman and Justin Timberlake in the film EDISON for writer/director David Burke, who was the head writer on the series WISEGUY.
Kevin is now serving as the new artistic director of The Old Vic Theatre in London, where his first season has just launched with the new Dutch play, CLOACA that he directed. This will be followed by Sir Ian McKellen in the Panto ALADDIN. His acting debut in the company will begin next year in Dennis McIntyre's NATIONAL ANTHEMS, under the direction of David Grindley and then in THE PHILADELPHIA STORY to be directed by Jerry Zaks.
Facts
Birth name
Kevin Fowler
Occupation
Actor, Director
Birthday
July 26, 1959 (45)
Sign
Leo
Birthplace
South Orange, New Jersey, USA
Height
5' 11" (1m80)
Awards
2000 Academy Awards: Best Actor (for American Beauty)
2000 Screen Actors Guild Awards: Best Male Actor in a Leading Role (for American Beauty)
2000 BAFTA Awards: Actor in a Leading Role (for American Beauty)
1996 Academy Awards: Best Supporting Actor (for The Usual Suspects)
1996 MTV Movie Awards: Best Villain (for Seven)
Kevin Spacey Biography
Kevin Spacey has been seen in the motion pictures Glengarry Glen Ross, Consenting Adults, Iron Will, The Ref, Outbreak, Swimming With Sharks, Seven, A Time To Kill, Looking For Richard, Midnight In the Garden of Good and Evil, L.A. Confidential, Hurlyburly, A Bugs Life, The Big Kahuna and American Beauty for which he received the Screen Actors Guild Award and the Academy Award for Best Actor. In 1995 he was awarded the Academy Award for Best Supporting Actor for his performance in The Usual Suspects.
His extensive stage work began in 1981 in Joseph Papp's production of Henry IV, Part I in Central Park, in which he played a messenger with six lines. One year later he made his Broadway debut opposite Liv Ullmann in Ibsen's Ghosts. His breakthrough came as Jamie Tyrone Jr., with Jack Lemmon, in Jonathan Miller's 1986 Broadway and London productions of Eugene O'Neill's Long Days Journey Into Night. He won the 1991 Tony Award for his performance as Uncle Louie in Neil Simon's Lost In Yonkers, with Irene Worth. In addition, he appeared in Athol Fugard's Playland at the Manhattan Theatre Club. He played Ben Cook in the Long Wharf Theatre production of National Anthems, directed by Arvin Brown. Most recently he played Hickey in London's Almeida Theatre production of Eugene O'Neill's The Iceman Cometh for director Howard Davies, and made a triumphant return to Broadway with this production as both actor and producer.
Television audiences are familiar with his work as Mel Profitt on the CBS series Wiseguy, and for his performance as Clarence Darrow in the American Playhouse film, Darrow, directed by John Coles.
He made his debut as a film director with the Miramax release Albino Alligator, starring Matt Dillon, Faye Dunaway and Gary Sinise.
As a producer he is presenting the off-Broadway production of Lee Blessing's Cobb, opening at the Lucille Lortel Theatre this fall, and continues to work as a director of the Old Vic to raise funds for that theatre's future. His Trigger Street Productions is producing several film projects as acting and directing vehicles for Spacey, as well as introducing new filmmakers such as Ross Partridge, whose first feature Interstate 84, was selected for the Toronto Film Festival.
He is currently working on the Universal picture K-Pax for director Iain Softley, which will be released next year.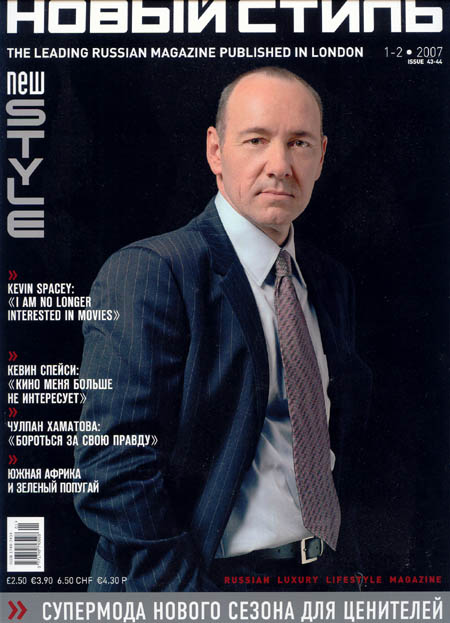 New Style, 1-2 (Issue 43-44), 2007
Kevin Spacey: I am no longer interested in movies
Interview by Elena RAGOZHINA •Ttranslation by Jan BUTLER
To Russian audiences, Oscar-winner Kevin Spacey is better known for his work in the film industry. American Beauty, Seven and Usual Suspects were all box-office hits. But his quick Hollywood rise to fame in the mid-Nineties, when he won two Academy Awards, numerous BAFTAs and festival awards shouldn't obscure the fact that he started in theatre in 1981, and regards himself as a stage actor who makes movies. Since becoming Artistic Director of The Old Vic, Kevin's main focus has been on fundraising and community work. He has shown himself to be not only an incredible actor but also an eye-for-talent producer and outstanding director. We caught up with him at the Lanesborough hotel to talk about his commitment to the theatre, his vision for the company's future, work on stage and life in London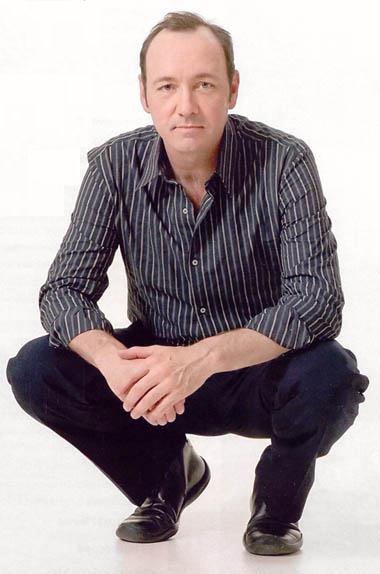 Was it difficult for you to move to London?
No. I am fortunate that my friends and family come and see me. I've been coming here since I was very young and fell in love with it a long time ago. I found out that if you come to any city in the world and want to make it your home, you will do it. London is my home now.
Don't you find the mentality of English people different?
I don't generalise -I don't say all British people are like this or that. It depends on their upbringing, their sensibility. I take people as they are, as individuals, and I don't make big sweeping statements about cultures. Culturally, London is an exceedingly exciting city.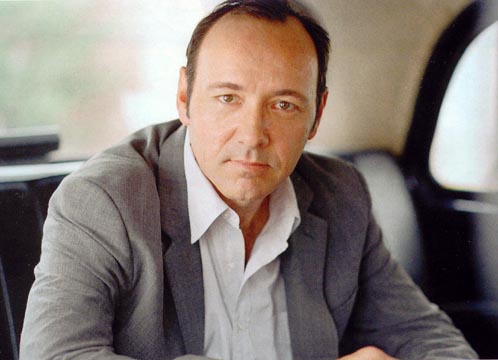 Is it true that you want to bring a play to Russia?
I do want to bring a play to Moscow, and possibly to Yalta, to the new theatre that's being renovated. The famous Russian businessman, Alexander Lebedev, is renovating it and I'm help­ing with creative ideas. If I were to bring a play to Moscow, it wouldn't be a classical Russian play. It'd be more interesting for people to see a production they haven't seen before, an English play maybe. As I understand it, there're at any given time eleven Seagull productions going on.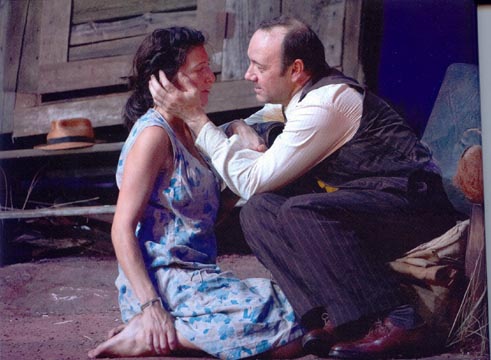 The Moon for the Misbegotten
You often play complex psychological characters, like the one in the current play, The Moon for the Misbegotten. As the theatre is packed every day, why do you think people seem to enjoy these difficult characters and difficult situations?
This play is written by Eugene O'Neill - the American Shake­speare, if you like. He had years of building his craft and ab­sorbing the influences of Ibsen, Chekhov and others. He wrote three autobiographical plays towards the end of his life. The au­dience can feel that he makes no judgment about the characters, or their wrong choices in life. He just presents the facts. The writer has to have remarkable courage and honesty to write characters with so many contradictions. The engagement of the audience that we have is because of the richness of the characters and the shape of the play. It doesn't become self-indulgent and sentimental. And, of course, there's the cast - I'm fortunate to work on stage with the best actors.
WE'RE IN A DIFFERENT GAME THAN MOST OF THE THEATRES. WE HAVE 1,045 SEATS - IT'S A BIG TASK TO FILL THEM EVERY NIGHT. THE FIRST STEP WAS TO BRING PEOPLE INTO THE THEATRE. MY FUNDAMENTAL DECISION WAS NOT TO DO WORK THAT APPEALS ONLY TO A SMALL THEATRE-GOING AUDIENCE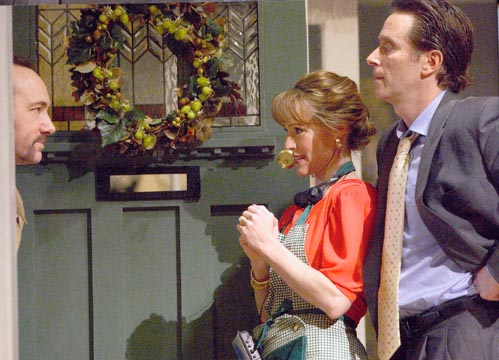 National Anthems
What are the most difficult tasks of being Artistic Director?
People don't actually grasp that we began the company from the ground. The Old Vic was bought by Canadians in the 1980's, who carried out a nice cosmetic renovation but it wasn't enough. And since the national theatre left in 1976, it has had the occasional hit play but there was no company there that was building an audience, reaching out to the broader, more diverse audience.
We're in a different game than most of the theatres. We have 1,045 seats - it's a big task to fill them every night. The first step was to bring people into the theatre. My fundamental decision was not to do work that appeals only to a small theatre-going audience. We introduced a young people tickets policy -100 seats for £12 for under 25's. We have achieved what we wanted - 475,000 people came to this building and bought tickets to see our productions. If the audience doesn't come, it doesn't matter how good the productions are.
You are doing a lot for kids including working with young actors.
We have a large educational and outreach department and also a young company - Old Vic New Voices. This programme takes new emerging talents and gives them support. They stay with us for three years and have exciting experiences like '24-hour plays'. It's an ultimate challenge: in just 24 hours a team of one writer, one director, one producer and 4-5 actors must create, produce, rehearse and perform a 10-minute play in front of a public audience.
One production is done by professional actors, the other by the students. This is not a swipe at my professional colleagues who participate every year but the student production is very exciting. The most wonderful thing is to observe how they become part of a company. Instead of being alone and trying to build up a career on their own, they work together. They get a foundation that most people don't get a chance to have.
IT WAS IMPORTANT FOR ME TO ESTABLISH AN EDUCATIONAL PROGRAMME IN THE COMMUNITY. THE MAJORITY OF PEOPLE LIVING AROUND THE OLD VIC HAD NEVER BEEN INSIDE THIS THEATRE: THEY DON'T THINK IT'S FOR THEM. MOST OF THEM LIVE ON LOW INCOMES. NOW WE BROUGHT THEM IN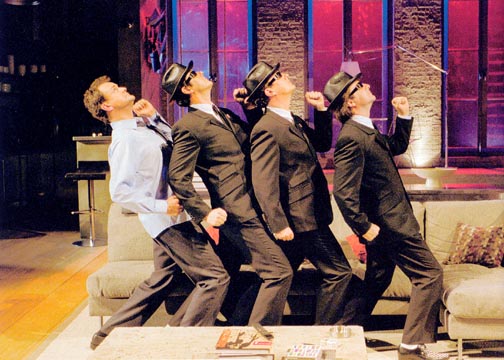 Cloaca
Why did you feel it necessary to do this sort of work?
This project was born out of the fact that I was the recipient of these kinds of programmes. I went to an endless number of seminars, workshops where I was exposed to learning how to work, how to collaborate and get self-confidence.
It was important for me to establish an educational pro­gramme in the community. The majority of people living around The Old Vic had never been inside this theatre: they don't think it's for them. Most of them live on low incomes. Now we brought them in. In the last two seasons more than 1,500 families attended our workshops. It's only our third sea­son but when we see the results and when I look on the kids' faces I see myself. I know their experiences will have a far-reaching influence on their lives. It feels like we are part of the redevelopment of the whole South Bank area.
How did your romance with The Old Vic start?
I came to The Old Vic in 1998 with a play and fell in love with the theatre. They were looking for an artistic director. I offered my own name up and they accepted it. I am doing exactly what I wanted to be doing. I've been focused on my own career for more than ten years. I feel that I care more about something bigger than myself now. I am trying to build something that will last.
Isn't it upsetting for your fans that they can't see you in the movies?
I will occasionally do movies but everything will have to follow the work at The Old Vic. If it's an interesting project with a relatively short shooting schedule, then I will continue to work in films. The truth is that you can't live your life doing what other people want you to do. If somebody tells me that I have to make a choice between movies and theatre, I'd pick theatre. Movies can be incredible but I just find I am not longer interested in it.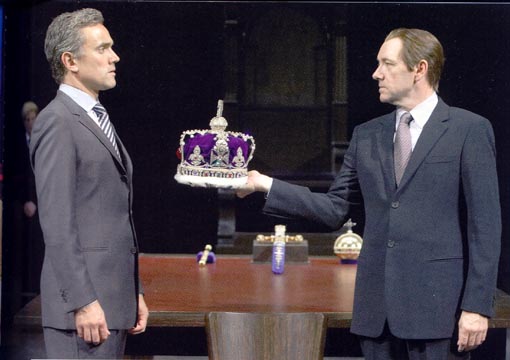 Richard II
Was it your choice to always play deep and complex characters?
The only movies you can do are those that people offer you to do and you are available to do. I did the movies that I thought at the time were interesting. There was no plan. I got lucky with being able to find directors who believed in me. It was rewarding and exciting to play those parts.
When you fundraise for the theatre you invite famous people. Are these big names helpful?
Yes. We had an event where Elton John was chairman and Elle McPherson, Kim Catrall and others came out to support The Old Vic. We're lucky to meet successful people who aspire to what we're doing and support us. Last time we managed to raise over £500,000 which was great. We need to raise about £4-5m to insure steady work and development of The Old Vic. £26m is needed for complete repairs and modernisation of the building and the stage.
Do you think Russian people would be interested in Old Vic productions?
If people believe in the arts, if they believe that it's not a luxury to go to the theatre, gallery, opera, then it'll be interesting. You can go and see a movie and by the time you leave the cinema, it's no longer in your head. Plays stay with you because it's live, vivid. They can become more than the audience: they can be patrons, supporters.
It's important to support the arts. Philanthropy has become the buzzword. You can look at what Bono, Bill Gates and oth­ers do now. You can see that people who've reached a propor­tion of wealth that's out of this world step back and recognise their responsibility to change people's lives. I'm out there meeting lots of people, trying to get them on board, trying to make them understand how valuable their help can be. If you look at the South Bank you can see huge changes: we've got the London Eye, Old Vic, National Theatre, Globe Theatre. People are flowing to this side of the river to see and experi­ence things. It's important that all these gains don't get pushed back. As I am here in London, I want to continue to bring here culture from other countries. It is especially relevant as The Olympics are about to come to this country. Host cities mostly try to put their money in sports. We need to make sure that the arts and culture aren't left behind during this extraordinary celebration.
Philadelphia
Special thank you to Old Vic Theatre for providing images for this editorial
Kevin Spacey Websites:
Kevin Spacey Fan Pages:
- One of the Kevin Spacey Fan Sites.

Kevin Spacey Image Galleries:

Kevin Spacey Forum:
| | |
| --- | --- |
| angels4bobseger says hi Kevin (Sat Dec 25, 2004 12:19pm ET) | |
by Sandy Brown
Does he have any official websites such like what Bob Seger has?
I would love to know if there is forum like that out there. I have three bob seger groups of my own and love listening to Bobby Darin music. Also, I have one James Stewart group we used to write letters to each other throughout the nineties before he passed away. I named my dog after Mr Stewart.
James Stewart Lad Rides Again.
Lad's photo and mine are at.
rocknrollsandy@yahoo.com member profile.
Kevin, I hope you have official forums I do want to start posting if you do.
I love your movies also.
Happy Holidays Kevin!
Sandy
| | |
| --- | --- |
| Concert (Wed Dec 8, 2004 7:53pm ET) | |
by Erin Washington
I am a huge Kevin Spacey fan and am going to his concert in AC on the 10th!!!! I am sooooooooo excited, if anyone has gone to any of his shows so far, let me know how it was and if he is only singing bobby darin songs or throwing in a few covers also......
| | |
| --- | --- |
| a nice man (Sat Jan 24, 2004 9:59am ET) | |
by crazyin love
I like you in American Beauty.that movie drives me crazy,it's so wonderful,what can I say?
| | |
| --- | --- |
| a screen god (Wed Jan 14, 2004 4:24pm ET) | |
by rose phoenix
KEVIN YOU ARE THE GREAT ONE
| | |
| --- | --- |
| A great actor. (Fri Oct 3, 2003 11:33pm ET) | |
by Darius Mazaheri
I love your movies, L.A. confidential, American Beauty, and The Life of David Gale.
| | |
| --- | --- |
| Untitled (Sat Sep 7, 2002 10:15am ET) | |
by odile chefsailles
bravo, bises
| | |
| --- | --- |
| Untitled (Thu Mar 27, 2003 6:45pm ET) | |
by Huh?
like that shower scene in 'American Beauty'

RUSSIAN TEXT | RÉSUMÉ (ENGLISH) | RÉSUMÉ (RUSSIAN) | HOME