Stephen Tompkinson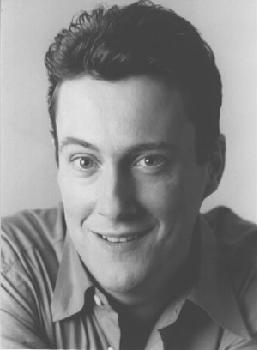 Stephen Philip Tompkinson
Birthday: October 15, 1965
Birth Place: St Anne's-on-Sea, Lancashire, England
Biography:
Stephen Tompkinson, encouraged by his grandfather to act, attended Central Drama School, which he left at the age of 23.
Divorced from radio producer, Celia in 1996 after being separated for four years. Has recently broken off engagement to fellow Ballykissangel actress Dervla Kirwan whom he first met in 1994. They became involved in September 1995 after filming the first series of BallyK. They became engaged in July 1997 but unfortunately, the split was announced in September 1999. In April 2000, Steve announced that he and his girlfriend of 2 and a half months were expecting their first child. Daisy Ellen was born in November 2000. Nikki Taylor and Steve married in August 2001.
Father, Brian is a retired bank manager, Mother Josephine is a retired teacher
Left drama school at 23 and went more or less straight into the role of Damien Day in Drop The Dead Donkey, where he has been ever since. However, his role as Fr Peter Clifford in `Ballykissangel' has catapulted him into the limelight.
He won Best Comedy Actor in 1994 for the role of Damien Day in the hit comedy series Drop The Dead Donkey.
He is a keen charity cricketer. His interests: cricket, cinema, especially British films, mainly Carry On films. Is also a football fan, supporting Middlesbrough. He also collects famous autographs, preferring the classic Hollywood actors
Says that the hardest scene he has ever had to film, was Assumpta's (alleged!) death scene in Ballykissangel. He found it very disturbing to see his real life girlfriend lying on a mortuary slab. He is becoming notorious for his exceedingly dapper dress sense ie) never wear anything conservative when you can get away with velvet! He owns in the region of 40 suits which he wears at every opportunity. However, regardless of which one he chooses, his lapel is always adorned with the same two items - a small badge professing his dedication to Boro and a silver Claddagh brooch, a gift from Dervla. Like his weak-willed fiancee, he has also re-taken up smoking!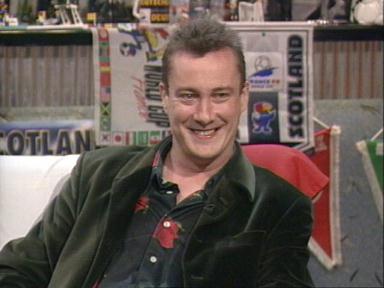 Starring Roles
Ted and Alice (2002) - Ted
Mr Charity (2001) - Graham
Bedtime (2001) - Paul Newcombe (Series 1)
In Deep (2001) - Garth O'Hanlon
Shades (2000) - Mark Roberts
Ballykissangel (1996) - Fr. Peter Clifford [seasons 1-4]
Downwardly Mobile (1994) - Mark
Preston Front (1994) - Spock [ 1 ]
Drop the Dead Donkey (1990) - Damien Day
Chancer (1990) - Marcus Worton
Minder (1979) - D.C.Park
Guest Starring Roles
Comic Relief - Himself (report from Africa) - The Big Hair Do (2003)
Essential Poems - Reader of Ending by Gavin Stewart - The Grass is Greener (2003)
Essential Poems - Redaer of Talking in Bed by Philip Larkin - Talking in Bed (2003)
Essential Poems - Reader of The more Loving One by W.H. Auden - First Flush (2003)
V Graham Norton - Himself - Show #129 (2003)
Dad - - Nemesis (2000)
Black Cab - Christopher - Busy Body (2000)
The Priory - - Episode 13,Season 1 (2000)
Grafters - Trevor Purvis - Episode One (1998)
Fantasy Football League - Himself - Stephen Tompkinson, Greg Rusedski (1998)
Parkinson (1998) - Himself - Stephen Tomkinson, Elton John, Michael Palin (1998)
The Vicar of Dibley - Fr. Clifford - Ballykissdibley (1997)
Father Ted - Fr. Peter Clifford - A Christmassy Ted (1996)
Shooting Stars - Himself - Donna Air, Morwenna Banks, Griff Rhys Jones, Steven Tompkinson (1996)
Boon - Stephen Alwin - Shot in the Dark (1992)
Casualty - Pc Tony Mitton - Chain Reaction (1989)
Movie/Mini-Series/Special Roles
In Denial of Murder (2004) - Don Hale
Hotel Splendide (2000) - Dezmond Blanche
Brassed Off (1996) - Phil

www.su.rhul.ac.uk
Cloaca by Maria Goos, at The Old Vic.
Dir. Kevin Spacey. Starring Stephen Tompkinson, Hugh Bonneville, Neil Pearson, Adrian Lukis and Ingeborga Dapkunaite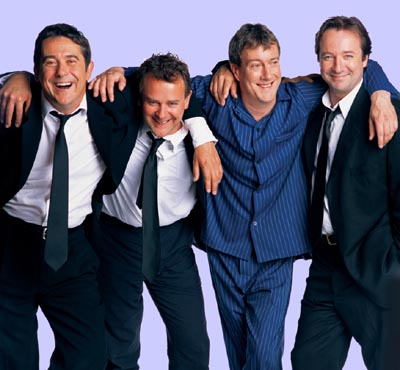 Cloaca is a dark comedy written by the relatively unknown Dutch playwright Maria Goos. It was a sensation in Amsterdam, but has not had quite the same response over here. As the opening play of Kevin Spacey's inaugural season at The Old Vic, there was huge expectation for it to be, well, a masterpiece. Sadly, and realistically, it is not. It is, however, a well-acted, well-directed and entertaining piece of theatre. Although I didn't find it raised any life-altering questions, as a production I found it enjoyable and funny. The strength of the production lies with the cast, and I was lucky enough to have a bit of a chat with one of its members, the delightful Stephen Tompkinson.
How is the run going?
Yeah, really well. The play is multi-levelled, so there are various different ways of approaching it and for the audience to take it. Sometimes people just focus on the comedy and other times the drama comes through, so it's constantly surprising. We're all having a ball!
What was it like to work with Kevin Spacey?
An absolute delight! He has such respect across the board from all generations and sexes, for his acting, plus huge admiration for coming to save The Old Vic. There was talk that it might be a car park, a toilet, or even a lap dancing club, and no one in this country seemed prepared to do anything major about one of the most famous theatres in the world. So, Kevin has stepped up to the plate for 3 years, which is incredibly brave. He's someone who can command huge wages for the films that he does, so he's doing it at great personal cost to himself. I think the nation owes him a debt of thanks really! Unfortunately some of the press are just knocking his success… but there's always a build up period before they knock you down. So I don't think it would really have mattered what Kevin had done for his first production, because I think the knives were already out.
And what about the title of the play, because when I looked up 'Cloaca' on the internet, I came to www.buyfaeces.com!
Oh good lord (chuckles). Well it's the back passage that birds and reptiles have, but its original translation is from the Latin and it means 'sewer'. So it's a metaphor for all the stuff we have to go through in life and the journey that we go on.
It was also a kind of catchphrase that the 4 characters used when they were students. So, did you have any odd catchphrases or crazy student stories when you were a student at Central School of Speech and Drama?
Well I did at 6th form. There was a group of us that used to put sketch shows on, things like that. There's a shopping centre in Blackpool, and we'd all arranged to synchronize watches on a Saturday morning, to appear on different levels. So as I was going on the up escalator my mate Paul Moss was going down and I started (sings) "Good morning, good morning, it's great". And so we did a big musical number, which really took people by surprise, they were completely shocked!
You enjoyed your student life then?
I loved it, yeah. I'd only done plays at school, and Theatre Studies A Level, so my knowledge was fairly limited. So the three years at Central seemed a bit like an Aladdin's cave for me.
What made you decide to go to drama school instead of studying Drama as a degree?
Well, my Mum and Dad came to see me as the lead in The Crucible in 6th form, and they were very moved by the whole thing. So they thought, "well maybe he's good enough to audition for drama school". Central was actually the first audition I had… and I was lucky enough to get in. So that was it basically!
What advice would you give to a drama student, or indeed any student that wants to go into acting after they graduate?
To read as big a variety of styles of play as possible, and if you are completely consumed by 'the bug' as it were, then write off to all the accredited drama schools. A lot of acting is about listening to each other. There were times when I was on the radio where I would only be given one line in a play, and that line may have only had 5 words. You can put a different emphasis on each one of the words, but only one would be the right emphasis for the person who has to speak next. That's how the baton gets passed, so listen and learn really.
How easy was it for you to find work after you graduated?
When I was still in my third year, I won a competition that the BBC Radio Drama Company do every year called the Carlton Hobbs Award… so I ended up doing 54 radio plays in 7 months, which was a wonderful start! I think radio more than any other medium helps you to appreciate writers, because that's where it all comes from, that's the foundations, and, you know you're nothing without them, you're speechless without them!
Not only have you worked in radio, but also TV, film and on stage. Which do you prefer?
I prefer doing bits of all of them and keeping the variety going. I think its best to try as many different things as possible. My thought being that if you're not getting bored as an actor than hopefully the audience won't!
Ok, time for a few quickies…What was your first job?
Delivery: pig swill.
That's a job?
Yeah, well I worked in a fruit and veg shop and we used to keep all the fruit that had gone off, all the waste basically…
The 'cloaca' ?
Yeah! We stored it in a big bin, then halfway through Saturday morning we'd get in the van and off we went to deliver it to the pigs!
So was it then that you decided you wanted to be an actor?
(Laughs) Yeah I thought "there must be something better than this!"
Favourite play?
Art. I've seen it 3 times now as well as being in it. It's hard to knock that, it's just about perfect.
Favourite role that you've played?
Phil in Brassed Off.
What's the ringtone on your mobile?!
It's a cockerel (does a great impression). It's quite startling when it goes off on the train.
But not in the theatre I hope.
(Laughs) No!
And finally Crosslands or The Stumble?
Crosslands or what?
(I give a brief explanation)
Umm, The Stumble, I like the sound of that!
Well, despite our different tastes in campus bars, I can definitely say that Stephen Tompkinson is a top bloke, and a genuinely funny one at that. He is certainly enthusiastic about this play, and with The Old Vic offering £12 tickets to under-25s at the moment, why not go and make your own mind up about Spacey's directorial debut? Also see the competition page for you chance to win a free pair of tickets to see Cloaca.
Competition time!!
We are offering a pair of tickets for "Cloaca", the new production directed by Kevin Spacey at The Old Vic Theatre, The Cut, SE1. The tickets can be claimed for any Monday or Tuesday evening performance or Wednesday matinee, subject to availability. The production runs until 11 December 2004. "Cloaca", a darkly funny play about friendship and aspirations, stars Hugh Bonneville, Adrian Lukis, Neil Pearson and Stephen Tompkinson. Specially reduced tickets for those aged 25 and under can be purchased for just £12 (for best available seats, normally £40). Simply call the Box Office on 0870 060 6628. Proof of age is required when collecting the tickets. Further information about "Cloaca" and the rest of The Old Vic season is available from www.oldvictheatre.com

www.50connect.co.uk
Act On
Dale Lovell chats to talented British actor Stephen Tompkinson.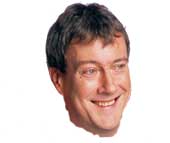 Stephen Tomkinson, 39, began his acting career on the radio, before landing the role of neurotic journalist Damian Day in cult nineties comedy series Drop The Dead Donkey, for which he won Best Comedy Actor in 1994. After leaving the show in 1999 he starred as Father Peter in hit BBC drama Ballykissangel, which drew in 15 million viewers at its peak, transforming its star into a household name in the process. He has starred in Brassed Off, the surprise British movie success from 1996, as well as countless plays, among them Arsenic and Old Lace and Molier's Tartuffe. He is currently starring in Kevin Spacey's first play as Artistic Director at The Old Vic Theatre, Cloaca.
Tell us a little bit about your new play, Cloaca?
Cloaca is Latin for sewer and the play is about all the crap that we all have to go through in life. The four men in the play come together because they are going through various crises of one kind or other and they are wondering how they are going to deal with it all.
Neil Pearson, your co-star from Drop The Dead Donkey appears in the play with you, what was that like to work with one of your friends?
Its been fantastic. The main point that we are trying to get over to the audience in Cloaca is that these guys have known each other for over twenty years. I've known Neil for 15 years since we worked together on Drop The Dead Donkey so I've found this performance very enjoyable. Neil's been a good help and support to me over the years as well too.
What's it like working with Kevin Spacey?
Kevin Spacey is absolutely brilliant. It' hard to think of many actors that appeal to every generation, but he is one of them. He has this wonderful ability to play the everyman so when he's directing and has a suggestion about a part, he immediately commands a level of respect because you know he could play the part ten times better than anyone else. He is open to your suggestions as well though, which is always good.
Cloaca is the first show that Kevin Spacey has professionally directed and it really has been the happiest stage work I've ever done. Kevin came to the Old Vic with his parents when he was a child and when he heard that it was in financial trouble he took himself out of Hollywood for four years to stop the place being turned into a car park because no one in this country was prepared to save it. For him to take himself out of films for four years at the rate of pay he could command per film, Kevin is probably doing himself out of £50 million in loss of earnings, which is a very big hearted gesture of him.
Are you going to have a word with Kevin Spacey about featuring in some of his film projects when he gets back to Hollywood?
There's a lot of romance attached to the cinema and that immediate escapism that you get as soon as you visit is probably why many actors become actors in the first place. If movies came along then obviously I'd love to get involved. I've seen a rough cut of Kevin's Bobby Darin movie, Beyond The Sea, which is yet to be released, and it is just fantastic. I'd urge everyone to go and see it.
What do you prefer acting in, features or plays?
I like the variety of it as its nice to do different things. Its nice to be able to mix and match. TV and film pay more but occasionally you can feel like your cosseted in cotton wool. There's something so real about live theatre. There's no safety net and you can't do a double take, it's such a shared experience, which makes live work very special.
Your well known for your comic acting as much as a straight actor. Which do you prefer?
I love doing comic acting, especially when it is performed in front of a live audience. Humans are unique as mammals in that we do try to make each other laugh and I think that should be celebrated. I've always got a real kick out of that from a live audience.
Was Drop The Dead Donkey performed in front of a live audience?
Yes it was. We'd rehearse on Friday and Saturday and then have Sunday off. On Monday and Tuesday we'd start getting some of the topical jokes in before rehearsing all day Wednesday in the studio before performing it to a live audience on Wednesday night. The latest we ever got the show to Channel 4 was forty minutes before it was due to go on air.
Your perhaps best recognised to television viewers for your role as Father Peter in Ballykissangel. How did you cope with all the extra female attention you received from playing the part?
Ballykissangel was a very memorable time in my life. I tried to take the extra attention in my stride and people were normally very generous because of the feel good factor associated with the show. I received more interest from women as Father Peter in Ballykissangel because I played a priest, which there is obviously something unobtainable about.
Did you receive any interesting fan mail?
There were a few people who actually wrote to me believing I was Father Peter. They were asking for his advice on some of their problems. It was difficult for some people I think, for them to think of Father Peter as a fictitious character.
Any new TV work in the pipeline?
I've just finished a two hour Miss Marple, Murder at the Vicarage, which was the first Miss Marple that Agatha Christie wrote. I think it is going to be screened on Boxing Day. I play Detective Inspector Slack so I got to work with all the suspects such as Robert Powell, Derek Jacobi, Miriam Margoyles and Jane Esher to name just a few. It was a very impressive cast list I have to say, it just went on and on.
By Dale Lovell.
Stephen Tompkinson stars in Cloaca at The Old Vic Theatre, London, until 11th December 2004. To book tickets, call 0870 060 6628. A seniors' discount (over 60s) of £20 off the top-price ticket is available on Wednesday and Saturday matinees.
For further details about the season, and to sign up for email updates, visit: www.oldvictheatre.com.

RETURN | RÉSUMÉ (ENGLISH) | RÉSUMÉ (RUSSIAN) | HOME