Ingeborga Dapkunaite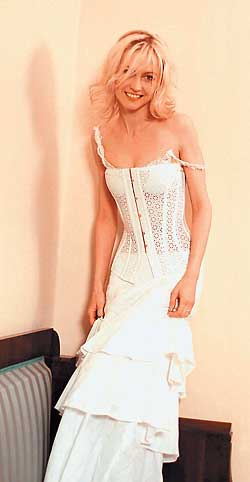 Born 20 January 1963 in Vilnius, Lithuania.
Actress - filmography
Nochnoj prodavets (2005) (filming)
25 degrés en hiver (2004) .... Sonia
... aka Çèìíÿÿ æàðà (2004) (Russia)
... aka 25 Degrees in Winter (2004) (International: English title)
Prime Suspect 6 (2003) (TV) .... Jasmina
... aka ExxonMobil Masterpiece Theatre: Prime Suspect 6 (2004) (TV) (USA)
... aka Prime Suspect the Last Witness (2003) (TV) (UK)
Kiss of Life (2003) .... Helen
Shik (2003) .... Asya
... aka Costume, Le (2003) (France)
... aka Shik - il vestito (2003) (Italy)
... aka Suit, The (2003) (International: English title)
Lost Prince, The (2003) (TV) .... Tsarina Alexandra
Odinochestvo krovi (2002) .... Maria
... aka Solitude of Blood (2002) (International: English title)
Vojna (2002) .... Margaret
... aka War (2002) (International: English title)
Shadow of the Vampire (2000) (uncredited) .... Micheline
Moskva (1999) .... Masha
... aka Moscow (1999) (International: English title)
Sex 'n' Death (1999) (TV) .... Shona
Sunburn (1999/I) .... Carolyn Kramer
Seven Years in Tibet (1997) .... Ingrid Harrer
Letters from the East (1996) .... Marie/Mother 1944
Mission: Impossible (1996) .... Hannah Williams
... aka Mission Impossible (1996)
On Dangerous Ground (1996) (TV) .... Asta
... aka Jack Higgins' On Dangerous Ground (1996) (TV)
Avtobus (1994)
... aka Bus, The (1994)
Katya Ismailova (1994) .... Katia
... aka Podmoskovnye vechera (1994)
Utomlyonnye solntsem (1994) .... Marusia
... aka Óòîìë¸ííûå ñîëíöåì (1994) (Russia)
... aka Burnt by the Sun (1994)
... aka Soleil trompeur (1994) (France)
"Alaska Kid" (1993)

TV Series


... aka "Àëÿñêà Êèä" (1993) (Russia)
Fatal Deception: Mrs. Lee Harvey Oswald (1993) (TV) .... Lubya
... aka Marina's Story (1993) (TV)
Tsiniki (1991)
... aka Cynics (1991)
"Nikolai Vavilov" (1990)

TV Series


... aka "Íèêîëàé Âàâèëîâ" (1990) (Soviet Union: Russian title)
Fa-Minor (1989)
... aka F Minor (1989)
Interdevochka (1989) .... Kisulya
... aka Èíòåðäåâî÷êà (1989) (Soviet Union: Russian title)
... aka Intergirl (1989)
Osen, Chertanovo... (1988)
... aka Autumn, Chertanovo (1988)
Trinadtsatyj apostol (1988)
... aka Thirteenth Apostle, The (1988)
Pereprava (1987)
Stecheniye obstoyatel'stv (1987)
Voskresnyj den' v adu (1987)
Zagadochnyj naslednik (1987)
... aka Mysterious Heir, The (1987)
Nochnyye shyopoty (1986)
... aka Night Whispers (1986)
Mano mazyte zmona (1984)
Notable TV Guest Appearances
"CI5: The New Professionals" (1998)

playing

"Elkie"

in episode:

"High Speed"

(episode # 1.11)

5 December 1999
"Big Bad World" (1999)

playing

"Natalia"

(episode # 1.1)

20 June 1999
"Good Guys, The" (1992)

playing

"Sanda"

in episode:

"Moldavian Rhapsody"

(episode # 2.1)

8 January 1993

DVD Times
www.dvdtimes.co.uk
Kiss of Life | 12-07-2004 00:00
Helen (Ingeborga Dapkunaite) lives in London with her father (David Warner), her daughter Kate (Millie Findlay) and son Telly (James E. Martin) and the stress of juggling everyone's demands on her time is getting to her. Her husband John (Peter Mullan) is an aid worker in a war-torn part of Eastern Europe who decides to return home. As he does so, becoming out of contact for the while, Helen is hit by a car and killed. As the family struggles to come to terms with their loss, as John journeys home through dangerous terrain, Helen herself is caught midway between life and death.

The theme of someone who has died but not yet moved on is not a new one, though it's become a current one – possibly post 9/11 consolation? In particular, there's Alice Sebold's fine novel The Lovely Bones, which at the time of writing (July 2004) has just sold its millionth British paperback and a film version is in development. Emily Young's influences are further afield like that. Although English, she's a graduate of the celebrated Film School in £ódŸ, Poland, whose alumni include Andrzej Wajda, Roman Polanski, Jerzy Skolimowski, Krzysztof Zanussi and Krzysztof Kieœlowski. The last-named certainly seems to loom over this film, particularly his later films such as The Double Life of Véronique and Three Colours: Blue. It's worth mentioning that Kieœlowski, who started out as a documentary filmmaker, refined his style over an eighteen-year feature-making career. Young, at least on this showing, isn't at that level.
<![if !supportLineBreakNewLine]>
<![endif]>Kiss of Life went under the working title Helen of Peckham and was to star Katrin Cartlidge, but she tragically died suddenly just before production was to begin. (The film is dedicated to her memory.) Ingeborga Dapkunaite is a Lithuanian actress, though based in London. She's given fine performances in Russian films such as Burnt by the Sun and the title role of Katia Ismailova, but in English she seems awkward as a London housewife. This also necessitates David Warner being given an accent to convince as her father. On the other hand, Peter Mullan gives his usual sturdy performance but for most of the scene he's solo with nothing to act against. The film is also annoyingly vague on certain details, such as which war zone John is working in. (The film was shot in Croatia and Bosnia.) It's commendable for Young to want to understate things, for example not to wring out scenes of grief, but it makes the film flat and undernourished. Kiss of Life is not a long feature, coming in under ninety minutes, but you can't help feeling it would have been much more effective as a short. <![if !supportLineBreakNewLine]><![endif]>
http://www.vladimirmashkov.webcentral.com.au/films/bodyofwork/katya.htm


Katia Ismailova
(Podmoskovnye Vechera) 1993
In creating this "distinctly Russian tragedy", director Valery Todorovsky drew on Nikolai Leskov's 1864 drama, Lady Macbeth of Mtsensk. Described as "film noir in a Chekhov setting", Katia Ismailova is reputedly the first Russian film of that genre.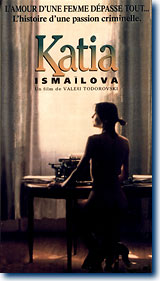 Katia (Ingeborga Dapkunaite) types manuscripts for Irina, a successful romance writer, who also happens to be her mother-in-law. Working at Irina's dacha, Katia becomes infatuated with a local carpenter, the intense and sexy Serguei (Vladimir Mashkov), described by one critic as a "brutish Lawrencian-style artisan". Overcome with lust, she and Serguei embark on a torrid affair. But Irina is also in lust with Serguei and sees one of their encounters. Unfortunately, she has a weak heart… Then strange and deadly things start happening at the dacha which attract the attention of a police inspector who is extremely familiar with Irina's writing…
Awards and nominations:
Katia Ismailova won three 1994 NIka Awards for Best Actress (Ingeborga Dapkunaite), Best Cinematographer, and Best Supporting Actor. It was also nominated for three Nika Awards, including Best Actor (Vladimir Mashkov).
From director Valery Todorovsky:
"Fifteen years ago the language of cinema was that of illusions. Today one deals with everything, openly. I hope I have made a film of extreme and absolute passions, treating them with force and simplicity."
Trivia:
Ingeborga Dapkunaite has also appeared in major US films including Seven Years in Tibet and Mission: Impossible, as well as the Oscar-winning Russian film Burnt by the Sun.

RUSSIAN TEXT | RETURN | RÉSUMÉ (ENGLISH) | RÉSUMÉ (RUSSIAN) | HOME