Doctors

DOCTORS, TV series 9, Block 54, 2007
Original Air Date: 8 January 2008 (Season 9, Episode 160)
Company: BBC One
Director: Jason Millward
Producer: Erika Hossington


Ksenia Zaitseva as Varya Blunt



Ksenia Zaitseva and Jason Millward


'Doctors: Sweet Surrender'

by Joanna Quesnel


Directed by Jason Millward

Dr Joe Fenton - Stephen Boxer
Dr Georgina Woodson - Stirling Gallacher
Dr Jimmy Clay - Adrian Lewis Morgan
Dr Nick West - Michael McKell
Dr Melody Bell - Elizabeth Bower
Michelle Corrigan - Donnaleigh Bailey
Archie Hallam - Matt Kennard
Julia Parsons - Diane Keen
Ronnie Woodson - Sean Gleeson
Vivien March - Anita Carey
Dr Daniel Granger - Matthew Chambers

Tom Blunt - Mike Walling
Varya Blunt - Ksenia Zaitseva
Bracken Woodson - Jessica Gallacher

Script Editor - Neil Irvine
Assistant Script Editor - Dawn Coulson
Researcher - Grainne O'Boyle
Casting Director - Stephen Moore
Graphic Designer - Tony Fisher
Title Music - Mike Badger, Paul Hemmings
Continuity - Jane Barton
Costume Designer - Lesley Thomas
Makeup Designer - Trish Berry
Camera Operators - Wilf Welch, Ed Troth
Sound - Kirsten Jones
Art Director - Matthew Stocks
Supervising Editor - Ian Collins
Editor - Mike Mulliner
Dubbing Mixer - Benedict Peissel
Production Executive - Nikki Saunders
Director of Photography - Edward Ames
Production Designers - Francis Boyle, Nick Turner
Production Manager - Sam Hill
Producer - Erika Hossington
Executive Producers - Mike Hobson, Peter Eryl Lloyd
BBC, Birmingham, 2008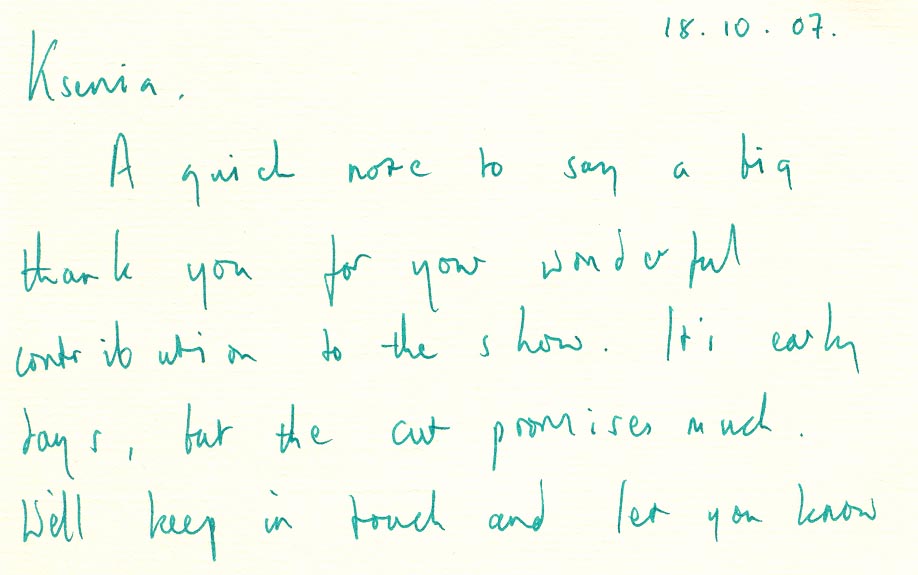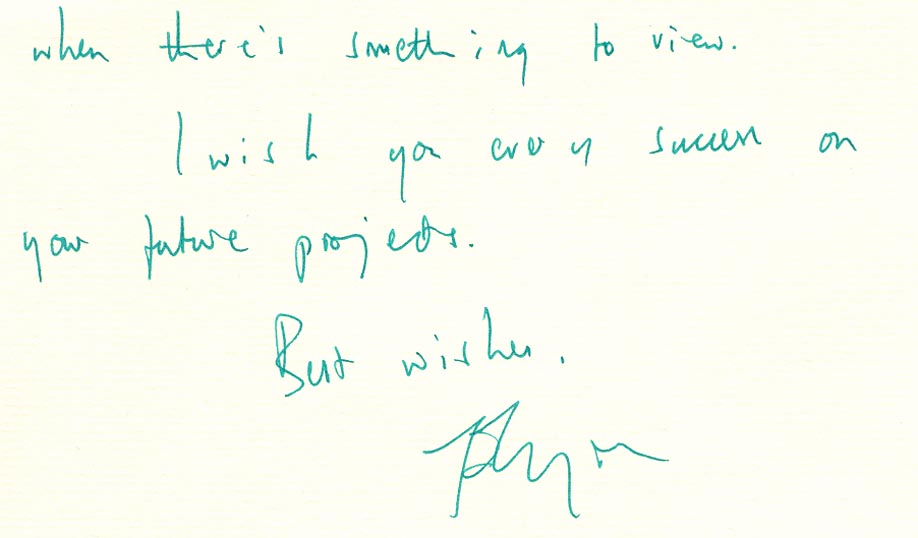 http://en.wikipedia.org/wiki/Doctors_(BBC_soap_opera)
Doctors (BBC soap opera)
From Wikipedia, the free encyclopedia
Doctors

Format

Drama

Created by

BBC Birmingham

Country of origin

United Kingdom

No. of episodes

1000 + (September 20 2006)

Production

Running time

approx. 0:30 (per episode)

Broadcast

Original channel

Original run

2000 – present
Doctors is a British daytime television soap opera, which started in 2000. It is produced by BBC Birmingham and screened on BBC One. It tells the story of the staff at the fictional Mill Health Centre. It originally starred Christopher Timothy (who made his name as James Herriot in the series All Creatures Great and Small) as Dr. Brendan McGuire from the series' inception until he left in May 2006.
The series was different to the other British soaps in that, prior to 2007, it took lengthy breaks in transmission over the summer. This year, however, there has been no summer break. It was originally filmed at the BBC's Pebble Mill studios in Edgbaston, Birmingham. However, four years into the show's life Pebble Mill was closed down so the soap moved to the BBC Drama Village site in Selly Oak. Portions of the show involving the police station are filmed at the BMS World Mission premises known as IMC International Mission Centre at 24 Weoley Park Road in Selly Oak.
Trivia: Doctors is the only British soap opera to name its episodes.
http://www.digitalspy.co.uk/soaps/a31279/doctors-to-show-first-gay-wedding.html



'Doctors' to show first gay wedding
Wednesday, April 5 2006, 22:16 BST
By Kris Green, Soaps Editor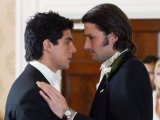 BBC One's daytime medical drama series Doctors is set to make television history by being the first soap to stage an on-screen gay wedding.

Series producer Beverley Dartnall said: "This is an action-packed episode to bring the curtain down on the current series of Doctors. Not only do we see a gay wedding, we see two leading characters depart.

"We're proud of the standard set by the storylines that attract some of the best actors around. We look forward to being back on screen 24th April with a new recruit to the surgery."

The season finale, which sees Dr Greg Robinson (Ben Jones) tie the knot with his lover Rico (Felix D'Aluiella), airs on BBC One, Thursday 13th April at 2.05pm.

http://www.imdb.com/title/tt0241383/


"Doctors" (2000)TV-Series 2000-????
Release Date: 26 March 2000 (UK)
Genre: Drama
Plot Keywords: Caring / Doctor / Nurse / Human Relationship / Surgery
Trivia: The crews film three episodes in 7 days.
Awards: 5 wins & 16 nominations
Awards for "Doctors" (2000):
Year

Result

Award

Category/Recipient(s)

2005

Nominated

BAFTA TV Award

Best Continuing Drama
"production team"

2003

Nominated

BAFTA TV Award

Best Soap
"production team"

2002

Nominated

BAFTA TV Award

Best Soap
"production team"

2001

Nominated

BAFTA TV Award

Innovation
"production team"

Year

Result

Award

Category/Recipient(s)

2007

Won

British Soap Award

Best On-Screen Partnership
Stirling Gallacher
Sean Gleeson

Best Single Episode
For episodes "Shreds" and "Aftermath".

Nominated

British Soap Award

Best British Soap

Best Comedy Performance
Martha Howe-Douglas

Best Newcomer
Martha Howe-Douglas

2006

Nominated

British Soap Award

Best British Soap

Best Dramatic Performance
Stirling Gallacher

Best Exit
Robert Cavanah

Best Newcomer
Daniel Anthony

Best Single Episode
For episode "The Anatomy of Marriage (#7.8)".

Best Storyline
Christopher Timothy
Robert Cavanah
For Dr. Kendrick's suicide.

2005

Won

British Soap Award

Best Newcomer
Andrea Green

Nominated

British Soap Award

Best British Soap

Best Single Episode
For episode "Past Imperfect (#6.189)".

2004

Won

British Soap Award

Best Single Episode
For episode "Say a Little Prayer".

Year

Result

Award

Category/Recipient(s)

2002

Nominated

RTS Television Award

Best Soap

2001

Won

RTS Television Award

Team Award
"design team"
For episode "The Waiting Game"

http://www.bbc.co.uk/drama/doctors/


2006
What happened at The Mill in 2006?
George suffered from post-natal depression, rejecting her baby Bracken. When Bracken became ill, George overcame her depression and was reunited with her baby.
GP Elizabeth Croft started in January and GP Nick West started in March.
Greg's holiday romance, Rico, turned up from Brazil. They married in April.
Nick and Elizabeth had a fling. Elizabeth became pregnant and had an abortion without telling Nick. She revealed the abortion to Nick at Greg's wedding. Nick was devastated.

Elizabeth turned down Mac's offer of the partnership and left Letherbridge in April.
Jimmi proposed to Sarah. She declined knowing he just wanted to replace Amanda, and left to work in Brazil with Rico's sister.
New receptionist, Donna Parmar, started in April.
Faith was diagnosed with retinitis pigmentosa which meant she would eventually lose her eyesight. Unable to continue practising as a nurse, she handed her job over to Nurse Michelle Corrigan.
Faith fell in love with Paul and became pregnant. In June, the couple left Letherbridge to travel the world before Faith lost her eyesight.
Mac struggled to help GP Peter Kendrick deal with his depression. Unfortunately, the pressure was too much and Peter committed suicide. This spurred Mac to bring down the corrupt CEO of Letherbridge Primary Care Trust who failed to help Peter.
Julia discovered Mac's affair with Kate. Julia was enraged and demanded he leave Letherbridge. After Mac left to be with Kate and Ciaran in Ireland, Julia bought his share of The Mill and became a partner.
GP and new partner Joe Fenton arrived with his daughter Emily in September.
Nick started a relationship with Sadie. When they were both on a climb, she tried to kill him, suspending him from a cliff with ropes restricting his breathing. She revealed she was the half-sister of the patient he failed to save and was responsible for the hate mail he'd received. Nick stopped breathing but Greg and Rico got to him just in time.

Michelle started seeing Ferdy; a married consultant. Despite what the others thought, it was purely platonic. Michelle started a relationship with HO Chris, but finished with him at Christmas when he demanded she stopped seeing Ferdy. Ferdy realised their friendship was sacrificing Michelle's relationships with other men so he decided they shouldn't see each other anymore.
Emily became pregnant after a one-night stand. She confided in Nick. Joe found out Nick had kept the truth from him and punched Nick. Joe was later arrested for punching the baby's father; he was released after a night in the cells. Emily was determined to keep the baby at first, against Joe's wishes. Emily's mother Annie returned from Boston and took Emily back with her at Christmas. Joe was distraught.
January 2007
Who turned up the heat with Nick?
Julia and Joe went speed dating. Joe was extremely popular but Julia fared less well.
Donna's son Taran was taken down a set a school. Donna started to think she was a bad mother.
Donna's mother-in-law upset her by offering to send Taran to boarding school.
George missed out on meeting Prince Charles after a ruckus with Susie.
Jimmi interviewed a long line of attractive women for the temp receptionist position.
Jimmi gave Renee the job but told her he was only doing it as a favour.
Nick and Joe attend a case conference to try and resolve their differences.
Michelle accused Renee of being a gold digger.
Michelle encouraged Katya to leave the brothel.
Renee made a move on Nick in a bid to make Jimmi jealous.
February 2007
Why was Greg suspended from duty?
Greg examined a woman found dead in the park and discovered it was Katya.
Michelle voiced her suspicion that Carter killed Katya.
Desperate for excitement, Ronnie went 'coasteering' with Nick.
Julia started seeing Leo and began to fall in love with him.
Ronnie was forced to inform the police of Carter's whereabouts.
Greg treated Carter at the police station for his diabetes.
Carter confessed to killing Katya but had a cardiac arrest after admitting that he'd been working for Squires.
Greg was suspended from duty after it emerged that Carter was injected with potassium chloride rather than insulin.
Ronnie told Leo about Carter's admission.
March 2007
Who saved Julia's life?
Squires warned Ronnie to keep George and Bracken safe.
George was relieved to find Bracken unharmed after her playhouse was burnt down.
Julia and Leo's relationship started to heat up.
Ronnie got a positive identification for Squires and Leo from a prostitute.
Ronnie and George tried to warn Julia about Leo but she refused to listen.
Ronnie recorded Squires admitting that Leo killed Katya.
Squires turned up at Leo's in a panic. Leo killed Squires whilst Julia listened on in fear.
Ronnie arrived in the nick of time and helped Julia to escape.
Rico reluctantly agreed to babysit a friend, Jess', son whilst she went into hospital.
Greg discovered that the little boy was Rico's son.
Rico explained that he fathered Charlie before he met Greg as a favour to Jess.
Greg decided his marriage was over because Rico broke his trust.
April 2007
Why did Greg leave The Mill?
Greg announced that he'd been reinstated as a police surgeon.
Rico became attached to his son, Charlie, and offered to accompany him and Jess back to Denmark.
Jess decided to leave, not wanting to prolong Rico's pain.
Rico and Greg argued over Charlie. Rico packed his bags and flew to Denmark with Jess and Charlie.
Realising he'd been a fool, Greg followed his heart to Denmark and was reunited with Rico.
Taran revealed to Donna that he'd been bullied at school.
Nick and Jimmi vied over the partnership but Nick won out.
May 2007
Why did Donna get her marching orders?
George introduced complimentary medicine to The Mill.
Donna discovered that the boy who was bullying Taran was a patient at The Mill. The boy's notes showed that he had been physically abused by his mother.
Donna gave his file to the boy's father hoping that it would help him get custody.
Julia had no option but to fire Donna for breaking patient confidentiality.
Michelle's father had a heart attack.
Michelle met Adam at her father's funeral and started dating him.
Vivien started working as a receptionist at The Mill.
Julia betrayed Jimmi's trust by telling Joe that he suffered from obsessive-compulsive disorder.
Furious with Julia, Jimmi handed in his notice.
June 2007
Michelle discovers she's been dating her brother.
Julia had a relationship with a married man.
Nick and Jimmi vied for the position of police surgeon.
Michelle was horrified to discover that Adam was her brother.
Michelle had a showdown with her mum and ended up slapping her.
Jimmi rescued Michelle from a boy who was coming on too strong. Drunkenly, she tried to kiss him but he pulled away.
Jimmi and Nick were accepted for police surgeon training.
Nick got drunk whilst celebrating and George drove him home. George looked at him a little too long after he confessed to liking her and sent the car crashing into a skip.
July 2007
Why did Daniel give himself up?
Nick was left paralysed after George crashed her car into a skip. George was unharmed but had to battle with her guilt. Unable to cope with nursing Nick, Gabby finished their relationship. Nick was devastated.
Joe's nephew, Daniel turned up unexpectedly and revealed that he was short of cash. Joe offered him Nick's job and lent him some money. At The Mill, Daniel quickly took a shine to Michelle and took her out to the casino. But Michelle stormed out when he started to bet big money and refused to stop.

Vivien caught Daniel stealing drugs from The Mill. Daniel left and Joe reported him missing. After making some enquiries, the police discovered Daniel had stolen 50K from his previous employer.
New GP Registrar, Melody Bell, started work at The Mill. Joe was too busy worrying about Daniel to look after her. But realising he'd been neglectful, he invited her round to his place to go over her training plan.

When Joe arrived at his house, he found that Melody had been let in by two loan sharks, Tyrell and Max, who were after Daniel. They threatened to hold the pair hostage unless Joe handed over all of his money.
Just as Joe was about to get a beating, Daniel turned up with the police and Tyrell and Max were arrested.
August 2007

Who did Melody have the hots for?

6 - 10 August
Nick was told it would be some time before he noticed any improvement in his condition. George paid him a visit and found him depressed. She confronted his consultant and insisted that not enough was being done to help him.

The following day, everyone tried to cheer Nick up by taking him out for the afternoon. They arrived in white coats so as not to arouse suspicion and stole him away. But Vivien warned that no good would come of getting his hopes up for a full recovery.

Melody got on Joe's nerves by arriving late, talking incessantly and bringing her pet fish into work. George offered to take over Melody's training to give Joe a break. But Melody persuaded him to forgive her over a bottle of wine.
Meanwhile, Nick decided to discharge himself from St. Phil's Hospital against his consultant's wishes. Ronnie picked Nick up and gave him a brand new, top-of-the-range wheelchair. Nick tested the speed of his wheelchair with Ronnie who eventually took him home.
13 - 17 August


Melody told Joe she wanted to start leading her own consultations. Joe felt she wasn't ready, but gave her a chance. The first two went badly but by the end of the day, Joe had to congratulate her.
George experienced a severe palpitation and collapsed into Ronnie's arms. Ronnie was terrified for her but realised they were the result of George's guilt over Nick.
Nick made a move on his attractive physiotherapist but she knocked him back. Fearful that no one would want to be with him again, he told his counsellor. When the subject of George came up, Nick insisted that they both had to move on and that she would get over her guilt.
Julia was annoyed when she received a letter for Mrs K McGuire. Vivien asked her why she had held on to her married name and Julia admitted that she was scared of looking like a failure. Reassured by Vivien, she decided to change her name back to Parsons and dropped her plaque in the bin.
20 - 24 August


George visited Nick and told him about her palpitations. Nick said he'd swap panic attacks for being in a wheelchair any day. He then revealed that nothing worked below his waist anymore. George was devastated but Nick softened and advised her to try and move on.
Archie, an old friend of Michelle's, covered for Julia who was off sick. Michelle suggested he work full-time with Joe. Joe was unsure of his scruffy appearance and the fact that he cycled to home visits but eventually conceded. Melody, meanwhile, confessed to Michelle that she thought Archie was cute.
Nick slipped and fell in the bathroom after forgetting to put his breaks on. Vivien found him naked on the floor and, much to his embarrassment, put him back in his wheelchair. Knowing how short-staffed they were, Vivien suggested he went back to work. Nick made his excuses but Vivien wouldn't hear of it and told him she'd see him next week.
Joe was stunned when he reviewed the tapes from Melody's first videoed consultations. Before he could comment, Melody admitted she'd talked too much, made numerous mistakes and spilt urine on a patient. Joe assured her she wasn't that bad and offered to take her out on a home visit.
Meanwhile, Julia went home with a headache, only to find her son Liam, sat on the doorstep and looking rough.
27 - 31 August
Nick announced to the team that he was returning to work and insisted that he was ready. Joe and Julia questioned whether he could offer the same level of care in a wheelchair but Ronnie defended him.

Liam explained to Julia that he'd left Canada after splitting up with his fiancé, Ocean. He asked if he could stay for a while whilst expanding his business in the UK. Julia was thrilled and suggested he contact Mac. But Liam refused to forgive his father's infidelity a second time.
Melody immediately took a shine to Liam and flirted with him. Hoping to cheer up her son, Julia arranged for the pair of them to go out on a date. But Liam wasn't interested and got drunk on a bottle of vodka. When Julia returned home, she found him unconscious on the floor.
Liam reluctantly agreed to a second date to make up for scaring his mother. But the conversation was awkward and when Melody went in for a kiss, Liam dodged her. After returning home, Liam told Julia he wasn't ready for another relationship. Julia dismissed this but then the doorbell rang. Liam was thrilled to discover that it was Ocean.
September 2007
Is love on the menu for Nick?
3 - 7 September
George returned to work, feeling revitalised after spending time with her parents. But relations were still strained between her and Nick. Ronnie advised her to hang on in there.
Ocean confessed to Liam that she'd been terrified of making a commitment, but realised that she loved him.
Desperate to stop her son from making a fool of himself, Julia asked Ocean why Liam hadn't introduced her to any of his friends. Ocean confronted Liam and demanded to know if he were ashamed of her. To Julia's horror, he arranged for Ocean to visit the rest of the family that very weekend.

Elsewhere, Melody had an argument with Vivien over the booking system. Archie suggested taking her out and getting her drunk so that she'd be quiet from embarrassment in the future.
But things didn't go quite to plan; after drinking a cocktail which Melody had pretended was non-alcoholic, Vivien became depressed. She revealed how lonely she was and started to weep. Jimmi lead her out and reproached Melody and Archie for tricking her.
10 - 14 September
Jimmi gave Archie, Melody and Michelle a stiff talking to for getting Vivien drunk and urged them to apologise. But a proud Vivien was unwilling to admit that she'd embarrassed herself and dismissed Melody's attempts to make amends.

Not giving up, Michelle tried to get Vivien to go and see Sam, a terminally ill patient with no family or friends. Vivien saw through her plan and reacted angrily, but later had a change of heart and went to see the little boy.
Relations between Julia and hippy-dippy Ocean went from bad to worse when Ocean broke a treasured vase. Julia erupted and let Ocean know what she really felt about her. In the heat of the moment, Julia let slip that Liam had raped Faith.
Ocean ran off after Julia's revelation and Liam stayed out all night looking for her. Julia eventually caught up with her distraught son at the airport and helped him find his fiancé. Leaving them to sort things out, Julia went home and opened a bottle of wine, all alone.
17 - 21 September
Julia was on tenterhooks waiting for Liam to call. When, at last, the phone rang, she was relieved to discover that he'd forgiven her for badmouthing him to Ocean. Having had time to think, he realised that she'd been the only person to stand by him during his trial.

Elsewhere, Archie reluctantly agreed to let Melody stay at his place after a flood at her flat. But when she walked in on him in the shower and broadcast every little detail to all and sundry, he wondered if he'd made a hasty decision.
Hoping to make amends, Melody decided to cook Archie a special meal. But the hostess knocked back far too much wine and lunged at him over her burnt offering. Archie was horrified and didn't try to stop her when she stomped off to find a taxi.
Meanwhile, Vivien hit if off with Sam and took him out for a picnic to his favourite spot in the countryside. But sadly, she had to say goodbye to him, knowing it would be his last.
23 - 28 September
Nick and Joe tried out a local deli and found its owner, Carla, pretty tasty too. Joe stood aside when Nick reckoned he was in with a chance. But later, when Nick eagerly offered himself up for the lunch-run in order to see her again, she didn't seem quite so interested.

Vivien found it hard to deal with Sam's death and called in sick. As concern for her grew, Vivien wandered aimlessly around town and found herself outside Sam's hospice. When the manager invited her in and told her about the leaking roof and funding shortage, Vivien gained a new lease of life and offered to help raise money.
Back at the Mill, Vivien revealed her idea for a charity gala and enlisted Julia's help in selling tickets. But with the idea sold and no going back, Vivien wondered whether she would be able to provide a show to remember.
October 2007
Who stole the show?
1 - 5 October
Nick asked deli-owner Carla out and was chuffed when she accepted. But Carla misunderstood his intentions and thought they were meeting to discuss business. She assured him that it had nothing to do with his disability, but rather that she was attracted to Joe.
A humiliated Nick put on a brave face and told Joe that Carla fancied him. But later, he admitted to Ronnie that he was scared he'd never be able to keep a woman or have kids.

Vivien pushed ahead with her plans for the charity gala night. Jimmi reluctantly agreed to sing as long as Michelle accompanied him, Joe and Nick were put down to do a guitar duet and George was chosen as compère.
Relieved at how well Nick appeared to be taking his knock-back, Joe met up with Carla and, after helping her with the lunch time rush, they shared a passionate kiss.
Meanwhile, Nick was aggravated that Joe had forgotten that they were supposed to be sorting out a song for the gala and had gone out with Carla instead.
8 - 12 October


Carla and Jo turned up the heat after a romantic trip to an art gallery and ended up in bed together. But when Carla remarked on how she could never fancy Nick because he was in a wheelchair, Jo was taken aback. Realising he didn't know her at all, he dumped her.
Elsewhere, Vivien lost her rag as preparations for the Gala descended into chaos. But despite a few hiccups, the evening was a huge success. George did an impressive job as compère, Nick and Joe put aside their squabbles and wowed the audience with their guitar duet, Melody and Archie performed a magical double act and Jimmi came up trumps by securing surprise celebrity guest artist, Ruby Turner.

When Julia announced that they had raised more than enough money to repair the hospice's roof., Vivien was overwhelmed. After thanking everyone from the Mill, she dedicated the evening to Sam and shed a silent tear.
15 - 19 October
Who was held at gunpoint?
Nigel, arrived at the Mill to update the computer system. When Melody rejected his offer of a date, he revealed he knew how long she'd been spending on shoe websites during work hours and threatened to share this with the other doctors.
Melody confided in Michelle about Nigel's attempt at blackmailing her and together, they plotted revenge. Putting on a sexy act, Melody scared him into playing a game with a webcam. Nigel obediently obeyed her orders and undressed for the camera. But once in the nuddy, he started singing and dancing and left them in hysterics.

Elsewhere, Jimmi went to the police station to talk to a member of the drugs squad after one of George's patients had a bad reaction to cannabis. Eva, the attractive inspector, called him back the following day to discuss a lead on where the potent weed called 'Stripe' was coming from. After a bit of banter and flirtation, Jimmi left with a grin on his face.
22 - 26 October
The son of George's family friend, Alex, was arrested for possession of Cannabis. Alex claimed the police were getting their own back for the part she'd played in the Leo Jackson case and asked Ronnie to defend her son, Quinn.
Eva was forced to release Quinn on caution and vented her frustration at Jimmi. Back at The Mill, a stressed out Jimmi clashed with George over his mixed loyalties and had a heated argument.

Later that week, Jimmi accepted an invitation out to lunch from Eva. However, his hopes of romance were dashed when Quinn turned up. Jimmi realised that Eva had chosen the location for their 'date' deliberately.
As Quinn took flight, Jimmi gave chase with Eva and followed him to his mother's farm. There they were met by an angry Alex and an unimpressed Ronnie. After they'd interrogated Quinn, Alex, who'd been suffering from angina, collapsed. Ronnie called for an ambulance but was it already too late?
29 October - 2 November


Julia called Jimmi into her office and claimed his work with the police was damaging the surgery's reputation. Jimmi defended himself rigorously and insisted that he took all of his work seriously.
Elsewhere, Archie invited Melody to a party after her friend cancelled their Halloween plans. Melody excitedly told Joe about her 'date' only to find that Archie had also invited Michelle.

At the party, Melody got lucky with Archie, but just as they were about to kiss, they heard a scream from the living room. After rushing in, they found another victim of the dangerous marijuana.
Meanwhile, the police arrived to search Alex' barn and caught Quinn trying to burn it down. Ronnie was held at gunpoint by a distressed Alex but managed to talk her into putting it down. Pleased with the outcome, Eva gave Jimmi a spontaneous kiss.
November 2007
Who's Nick's new woman?
5 - 9 November
Nick got a surprise call from his ex-wife, Sally. She told him she was in Birmingham on business and would like to see him. Nick hurried home excitedly and prepared for her arrival.

After dinner, Nick decided to take a shower. Realising his towel was out of reach, he called on Sally to help. Feeling close to her, he went in for a kiss. Sally almost responded but pulled away.
The following day, the atmosphere between them was tense. Sally insisted that they couldn't turn back the clock. A hurt and angry Nick asked her to leave.
Elsewhere, Jimmi plucked up the courage to talk to Eva and they arranged to have lunch. After a successful date, they went back to his flat and ended up in bed together.
But Jimmi was thrown into confusion when Eva didn't return any of his calls. When he finally got hold of her, she gave him the brush off. Jimmi went round to the police station to have it out, but as he pulled into the car park, he saw her kissing another man.
12 - 16 November
Michelle teased Archie for scoffing a box of donuts and joked that Joe was fitter than him. Archie reacted defensively and bet Joe he could beat him in the charity run.
Eva explained to Jimmi that the man she'd been kissing was her long term partner of ten years. She admitted she didn't love him but couldn't throw away their relationship after one night of passion with Jimmi.

Determined to forget about Eva, Jimmi went on a date with an old flame, Donielle. But when Eva turned up unexpectedly and stormed out, he realised that she was the one he wanted to be with.
As Joe neared the finishing line in the charity race, he stopped to help an elderly woman who had collapsed. Unable to cheat victory, Archie assisted, and eventually they crossed the line together.
19 - 23 November
Julia hauled Michelle and Vivien over the coals for arguing in front of the patients. Realising that something had to be done about their childish behaviour; she hired Ruth, a counsellor, to sort them out.

A sad Nick watched Melody and Archie flirting with one another. In a bid to cheer him up, Joe invited him out to lunch but had to cancel at the last minute as a result of a tyre puncture. Lonely and disappointed, Nick put on a brave face.
Meanwhile, Michelle and Vivien took umbrage at Ruth's interference and refused to listen to her psycho-babble. The two women turned on her and made a pact to get along. As a disgruntled Ruth left The Mill, Julia congratulated herself on a job well done.
26-30 November
Can Jimmi have Eva all to himself?
Nick was at the supermarket when wheelchair bound, Belle caught his attention. Belle had cheekily been making the most of a shop assistant's sympathy, using them as a slave. After a brief conversation, Nick left.
Belle tracked Nick down at the Mill. She revealed she was a journalist and wanted to write a story on him and his success as a disabled doctor.

Meanwhile, Jimmi told Eva he wanted a proper relationship. Eva was furious with him for making demands on her and slapped him. When Eva calmed down, she asked Jimmi to give her the weekend to sort things out with her husband, Alastair.
Belle accused Nick of being boring when he refused to divulge any details about his personal life to her. The following day, Nick joined Belle and some of her friends in a pub. Nick found it difficult to let go, but ended up having a lot of fun and losing track of time.
Meanwhile, Eva's husband turned up at the Mill for an appointment with Jimmi and revealed he wanted to have a vasectomy reversal. He explained he was desperate to do it for Eva as she wanted a family. A crushed Jimmi reluctantly agreed to refer him to a private hospital.
December 2007
Who got down and dirty with Nick?
3-7 December
Eva discovers she's up the duff. How will Jimmi react?
Alastair returned to see Jimmi and informed him that Eva wanted him to go ahead with his vasectomy reversal. Jimmi was surprised and questioned whether Alastair was sure this was what his partner wanted.

Belle asked Nick to join her on an adventure weekend but he'd already promised George he would go to a retreat. Belle was despondent and accused George of giving Nick false hope to lessen her own guilt.
Jimmi went to the Police Station to find out where he stood with Eva. But as they were talking, Alistair turned up. When Eva asked why he'd been seeing Jimmi, he pretended it was just a check up.
Later, Eva confronted Jimmi about Alastair. Jimmi broke patient confidentiality and told her about the vasectomy reversal. Eva insisted she had no idea and that she loved Jimmi. But Jimmi accused her of being a two faced liar. Eva paced back to Jimmi, slapped him hard and then left.
10-14 December
Julia noticed Jimmi's hands were red raw from his Obsessive Compulsive Disorder. She advised him to take some time off over Christmas but Jimmi refused. Later, Vivien insisted he use his holiday up before the end of the year. Jimmi cracked a smile and agreed.
Eva turned up at The Mill to see Jimmi and ended up arguing with Vivien. She informed her that Jimmi had gone on holiday. Alone in her car, Eva broke down in tears.

Joe returned from visiting his sister in Greece and revealed to Ronnie that he was worried about Daniel. His nephew had spent six weeks on remand and was now out on bail but in a bad way.
Archie went on a house call to see a mother, Stella, and her baby. Stella confessed she was worried about her husband, Russell, and persuaded Archie to help look for him. Finding him by a river, they raced towards him. But Russell suddenly fell into the water, clutching his throat. Archie realised he needed a tracheotomy but wasn't qualified to perform the procedure. Stella shouted at him to try anyway but Archie futilely continued CPR.
Back at The Mill, Archie could not shake his feelings of guilt despite reassurances from Michelle and Nick. Later he overheard Joe telling Nick that Michelle would have done a tracheotomy. Archie was left feeling crushed.
17-21 December
George forced Nick to talk about his falling out with Belle. Nick struggled to hold back his growing feelings for George when she gave him a hug. He pulled away quickly, making an excuse. Russell's wife Stella arrived, screaming at Archie for not saving Russell.

Nick had a half day and got inebriated at home. He ended up surfing for porn on the internet, finally calling a personal ad in the paper, arranging to meet a prostitute. Nick then drunkenly passed out.
Nursing a monster hangover, Nick went home early for his meeting with the prostitute. He slipped a Viagra and when she arrived, was pleased by her appearance. However, after sleeping with her, Nick was disappointed at the lack of intimacy. It was just business whereas Nick wanted to be with someone special.
At the Icon, Melody and Archie shared a lingering kiss. Nick tried to sneak out of the Mill but George saw him and insisted he was going for drinks tonight. However, when she looked for him later, he had already sneaked away. George refused to let him wallow and turned up at his house, insisting she join him in getting drunk.
Later, when they had got through quite a few glasses of wine, George got a drunken Nick to open up. He told her that he felt a woman would never find him attractive again and revealed he had slept with a prostitute. As George comforted him, Nick drew her to him. Impulsively, out of pity, George kissed him.
January 2008
When will George see Bracken again?
7 - 11 January
Eva discovers she's up the duff. How will Jimmi react?
Nick confronted George following their night of passion. George demanded that from now on they operate in a purely professional capacity. Nick couldn't understand how she could have made love to him and now be so cold.
A concerned Joe revealed to Melody that Daniel had a General Medical Council hearing the following week to determine if he was fit to practice as a GP. Joe was worried his nephew might not be able to cope if he were struck off.
Later, Archie went out for a drink with some friends and saw Melody with Daniel. After watching Melody holding Daniel's hand, he quietly left. But when Daniel tried to kiss Melody, she pulled away, having realised that Archie was the one for her.

The following day, Melody mentioned to Joe that Daniel had joked about doing a runner from his trial. Joe rushed home to find Daniel ready to leave. Joe didn't try to stop him and told him if he wanted to keep running away instead of facing up to his mistakes he could.
Meanwhile, Eva emerged from Jimmi's bathroom with a positive pregnancy test. Jimmi was troubled and the revelation caused his Obsessive Compulsive Disorder to rear its ugly head again.
Elsewhere, George warned Nick she was going to tell Ronnie everything. Nick begged her not to, claiming they could live with the secret. But George insisted she needed to talk to her husband and left. At home George found a candle-lit table waiting for her and a tin of homemade heart shaped cakes.
14 - 18 January
Ronnie stormed into the Mill looking for George. A frightened Nick was convinced George had told him about their night of passion, but it turned out that Ronnie was desperate to talk to George about another matter. Afterwards, Ronnie suggested to Nick that they have a boys' day out. Nick reluctantly agreed.
Meanwhile, Daniel's GMC hearing got underway. Daniel's spirits were lifted when Joe gave an impassioned speech in defence of his character and George attested to his excellence as a medic. But things started to look bleak when Julia berated him for the way he had betrayed everyone.
George was far from pleased when she found out about Nick and Ronnie's boy's day out and begged Nick to get out of it. But Nick refused to listen. At the archery club, Ronnie revealed to Nick that he was worried about George's mood swings. Nick started to confess to Ronnie but couldn't go through with it.

Elsewhere, Jimmi forced Eva to admit to forgetting to take the pill. More confused than ever, he told her about his childhood and expressed his concerns that they were not starting out as great examples of parenting. Eva told him to call her when he'd decided what he wanted.
Meanwhile, Ronnie arranged a surprise trip for George, hoping to get back his happy wife. But when he revealed his plan, George accused him of going behind her back. After a bewildered Ronnie had left, George sat alone, utterly wretched and feeling held to ransom.
Back at the GMC hearing, Daniel gave a moving speech and apologised for all the pain he had caused, especially to Joe. He explained how much being a doctor meant to him and asked them not to take this away from him. However, the council decided they needed more time and would announce their verdict the following week.
21 - 25 January


After a weekend's deliberations, The GMC announced that Daniel would not be struck off. Joe offered Daniel a job at The Mill, but Julia was adamant he should not return. Joe assured Daniel he would talk her round, but Daniel wasn't hopeful.
Archie was devastated when he overheard Melody talking about Daniel. But to his surprise, she later seduced Archie with some whipped cream and a pole dance. The couple were blissfully happy at finally getting together.
George was both touched and guilt ridden at the effort Ronnie had gone to for their romantic break. Unable to bear it anymore, George confessed her infidelity with Nick. Ronnie stormed out into the night and got into his car. George threw herself on the bonnet and screamed at him not to leave but Ronnie drove off.

Moments later, Ronnie arrived at Nick's and sent him flying with a punch. Unable to leave it there, Ronnie stole his wheelchair leaving Nick sprawled on the floor. Roaring in frustration and anger, Nick somehow managed to move his toe. Thrilled, he called Vivien and asked her to drop him at his consultant's office.
George managed to hitchhike back to Julia's and was devastated to find that Ronnie had taken Bracken. Julia tried to comfort her as she made a desperate call to Ronnie.
28 January - 1 February
George stayed at Julia's all weekend and heard nothing from Ronnie. Julia covered for George at work, but when she returned home, George was hacking at her hair with a pair of scissors. Julia stopped her and George slumped to the floor, shaking with shock.

Nick showed the others the movement in his toe and they tried to be positive for him. But Julia was unable to be happy, knowing the part he'd played in George and Ronnie's break-up. Nick booked some time off for intensive therapy.
Jimmi proved to Eva he was serious about becoming a dad by surprising her with a pram and baby clothes. Eva was won over and kissed Jimmi.
Meanwhile, Archie was gob-smacked to discover Melody's parents owned an enormous house. Thinking they had the place to themselves, the loved up couple received the shock of their lives when Melody's parents walked in on them. The next day, Melody and Archie had a petty argument and Archie left in a huff.
Back at the Mill, Joe came up with a solution to the staff shortage and asked Julia to consider Daniel. Julia agreed, but said she would be keeping a close eye on him. Elsewhere, George got a call from her daughter Bracken. But before she had time to talk to her, Ronnie cut the phone off.
http://www.tv.com/doctors/show/6776/episode_guide.html&printable=1
1291. Sweet Surrender
First aired: 1/8/2008
Writer:
Director:
Guest star: Jessica Gallagher (Bracken Woodson) , Mike Walling (Tom Blunt), Ksenia Zaitseva (Varya Blunt)
Global rating:
Nick discovers that a man with heart problems is being drugged by his internet bride. Nick finally manages to confront George.
http://www.digitalspy.co.uk/soaps/a82693/sweet-surrender.html
'Sweet Surrender'
Airs on Tuesday, January 8 2008 at 13:40 GMT on BBC One
By Kris Green, Soaps Editor
George spends the day trying to avoid calls from Ronnie who is clearly trying to cheer her up. Nick finally confronts her insisting they can't avoid what happened. George coldly demands that from now on they operate in a purely professional capacity.

Nick can't understand how she could have made love to him and now be so cold. Sickened, she tells him she loves her husband and pushes Nick out of her office.

Melody asks after Daniel and Joe reveals that he has a General Medical Council hearing next week to determine if he's fit to practice as a GP. Joe explains that although Daniel is a good doctor his gambling addiction may not go down well. If they strike him off Joe has no idea how he'll cope. To keep himself occupied Daniel offers to do some DIY for Joe. He goes to a DIY store and while there finds a wallet. He picks it up and takes it home, conflicted.

However later Daniel forces himself to hand it in at the police station. We later see Daniel in a room full of people; he stands up and declares "My name is Daniel. And I am addicted to gambling."

Meanwhile, Varya (28), an attractive Russian internet bride prises herself away from seducing the plumber as her husband Tom (54) returns home. Tom says he is ill and avoids Varya who fusses over him. He goes to the Mill and sees Nick. He complains of feeling faint and having chest pains. Nick checks him over. It is clear that there is something that Tom isn't telling Nick but he leaves suddenly.

Back at home Tom goes to bed as Varya prepares his lunch, adding some kind of medication to the stew. Tom clutches at his chest again after tasting some food and rushes out. Vary presumes he's gone to the Mill and searches out Nick. Nick asks if Tom is still having chest pains. This panics Varya; she had no idea. Back at home Tom explains he has a bad heart but that he didn't want to worry her. After finishing his lunch, Varya tries to comfort her sick husband. Tom becomes incredibly aroused, and unable to fight it anymore pulls her to him. Then the chest pains start. They wear off but Tom points out that he can't get rid of his huge erection which he has been trying to hide all day.

Tom insists on going to the Mill and embarrassed he explains about his near constant erection which he's had for a week. He's usually quite shy in that department and he hasn't taken anything. Nick then goes over to the door and quickly opens it, revealing Varya, trying to listen in. Varya crumples and admits to slipping Tom Viagra to liven up their sex life. She started to give him more when he pushed her away. Tom explains he felt like a monster and was avoiding her deliberately. Nick stresses that the pills are bad for his heart and he'll have to stop taking them.

Tom is fine with this, especially when Varya explains lately his performance has been great even when she hasn't slipped him a pill. They leave content but as they get in the car Varya phones the plumber asking in a sexy voice when he's going to finish the job. She smiles innocently at her unsuspecting husband.

FEED BACK | RÉSUMÉ (ENGLISH) | RÉSUMÉ (RUSSIAN) | HOME